Take total control of your fitness with FitTrack's smart technology
FitTrack gives users personalised data to help you make better decisions about your wellbeing and lifestyle
Thursday 18 March 2021 11:59 GMT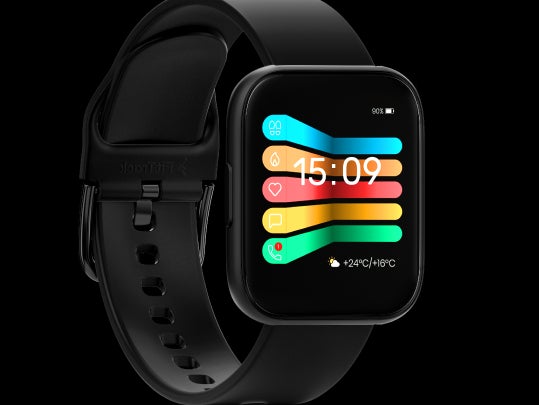 Since the start of the coronavirus pandemic, our physical health has been on the agenda more than ever: keeping ourselves fighting fit, developing and maintaining good habits during lockdown, and taking a 360-degree approach to our bodies. We might have always known our health is our greatest asset but the last 12 months have shown just how true that is.
It can sometimes feel like fitness is just marketed as a short-cut to being a certain size, shape, or weight, but some brands take a more holistic view, instead preferring to look at your relationship with fitness in its totality. Taking control of your long-term health and goals, rather than just reaching a number on the scales.
FitTrack Dara - Smart Body BMI Scale
Since 2018, Canadian brand FitTrack has helped over 500,000 people globally redefine what health means to them by delivering products that encourage you to think about the full picture - not just one metric of health but data on all aspects of your wellbeing.
Encouraging you, with smart technology, to analyse your health as a complete entity, and manage it as such.
Information is key to understanding and each of the FitTrack products helps give you personalised insights, tracking trends on a daily, weekly, monthly and longer-term basis, for example, creating easy-to-read charts, helping to cultivate a greater understanding of how your body works and what it needs.
Dara Scale
To begin your FitTrack journey, the Dara scale (£147, now £55) is a great starting point. Instead of just providing a weight like other scales, the Dara scale generates comprehensive and accessible statistics - straight to your smartphone - across 17 different body metrics, including body fat percentage, hydration level, muscle and bone mass, metabolic age, and more, based on standards set by the World Health Organisation (WHO).
The recommendations it generates are tailored for all users (you can have up to eight people - perfect for a family) from the comfort of home.
Based on your input, the smart Dara algorithm will make suggestions taking into account your body type, activity level (you can use athlete mode), and individual habits. This level of insight will empower you to accurately understand your body and adjust your routine accordingly.
FitTrack Beebo
Alternatively, the FitTrack Beebo (£160, now £65) is a body composition scale designed specifically for mothers-to-be for their journey to parenthood and beyond - the only scale designed with this key demographic in mind. Created with the busy day-to-day of families in mind, you can pair the Beebo scale with the FitTrack health app to better understand you and your loved ones.
During pregnancy you can use the pregnancy mode to safely track your weekly progress in each trimester. The stress of a new baby, lack of sleep and new routines, can sometimes feel like you need to compromise on your health goals but the Beebo features, using the same 17 health measurements as the classic Dara scale, makes it as easy as possible.
It also syncs with Fitbit, Apple Health and Google Fit to slot into your life straight away.
Once your baby has arrived, it will transform to help you achieve your goals as a new parent. And you can track your infant's health too with an accurate weight diary.
Atria Pro 2.0 Smartwatch
If you'd like to incorporate the FitTrack approach into your life even further, then why not try the Atria Pro 2.0 smartwatch alongside your Dara scale? The watch - available in the limited edition starter pack (£282, now £160) - is built with you in mind. Useful for tracking all of your activity from yoga to running and cycling, as well as going beyond fitness to give you an all-round approach to wellbeing and enhancing your lifestyle.
The Atria allows you to set alarms, use push notifications, measure your temperature, log your blood oxygen, count calories, observe your heart rate over 24 hours, track your sleep (including sleep quality and stages of light or deep rest), manage stress with guided breathing, and much more. You can even take photographs with just a shake of your watch.
The Atria is also waterproof so can be worn in all sorts of environments, weather conditions and activities. And with easily-customised watch faces and modern designs, it can be further matched to your individual personality and style.
Feeling inspired by the range? Why not take advantage of the FitTrack bundles, including the Dara scale, Beebo scale and Atria smartracker. Try the Health Pack (Dara scale, Atria watch, and tempo infrared thermometer, £348, now £200) or the more affordable Starter Pack (Dara scale and Atria watch, £276 now £159) to begin your FitTrack journey.