German traffic lights fitted with actual Pong games for pedestrians to play while they wait
Handsets let people play against those standing on the other side of the street
Adam Withnall
Sunday 07 December 2014 16:50 Comments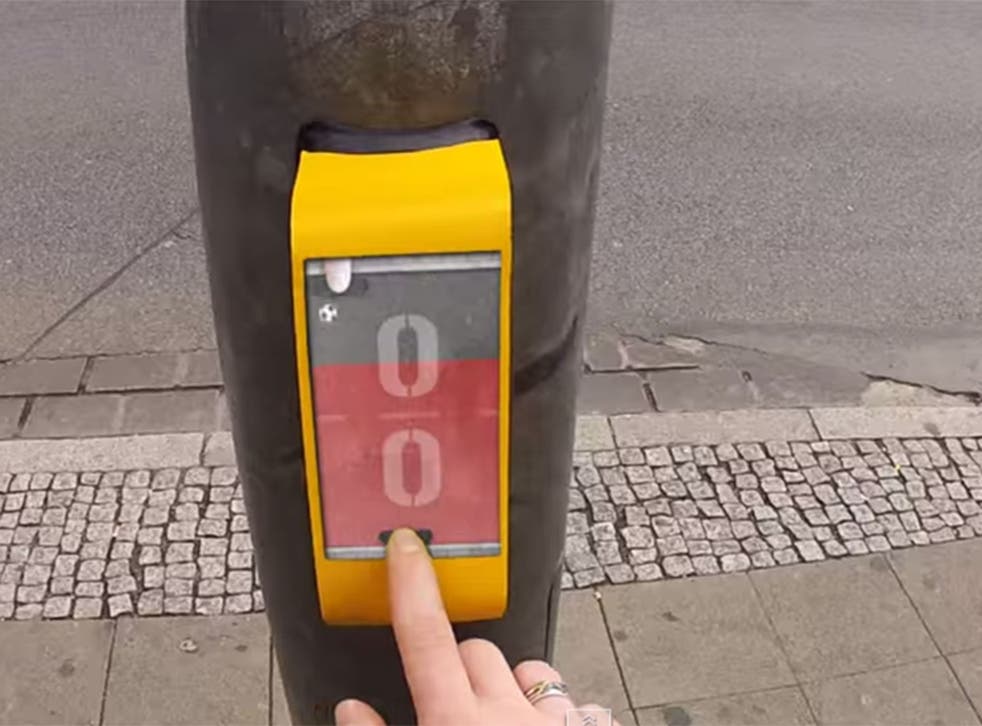 An inspired piece of original German engineering that gathered millions of prospective fans online has finally taken to the streets for the first time.
But this new invention is not a car – it's a clever piece of kit designed to help people avoid them.
Known in its development phase as "StreetPong", the ActiWait promises to hail "a new generation of traffic light buttons". Instead of the normal display simply showing the word "wait" or an image of a red man at traffic lights, the device allows users to play a classic arcade game against an opponent on the other side of the road.
The idea came from two students at the HAWK university in Hildesheim, and prototypes were installed there at the end of last month. It has since been rolled out to Oberhausen, north of Cologne.
A concept video showing how the game would let passing strangers interact while they wait for the lights to change captured the imagination of more than five million people when it debuted on YouTube.
The displays also show people how long they have to wait until the next green light – acting as a match timer for their game, currently a version of Pong using tiny skateboards as bats.
Developers say it has the potential to "convert boring waiting times into positive experiences", as well as discouraging people from darting through traffic instead of waiting for the lights.
Conceived as a university project, the success of ActiWait has seen founders Amelie Kunzler and Sandro Engel set up their own company, Urban Invention.
They have since received interest in the project from cities around the world including Lyon and Oslo, and the only problem now seems to be that people might, as one Twitter user puts it, "spend all day playing with the traffic lights".
Register for free to continue reading
Registration is a free and easy way to support our truly independent journalism
By registering, you will also enjoy limited access to Premium articles, exclusive newsletters, commenting, and virtual events with our leading journalists
Already have an account? sign in
Register for free to continue reading
Registration is a free and easy way to support our truly independent journalism
By registering, you will also enjoy limited access to Premium articles, exclusive newsletters, commenting, and virtual events with our leading journalists
Already have an account? sign in
Join our new commenting forum
Join thought-provoking conversations, follow other Independent readers and see their replies