As it happened
ended
1683755339
Google I/O 2023 live: AI reaches 'inflection point', CEO says, as Bard opens to all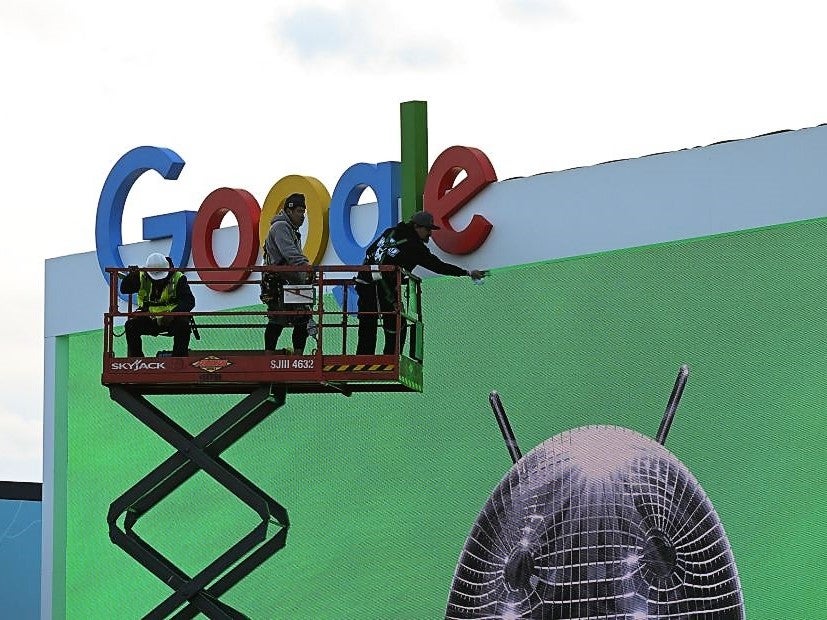 Google unveiled its latest artificial intelligence offerings at its annual developers conference, alongside new products ranging from Pixel phones to the Android 14 operating system.
Google I/O 2023 offered Alphabet the chance to show what its massive investments into AI have delivered, as it seeks to take on OpenAI's hugely popular ChatGPT chatbot.
Chief executive Sundar Pichai announced integration of Google's generative AI into its Maps, Gmail and Search, while its Bard AI is now available for everyone without the need to join a waitlist.
Hardware announcements were also made, including a new Pixel Fold smartphone and Pixel Tablet. Updates to the Android operating system, which is used by more than 2 billion people, will also see artificial intelligence added as a key component to people's smartphones.
The keynote was streamed on Google's YouTube channel, which is available below, as well as all the news and updates from the event.
1683735391
Google I/O 2023: Keynote live stream
Google has launched its live stream for the Google I/O 2023 keynote, you can watch it here:
Anthony Cuthbertson
10 May 2023 17:16
1683710721
Hello and welcome...
to The Independent's live coverage of Google I/O 2023. We're expecting some major announcements at Alphabet's biggest event of the year, with a major focus on artificial intelligence.
The tech giant has been playing catch up since OpenAI launched its ChatGPT chatbot nearly six months ago, so many will be watching its annual developer conference to see whether its Bard AI or other systems can compete.
There'll also be all the usual flagship products, including Pixel smartphones, Nest devices and the new Android operating system. We'll have all the latest news and updates from the event right here.
Anthony Cuthbertson
10 May 2023 10:25
1683712745
Google I/O 2023: What time does it start and how to watch the live stream
It's still the middle of the night in California, so we have a while to wait until Google I/O 2023 actually kicks off.
The main keynote will begin at 10am local time (6pm BST), which will be live streamed on YouTube and the I/O conference page. We'll have a feed of it pinned to the top of this page as soon as it's available.
Once the keynote is over there'll be more talks and opportunities to try out all the latest hardware announced.
Anthony Cuthbertson
10 May 2023 10:59
1683719785
Google I/O 2023: Pixel Fold accidentally unveiled
One of the major hardware announcements from today's event appears to have been accidentally released early.
An unlisted video ad for a Pixel Fold was spotted by eagle-eyed members of the tech press, with 9to5Google realising that an official tweet teasing the next-generation smartphone contained a link to it.
The video, which is yet to be removed by Google's official Made by Google channel, shows NBA stars folding and unfolding the phone while organising a watch party.
You can watch the full video here:
Anthony Cuthbertson
10 May 2023 12:56
1683728559
Google I/O 2023: OK Google, what's an inflection point?
This week's IndyTech newsletter, which went out last night, was focussed on Google's big bet on AI and what that might mean for today's big event.
You can read the full IndyTech newsletter here - complete with weekly charts, stats and long reads - and sign up for free if you're interested here (scroll down to Indy/Tech).
Here's an excerpt from it, written by Tech Editor Andrew Griffin:
Anthony Cuthbertson
10 May 2023 15:22
1683731299
Google I/O 2023: What we know about the Pixel 7a
One of the phones expected to be announced today is the budget-focused Google Pixel 7a.
Code-named "felix", the successor to the Pixel 6a will likely cram many of the best features from the Pixel flagships, but costing less than £400.
Rumours suggest it will be a significant upgrade to the Pixel 6a, with a 90 Hz screen, improved camera, and potentially even premium features like wireless charging and face unlock.
You can read everything we know about it so far in this piece here:
The Google Pixel 7a is expected to be announced in May 2023. Here are the release date rumours, predicted design, specs, price and more
Anthony Cuthbertson
10 May 2023 16:08
1683734496
Google I/O 2023: Pixel phones, Android updates, AI unveilings and everything else to expect
With just an hour to go until the keynote begins, here's a rundown of the three main things we're expecting to see announced.
New devices: The Pixel range is set to get an overhaul, ranging from the budget Pixel 7a, to the first ever folding Pixel Fold. We'll also likely see a Pixel Tablet unveiled today.
New software: The biggest news for most phone owners will be the launch of Android 14, which will make its way onto all compatible Android devices over the coming months after debuting on the latest Pixel phones first.
Artificial intelligence: Bard AI was unveiled earlier this year, but an updated version will likely be demonstrated, along with new ways Google has integrated it with its existing products like Maps and Search. A brand new AI tool called PaLM 2 is also anticipated, rumoured to be able to pass exams in everything from computer coding and mathematics, to creative writing and critical thinking. The large language model (LLM) is also expected to be capable of operating in more than 100 languages.
Anthony Cuthbertson
10 May 2023 17:01
1683736660
Google I/O 2023: Musician and AI takes to the stage
The live stream has started a little early, with musician Dan Deacon taking to the stage to warm up the crowd with some of his songs.
Playing in the background are some trippy visuals,presumably generated by AI.
He's also used Google's Bard to get some tips to create a guided meditation session. "We're becoming mist," he says.
Anthony Cuthbertson
10 May 2023 17:37
1683737121
Google I/O 2023: AI-generated music plays ahead of keynote
Dan Deacon's now playing a song that was created using Google's AI with a single word prompt: 'Chiptune'.
"I've never been in a band where the band members aren't physical entities," he says.
It's kind of unsettling to listen to, a lot more jarring than the ambient techno that usually precedes these Big Tech keynotes. The song involves ducks with lips.
Anthony Cuthbertson
10 May 2023 17:45
1683738182
Google I/O 2023: Keynote begins
Sundar Pichai takes to the stage after a typically saccharine opening video.
"We will have the chance to improve the lives of billions of people," the voiceover of the video said.
Anthony Cuthbertson
10 May 2023 18:03
Join our commenting forum
Join thought-provoking conversations, follow other Independent readers and see their replies