Investigatory Powers Bill: Theresa May accused of rushing snoopers' charter into law to avoid scrutiny
Bill would give government unmatched rights to invade privacy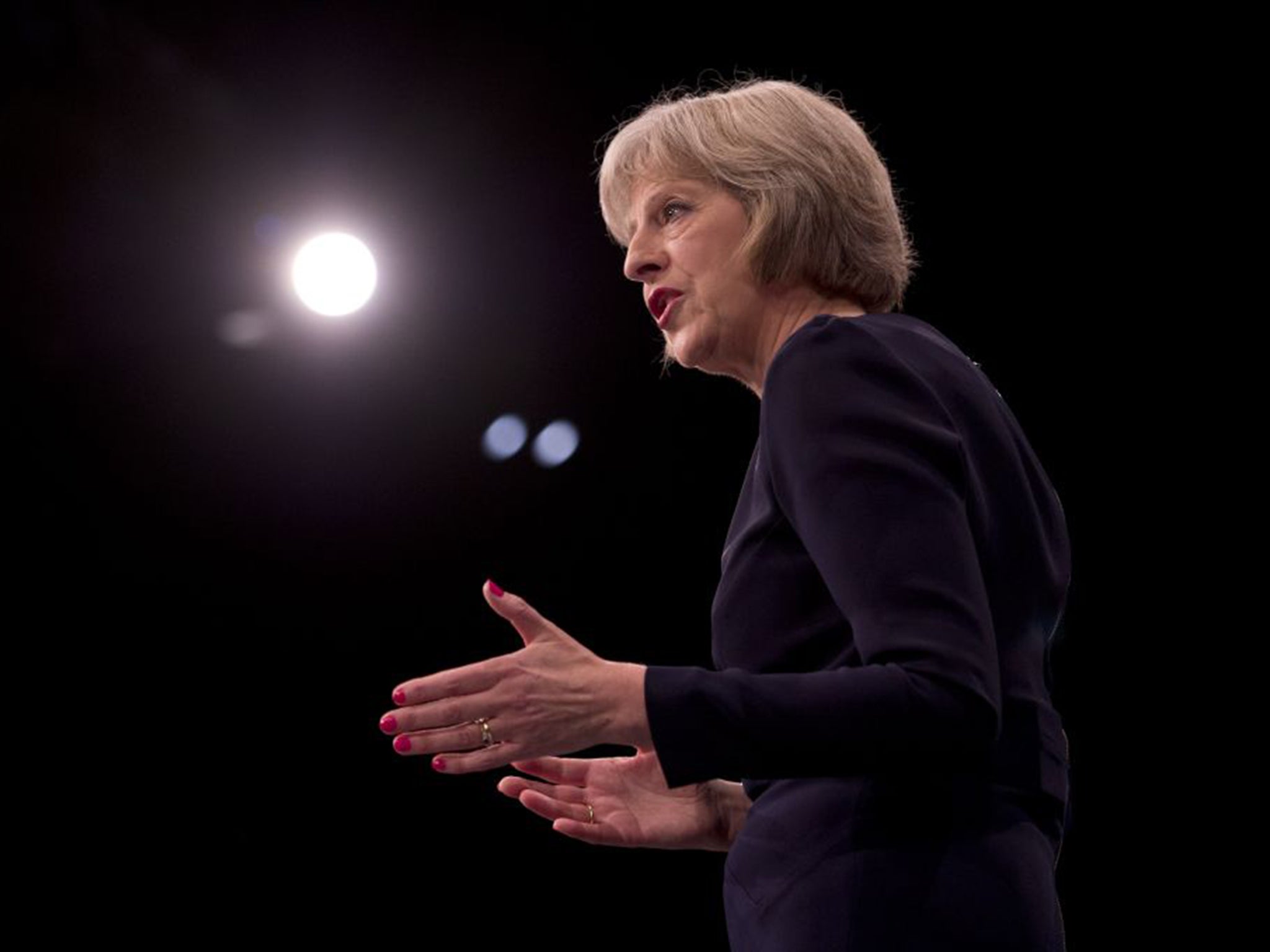 Theresa May has been accused of trying to rush through controversial new surveillance laws before the EU referendum campaign, after it emerged that a new "snoopers' charter" will be introduced in the Commons this week.
The Home Secretary's draft Bill – giving spy agencies sweeping powers to monitor people's web history – was attacked in a series of parliamentary reports earlier this month, sparking calls for it to be entirely rewritten.
A joint committee of MPs and peers has claimed that Mrs May's proposed overhaul of spying laws was "flawed" and set out 86 proposed changes. However, Mrs May will formally bring forward the Government's Investigatory Powers Bill on 1 March.
This has sparked concern that ministers want to bounce MPs into backing the new surveillance powers. The former Tory leadership contender David Davis said there was "no doubt" that the Government wanted to rush the Bill through Parliament to avoid scrutiny.
Government whips have told Labour that the Bill will be published on 1 March, with a second reading – giving MPs a line-by-line debate on the Bill – scheduled for 14 March. The Bill will then go to committee stage for scrutiny on 22 March, with a final vote expected in Parliament by the end of April.
Mr Davis said: "When you work it out, it's a 300-page Bill – so that's something like five seconds to consider each line on second reading."
There was "no operational reason to rush it through", he said, adding that existing emergency legislation – brought in in 2014 – could be extended for a year.
Mr Davis said: "It all keeps with their strategy, which is to rush everything through. They know when they engage with experts they lose. This is the way they will try to get this through – on the rush. There's no doubt about it."
Andy Burnham, the shadow Home Secretary, told The Independent on Sunday that he would withdraw Labour's support for the Bill unless Mrs May backs down and allows lengthy scrutiny of the proposals.
He said: "The law needs to be updated to help the police investigate serious crime and protect us against terrorism. But my offer to work constructively with Theresa May only stands if Parliament is given enough time to carefully scrutinise this Bill.
"It needed to be considerably revised after three expert reports just a matter of weeks ago. For Labour's support, ministers must show they have listened to our calls for greater transparency, stronger safeguards and protection of people's privacy.
"It is crucial that this Bill is not rushed and necessary time is given to consider these complex issues."
A Labour source added: "The Tories can't rush through poor legislation just so they can devote more time to the [EU] referendum. They've tied themselves in knots over Europe but doing this won't help."
The Bill is the Government's second attempt at creating new digital surveillance powers for the security services. The first – the original "snoopers' charter" – was dropped after Nick Clegg vetoed its introduction in 2013 over privacy fears.
A year later, Parliament rushed through the Data Retention and Investigatory Powers Act – emergency piece legislation to give the security services new surveillance powers. However, a replacement Bill is needed before the end of 2016.
Mrs May's new proposal aims to bring together a patchwork of existing rules about government surveillance under a single law.
One of the most contentious aspects of the Bill is a proposal to force internet companies to store records of people's web and social media use for up to a year.
Earlier this month, the Labour peer Lord Murphy, who chaired the joint parliamentary committee which scrutinised the Bill, said Mrs May's planned surveillance powers needed "a significant amount of work to do before Parliament can be confident the provisions have been fully thought through".
The former Labour Northern Ireland secretary added: "The fact that we have made 86 recommendations shows that we think that part of the Bill is flawed and needs to be looked at in greater detail. There is a lot of room for improvement."
Lord Strasburger, a Liberal Democrat peer who also sat on the joint committee, added: "Why is Theresa May trying to rush the huge and very complex Investigatory Powers Bill through Parliament?
"Mrs May claims it's because one of the existing laws expires at the end of this year, but she could easily fix that problem by extending the deadline for another year.
"The real reason is that although the Home Office pretends it wants a mature public debate, actually it does not like having to justify what would be the most intrusive snooping powers any Western government has into its citizens' private lives."
He added: "What is needed is for the Government to slow down and go back to drawing board."
The Government is adamant that new surveillance powers are needed to give the security services the same ability to monitor criminals and terrorists online as they do already for telephone calls.
A Home Office spokesperson said: "The Government is aiming for the Investigatory Powers Bill to pass through Parliament and receive Royal Assent by the end of 2016.
"We have always said the new legislation would be subject to full public and Parliamentary scrutiny to ensure we get this right. That is why we published the Bill in draft form last November since when it has been studied in detail by a joint committee of both Houses of Parliament along with other leading Parliamentary committees.
"Investigatory powers have been the subject of six separate reports and rigorous examination in the last two years and these have played an important role in developing the proposals in the Bill. Once introduced, the Bill will be subject to full Parliamentary scrutiny, following the normal Parliamentary timetable."

Join our commenting forum
Join thought-provoking conversations, follow other Independent readers and see their replies