iPhone 6 review: bigger, thinner, faster, brighter - Apple proves you can make the best better
Apple is often accused of doing too little with new iPhones, but the iPhone 6 prove them wrong, says <b>David Phelan</b>, improving in almost every area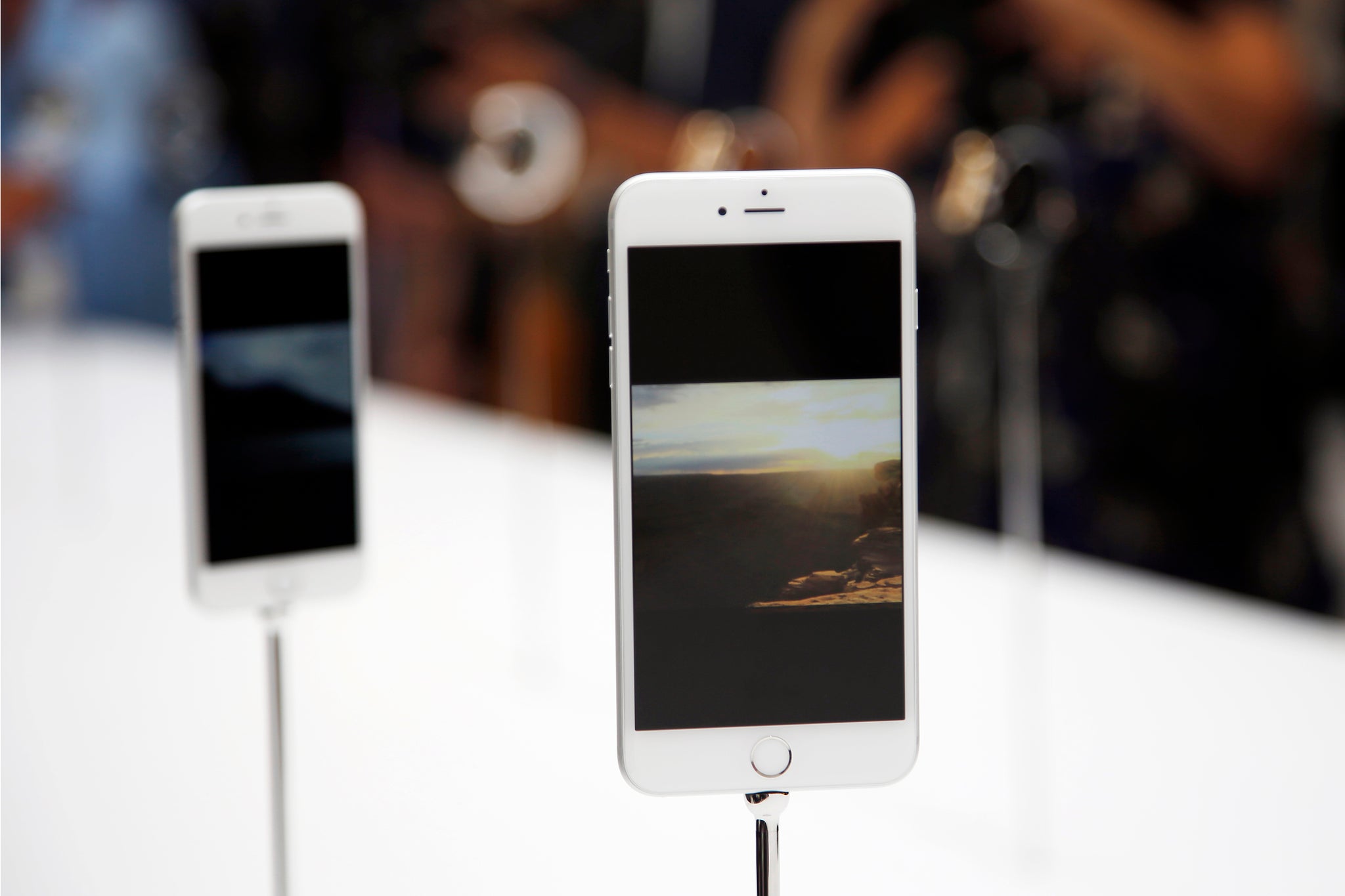 If you're an iPhone owner who's been glancing jealously at your friends with their big-screened Android phones, your time may have come. The new iPhone comes in two sizes: big and bigger. But larger screens invite new questions: can you use the phone one-handed, can your digits easily stretch from bottom to top and can it even fit in your pocket?
And, hold on, didn't Tim Cook say that the four-inch display of the iPhone 5 and 5s was the ideal size?
The Independent was one of a handful of publications given early access to the new Apple iPhones, respectively called iPhone 6 and iPhone 6 Plus (read that review here). The iPhone 6 has a screen that's 38 per cent bigger by viewing area than the iPhone 5s (a 4.7-inch display instead of a four-inch one) while the iPhone 6 Plus provides a whopping 88 per cent extra screen. It's a definite step away from last year's design.
The sharp distinctions between edge and front on the iPhone 5s, those 90-degree turns softened by chamfered edges, are replaced by a gently curved back that's reminiscent of an iPad and a screen with edges so smoothly curved you can barely feel the join. You can roll the new phone through your hand like a worry stone. It feels great: you don't miss the sharp edges.
These curvy edges also give the phone a friendlier, more intimate feel than iPhones since the 3GS (released way back in 2009 for you history buffs). And they have another function: the curves work with the thin profile of the phone to make the bigger screen entirely manageable. This is the slimmest iPhone yet. At 6.9mm it's 0.7mm slimmer than iPhone 5s. The curved edges mean this phone is a better fit in the hand than any Apple handset since the original iPhone.
The new iPhone 6 in pictures: smooth edges and more screen to love
Show all 5
You may be tempted to slip a case round it to protect your valuable gizmo and I wouldn't blame you, but bear in mind that with many you won't get to feel the phone in all its glory any more. Instead, consider a slip-off sleeve that lets you handle the phone, you know, naked. (The best sleeves - in this reviewer's opinion - come from British leather company, Knomo.)
And what exactly are you handling? Well, the anodised aluminium that forms the back of the phone is matte enough to stop the phone from slipping and while a metal-backed phone makes it hard to get the signal in and out, but Apple has added rubberised lines at the top and bottom to make this possible. The lines lie perfectly flush, but the look won't please everyone.
At first, I disliked them but within days had forgotten all about them. And they mimic the top and bottom sections of the iPhone 5s, so they're not an entirely new design element. The power button has also moved, from the top to the right edge, making it easy to reach on this bigger screened phone. It's fine, though it does take time to get used to this.
Apple's Retina display has here been upgraded to Retina display HD, though it's not because there's a higher proportional screen resolution – it's still 326 pixels per inch. Does it matter that other phones like the Samsung Galaxy S5 has much higher resolution – 432ppi? It's true that the S5's screen is sensationally good - rich, detailed and dazzlingly bright - but it's still occasionally prone to being a little too colourful and by contrast, the Retina HD display offers faithful, natural colours. This, Apple says, is down to advanced manufacturing processes. Whatever the cause, it looks spectacular, with the colours so close to the screen you feel you can touch the pixels.
And what about that screen size, Mr Cook? Apple has an answer in something it calls Reachability. Gently tap (don't click) the home button twice and the image on the top half of the screen swings down to almost half way so it's easy to reach buttons at the highest edge and operate the display one-handed. This is one of those ingenious developments that seems blindingly obvious as soon as you've seen it. It may sound simplistic but it's flawlessly deployed and works across most screens (though not the phone dialler, for obvious reasons).
You can also opt for a zoomed view of the screen. The iPhone 5s had five rows of shortcut icons and the dock below. Now there are six rows plus dock. But if you prefer you can choose zoomed which subtly resizes everything to go back to five rows plus dock, all with bigger icons. Often Apple decides what's best for us – here we get a choice.
One of the key features on any phone now is its camera. Some might have been surprised that there was no leap in pixel count on the rear snapper, which Apple calls the iSight camera. But it's not all about the pixel numbers – ask HTC, which opts for bigger pixels on its HTC One (M8) sensor.
And let's remember that photos taken on the iPhone have for some years been exceptionally good. They are so effectively processed and adjusted in the phone that they can look instantly stunning, even though the camera options found on many rival cameraphones (White Balance, ISO, for instance) are noticeably lacking here.
This time around, there are Focus Pixels. These sound cool, and they are. They're also known as phase detection pixels which make for faster autofocus, among other things. It's almost unheard of on a smartphone, this technology, though Apple's rival Samsung features it on the Galaxy S5, for instance. The advanced tech from the camera on iPhone 5s is incorporated here, too. Such as the dreamy slo-mo option for video recording, improved here with a facility to double the frame rate (ie halve the speed). There's also the two-tone flash which fires in different colours to enhance the fidelity of the photo's colours.
And now HDR (High Dynamic Range) is enhanced, too. HDR combines three differently exposed images taken in quick succession to create a more arresting image where bright and shadowy elements both have considerable detail. But mixing three shots isn't always possible if the subject is moving, say, so the iPhone 6 promises one-shot HDR. I'll come clean, the science escapes me, but Apple says the new sensor is able to generate HDR in-pixel. The results are strong, as good as the previous three-pic solution and improved in those fast-moving-subject cases.
Features like these can only work if there's a fast enough processor present. The A7 chip on the iPhone 5s and iPad Air is lightning-quick, making the 5s a responsive phone. This A8 model is faster, apparently. It's not that it seems to react more quickly, it's just that it's doing more in the same time.
The Touch ID fingerprint sensor introduced on the iPhone 5s was scoffed at, at first. Why do you need a fingerprint reader and more importantly, would it work? Its use to wake the screen without a formal password and utilising the usual action of resting thumb on home button made this feature a big hit. Especially since it worked reliably every time.
It's now at the heart of a new payment system called Apple Pay, but this isn't available in the UK yet, with no date set (though next year might be a good guess). A new Near Field Communication (NFC) chip built into the phone means you'll be able to tap your phone against a contactless-capable chip-and-pin reader to authorise a payment in a store. NFC has been installed on Android and Windows Phone handsets for years. It's barely been used apart from for pairing a phone with a speaker, and not much then. Now, with Apple's seamless implementation (judging from demonstrations) and the deals it has done with credit card companies, there's a chance this technology could finally take off. Reassuringly, if your phone is stolen, you can use Find my iPhone to wipe the credit card details from the phone, even it it's switched off, so you don't need to cancel your cards. Which might take the edge off the disappointment of losing your phone.
Of course, I haven't been able to test this as it's US-only for now. Similarly, the Voice over LTE (VoLTE) feature that promises better quality phone calls by routing them through 4G data isn't available here until probably next year.
There's much more to talk about with this phone – I've left the sparkly new software to another review altogether.
If there's been a regular complaint with smartphones, it's that they run out of juice too quickly. That applies widely, including to the iPhone. The more the phone does, the more we make it do, so even an improved battery is falling short by lunchtime.
Sometimes Apple is accused of doing too little, that a new phone is just a gentle, incremental improvement on a previous one. Not this time. The glam new design, hold-it-to-believe-it thin profile, superlative feel and improved performance of the iPhone 6 make it a no-brainer upgrade even to those with the most recent model. Massively improved battery life, a better camera, bigger and still beautiful screen and faster performance, not to mention the tantalising prospect of Apple Pay and VoLTE to come, all help.
In the world of smartphones, this is the biggest leap forward yet. It offers a staggeringly better version of an already winning phone. Honestly? I'd give it six stars if I could.
The iPhone 6 goes on sale on Friday
Join our commenting forum
Join thought-provoking conversations, follow other Independent readers and see their replies