iPhone 7 explodes on its way from Apple, Reddit user claims
It's a grim echo of the Note 7's spontaneous combustion, but it's probably not a problem on anything like the scale of Samsung's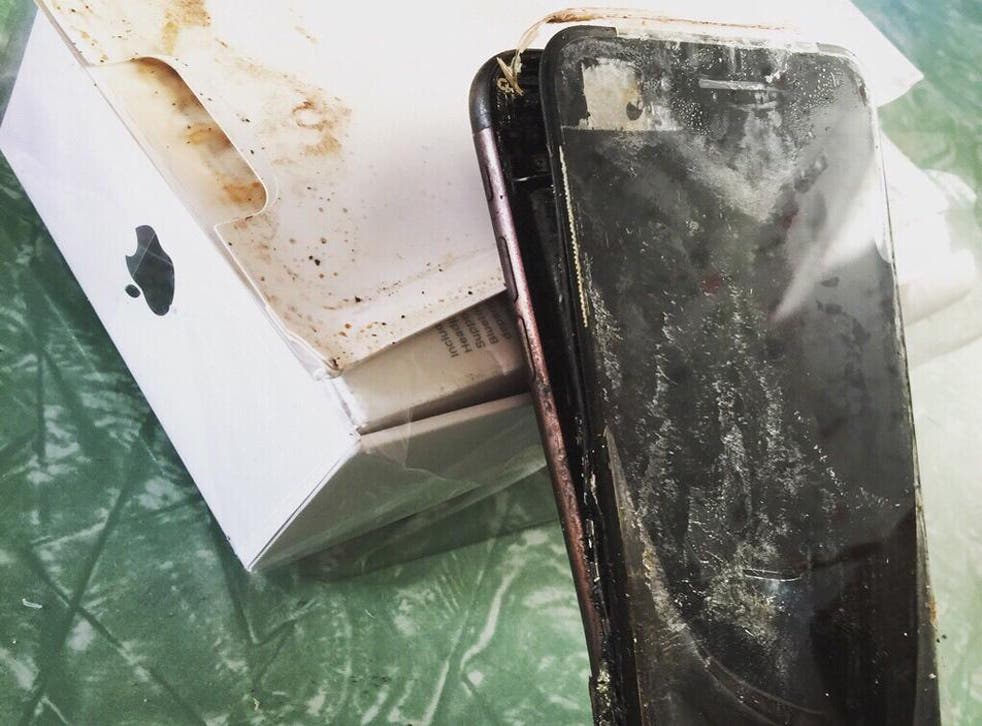 An iPhone has exploded on its way to its owner, in a grim echo of the problems afflicting Samsung's new Note 7.
Pictures of the phone – which appears to have set on fire, exploded apart and burnt the packaging it comes in – are spreading like wildfire online. Many appear to fear that the problems that hit the new Note 7 might be more widespread, and affecting Apple's newest smartphone too.
Reddit user "kroopthesnoop" posted pictures of the broken back iPhone 7 Plus. "Something happened between the factory and delivery," the user said, indicating that the problem happened on its journey rather than once it was being used.
Exploded Samsung Galaxy Note 7 - in pictures

Show all 7
It appears likely that the phone sustained some damage while it was being transported. The kind of battery used in the iPhone and other handsets are almost always safe, but can be incredibly dangerous – if they are punctured, they can easily explode or set fire, taking the rest of the phone with it.
The phone did appear to be dented and damaged beyond the kind of issues that would be caused by heat.
But that also suggests that the new problems hitting the iPhone are not on the level of the exploding Note 7, which necessitated a global recall and has been a disaster for the company. No further problems with the iPhone 7 have yet been reported and it appears that the problem is likely to be isolated.
Frenchman smashes iPhones with petanque ball
The Note 7's problems happened during charging and don't appear to be the result of any damage or other actions on behalf of their owner. They also affected far more phones, with a huge number of reports of phones setting fire.
The pictures do appear to be genuine – the phone looks real, and given that no damage to anything else was reported, there is little motive behind making them up. But it is a reminder more that the battery technology used in every phone is dangerous, rather than proof that something is wrong with the iPhone 7.
Those same battery worries have led airlines to ban phone batteries being transported as cargo. And they have led other phones to blow up in the past – including one man last year whose phone appeared to explode when he fell on it while cycling, burning a hole in his pocket.
Register for free to continue reading
Registration is a free and easy way to support our truly independent journalism
By registering, you will also enjoy limited access to Premium articles, exclusive newsletters, commenting, and virtual events with our leading journalists
Already have an account? sign in
Register for free to continue reading
Registration is a free and easy way to support our truly independent journalism
By registering, you will also enjoy limited access to Premium articles, exclusive newsletters, commenting, and virtual events with our leading journalists
Already have an account? sign in
Join our new commenting forum
Join thought-provoking conversations, follow other Independent readers and see their replies