iPhone X facial recognition: How Apple's new Face ID technology actually works
A print-out of your face won't work. Not even a creepily realistic mask will work
Andrew Griffin
Wednesday 13 September 2017 08:58 Comments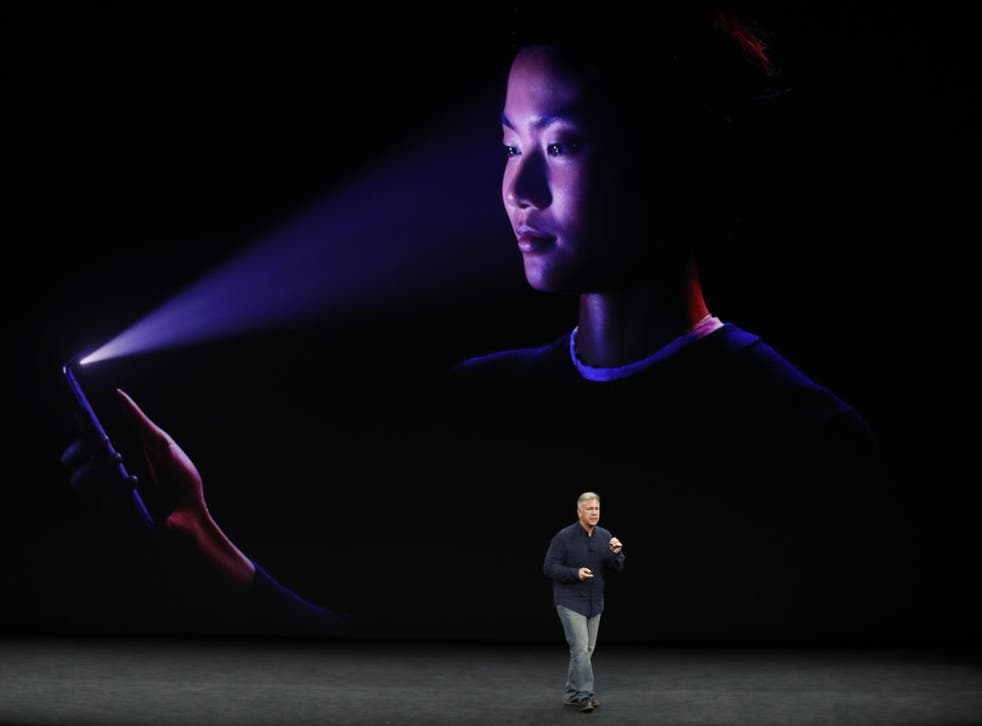 Apple has revealed its iPhone X, the handset it claims will be the future of the company. And much of that is based on one technology: Face ID.
That somewhat dystopian sounding feature is a facial recognition technology that allows you to unlock your phone just by looking at it. And while that sounds thrilling, it also sounds a little worrying.
We knew all about the facial recognition technology, of course, because Apple had accidentally leaked it. But the event gave our first look at it in use, and Apple was finally able to explain how it actually works.
(Or how it doesn't work, in one instance. During the keynote, the facial recognition failed to spot Apple's own head of software.)
Here's everything you need to know about the new phone – including whether it can be fooled by creepy masks.
How does it actually work?
Inside the notch at the top of the screen, there's hidden a huge array of different sensors and outputs. Each of those works together to recognise your face and then tell the phone to unlock itself.
Whenever you look at your phone, the "flood illuminator" spots your face and alerts the phone that's something's going on. It then gets to work doing a number of things: taking an infrared photo, and sending out a network of thousands of dots that arrange themselves over your face and can be seen by a built-in camera. All of that data is then sent to the iPhone X's new chip which compares it to the information it has about your face; if it's close enough, the phone will unlock.
All of that happens instantly, according to Apple and people who have used the phones. And the way it works means that it's invisible and will work in the dark.
Apple unveils the iPhone X

Show all 10
What is Apple doing with its highly accurate, 3D scans of my face?
Nothing that you need to worry about, it says. Like its fingeprint images and other important information, all of the face data will be stored inside the secure enclave – a special part of the system that's not accessible even to the rest of the phone – and so it will never leave the device or find its way to Apple.
Is it really secure?
Yes, or so says Apple.
The TouchID fingerprint sensor – which has been broken into before, but not regularly – has an accuracy of about one in 50,000, it said. That means that if you gave your phone to 50,000 people, one of them would be expected to have a fingerprint close enough to yours that they could use it to break into your phone.
With Face ID, that number is one in a million, Apple says.
What if someone just prints out a picture of my face?
There have been worrying reports of this sort of thing working with other facial ID sensors. They appear secure, but all you really need to do is hold up another phone with a picture of the owner on it, and the facial recognition technology will think the person is actually there.
But Apple says that the way the facial recognition works ensures that it would spot a flat version of a face instantly.
And even attempting to make a mask of someone's face won't work, according to the company. It checked, it said, by getting creepily realistic masks that are used in Hollywood studios and teaching the iPhone X not to recognise them.
What if I grow a beard, or I'm wearing a hat?
Apple gave special reassurance to beard, hat and scarf-wearers, as well as people getting new haircuts. The phone learns to recognise you over time it,
In practise, it is of course possible that the phone will fail to recognise you if your appearance undergoes an extreme change, in the same way that Touch ID stops working if you get a particularly bad cut on your finger. But ultimately that isn't going to happen regularly, and you can still get into the phone using the passcode – at which point you'll be able to set up the facial recognition all over again and get it used to your new look.
What if I'm asleep?
Apple's facial recognition technology isn't just able to detect your face – it's able to detect what your face is doing, too. So the iPhone X will check that it has your "attention", as well as checking that you're the right person.
In practise, that probably means that the phone will check that your eyes are open and that you're looking at the phone. That means that people won't be able to hold it up to your face while you're asleep to access your personal information or send embarrassing messages; and it also gives an extra way to resist if someone is trying to force you to unlock your phone.
Will I be able to set up more than one face?
No – at least not for now. Unlike the fingerprint sensor – which lets you use a number of fingers, some of which can belong to other people – you can only have one person's face set up in Face ID.
What can I do with it?
In terms of security, the Face ID sensor will work just like the Touch ID one. You'll be able to use it to unlock your phone, make payments and open specific apps, though some of those uses might occasionally ask for your passcode instead.
iPhone X: Apple chief suffers onstage Face ID fail
But the same "TrueDepth" technology also means that the phone can use the facial mapping features once it is unlocked. It can apply highly accurate filters to your face, for instance, or turn your face into an emoji that tracks your facial movements.
Register for free to continue reading
Registration is a free and easy way to support our truly independent journalism
By registering, you will also enjoy limited access to Premium articles, exclusive newsletters, commenting, and virtual events with our leading journalists
Already have an account? sign in
Register for free to continue reading
Registration is a free and easy way to support our truly independent journalism
By registering, you will also enjoy limited access to Premium articles, exclusive newsletters, commenting, and virtual events with our leading journalists
Already have an account? sign in
Join our new commenting forum
Join thought-provoking conversations, follow other Independent readers and see their replies