Ismat Chughtai: Who was the iconic feminist author?
Google celebrates 107th birthday of groundbreaking Indian writer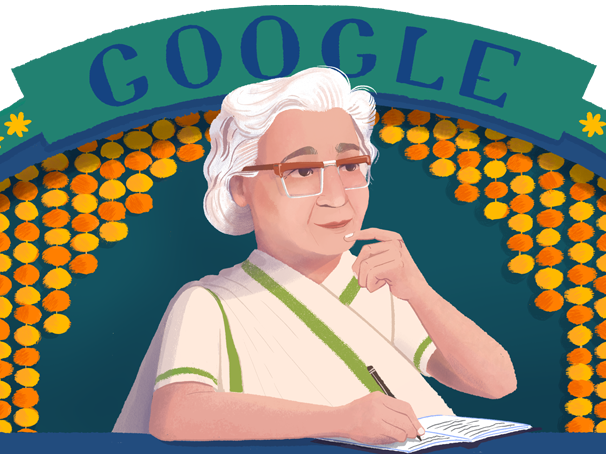 Today's Google Doodle celebrates the life of Ismat Chughtai, an Indian writer whose work was celebrated – and censored – for its honest depictions of women's lives.
Ms Chughtai was born in a small town in 1911 to a middle-class, Muslim family. Her father worked as a civil servant, meaning the author and and her nine brothers and sisters moved frequently.
As a child, Ms Chughtai stood out for her refusal to partake in traditional, feminine pastimes like embroidery, and for making friendships outside her social caste, according to the authors of "Women Writing in India".
What truly distinguished Ms Chughtai, however, was her desire for an education. After narrowly avoiding an arranged marriage at the age of 15, she convinced her parents to let her pursue a bachelor's degree at Isabella Thoburn College. She later studied teaching at Aligarh Muslim University, becoming the first Indian Muslim woman to obtain both a bachelor of arts and a bachelor's in education degree, according to a publisher's bio.
It was in university that Ms Chungtai first started writing, though she later recalled ripping up most of what she wrote at the time. In the 1930s, she began attending meetings for the Progressive Writers Association, which inspired her passion for human rights – a theme that appeared repeatedly in her later work.
Indian woman Anny Divya becomes first world's female captain of a Boeing 777
Ms Chungtai's most famous story, "Lihaaf" ("The Quilt"), was published in a Lahore-based literary journal in 1942. Among other things, the story describes a romantic relationship between a wealthy landlord's wife and her female servant.
While the story is now celebrated as a classic, it was initially met with outcry – and even landed the author in court on charges of obscenity. Ms Chungtai refused to apologise for her depiction of female same-sex relationships, and the case was eventually tossed out.
Years later, however, the story continued to pain Ms Chungtai, though for different reasons.
"I am still labelled as the writer of 'Lihaaf'. The story brought me so much notoriety that I got sick of life," she wrote in her memoir. "It became the proverbial stick to beat me with and whatever I wrote afterwards got crushed under its weight."
World news in pictures
Show all 50
But the author went on to write several other, groundbreaking stories in her lifetime, including one – "Gainda" ("Marigold") – that tells the story of a lower-caste woman who falls in love with an upper-caste man. In "Vocation," she describes several sex workers trying to make friends with a judgemental upper-caste woman.
Ms Chughtai also dabbled in film, after marrying director and screenwriter Shahid Lateef. She helped write Mr Lateef's film "Ziddi", and the two later co-directed the movie "Faraib". A film version of "Lihaaf" is set to be released this year.
Ms Chughtai was awarded the prestigious Padma Shree by the Indian government in 1976 for her contributions to the field of literature. She died in 1991, at the age of 80.
Join our commenting forum
Join thought-provoking conversations, follow other Independent readers and see their replies