Life hacks: The innovations of volunteers and medical workers are helping Medécins Sans Frontières save people around the world
Technology in crisis situations needs to be tough, simple to use and - in Medécins Sans Frontières' case - disinfected in chlorine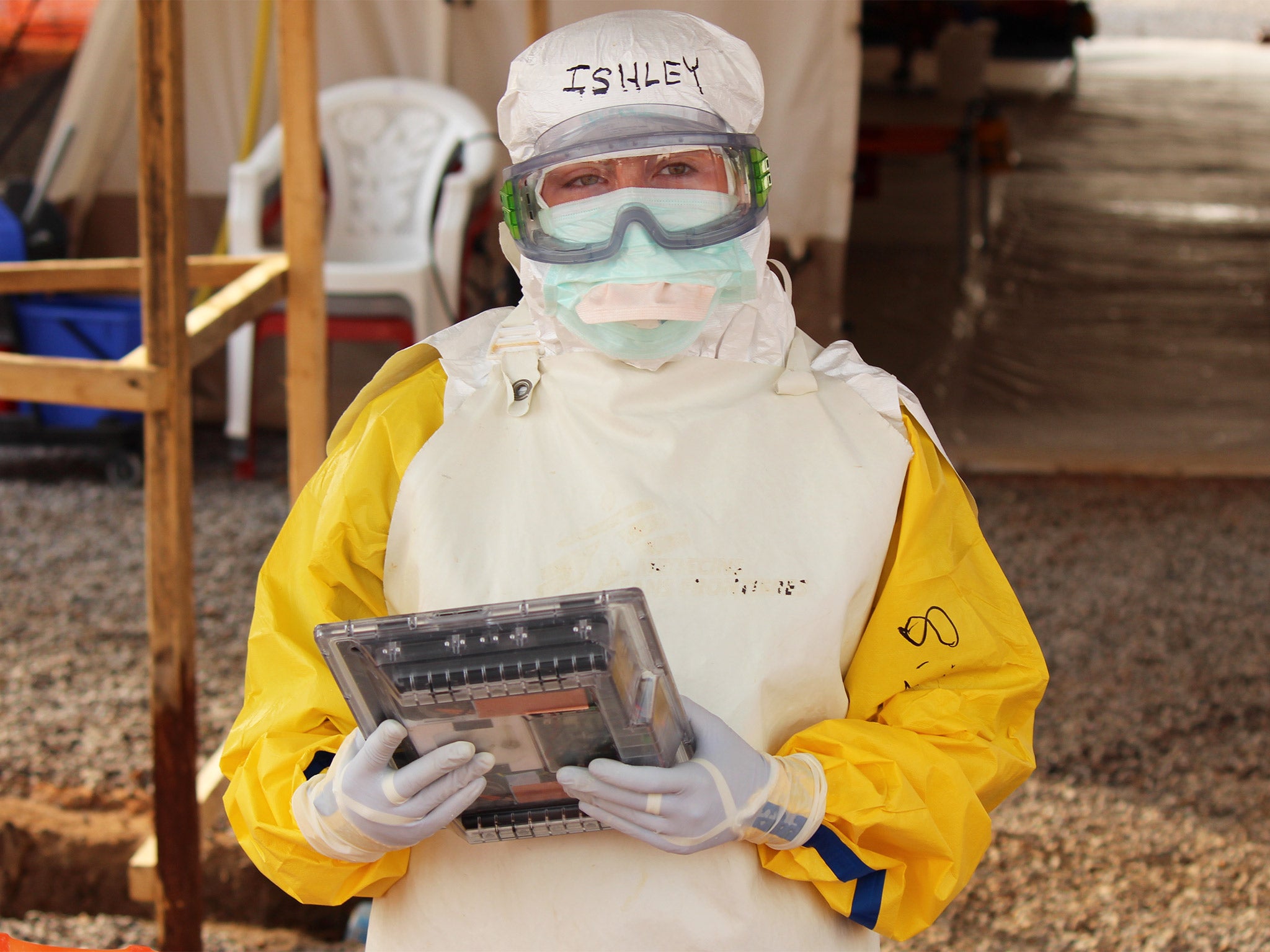 Four people wearing surgical gloves, goggles and face masks marched into a branch of PC World in London last autumn.
Despite their garb, it wasn't some kind of robbery. The masked men and women were the technological arm of the humanitarian aid charity, Médecins Sans Frontières, and they had come to test tablet computers for the Ebola outbreak in West Africa (in full gear, to really get a feel for the hardware). It may have been a memorable shift for the shop assistant serving them, but for MSF's techies, it's was all in a day's work.
Ivan Gayton is MSF UK's innovation advisor, and one of the overdressed PC World visitors. "The Ebola tablet project came out of a call from a field doctor in Sierra Leone," said Gayton, when I met him inside the atrium of the Royal Society of Medicine, at MSF's annual Scientific Day. The day is a chance for volunteers and medical workers from around the globe to discuss how new innovations can help the charity save lives. "The doctor told me," continued Gayton, "that when he finished his round he had a piece of paper with all his patient observations on it. He said: 'Of course I can't take that out of the centre – it's covered in Ebola – so I have to go and shout over the fence wearing an entire plastic suit, two masks, fogged-up goggles and two pairs of gloves. And it's 35 degrees. It's a recipe for mistakes and it takes a lot of time when I've got a maximum of an hour and a half inside'."
Gayton took on the challenge of finding a better way to collect patient data and the race for an Ebola-proof tablet was on. The challenges were numerous – to find a device rugged enough to withstand the physical challenges of field work in West Africa with little or no electricity, internet and phone coverage while remaining easy enough to use for field workers in cumbersome protective gear.
Fortunately Gayton was not alone. Soon the project, nicknamed Buendia, had the backing of some brilliant volunteers from the tech world, including young innovator and entrepreneur Pim de Witte, founder of tech start-up Whitespell, who flew his whole team from Amsterdam to London to help with the project. "Then Google got interested," said Gayton. "It allocated a huge number of people to the project. From then on it was off to the races."
The first task was to find a suitable waterproof tablet to build from – hence the shopping trip to PC World. The team settled on the Sony Xperia Z2 and set about developing its consumer waterproof capabilities into industrial ones. By the time they'd finished they had a device which could be fully submerged in a 0.5 per cent chlorine solution – enough to kill off any traces of Ebola.
The team experimented with other ways to "ruggedise" the device. They settled for an injection-moulded polycarbonate case – a material which, in sufficient thickness, is bulletproof. The screen and operating system was full of big green buttons, bright enough and large enough so that even a tired, sweaty doctor with a fogged-up mask and cumbersome gloves could operate it with relative ease. The device could be inductively charged so it didn't need to be plugged in and problems of network coverage were solved by a device called the Intel Edison, a tiny processor capable of powering an entire local network. "We installed a full web server on a thing the size of a postage stamp," said Gayton. The Edison could be operated 24 hours a day with only six hours charging from a motorcycle battery. "The only time the server failed was when one of the staff used the motorcycle battery to charge their mobile phone," said Gayton with a wry smile.
Adapting technology to difficult field conditions isn't just a challenge in West Africa. Another innovation presented at the Scientific Day was from a team trying to solve the problem of delivering time-sensitive TB samples in Papua New Guinea amid some of the world's most inaccessible terrain. The South Pacific country has one of the highest rates of tuberculosis in the world, with an estimated 25,000 new cases a year amid a population of 7 million, 80 per cent of which lives in rural and often remote areas, according to Isaac Chikwanha and Eric Pujo from MSF's Tokyo desk. Papua New Guinea's Gulf Province, where the team carried out tests, is a good example of the kind of challenges faced by medical professionals working in these areas. There is only one road to the province's capital, Kerema, and it passes through the biggest swamp in the world, Pujo explained. Sea routes are also inaccessible for several months of the year and rivers are infested with crocodiles. "It forced us to be innovative," Pujo told the audience at the Royal Society of Medicine. "How could we get diagnostic samples of TB from a remote health centre to an MSF laboratory in the shortest time possible?"
The answer they came up with was unmanned aerial vehicles, or drones. Teaming up with Matternet, a start-up company in the US, they developed a four-rotor "quadrocopter" which could carry a 500g payload up to 28 kilometres at speeds of 60kms/hr and could be operated by a smart phone. The drone is also capable of autonomous flight – co-ordinates and altitudes can be programmed in and the drone will navigate its own way between them keeping at a safe 100 metres above ground level.
Initial tests were successful – in one trial it took human operators four hours by car; the drone delivered the same payload in just one hour. But despite the success, the technology is still only in the development stage. "It still has a short range," said Pujo. "It still needs human action to change the batteries. It's not completely mature technology." Gayton agrees. "I expect that in one to two years the technology will be sufficiently robust," he tells me.
It's also expensive, costing about £6,500 for a suitable drone, a figure Gayton wants to get under the £65 mark. He has his own low-cost prototype, made from bamboo and insulation foam instead of carbon fibre and composites. With the development of open-source autopilot software, Gayton sees the cost dropping rapidly in the near future, opening the technology to other applications and institutions. "We want to get this down to the University of Kinshasa in the Congo," said Gayton, "so that the geography and health departments can use them."
Other innovations discussed during MSF's Scientific Day ranged from the high to the lo-tech, from kits for clearing boreholes in African villages, to new ways of fighting diabetes among Syrian refugees in Lebanon. But all the developments seemed to share one thing in common – taking fresh ideas from people who work in the "realm of the possible", as Gayton puts it, and "ruggedising" them – another Gayton phrase – so that they work in the most challenging and hostile conditions. As such, MSF acts as a bridge between the possible and the actual, the theoretical and the practical, the thinkers and the doers. "That's how you get locally appropriate tech," says Gayton. "Put us all together in a room and we start coming up with answers." Or, indeed, a branch of PC World.
Join our commenting forum
Join thought-provoking conversations, follow other Independent readers and see their replies