Liter of Light's solar-powered, DIY lamp made from a plastic bottle is transforming lives
The charity has pledged to create a million green, off-the-power-grid lights in 2015 using an ingenious design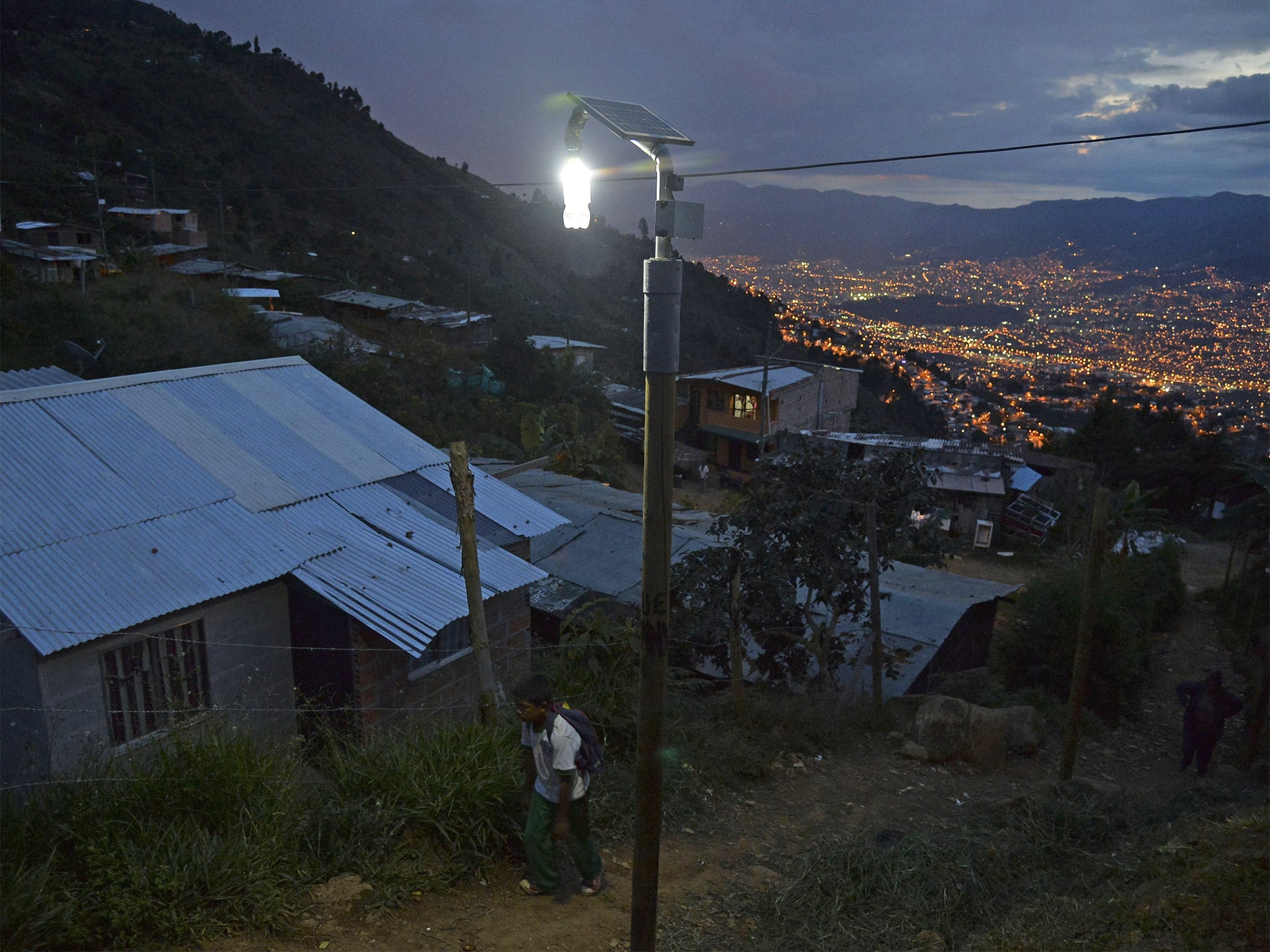 Despite what Back to the Future fans would have you believe, "where's my hoverboard?" isn't a shoe-in for the motto of 2015. "Let there be light" is a strong contender, thanks to this being Unesco's International Year of Light. The opening ceremony in Paris this week celebrated seminal moments in the history of illumination.
It is, I learn, 1,000 years since the great Arabic scientist, Ibn al-Haytham, released his magnum opus on optics, 150 years since James Clerk Maxwell came up with the electromagnetic theory of light, and 50 years since the development of fibre optics. All of which enlightening anniversaries provide a handy springboard for Unesco to promote light-based technologies throughout the year.
For those of us who spend our lives surrounded by artificial light, bathed in floods of the stuff in our homes and workplaces and on our streets, it might seem something so mundane as not to require, well, the spotlight. But today, more than a quarter of the world's population lives in darkness.
According to Unesco figures, more than 1.5 billion people around the world currently have no access to electric light, and around 1.3 billion of them must spend up to half their income on paraffin to light their homes at night. Paraffin kills around 1.5 million people a year in fires, or from associated health problems such as bronchitis and cancer. Inhaling paraffin smoke on a regular basis is equivalent to smoking four packets of cigarettes a day.
The need for clean, affordable alternatives is obvious, which is why one charity, Liter of Light, has pledged to create a million green, off-the-power-grid lights in 2015 using an ingenious design that is, frankly, rubbish. Liter of Light has developed a solar-powered light that is cheap and relatively easy to assemble and whose main feature is a plastic bottle: the kind that holds a litre of fizzy drink, and that is usually thrown away once empty.
The original Liter of Light organisation was formed in 2011 in the Philippines by MyShelter Foundation, a charity offering sustainable building solutions for storm-damaged communities. MyShelter's founder is Illac Diaz, who was shocked by the living conditions he saw in rural areas of the Philippines hit by severe storms during his work as a telecommunications manager. He began to think about ways of providing cheap and durable replacement buildings in these storm-damaged areas.
He left his job to study alternative architecture and urban planning at the Massachusetts Institute of Technology. It was there that he first came cross the original bottle-light technology, which had originally been developed by a Brazilian mechanic, Alfredo Moser, in 2002. Diaz hit upon the idea of using the technology to light poor and storm-damaged homes after seeing videos of it being put to similar use in Haiti. He returned to his home country and set up MyShelter Foundation in 2006. In 2011, the foundation created Liter of Light, installing solar bottles in more than 15,000 homes in and around the capital, Manila.
The technology is disarmingly simple – a plastic bottle filled with bleached water installed in the roof of a building so that daylight from outside refracts through the water into the room, providing equivalent brightness to a 50-watt conventional bulb in full daylight. A YouTube video (goo.gl/wwTn0v) showing how simple it is to install the bottle lights soon went viral and within a year the organisation had gone global.
Now, four years later, the charity boasts chapters in 53 countries and has installed at least 350,000 daytime lights and around 15,000 night lights, a new technology that uses solar panels to provide light for the night-time as well.
These night-time bottle lights are made up of a simple circuit, a battery, four LED lights, some plastic tubing, a small solar panel and the bottle itself. The LEDs are housed inside the protective bottle, with the solar panel screwed into the top. The three-watt lights provide enough brightness to light a 15sq m room. The circuits are cleverly designed so that they automatically switch on and off in the presence or absence of daylight.
With the addition of a 10ft PVC pipe, or pole made from bamboo or wood, the device can be transformed into a streetlight. More importantly, all the components are open-sourced and can be built from scratch, even down to the circuit itself, the instructions for which can be found online (goo.gl/QEsfFv).
The fact that the technology is not owned by a large, multinational corporation is hugely important in the charity's bottom-up approach, according to Diaz. "If you teach enough people how to make solar lights they can keep their communities safe with solar streetlights," he says. "Three to five watts is all that's needed to light an entire village. One watt times a million people who do it could be more powerful than a large-scale power plant."
Liter of Light provides a model where individual entrepreneurs can learn to make and install the devices and sell them on to their communities at a small profit, thus kick-starting grassroots green economies such as the one in San Pedro Laguna in the Philippines, where a single local entrepreneur has installed 11,000 solar bottles.
The global success of the idea has led to many different projects around the world. In Pakistan, the streetlight version of the technology is being used to light refugee camps. In 2014, local Liter of Light head, Vaqas Butt, installed 100 streetlights in the UN's Jalozai camp, one of the largest refugee camps in Pakistan, sheltering 10,000 families that have fled the conflict in Afghanistan.
"These camps were chock-a-block," says Butt, "and the average refugee had no access to light." For the Year of Light, Butt intends to provide another 450 lights to the camp and has a further 400 lined up for a fishing village on Pakistan's Arabian Sea coast. The plan is, says Butt: "To make sure every nook and corner of that village is lit up – the houses, the washrooms, the community places, the worship places, the shops, everything really." He will also teach the locals how to replicate the technology, providing a model for the rest of Pakistan's rural villages, around 50,000 of which are still off the main power grid.
In Egypt, Liter of Light, backed by the Pepsi company, will provide streetlights for rural villages as well as lighting 35 schools. But it is in Colombia where perhaps the most ambitious projects are taking place. Liter of Light Columbia has developed its own version of the technology to provide lighting that is 300 per cent more powerful than conventional yellow streetlights at just 2 per cent of the cost. "The lifespan is 70,000 hours guaranteed," says the director of Liter of Light Colombia, Camilo Hererra, "that's six years of light."
The streetlights can also shine for three consecutive nights without recharging. They have already been used to light two roads in the poor El Codito area of north Bogota and to provide light for 600 families in Medellin, Colombia's second largest city. The Year of Light will see 2,000 more installed in some of Colombia's off the power grid, conflict-torn areas and Farc zones. "The first step in making these communities safer," says Hererra, "is to illuminate their paths, streets and public spaces, and this has an impact on security of girls and women living in these areas."
Home lighting may not feel like a shining beacon of hope for those of us sitting under a 100-watt bulb. But for many, it is as distant a dream as Marty McFly's hoverboard. Hopefully, though, thanks to Liter of Light, 2015 really will be the year of light for a million more people.
Join our commenting forum
Join thought-provoking conversations, follow other Independent readers and see their replies