Modern Warfare 2 generates $1 billion for parent company Activision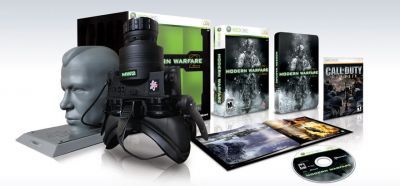 Activision, publishers of the Call of Duty video game franchise, have announced that its latest effort, Modern Warfare 2, has taken $1 billion in worldwide sales since its November 10 release in 2009.
CEO Bobby Kotick has been making comparisons with box-office smashes since before the launch of the game, and most recently Modern Warfare's estimated $550 million first five days were compared to openings of Avatar, Harry Potter & the Half-Blood Prince, and The Dark Knight. Mr. Kotick said in a statement, "There are only a handful of entertainment properties that have ever reached the $1 billion mark, which illustrates the power of the Call of Duty franchise and mass appeal of this game."
Not including revenue from DVD sales, Christopher Nolan's 2008 film The Dark Knight made a worldwide gross of $1bn and is the fourth highest grossing film of all time; the James Cameron-directed 3D extravaganza Avatar was released halfway through December 2009 and has already taken $1.4bn in the four weeks following, making it second only to Cameron's Titanic; Harry Potter & The Half-Blood Prince holds the record for the all time worldwide opening gross at $394m and made a total of $0.94bn since.
In comparison to the price of video games, where premium titles for the Xbox 360 and PlayStation 3 have an initial retail price of $59.99 / €59.99, the average cost of a cinema ticket in the US in 2008 was $7.18 according to the MPAA (Motion Picture Association of America), while the European Institute for Comparative Cultural Research has Western European cinema tickets in October 2009 at around €7.
Modern Warfare 2's standard edition retailed for $59.99 (€59.99) on Xbox 360 and PlayStation 3, a $5/€5 increase on the first Modern Warfare, with various special editions going for $79.99 (€89.99), $139.99 (€120), $149.99 (€149.99) and $399.99 (€329.99).
Join our commenting forum
Join thought-provoking conversations, follow other Independent readers and see their replies