The Independent's journalism is supported by our readers. When you purchase through links on our site, we may earn commission.
Music to your ears: how to plug in to downloading
Forget CDs; just about every tune ever recorded is available online.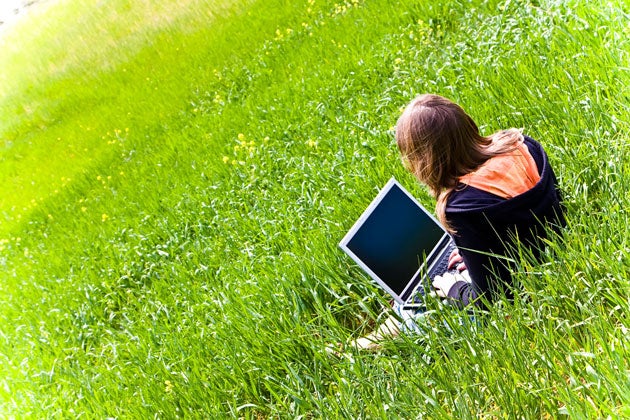 The rapid rise of the MP3 player has revolutionised the way we buy and listen to music over the past few years. In 2007, sales of CD albums fell by 10 per cent, while the number of tracks downloaded from the internet rose by more than a third.
Given the pervasiveness of digital music players (it's hard to find anyone on public transport that's not listening to one), it is perhaps surprising that the download market is not growing even more quickly. However, the confusion over different file formats, music quality and the legality of the different sites has so far kept its growth relatively muted.
For example, while more than two-thirds of MP3 players are iPods, many of the largest sites do not yet offer downloads that are compatible with Apple's software – a state of affairs that has prevented the download market from being as competitive as it should be. As a result, the price of downloading music from several of the largest sites is still almost as high as buying a CD.
Over the next few years, however, all that will change as the major record labels make their music available in universal formats, and as competition intensifies.
Even now, there's no need to settle for paying 79p a track on iTunes. Dozens of sites legally offer downloads for free. Here, we look at the factors you need to take into account when looking for the best places to download.
WMA or MP3?
Most music sites currently offer downloads as WMA (Windows Media Audio) files or MP3 (Mpeg Audio Layer 3) files – or both. But, while MP3 files can be uploaded on to and played by all digital music players, WMA files are not compatible with iPods, the most popular players.
Napster, one of the largest download sites, currently only offers WMA files, which means that it's no good for downloading to iPods. However, it hopes to be able to offer its entire catalogue in MP3 format by the end of the year. The market leader, iTunes, meanwhile, provides its tracks in AAC (Advanced Audio Coding) and its tracks are not compatible with any digital music players aside from the iPod.
Before you part with any cash for downloading music, make sure you're downloading it in a format that is compatible with both your music player and your computer software.
Who's legal?
There are many different ways to get your hands on music from the internet – most of which aren't legal. If you're managing to pick up A-list artists for free, then you can usually assume that it's not legal, but there are a few grey areas.
Russian music-download sites, such as mp3sparks.com and goldenmp3.ru, allow you to download chart albums for less than a £1 – and if you go to the FAQ section on their sites, you'll find a statement saying that they are licensed by the Russia Multimedia and Internet Society, and pay licence fees for all music that is sold. This much is true. However, the RMIS does not redistribute these royalties to the music publishers and record labels, who do not recognise the Russian regulators and claim that they are being cheated out of millions of pounds by them.
Dan Nash of Napster warns that it may not be legal for consumers to download from these sites. And if you are going to use one of them, examine your conscience first. Independent record labels depend on the money they earn from their successful artists. If you use the Russian sites to buy their music, you're helping to put the indie music world out of business.
One area of the music download business that's less legally fuzzy is the file-sharing market, which the music industry insists is completely illegal. Nash says that regular consumers are occasionally fined for using these sites, and the record labels have been busy pursuing legal suits against the websites (although without much success, as it's their users who are acting illegally, not the sites).
All of the sites mentioned in our box below are fully legal (perhaps with the exception of MP3sparks.com), and there are a number of places where you can download music for free. Indie labels often let sites offer some tracks for free to promote their lesser-known bands. But if you like what you hear, make sure you find a site to download and pay for the full album.
Who can you trust?
The names we mention below are all established download sites, and there are many other legit ones out there. However, there are also dozens of sites that are less trustworthy. Some file-sharing sites will try to make themselves sound like the new Napster, or iTunes, while other sites will even insist on you signing up to financial products and other promotions before you can register. Generally, the more hoops you're asked to jump through, the more wary you should be. Be sure to read all the small print before you sign up to a website. Once you've handed over your bank details, many will try to hit you for monthly debits.
A question of quality
Music download sites can vary dramatically when it comes to sound quality, so make sure you know what you're buying before you close the deal. You should be looking for a minimum of 128Kbps, but preferably 196Kbps. Some sites offer downloads at 320Kbps, which is as good as you will get from the CD.
It's also worth watching out for whether sites have DRM (digital rights management) attached to their tracks. Sites such as iTunes and 7digital use these, meaning that once you've paid for a track, you're limited in the number of times you can download it, and you may be restricted if you try to copy it or even burn it on to a CD.
Who's cheapest?
The Russian sites are by far the cheapest, but we don't feel we can recommend that you use them. Of the rest, Play.com has been stealing a march on its competitors, charging just 65p for many chart tracks and less than £7 for an album. 7digital has a few good offers – such as selected new albums for just £5 – while Wippit's prices start from just 29p a track (although its library is limited). If you don't have an iPod, Napster's unlimited downloads for £14.95 a month is a great deal for the real music enthusiast.
Let's make tracks: websites that offer the greatest hits
Pay sites
The industry leader, run by Apple. Downloads are in AAC format, and they only work on the iPod. Single tracks cost 79p, most albums cost £7.99. Standard quality is 128Kbps, but using iTunes plus, you can download at 256Kbps. Unlike most of its competitors, iTunes offers almost any music you can think of.
Napster only offers downloads in WMA format, but it plans to make all its catalogue available in MP3 later this year. Downloads are priced similarly to iTunes – 79p a track – although albums start at £6.95. Napster also offers a monthly subscription service, allowing you to stream and download unlimited tracks for £14.95 a month. Download quality is high, at 192Kbps.
At the moment, Tesco mainly offers WMA files. However, it has started to offer MP3 files from certain record labels and plans to continue increasing its MP3 offering. Like iTunes, the cost is 79p for most tracks, with chart albums priced at £7.97. Sound quality, at 192Kbps, is good.
Offers a mix of MP3 and WMA formats, with tracks for as little as 29p each. For an annual fee of £50, or a monthly fee of £4.99, you can make unlimited downloads from the site. A relatively limited selection at the moment, but growing. Most tracks are downloaded at 192Kbps, although some older tracks are only available at 128Kbps.
* Play.com
Most tracks are 65p, and albums £6.99. However, some labels are not yet available. Quality is high, at least 192Kbps, with some tracks at 320Kbps.
Only available in WMA. Tracks are 79p and chart albums are £7.90 and up. Quality is only 128Kbps.
The leader among the controversial Russian download sites. Downloads are very cheap – as little as $1.38 (69p) for chart albums such as the new Coldplay release. The quality at that price is just 128Kbps, but for a few pence more, you can download at 192Kbps or even 320Kbps. But is it legal? The Russians say yes, the record labels and publishers say no. One thing's for sure; Chris Martin won't see any of that 69p.
* We7.com
Allows you to download tracks for free in MP3 format, but with an advert tacked on to the front end. You can buy ad-free tracks for 70p.
Tracks usually cost 79p for 192Kbps quality, or 99p for 320Kbps. Multiple download formats available. Tracks include DRM (digital rights management), which restricts the number of times you can download them and where you can transfer them.
This site offers WMA format only. Single tracks can be downloaded for 75p, but most new tracks are 99p, while new albums are £7.99. However, 10p out of every £1 spent on the site goes to Oxfam. Download quality is only 128Kbps.
This is a subscription site focused on independent music. Customers can sign up to one of three monthly packages. For £10.99, you can download 30 tracks a month; for £11.99, you can download 50 tracks a month; and for £14.99, you can download 75 tracks. All downloads are in MP3 format. At 192Kbps, quality is good.
Free sites
Allows you to listen to (stream) all the latest music for free, and also offers some free downloads in MP3 format from independent labels.
Only offers a limited selection of music from independent record labels in MP3 format. Albums can be listened to for free, or downloaded for £6.99 and upwards. At 320Kbps, quality is excellent.
Mainly free downloads, available in MP3 or WMA formats. Allows you to build playlists of new music.
Join our commenting forum
Join thought-provoking conversations, follow other Independent readers and see their replies