National Rail's 'accessibility process' failed to see problems with Prince Philip website tribute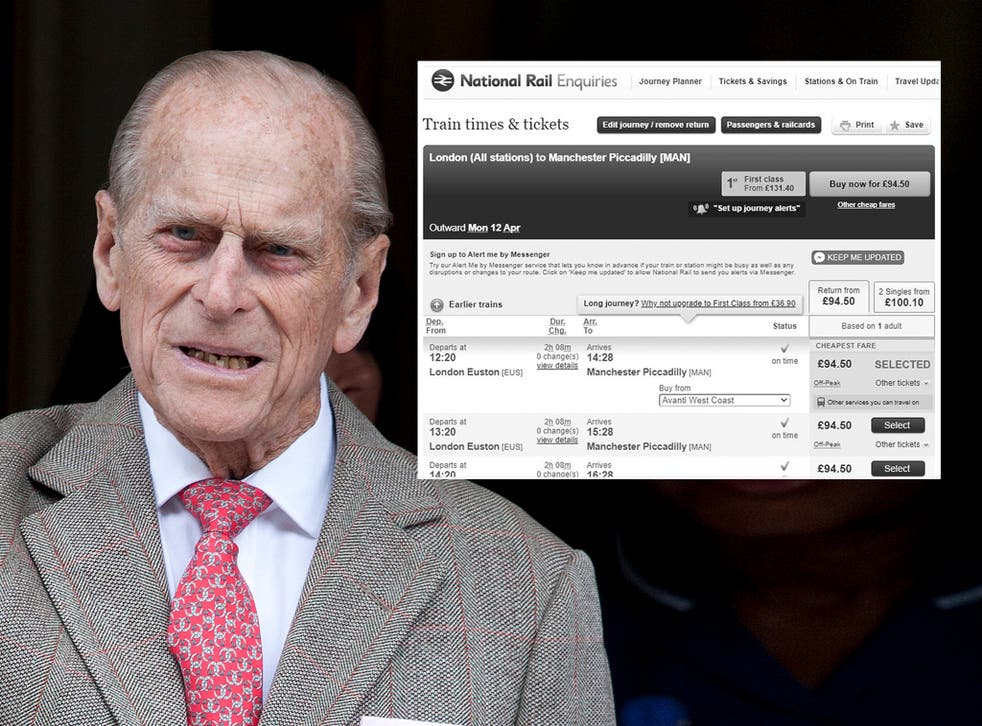 National Rail has said that it will address its "internal accessibility process" after it failed to pick up issues with its tribute to Prince Philip.
The train website removed its blue-and-white aesthetic in favour of a black and white one after the royal's death, but was criticised by users for being difficult to read.
National Rail, however, had not implemented a way to revert the change - something that affected its own employees.
One user, asking National Rail about the issue on Twitter because they "struggle" with grey colours, was told on 11 April by the company: "Unfortunately, I do not believe there is [a way to revert the change]."
"I will leave a note for someone to look at on Monday to see if there is. As I to have been struggling to read while it is coloured differently".
The decision to remove colours from the website was first discussed in spring 2019 in the event of The Queen's death, former National Rail user experience developer Efosa S Omorogbe told The Independent.
Mr Omorogbe noted then that the greyscale design could cause issues for users, he said, but added that there was not an adequate process for promoting accessibility.
Under the latest Web Content Accessibility Guidelines, public agencies are expected to "use text colours that show up clearly against the background colour".
In a statement, a spokesperson for the Rail Delivery Group, which runs National Rail Enquiries, said: "Before the change was made we went through an internal accessibility process, however we know from the feedback we've had that the website didn't work for everyone, so the website was changed and we're looking at how we address this in the future.
"We know how important it is for our website to be easy to use. We want to make the experience of using National Rail Enquiries better for everyone and we're investing in modernising the website in line with the latest accessibility guidelines.
"In terms of timing, it's public knowledge – although unofficially and not formally – that planning for the death of the head of state or her partner has been underway for some time."
National Rail did not provide more information about how this process is conducted, or whether further work had been carried out between 2019 and 2021.
Another contractor, who worked for a company National Rail used on its website eight years ago, said that major changes were "incredibly difficult to make" because of the age of the code powering the website.
The accessibility problems with the website led to criticism from campaigners. "Accessibility shouldn't be an afterthought, even in a period of national mourning. Nobody should be locked out of vital services and information", the charity Scope tweeted as National Rail made its change.
"This is part of a wider issue in public service messaging and communications, where accessibility is an afterthought. We've seen it throughout the pandemic with missing captions, no British sign language, and the misuse of animated infographics and charts. Access for all should drive public services such as National Rail, giving it the greatest chance of reaching the broadest audience", Hilary Stephenson, managing director at design and development company Nexer Digital, said.
"Communication of a brand position on national events such as this needs to be much more carefully thought out - they clearly had time to prepare."
Register for free to continue reading
Registration is a free and easy way to support our truly independent journalism
By registering, you will also enjoy limited access to Premium articles, exclusive newsletters, commenting, and virtual events with our leading journalists
Already have an account? sign in
Register for free to continue reading
Registration is a free and easy way to support our truly independent journalism
By registering, you will also enjoy limited access to Premium articles, exclusive newsletters, commenting, and virtual events with our leading journalists
Already have an account? sign in
Join our new commenting forum
Join thought-provoking conversations, follow other Independent readers and see their replies