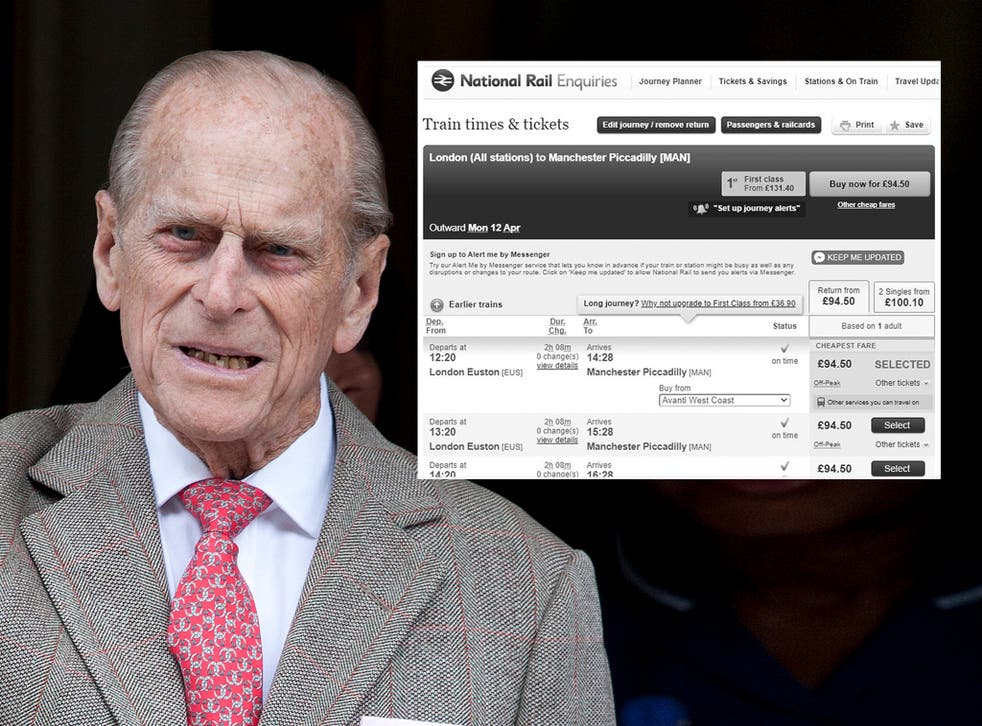 'It's what he would have wanted' – National Rail website mocked for turning black for Prince Philip
'It's virtue signalling of the worst kind' – one of many negative comments on social media
The National Rail Enquiries website has reverted to normal after switching to black "as a mark of respect" for the Duke of Edinburgh, who died on Friday.
The decision to abandon the usual easy-to-read screen with white-on-blue as well as black type was met with anger and derision by rail users.
Morgan Hay tweeted: "I thought it was just a joke on Twitter at first, but no: National Rail Enquiries really have greyscaled their website in mourning.
"Hope no visually impaired people need to catch a train this week!"
Gareth Dennis expressed a similar view: "What on earth does it achieve? Does the Queen really care that National Rail Enquiries have made their website grey (and unusable in the process)?
"No – it's virtue signalling of the worst kind."
Another wrote: "Making the National Rail Enquiries website grey and white: it's what Phil would have wanted."
National Rail Enquiries compounded matters with its explanation on Twitter, which misspelt the name of the Queen's late husband: "We've put our website in to black and white as mark of respect for Prince Phillip who passed away last week."
Many respondents expressed concern about users with visual impairments who require colour differentiation. Under the latest Web Content Accessibility Guidelines, public agencies are expected to "use text colours that show up clearly against the background colour".
One social media user, James Cherry, even issued instructions on how to find and override the code that was reducing every page to shades of grey.
"Right click the page and select 'Inspect'. Then find 'style="filter: grayscale(100%); from the top of the code and delete it.
"You will have to do this on every subsequent page unfortunately."
A spokesperson for the Rail Delivery Group, which runs the National Rail website, said:"The National Rail website was temporarily greyscaled as a mark of respect following the death of HRH Duke of Edinburgh on Friday.
"We have listened to feedback and have made changes to make it more accessible to all our customers."
Register for free to continue reading
Registration is a free and easy way to support our truly independent journalism
By registering, you will also enjoy limited access to Premium articles, exclusive newsletters, commenting, and virtual events with our leading journalists
Already have an account? sign in
Register for free to continue reading
Registration is a free and easy way to support our truly independent journalism
By registering, you will also enjoy limited access to Premium articles, exclusive newsletters, commenting, and virtual events with our leading journalists
Already have an account? sign in
Join our new commenting forum
Join thought-provoking conversations, follow other Independent readers and see their replies