Net neutrality: Why Trump's top internet official wants to repeal the internet law, in his own words
FCC chairman argues move will benefit consumers
Jeremy B. White
San Francisco
Tuesday 21 November 2017 19:33 Comments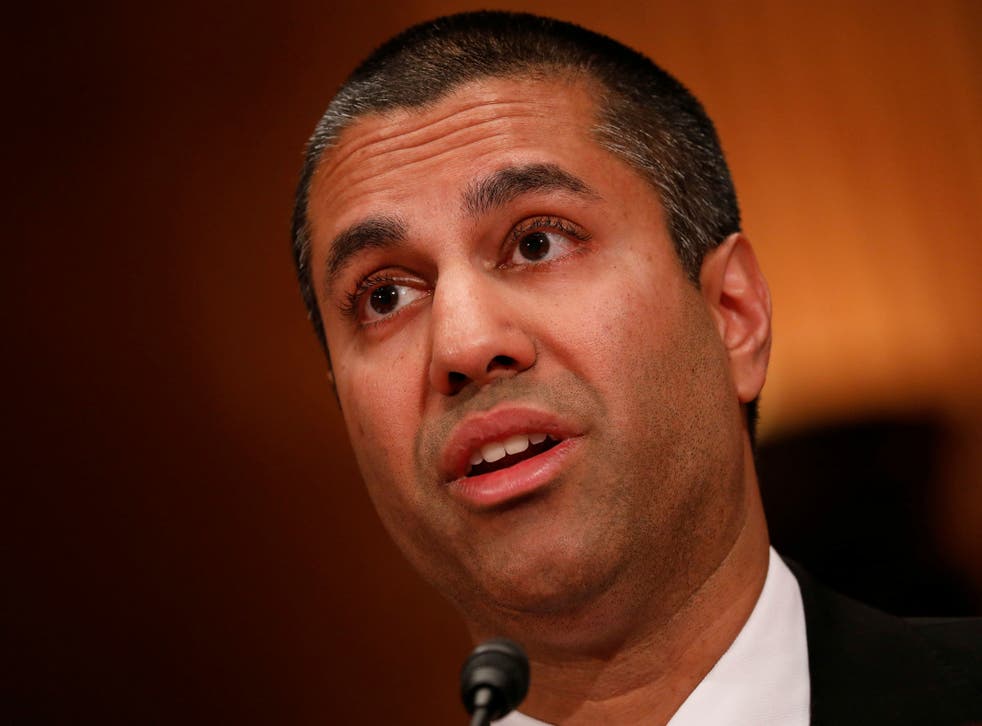 Fundamental principles of the internet are being dismantled to make it a more "pro-competitive" marketplace, according to the head of the Federal Communications Commission.
FCC chief Ajit Pai confirmed that the telecommunications regulator will throw out rules that prevented Internet providers from blocking content or segregating services into cheaper, slower options and more expensive but faster alternatives. In doing so, Mr Pai – who was appointed by Donald Trump – is leading the push to overturn landmark protections put in place under Barack Obama.
In interviews and a Wall Street Journal op-ed, Mr Pai justified his decision as a means to lift "heavy-handed" internet regulations that overly restricted internet providers.
"The FCC will no longer be in the business of micromanaging business models and preemptively prohibiting services and applications and products that could be pro-competitive," Mr Pai told Reuters, adding that "We should simply set rules of the road that let companies of all kinds in every sector compete and let consumers decide who wins and loses".
He argued in the Wall Street Journal that the FCC's decision to regulate the internet as a utility "has failed consumers and businesses alike", writing that the commissioners voting for the change chose "micromanagement over markets" by imposing rules that cost providers money and led them to invest less money in expanding connectivity.
"Consumers will benefit from greater investment in digital infrastructure, which will create jobs, increase competition, and lead to better, faster, and cheaper internet access—especially in rural America", Mr Pai wrote, adding "There was no market failure before 2015. Americans weren't living in a digital dystopia before the FCC seized power".
Internet addicts receive treatment in Beijing

Show all 18
Despite Mr Pai couching the net neutrality repeal as a victory for consumers, critics loudly blasted the move as a gift to telecoms giants.
His tweet proclaiming a "return to the light-touch framework under which the internet developed and thrived before 2015" drew a wave of outraged replies, with users warning of hurting consumers and constricting freedom of information. An FCC commissioner urged opponents to "make noise" against the shift.
Advocates of net neutrality have long warned that doing away with the rules would give internet providers immense power to determine what content users can and cannot see, advantaging those who are willing to pay more for faster service and undercutting the notion of the internet as a democratic hub that is equally free to everyone.
Mr Pai's tenure atop the FCC has swiftly proved controversial because he has led a push to dissolve various regulations.
Last week, he backed a 3-2 vote that discarded prohibitions on a single media company owning both a newspaper and a broadcast station or two television stations in a single market.
Supporters called the change a long overdue adjustment to a new era of news consumption, but detractors warned it would intensify corporate media consolidation and further shrink the sources from which people get information.
Register for free to continue reading
Registration is a free and easy way to support our truly independent journalism
By registering, you will also enjoy limited access to Premium articles, exclusive newsletters, commenting, and virtual events with our leading journalists
Already have an account? sign in
Register for free to continue reading
Registration is a free and easy way to support our truly independent journalism
By registering, you will also enjoy limited access to Premium articles, exclusive newsletters, commenting, and virtual events with our leading journalists
Already have an account? sign in
Join our new commenting forum
Join thought-provoking conversations, follow other Independent readers and see their replies