New aluminium phone battery will charge in a minute, can be drilled and bent
New technology is also much safer than existing smartphone batteries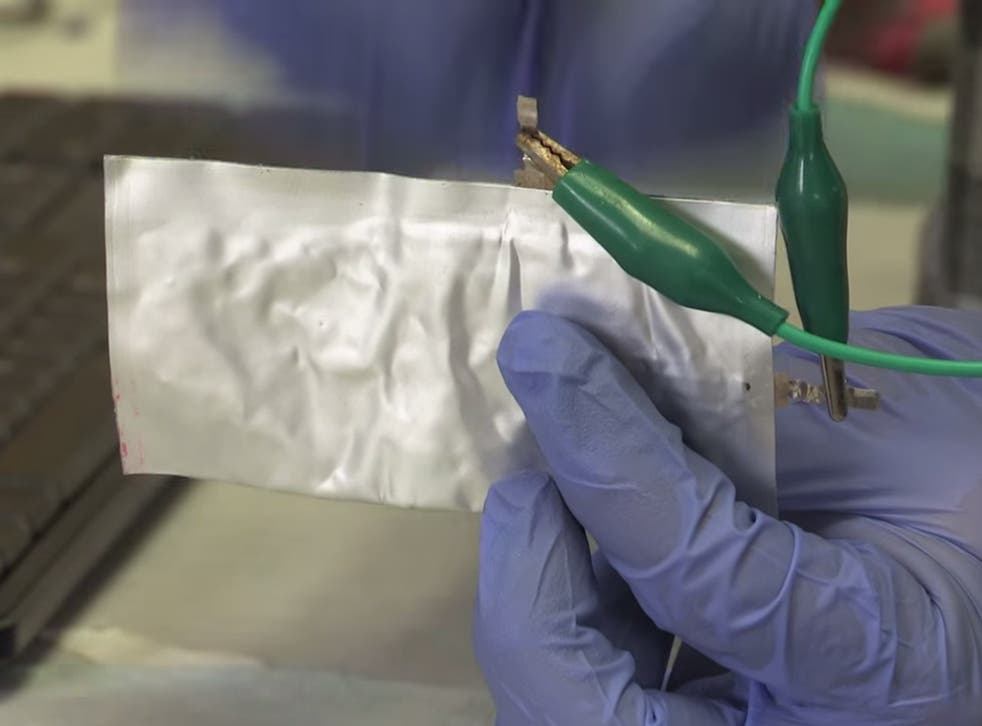 A new smartphone battery promises to make charging much quicker, less often and far safer.
The new technology uses aluminium and graphite, and has been developed by scientists at Stanford.
The battery is bendable, too — which the scientists say could eventually make way for phones that are also bendable.
Scientists across the world are working hard to overhaul the current battery technology, which uses lithium-ion chemicals but are only improving slowly and can be unsafe to make and use.
At the Consumer Electronics Show earlier this year, one of the most celebrated technology reveals was a smartphone battery that could charge in two minutes. Dyson also invested in a battery technology that could eventually double the life of batteries, last month.
Aliminium batteries have long been hoped to overtake other technologies, since it is cheap and can store a lot of power, but scientists have struggled to get enough voltage out of such a battery. That problem is still to be fully overcome with the new battery, though it was shown off powering an HTC smartphone.
The Stanford scientist's battery is not flammable, like existing lithium-ion technology. It can even be drilled through and still used for some time, meaning that it could withstand shock.
Existing batteries, which use chemicals to store power, also steadily lose capacity over time as their power storage decays. But the Stanford battery can last for thousands of cycles of charging and then use.
As well as meaning that phone batteries and other uses won't see the gradual decline that competing technologies do, the lack of decay also means that the battery could be useful in high-use environments, like power grids that store electricity for cities and other large areas.
The new technology was demonstrated in a video posted yesterday by graduate student Ming Gong and postdoctoral scholar Yingpeng Wu.
Register for free to continue reading
Registration is a free and easy way to support our truly independent journalism
By registering, you will also enjoy limited access to Premium articles, exclusive newsletters, commenting, and virtual events with our leading journalists
Already have an account? sign in
Register for free to continue reading
Registration is a free and easy way to support our truly independent journalism
By registering, you will also enjoy limited access to Premium articles, exclusive newsletters, commenting, and virtual events with our leading journalists
Already have an account? sign in
Join our new commenting forum
Join thought-provoking conversations, follow other Independent readers and see their replies