New apps and technologies let children track Santa as though he were a standard delivery driver
​While the Royal Mail delivers more than half-a-million letters to Father Christmas every year, there have never been more ways to contact the big man – from real-time tracking to augmented reality apps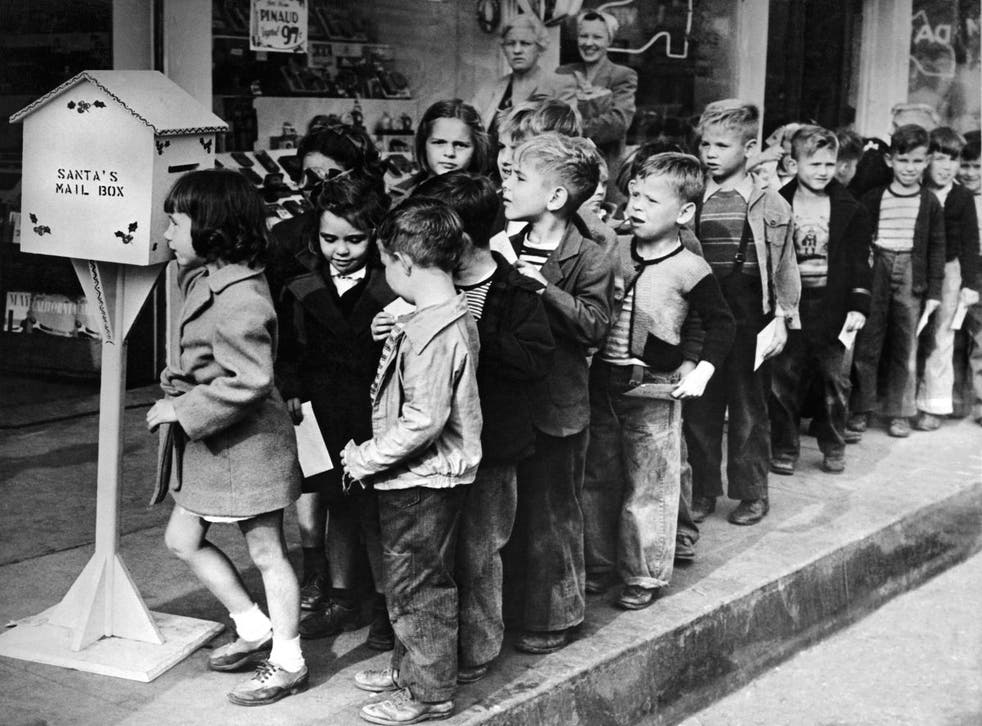 I'm chatting with Santa and we're having a lovely conversation. He knows my name and where I'm from and while he politely bats off my incisive questioning – "What am I getting for Christmas?" – with some non-committal answers, he's made a note of what I want come 25 December. (World peace, ideally. If not, videogames).
It doesn't seem to faze him that I'm in my late-30s, nor is he put off by the randomness of my inquisition. Will Jeremy Corbyn be Prime Minister? "Probably not." What's the most popular present? "I think it is a tie." But then the conversation comes to an abrupt end. "Are you real?" I ask, and the browser hosting our online chat crashes. Who knew that St Nicholas was so touchy?
The next time I visit SantaBot.com, I ask again. "Yes, I am sitting here talking to you, aren't I?" he says. Except he isn't really. This Santa is the Chatbox creation of American cognitive scientist Marvin Minsky, an expert in artificial intelligence and the co-founder of the AI laboratory at Massachusetts Institute of Technology.
Minsky produced the site little more than 10 years ago and while it is never going to pass the Turing Test, it is one of a number of ways in which young minds can engage online with Santa.
It seems a long way from my own childhood, when access to Father Christmas was pretty limited. If I was lucky, there was a trip to a shed-like grotto in the middle of a shopping centre for a brief chat and a very modest plastic toy. My annual letter to the big man would be a hand-written wish list, and I might leave a carrot and a small glass of alcohol out on Christmas Eve to keep Santa and Rudolph's strength up. ("What's not to like about whisky?" says Santabot, when I check what he thinks).
Of course, millions of children still do these things. Morag Turnbull, the deputy head of external relations at the Royal Mail, says that the number of letters addressed to Father Christmas rose from 400,000 in 2013 to 600,000 last year, showing that the seasonal service – whereby children receive a response to their letters and have been doing so since 1963 – remains popular. "A team of elves at Royal Mail help Santa to reply to these special letters," she says, revealing that Lego is, once again, the most requested toy of the year.
But online services are lending extra spice to the run-up to Christmas. For not only are children drawing up wishlists on Giftster or on the websites of retailers such as Toys R Us, Amazon and Argos, they are seeking to find out exactly where Santa may be and even looking to catch a glimpse of him as he pops down the chimney.
Each year, 20 million children head to Noradsanta.org, run by the North American Aerospace Defence Command, which has been following Santa for 60 years. Millions more visit santatracker.google.com, set up in reaction to Norad switching to Bing's browser in 2012.
Both sites allow children to track Father Christmas as though he were a standard delivery driver, albeit one who can fly for 34 hours non-stop around the globe at 2,924,100mph (as calculated by Arnold Pompos of Purdue University for the science magazine Focus). And when Father Christmas finally arrives at the house, augmented-reality apps such as Santa Spy Cam and Kringl can superimpose moving footage of the red-suited one and his elves as they nip around leaving presents under the tree. Proof, if it was needed, that Santa does exist.
Yet even these online services are just the tip of a North Pole iceberg. Scheduled automated calls are also being offered by dozens of phone apps purporting to act as the necessary "fixer" between child and Santa, with each one claiming to give the impression that the lucky child is chatting with the main man. Since such services tend to charge a fee or choose to be funded by adverts, they have become part of a lucrative seasonal industry. Santa Calls You for iOS was downloaded 10,000 times in 10 days last Christmas. Meanwhile, the A Call From Santa! app, developed by a team headed by Twan Claassen, is currently being used by 100,000 active users every day.
"A phone call is an easily understandable concept even for small children," Claassen says of the attraction of the apps. "It's also relatively simple to make Santa sound realistic by choosing a talented voice actor and coming up with a good script."
Such scripts tend to work in the same way, peppering Father Christmas's chat with a small number of closed questions followed by short pauses that invite predictable answers. "Santa also makes sure that he mentions the child's age and gender as entered by the parents," says Claassen. "This makes the call sound very natural."
Even so, Claassen thinks that there's room for improvement. He says that the next step will be real-time automated voice conversations (for when Santa's busy, of course). "Take a look at what Apple has achieved with Siri in recent years," he says. "We're keeping a close eye on these developments as it will definitely be interesting to integrate into Santa's app."
While advanced AI can throw up problems – Microsoft's artificial intelligence bot in 2007 had to be pulled when Father Christmas veered wildly "off-script" and started to discuss oral sex – it does appear a natural step. But in the meantime, a number of companies are making their services highly customisable with some Santa apps able to encourage children to eat their greens, be nice to siblings and knuckle down to their homework. They can be so effective that parents have been known to use them throughout the year.
Such an approach is evident in the videos created on the Portable North Pole website. The company has created 100 million professionally shot videos so far, all of them well-acted and voiced and appearing tailor-made, with photographs of children provided by parents woven in to short films featuring Santa.
"Portable North Pole has become a modern tradition for tech-savvy families because it shares a personalised and thus highly emotional experience for the child," says its communications and special projects manager Estelle Pigot. "Santa will encourage the child to try their best in the coming weeks", she adds.
Technology might be giving children more opportunities to talk to Santa, but making them behave better? Now that really would be a Christmas miracle.
Register for free to continue reading
Registration is a free and easy way to support our truly independent journalism
By registering, you will also enjoy limited access to Premium articles, exclusive newsletters, commenting, and virtual events with our leading journalists
Already have an account? sign in
Register for free to continue reading
Registration is a free and easy way to support our truly independent journalism
By registering, you will also enjoy limited access to Premium articles, exclusive newsletters, commenting, and virtual events with our leading journalists
Already have an account? sign in
Join our new commenting forum
Join thought-provoking conversations, follow other Independent readers and see their replies