Facebook temporarily bans posts of article with image of starving girl in Yemen
Social media network says it doesn't allow nude images of children, but later restored posts as photo is 'of global significance'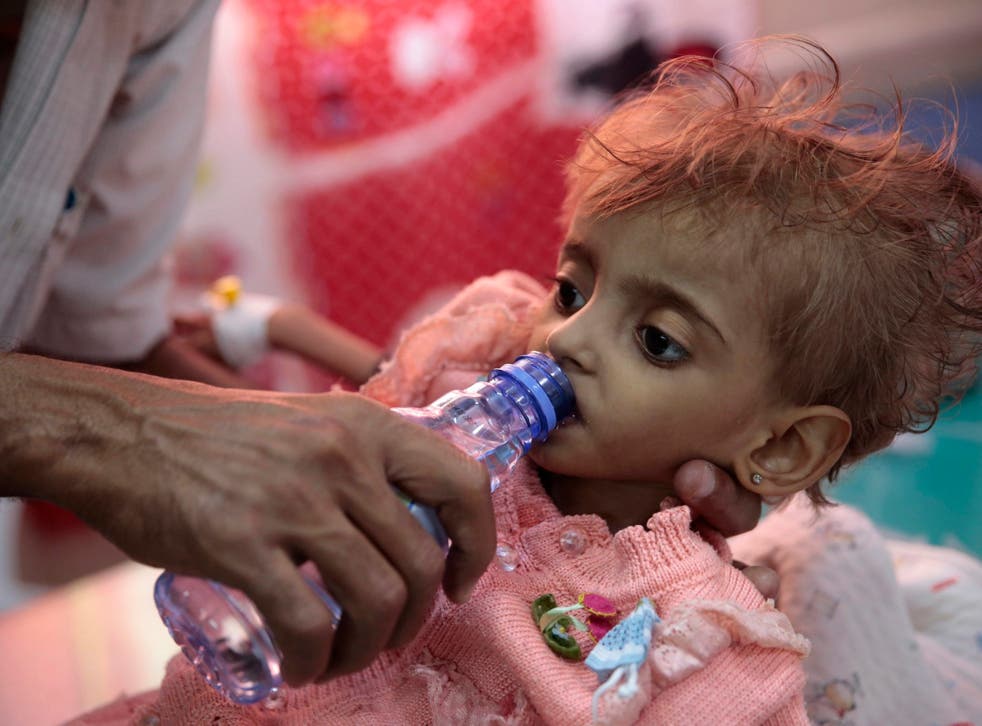 Facebook temporarily removed posts from readers who tried to share a New York Times article about conflict and hunger in Yemen, which included images of emaciated children.
Tens of thousands of readers shared the article on Facebook on Friday, but some got a message notifying them that the post was not in line with Facebook's community standards.
Facebook had addressed the issue by Friday night.
"As our community standards explain, we don't allow nude images of children on Facebook, but we know this is an important image of global significance," a spokeswoman said in an emailed statement. "We're restoring the posts we removed on this basis."
The article highlighted the suffering of Yemeni civilians amid a devastating war pitting Houthi rebels and their allies against a Saudi-led coalition whose campaign of airstrikes, which are aided by US-supplied bombs and intelligence, have killed thousands of civilians.
Economic warfare has worsened the despair for many Yemeni families, and the country is at risk of a catastrophic famine.
The conflict began more than three years ago, and it received more attention when the killing of a Saudi dissident, Jamal Khashoggi, led to outrage and turned a spotlight on Saudi actions in the region.
World news in pictures

Show all 50
In another article published on Friday, New York Times editors explained why they decided to publish the photos of the starving children.
"They are brutal," it said. "But they are also brutally honest. They reveal the horror that is Yemen today. You may choose not to look at them. But we thought you should be the ones to decide."
When Jarjieh Fang, a graduate student in Washington, saw the article about Yemen onFriday, he found the photographs shocking.
"I thought it would be something worth sharing, to sort of jolt people to start paying attention to what's going on in Yemen," he said.
He posted a link to the article on his Facebook page, and a couple hours later, he got a notification. His post had been taken down, and there was a message from Facebook.
"On Facebook, we don't allow offers of sexual services, solicitation of sexual material, threats or depictions of sexual violence, threats to share intimate images or any sexual content involving minors," it said.
Dozens of people complained about similar issues on social media or in emails to the journalists who originally reported the story. But it is unclear how many people were affected.
Tens of thousands of people shared the story on Facebook, and many posts – including the one on The New York Times' own Facebook page – were not taken down.
The experience left Mr Fang confused about Facebook's policies. "I was disappointed when it was taken down so quickly, and that something so important was being scrubbed from people's News Feeds," he said.
Facebook uses a combination of algorithms, employees and flags from users to screen for content that may need to be removed. The company did not have information about the number of people whose posts were removed Friday.
"We're glad to hear that Facebook has reversed itself on this issue," said Eileen Murphy, a spokeswoman for The New York Times.
"It's incredibly disappointing to think that this story would be blocked in violation of their community guidelines.
Support free-thinking journalism and attend Independent events
"The job of journalists is to bear witness and give voice to those who otherwise would not be heard.
"This story is a stunning example of exactly that kind of work, from some of the very few journalists who are on the ground detailing the unfolding humanitarian crisis in Yemen. Denying any readers access to the story is wrong."
Facebook's temporary removal of the posts on Friday recalled a similar episode in 2016, when the social media company temporarily took down a post featuring a Pulitzer Prize-winning photograph from the Vietnam War. It shows a 9-year-old girl, Phan Thi Kim Phuc, fleeing napalm bombs in 1972.
And in 2015, Facebook had to revise its community standards after photos of women breastfeeding were removed from its pages.
New York Times
Register for free to continue reading
Registration is a free and easy way to support our truly independent journalism
By registering, you will also enjoy limited access to Premium articles, exclusive newsletters, commenting, and virtual events with our leading journalists
Already have an account? sign in
Register for free to continue reading
Registration is a free and easy way to support our truly independent journalism
By registering, you will also enjoy limited access to Premium articles, exclusive newsletters, commenting, and virtual events with our leading journalists
Already have an account? sign in
Join our new commenting forum
Join thought-provoking conversations, follow other Independent readers and see their replies