Podcasts: Why the future sounds funny
Podcasts are bringing stand-up comedy to new audiences. As the BBC gets in on the act, Frank Skinner and Richard Herring give Ian Burrell the lowdown on downloads
Wednesday 12 January 2011 01:00 GMT
Comments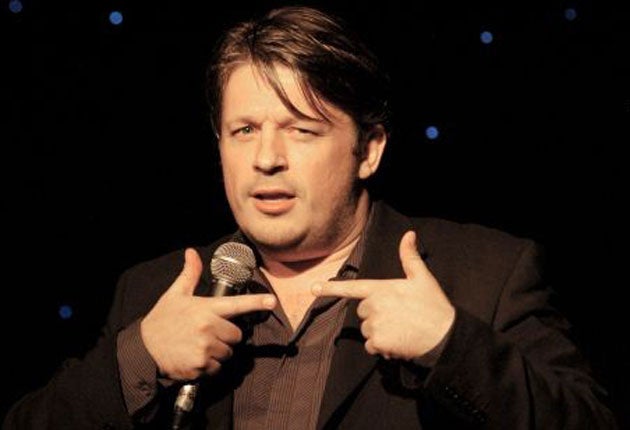 The launch last week of a new podcast called Comedy of the Week must have been one of the easiest decisions the BBC has made in its tumultuous past 12 months. Within hours of release, the 29-minute Mark Thomas clip was in the Top 10 of the iTunes chart, competing with a raft of other offerings from the likes of Ricky Gervais and Russell Brand.
It will be seven years next month that a newspaper writer came up with the expression "podcast" and the medium has come to be dominated by comedy. The tougher call for the BBC was whether to label Comedy of the Week a podcast, because the term sounds increasingly outdated. "The language started with podcasting which was relevant to a particular device [but] if you talk to younger audiences it's just downloading," says Andrew Caspari, the head of speech radio and classical music interactive, BBC. What's certain is, as Caspari adds, "comedy works".
Following a trail blazed by Gervais, comedians have become increasingly aware of the value of a podcast in showcasing their abilities and driving sales of tickets and DVDs. One of the most successful exponents is Richard Herring, who produces two weekly podcasts. His Collings and Herrin download, produced with BBC 6 Music presenter Andrew Collins, averages 26,000 listeners. But As It Occurs to Me is a solo effort recorded live before a paying audience. Herring hopes it can help change the business model for comedy. "The idea to try and make it work as a financial model was to charge the people a nominal fee, so if 400 people come and you charge a tenner you have a budget," he says. "I write it on Sunday and Monday and do it on the Monday evening, usually in the Leicester Square Theatre."
The podcast has a weekly audience of 35,000 and is an important marketing tool for his live work. "It's nothing like a TV or radio show in terms of the numbers of people listening but they have chosen to download it and it's a more intimate experience. This is the thing most responsible for my audience doubling in size on tour."
Being independently produced, As It Occurs to Me offers Herring artistic licence. "It's so hard to get on radio and TV and the whole Sachsgate thing has made it harder to do interesting and challenging stuff," he says. "The nice thing about podcasts is that if people don't like them they don't download them. There are no compliance issues."
Herring praises the "punk rock" ethos of low production values in podcasting (his skits with Collins are basically hour-long conversations without editing). But it's not the DIY environment many predicted five years ago and most successful comedy podcasts are endorsed by major broadcasters.
The BBC also produces Friday Night Comedy from Radio 4, a regular No 1 on iTunes. TalkSport podcasts The Russell Brand Radio Show and Absolute Radio makes two downloads from Frank Skinner's programme, a show which goes out early on Saturday mornings. Skinner has clocked up 6.5m downloads, roughly 171,000 a week. "We have a lot of listeners who have never heard it live," says Skinner.
In addition to the edited version of his show, Skinner stays in the studio to record a further 35 minutes of chat with co-presenters Emily Dean (the deputy editor of In Style) and upcoming comedian Gareth Richards. They call it Not the Weekend Podcast.
In such an environment there is "scope for natural flow" which doesn't exist in linear commercial radio based around four-minute chunks between records and ads. "If something dies after three minutes that's fine and if it goes on for 15 minutes that's also fine – it's much more like human conversation."
Skinner can partake in long discussions of such matters as pedestrian racing, a hobby. "I have been doing it most of my life. I will spot someone walking quickly and think 'I'm having him' and can't rest until I have overtaken them. I've talked about the tension of them not knowing whether they are being raced and sitting on their shoulder for a bit to make them feel uneasy and then the moment when you pull away," he says. "I thought it was an idiosyncratic thing but I had emails saying, 'I have been doing this for years, I'm a postman and I regard how much mail I have as my handicap.' There was another bloke saying he was overtaking someone and they said 'Come on then!' and he thought it ruined the etiquette."
Such material seems to work on podcasts. Andy Zaltzman and Jon Oliver (from The Daily Show with Jon Stewart) have found an audience for political satire with The Bugle. Some serious issues have worked in the medium, notably Radio 4's A History of the World in 100 Objects, which recorded a remarkable 9.5m downloads last year. In Our Time, used to pioneer BBC podcasting in September 2005, still scores 250,000 downloads a month. The Radio 4 institutions Desert Island Discs and The Archers are chart stalwarts.
The notion that a good podcast is a cleverly edited digest is losing credibility. "People don't want to be told what the best bits were by us, they will spool through if it's not a bit they wanted," says the BBC's Caspari.
The most popular podcast made by production company Wise Buddah has been for the National Health Service. From Couch to 5k is designed to get the sedentary into a pair of running shoes, a 13-part series with music and verbal encouragement tailored to the exercise programme.
Russ Williams, the head of digital and business development at Wise Buddah, says the big radio stations are best placed to make podcasts. "Anyone can make stuff but who is it for and what's its audience? Radio has the production teams and the crafting behind it already and all those radio stations can offer promotion."
Though music podcasts continue to be hampered by the rights issues that have dogged them from the outset, Williams says small record labels are using audio downloads to create promotional mixes of their artists. "It's cheap and they own the rights," he says.
Skinner and Caspari agree that sports podcasts have struggled to get established. Skinner began podcasting with a sports project for The Times, a collaboration with David Baddiel based on the 2006 World Cup in Germany. "My manager said they want you to do 23 podcasts from the World Cup and you get tickets for 15 games, all the England games, two quarter finals, both semis and the final. I said, 'Yeah, I'll definitely do it.' The next thing I did was phone up someone else to ask them what a podcast was."
Like Herring, he believes audio downloads will give comedians a greater freedom. He has written a new comedy script for Radio 4 but, inspired by Gervais (who makes his own podcasts and offers a mix of free and paid-for downloads) says he considered producing it independently. "All those producers and schedulers are going to become redundant because people are going to say, 'We can do this ourselves.' It's fairly cheap, you don't have to go through the commissioning and editorial process, you get it straight out there. It's one strand of the future of comedy – once you give people the sniff of freedom they don't want to go back in the cell."
Join our commenting forum
Join thought-provoking conversations, follow other Independent readers and see their replies