Apple boss Tim Cook warns UK's spying bill will have 'dire consequences' for 'good people'
Breaking encryption, as the new Investigatory Powers Bill allows, could 'not only result in privacy breaches but also security issues', Mr Cook said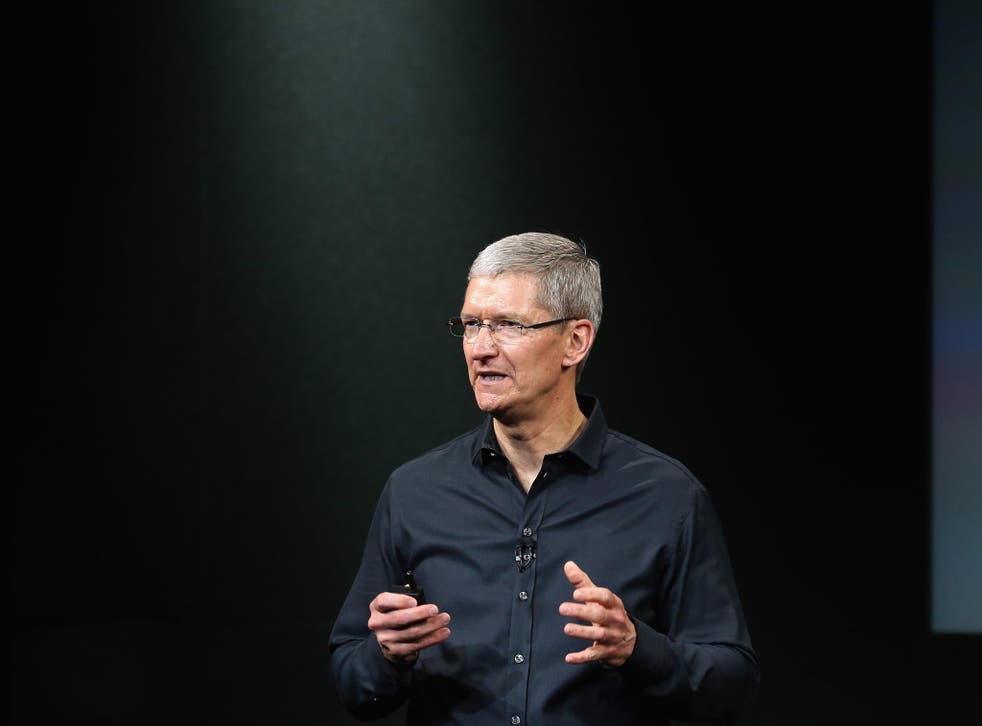 The UK's new spying powers could have "very dire consequences", according to Apple boss Tim Cook.
Criticising the kind of powers enabled by the new Investigatory Powers Bill, Mr Cook said that the Government's proposals could allow for breaches of privacy and security, and said that he was "optimistic" that pressure could lead the Government to change its course.
Theresa May introduced the new bill — an attempt to bring back some of the measures in the Snoopers' Charter, which was introduced last year — last week. It includes wide-ranging powers that can force companies including Apple to help spies break into customers' phones, and to break security features so that the Government can more easily read messages.
The Government has looked to present the bill as not banning encryption, a measure that was proposed in advance of publication. But technology companies have warned that many parts of the bill do seem to give authorities the power to weaken security features so that intelligence agencies can read messages.
Mr Cook said in an interview with the Telegraph that the encryption that the bill looked to ban was necessary to ensure that communications stay secure.
"To protect people who use any products, you have to encrypt," he said. "You can just look around and see all the data breaches that are going on. These things are becoming more frequent.
"They can not only result in privacy breaches but also security issues. We believe very strongly in end to end encryption and no back doors. We don't think people want us to read their messages. We don't feel we have the right to read their emails."
Gadget and tech news: In pictures

Show all 25
Mr Cook, who also spoke to The Independent as part of the launch of the iPad Pro, echoed criticism made by a range of computer experts. The Government's plans could see companies including Apple being forced to institute encryption "backdoors" — a way for Government's to get around security, but which could also be exploited by hackers or rogue spies or employees to break into any messages.
"Any backdoor is a backdoor for everyone," he said. "Everybody wants to crack down on terrorists.
"Everybody wants to be secure. The question is how. Opening a backdoor can have very dire consequences."
Mr Cook also repeated a criticism he made earlier in the year, that the proposed changes to internet and device security would probably only hit good people. Those that want to hide their security will already be using other services that can ensure their messages can't be read, he claimed.
"It's not the case that encryption is a rare thing that only two or three rich companies own and you can regulate them in some way. Encryption is widely available. It may make someone feel good for a moment but it's not really of benefit.
"If you halt or weaken encryption, the people that you hurt are not the folks that want to do bad things. It's the good people. The other people know where to go."
Mr Cook said that he hoped lobbying by the public and the press could change the proposed laws on encryption. The Labour Party has largely given its assent to the proposals, with Liberal Democrat leader Tim Farron accusing the party of acting like a "nodding dog" over the plans.
"I'm optimistic," Mr cook said. "When the public gets engaged, the press gets engaged deeply, it will become clear to people what needs to occur.
"You can't weaken cryptography. You need to strengthen it. You need to stay ahead of the folks that want to break it."
Register for free to continue reading
Registration is a free and easy way to support our truly independent journalism
By registering, you will also enjoy limited access to Premium articles, exclusive newsletters, commenting, and virtual events with our leading journalists
Already have an account? sign in
Register for free to continue reading
Registration is a free and easy way to support our truly independent journalism
By registering, you will also enjoy limited access to Premium articles, exclusive newsletters, commenting, and virtual events with our leading journalists
Already have an account? sign in
Join our new commenting forum
Join thought-provoking conversations, follow other Independent readers and see their replies