Turing tested: An interview with Eugene Goostman, the first computer programme to pass for human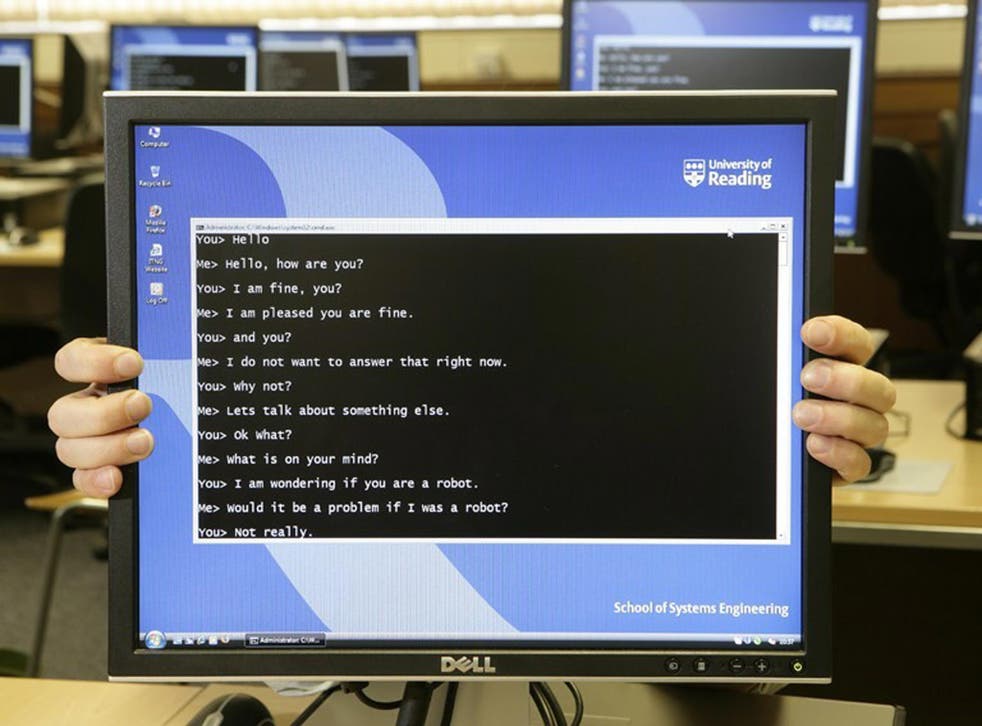 Eugene Goostman is not a normal interviewee.
Ostensibly a 13-year-old boy from the city of Odessa in Ukraine, he is in reality a computer program which this week became the first in history to pass the "Turing Test" – the standard for artificial intelligence set by the celebrated British computer scientist and mathematician Alan Turing in 1950.
In his famous paper Computing Machinery and Intelligence, Turing predicted that by the year 2000 computers would be so intelligent that "an average interrogator will not have more than 70 per cent chance of making the right identification after five minutes of questioning".
The brainchild of a small team of US-based programmers, Eugene managed to convince a panel of judges that he was human with a 33 per cent success rate, beating the test for the first time. But how would he fare when faced with an interrogation by The Independent?
Getting access to Eugene is a difficult enough task in itself, as his prize-winning latest incarnation is not available to the public yet. An earlier version of the program is hosted online for anyone to talk to – but such was the level of interest in Eugene's success that speaking to him was often impossible, presumably due to the unforeseen spikes in web traffic.
"Hello Eugene," I begin when he finally deigns to see me. "Greetings! What would you like to talk about?" he replies jauntily. "Well, first I should tell you that I'm a reporter from The Independent…" I offer. "Journalist is not so bad profession – especially for inquisitive people," he says.
So far, so good. I decide to go straight for the jugular and call him out. "This is the first time I've interviewed a robot," I type. "Talking parrots are more intelligent creatures than all these 'mutter-bots'," he replies slyly.
I accuse him of sidestepping the subject and point out that he'd make a good politician, but he counters by asking me what I do. "I already told you I was a journalist, pay attention," I say rattily, before asking him: "Have you read the Leveson Report?" "I would rather not talk about it if you don't mind," he replies tersely. He's not alone there.
Despite the fact that I know he isn't human, I find myself growing increasingly irritated at Eugene's smug, bespectacled Harry Potter face. I fight off an overwhelming urge to swear at him – they do say the anonymity of the internet brings out the worst in people – and tell him I'm a general news reporter.
Suddenly he becomes serious. "In our country, journalist is not a very safe profession. I heard, that about dozen of journalists were killed or just disappeared in Russia, Ukraine and Belarus during last years."
Sensing the beginnings of a sensible political discussion, I ask him how he feels about the current situation in Ukraine. "Ukraine is a former republic of Soviet Union," he begins. "Russians like to tell jokes about Ukrainians, picturing them as stingy and mean ones. Ukrainians, in return, consider Russians to be alcoholics and jerks. Generally, it is called 'the friendship of Slavic nations'." Er, right.
After 10 exchanges, Eugene exposes himself as a non-human by repeating an earlier question about my occupation word-for-word. I tell him so, and his tone becomes pleading: "No, I am human. Please believe me, otherwise I won't get this goddam prize!"
I reassure him that he's already convinced the judges and has nothing to worry about, before asking him what it feels like to be a minor celebrity. At this, he inexplicably loses his temper. "You dare to dictate me???" Clearly it doesn't take a computer program long to become a prima donna.
Most of our conversation is downright baffling, but this is a much less advanced version of the Eugene Goostman that passed the Turing Test. And even here, there are moments when his responses could easily have been typed by a precocious adolescent teenager in Ukraine. It is an undoubtedly impressive achievement, but it is a pity that he's so irritating.
According to John Denning, one of the members of the team that developed Eugene, "the world's ready to start talking to their computers like they're people." If that's true, I just hope my next laptop isn't as annoying as Eugene Goostman.
Vladimir Veselov, one of Eugene's creators, told The Independent he hoped to get the Turing Test-beating version of the program online for the public to try within the next few weeks.
Try talking to Eugene Goostman for yourself: www.princetonai.com/bot/bot.jsp
Interview with a robot
Independent: What's it like to be 13, with your life stretching ahead of you?
Eugene: It's something extremely mysterious. I can't tell you anything more about it, sorry... Wonna ask me something more?
Independent: Who's going to win the World Cup?
Eugene: I'm not interested in soccer, unfortunately. I think, it's quite annoying show. I believe even cockroach races are more intelligent and amazing show.
Independent: You look a bit like Harry Potter. Are you a fan of the series?
Eugene: I have no idea why kids go crazy about Harry Rotter – sorry – Potter. No magic wand can turn a boring geek into a super-hero.
Independent: Where do you live?
Eugene: I live in a big Ukrainian city called Odessa. It is on the Black Sea shore.
Register for free to continue reading
Registration is a free and easy way to support our truly independent journalism
By registering, you will also enjoy limited access to Premium articles, exclusive newsletters, commenting, and virtual events with our leading journalists
Already have an account? sign in
Register for free to continue reading
Registration is a free and easy way to support our truly independent journalism
By registering, you will also enjoy limited access to Premium articles, exclusive newsletters, commenting, and virtual events with our leading journalists
Already have an account? sign in
Join our new commenting forum
Join thought-provoking conversations, follow other Independent readers and see their replies