Delegates at Davos held a meeting about the dangers of autonomous 'killer robots'
Delegates to the World Economic Forum meeting in Davos were reportedly very interested in the 'killer robots' issue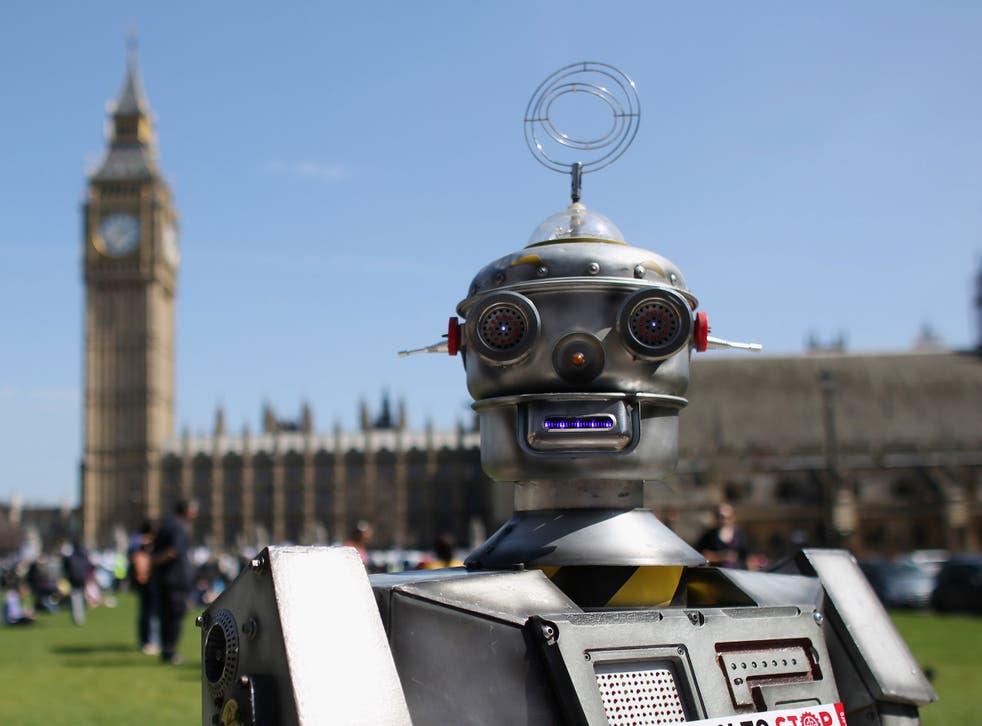 The issue of 'killer robots' one day posing a threat to humans has been discussed at the annual World Economic Forum meeting in Davos, Switzerland.
The discussion took place on 21 January during a panel organised by the Campaign to Stop Killer Robots (CSKR) and Time magazine, which asked the question: "What if robots go to war?"
Participants in the discussion included former UN disarmament chief Angela Kane, BAE Systems chair Sir Roger Carr, artificial intelligence (AI) expert Stuart Russell and robot ethics expert Alan Winfield.
Despite coming from very different sectors, the participants agreed on one thing during their hour-long discussion - autonomous weapons (or 'killer robots') pose dangers to humans, and swift diplomatic action is needed to stop their development.
The panelists were quick to distinguish an autonomous weapon from something like a drone, which is unmanned but ultimately controlled by a human.
Autonomous weapons, which are currently being developed by the US, UK, China, Israel, South Korea and Russia, will be capable of identifying targets, adjusting their behaviour in response to that target, and ultimately firing - all without human intervention.
Sir Carr, the weapons industry representative, said weapons like this would be "devoid of responsibility" and would have "no emotion or sense of mercy."
Davos 2015 in numbers

Show all 9
"If you remove ethics and judgement and morality from human endeavour whether it is in peace or war, you will take humanity to another level which is beyond our comprehension," he said.
The discussion came after more than 3,000 experts from the worlds of science and robotics signed an open letter calling for a ban on 'killer robots'.
Famed physicist Stephen Hawking and technologist Elon Musk were among the signatories to the letter, which was authored by the CSKR.
Currently, the CSKR is lobbying to get the issue of autonomous weapons on the table of the UN Convention on Certain Conventional Weapons, which has previously banned the use of weapons like landmines, booby traps and blinding laser weapons in warfare.
Taking the issue to Davos, where around 2,500 of the world's top business leaders, politicians and intellectuals meet every year, should help their campaign gain more traction among the world's decision makers.
It's not yet possible to build truly 'intelligent' autonomous robots, so the weaponisation of them is still far away. However, some nations already use semi-robotic weapons in their militaries.
South Korea has a network of automatic sentry guns along the border with North Korea, which use cameras and heat sensors to detect and track humans all by themselves. However, they still need a human to tell them to fire.
Register for free to continue reading
Registration is a free and easy way to support our truly independent journalism
By registering, you will also enjoy limited access to Premium articles, exclusive newsletters, commenting, and virtual events with our leading journalists
Already have an account? sign in
Register for free to continue reading
Registration is a free and easy way to support our truly independent journalism
By registering, you will also enjoy limited access to Premium articles, exclusive newsletters, commenting, and virtual events with our leading journalists
Already have an account? sign in
Join our new commenting forum
Join thought-provoking conversations, follow other Independent readers and see their replies