48 Hours In: Abu Dhabi

Show all 3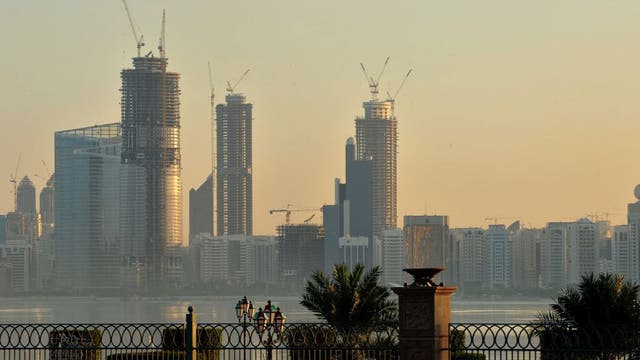 48 Hours In: Abu Dhabi
As winter takes hold in Britain, a short break to the  Emirates looks appealing. But you don't have to settle for the usual suspect, Dubai, says Nick Boulos
Click here for our 48 Hours In Abu Dhabi graphic
Why go now?
It may once have struggled to compete for attention with Dubai, its glitzy neighbour just an hour up the road, but Abu Dhabi is emerging into the limelight. The capital of the United Arab Emirates is also a city rich in history and heritage and has beaches, nature and fine restaurants. November is a great time to visit, with the average temperature a pleasant 25C and there's excitement in the air ahead of National Day celebrations on 2 December, the date back in 1971 when the seven Emirati states joined forces to become the United Arab Emirates. You can expect fireworks, flags and special exhibitions throughout the city.
Touch down
Etihad Airways (0845 608 1225; etihadairways.com) is the local airline, with flights morning, noon and night from Heathrow, and twice-daily departures from Manchester. British Airways (0844 493 0787; ba.com) has a single daily departure from Heathrow.
I travelled with Travelbag (0871 703 4240; travelbag.co.uk), which offers three nights in Abu Dhabi with half board at the St Regis hotel and Etihad flights from Heathrow for £699pp.
The airport, almost 20 miles east of the city centre, is connected by the 901 bus that leaves from outside the terminal every 40 minutes; the fare is three dirhams, or AED3 (50p). The journey time to the downtown Old Fish Market (1) is 45 minutes. A taxi will cost around AED75 (£13).
Get your bearings
The discovery of oil here in the late 1950s changed Abu Dhabi's course from that of sleepy fishing hub to busy metropolis. The capital is formed from more than 200 tightly packed islands close to the mainland, with the heart of the city on one of the largest – it is a grid of wide boulevards, lined with skyscrapers more reminiscent of Manhattan than the Middle East.
To the east, across the Khalifa Bridge, is Saadiyat Island (saadiyat.ae). Bold developments are under way to transform it into a cultural district by 2020. The complex will have its own Louvre (due to open in 2015) with the Guggenheim, designed by Frank Gehry, set to follow two years later. At the moment, there is just a sprinkling of resorts to be found here.
There are six tourist information centres, including branches at the airport and inside the 200-year-old Al Maqtaa Fort (2) (00 971 2 444 0444; abudhabitourism.ae), found near the Al Maqtaa Bridge.
Check in
The five-star St Regis (3) (00 971 2 498 8888; stregissaadiyatisland.com) opened on Saadiyat Island a year ago. This sprawling resort of 337 rooms features a golf course and a beach frequented by nesting hawksbill turtles between April and July. Doubles from AED1,300 (£220), including breakfast.
Despite the name, the best asset of the Beach Rotana (4) (00 971 2 697 9000; rotana.com) isn't its small stretch of shoreline but its central location. Situated on 10th Street, it offers easy access to all the downtown attractions. Doubles from AED1,035 (£175), including breakfast.
Design fans will feel at home at the Aloft Hotel (5) (00 971 2 654 5000; aloftabudhabi.com) inside the Abu Dhabi National Exhibition Centre. Sleek rooms with walk-in showers and marina views, are available from AED300 (£50), room only.
Day One
Take a view
Set to open tomorrow, the Observation Deck (00 971 2 811 5555; bit.ly/EtTower) on the 74th storey in one of the five Etihad Towers (6) is the place to go to get acquainted with Abu Dhabi. Open 10am-7pm daily, admission AED75 (£12).
Take a hike
Stretching for 3km and dotted with palm trees, the Corniche (7) makes a good starting point. Wander west with the sandy shores to your right and gleaming skyscrapers across the road. The blue-flag beach is patrolled by lifeguards and it's worth taking a dip. In the distance are the domes of the Emirates Palace (8), one of the most lavish hotels in the city.
Veer right, towards the national flag of the UAE proudly billowing beside the port, and you'll soon reach the Abu Dhabi Heritage Village (9) (00 971 2 681 4455). Among the cluster of stone buildings, designed to replicate a traditional village, are a museum with exhibits of old Bedouin culture and a mosque that travellers are welcome to visit. Open from 9am to 5pm Saturday to Thursday, 3.30pm to 9pm on Fridays, free entry.
Lunch on the run
Within the village is Al Asalah (10) (00 971 2 681 2188; alasalahrestaurants.com), an eatery serving good Emirati staples such as nakkhi (chick peas cooked with cumin) and balaleet (noodles with egg). Mains from AED10 (£2).
Window shopping
The Abu Dhabi Mall (11) (00 971 2 645 4858; abudhabi-mall.com) on 9th Street has three floors lined with luxury shops, department stores and coffee shops. Open 10am to 11pm on Thursday, 3.30pm-11pm on Friday, and 10am-10pm on other days. Visit the Emirati take on a hypermarket, the Abu Dhabi Co-op.
For a more local flavour – and photo opportunities – head to the Iranian Market (12) in Al Meena. A short walk away is the fruit and veg section where most of the stalls specialise in dates, some selling more than 50 varieties from Saudi Arabia and across the Middle East. Open 6am to midnight daily.
An aperitif
Alcohol is served only in hotels and associated bars such as Left Bank (13) (00 971 2 558 1680; bit.ly/ADLeftBank) at Souk Qaryat Al Beri. Choose one of the 40 signature cocktails – the Mangorissima (rum, mango puree, red chilli, citrus liqueur) is recommended at AED44 (£7). A Dim Sum platter of nibbles is AED125 (£20).
From the outdoor terrace you can see Abu Dhabi's star attraction: the Sheikh Zayed Grand Mosque (14), the largest in the UAE.
Dining with the locals
Mezlai (8) (00 971 2 690 7999; emiratespalace.ae; reservations essential) inside the Emirates Palace on West Corniche Road is said to be one of the first restaurants in the UAE to serve local cuisine. The star dish AED110 (£19) is chicken medfoun, in which the bird is wrapped in banana leaves before being roasted.
The no-frills restaurant Lebanese Flower (15) (00 971 2 644 0269) at 17 Salam St makes a bold claim by describing its shawarmas (grilled meat in a flatbread wrap) as the best in town; the locals who pile in here seem to agree. Don't miss the homemade hummus, either. Mains from AED40 (£7).
Day Two
Sunday morning: go to the mosque
With 82 white marble domes and four slender minarets sparkling under the sky, the Sheikh Zayed Grand Mosque (14) (00 971 2 441 6444; szgmc.ae) is a sight to behold. Named after the UAE's first president, who is buried within the complex, this mosque of Italian glass mosaics and hand-woven Persian carpets can accommodate more than 40,000 worshippers at once. Open 9am to 9pm daily (Fridays from 4.30pm), admission free. Guided tours take place throughout the day including at 10am and 11.30am on Sundays. Dress respectfully. On arrival, women are provided with head coverings and full-length black robes.
Out to brunch
Owner Aida Mansoor has filled the Café Arabia (16) (00 971 2 643 9699; open 7am to 10.30pm daily) on 15th Street near Al Karama Street with vibrant local art and comfortable armchairs. The Arabian breakfast of ful medames (fava beans mashed with garlic and parsley) with feta cheese and olives at AED54 (£9) is the perfect way to start the day. The coffee is good and strong, too.
A walk in the park
Across the road are the Mushrif Khalifa Gardens (17), a pleasant patch of greenery that attracts local birdwatchers. Several species, including a number of warblers, wagtails and pipits, have been spotted.
Ornithological afternoon
As the national emblem of the UAE, falcons have been highly prized for centuries. See these exquisite birds of prey up close at the Abu Dhabi Falcon Hospital (18) (00 971 2 575 5155; falconhospital.com). Since opening in 1999, it has won acclaim for its pioneering work. Two-hour interactive tours take place at 10am and 2pm every Sunday to Thursdays, costing AED170 (£29).
Take a ride
Formula 1 arrived in Abu Dhabi in 2009 with much fanfare and proved an instant hit. The Grand Prix took place here earlier this month, but the Yas Marina Circuit (19) (00 971 2 659 9999; yasmarinacircuit.ae) is open all year round and offers adrenalin junkies the chance to go for a spin and reach speeds of 150mph. Drives cost from AED1,200 (£203).
Join our new commenting forum
Join thought-provoking conversations, follow other Independent readers and see their replies