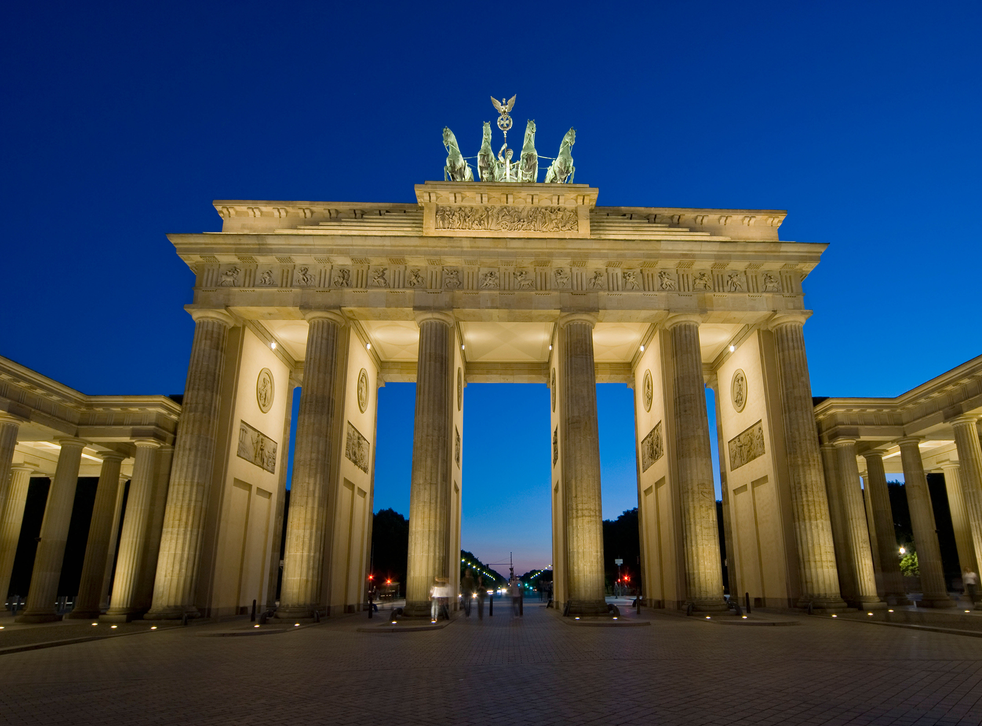 48 hours in Berlin
Twenty-five years after the fall of the Wall, City-West has got the attention it deserves
James Litston
Friday 15 August 2014 15:00 Comments
Why go now?
City-West, the centre of former West Berlin, is back in vogue. During the Cold War, this area was the goal for those trying to escape the East. But with the fall of the Wall in 1989 and German reunification, the spotlight turned to eastern districts, leaving staid and stagnant City-West distinctly out of favour. In the past year, however, it has undergone a startling renaissance.
At its heart, the Zoological Gardens area spreads out from Zoo station , where a glitzy, new-build Waldorf Astoria opened last year, followed this year by the avant-garde Bikini Berlin complex. The renewal is gathering pace too, with a resurgent retail centre at Kurfürstendamm and the C/O Berlin gallery reopening on 30 October.
Touch down
Berlin has two main airports (berlin- airport.de). Tegel, 9km north-west of the centre, is served by BA (0844 493 0787; ba.com) from Heathrow; and Germanwings (0330 365 1918; germanwings.com) from Heathrow and Birmingham. Schönefeld, 24km south-east, is served by easyJet (0843 104 5000; easyjet.com) from eight UK airports; and Ryanair (0871 246 0000; ryanair.com) from Stansted and East Midlands.
Berlin's transport network extends across travel zones A, B and C. A single bus or train journey costs €2.60 in Zones A and B (where Tegel is located), or €3.20 to Zone C (Schönefeld). For multiple journeys, pick up a Tageskarte (day ticket) at any station (€6.70 for A/B, €7.20 for A/B/C). Alternatively, buy a Berlin Welcome Card combining travel pass with discounts at attractions, tours and restaurants. These are available from Tegel's tourist office (daily, 8am-9pm) and at the main tourist office in Neues Kranzler Eck (00 49 30 250025; visitberlin.com; 8am-8pm, closed Sundays).
From Tegel, the X9 bus to Zoo station takes 20 minutes (bvg.de); taxis take 15 minutes (€15). From Schönefeld, take the train: Deutsche Bahn's Airport Express (bahn.de) runs every 30 minutes and takes around half an hour to reach Zoo.
Get your bearings
Devastated, post-war Berlin was effectively rebuilt as two cities, with two transport hubs and commercial centres, and even two zoos. Access into City-West is via Zoo station, which connects U-Bahn, S-Bahn, Deutsche Bahn rail and buses. From Zoo, the leafy expanse of the Tiergarten is immediately adjacent, while Charlottenburg (with its castle and gardens) is to the west.
Berlin's other central hub, Alexanderplatz, lies across the Tiergarten, via Brandenburg Gate. Most of the city's major draws are in this easterly portion, including the districts of Mitte, Friedrichshain and Kreuzberg.
Day One
Check in
The Waldorf Astoria Berlin at Hardenbergstrasse 28 (00 49 30 814 0000; waldorf astoria.com) is set within the limestone-clad Zoofenster building and features a Guerlain spa and a chic, 15th-floor library with 180-degree views. Doubles from €210, room only.
Things get edgier at 25hours Bikini Berlin, Budapester Strasse 40 (00 49 30 120 2210; 25hours-hotels.com), where there's a tangible vibe of East Berlin. Rooms come with city or "jungle" views ... looking on to the zoo and start at €110.
For something more old school, Pension Funk at Fasanenstrasse 69 (00 49 30 8827193; hotel-pensionfunk.de) is a guesthouse on a quiet backstreet near Kurfürstendamm. Doubles from €52 (or €82 en suite), B&B.
Take a hike
Start out at Brandenburg Gate (8): Berlin's signature sight. Strike out along Strasse 17 Juni (or wander through Tiergarten's woods and lawns) towards the Siegessäule (Victory Column), topped by a winged figure nicknamed "Golden Elsie". From here, continue along 17 Juni before turning left at the Gas Lantern Museum , where an open-air collection of 90 old-fashioned street lamps from across Europe (including London and Dublin) lines a cobbled pathway in the park.
Cross the bridge at the end of this path and stop at Schleusenkrug (00 49 30 313 9909; schleusen krug.de), a café overlooking the Landwehrkanal. Grab a coffee or beer in the garden and watch boats navigate the lock. Across the canal lie the Zoological Gardens, with more species than any other zoo (00 49 30 254010; zoo-berlin.de; 9am-7pm daily; €13). The entrance is opposite Zoo station . The landscaped grounds are a real pleasure.
Lunch on the run
Head upstairs to Bikini Berlin's open-air, 3rd-floor "garden" and nab a table at Supermarket (00 49 30 2693 0643; supermarket.de). Part café, part design concept store, it serves a daily-changing set menu of regional specialities (beef medallions with potato salad) for €11.50pp for two courses, or €16.50 for three.
Window shopping
Back downstairs, get ready to splurge at Bikini Berlin (bikiniberlin.de), an
all-new mall with youth-oriented streetwear stores, pop-up units highlighting home-grown design and a picture window looking into the zoo's baboon enclosure.
Kurfürstendamm (or Ku'damm) is City-West's main shopping street, though most flagship stores are closed on Sundays. The most interesting newcomer is 14 oz. at Kurfürstendamm 194 (00 49 30 88921814; 14oz-berlin.com) for stylish, quality, urban fashions. Another City-West stalwart is Kaufhaus des Westens, or KaDeWe, at Tauentzienstrasse 21 (00 49 30 21210; kadewe.de). Europe's largest department store sprawls over eight floors and has had a major renovation.
An aperitif
For a drink with a view, head to Monkey Bar (00 49 30 12 02 21200) on the top (10th) floor of the 25hours hotel. As Berlin's bar of the moment, it attracts a cool crowd. An interesting cocktail list includes, naturally, the King Kong: made with vanilla rum and cherry bitters. Floor-to-ceiling glass walls fold back in summer to let the outside in.
Dining with the locals
Back at ground level, try Ranke 2 for traditional dishes such as sausage and schnitzel, at Rankestrasse 2 (00 49 30 8838 882; ranke2.de). Or try some Michelin-starred fine dining at Les Solistes, by Pierre Gagnaire, at the Waldorf Astoria (00 49 30 814000 2450; lessolistes.de).
For a late-night snack, try Currywurst; a sausage-in-tangy-ketchup that's a Berlin favourite. Get yours to go from Wursterei at Hardenbergstrasse 29d (until midnight Monday-Thursday, to 3am Friday-Saturday).
Day Two
Sunday morning: go to church
With its "broken tooth" spire, Kaiser Wilhelm Memorial Church on Breitscheidplatz is City-West's definitive landmark. It was badly damaged in an Allied air raid but its remnant, arched vestibule (free; 10am-6pm, Monday-Saturday, noon-5.30pm Sundays) has glorious mosaics, while the honeycomb carapace and stained-glass blocks of the 1960s replacement create a disco-ball interior (9am-7pm, daily).
Out to brunch
The eclectic Breakfast Market, at Markthalle Neun, Eisenbahnstrasse 42 (markthalleneun .de) is held every third Sunday. More at Motzstrasse 28 (00 49 30 23635702; more-berlin.de) in Schöneberg, also does great-value breakfasts.
Cultural afternoon
At the Helmut Newton Foundation, Jebensstrasse 2 (00 49 30 3186 4825; helmut newton.com; 10am-6pm, Tues-Sun; €10), exhibitions include his iconic, black-and-white portraits. See more photography at C/O Berlin, which moves this autumn to the revamped Amerika House, Hardenbergstrasse 22 (00 49 30 2844 4160; co-berlin.org).
Or catch a blockbuster at renovated Zoo Palast, Hardenbergstrasse 29A (00 49 1805 222 966; zoopalast-berlin.de) – a 1950s cinema restored to full retro glory.
A walk in the park
Pfaueninsel (Peacock Island) was once a pleasure garden for Prussian royalty; its woods and wildflower meadows are dotted with World Heritage-listed pavilions and palaces. The ferry crossing costs €3pp.
Icing on the cake
The Berlin Wall's entire course has been marked out as a recreational route: the 155km Mauerweg. Discover it by bike (€11 per day) from Potsdam per Pedales (00 49 331 7480057; potsdam- per-pedales.de). Pause on the Mauerweg and visit lakeside Schloss Cecilienhof, where Allied leaders met for the Potsdam Conference in 1945.
Click here to view German tours and holidays, with Independent Holidays.
Register for free to continue reading
Registration is a free and easy way to support our truly independent journalism
By registering, you will also enjoy limited access to Premium articles, exclusive newsletters, commenting, and virtual events with our leading journalists
Already have an account? sign in
Join our new commenting forum
Join thought-provoking conversations, follow other Independent readers and see their replies