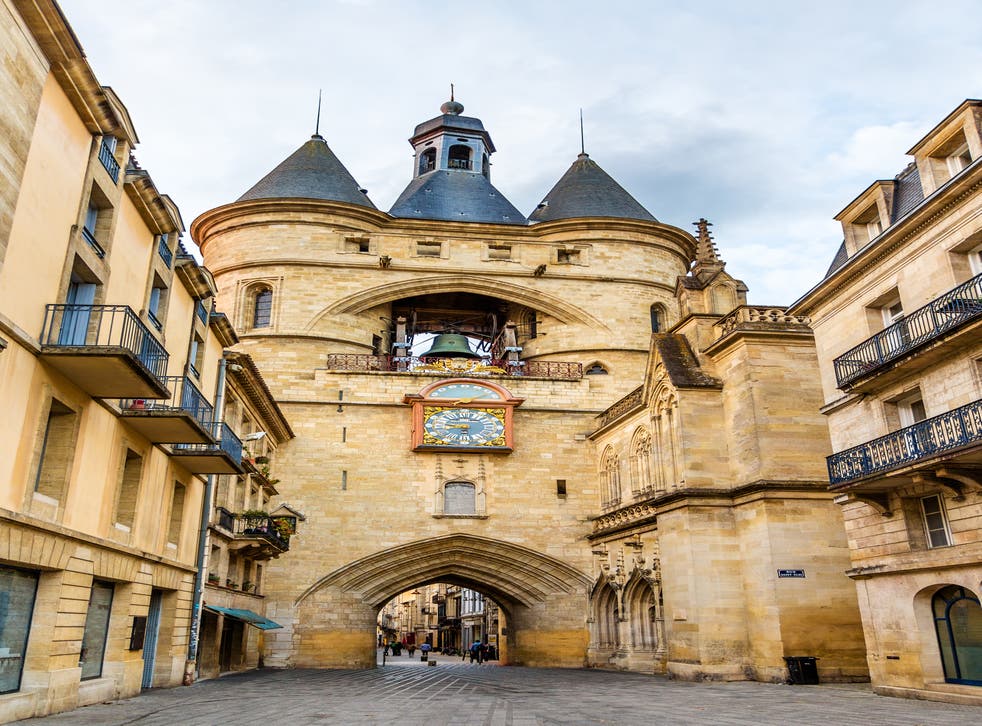 48 Hours in Bordeaux: hotels, restaurants and places to visit in the capital of French wine country
A new landmark wine centre, tramway and renovation of its historic city centre are giving this Euro 2016 host city added sparkle
Why go now?
Following the meticulous 15-year renovation of its magnificent, Unesco-listed 18th-century city centre and the launch of a sleek new tramway system – cars are painted a jaunty forest green, median strips are turfed – Bordeaux has just inaugurated the £65m La Cité du Vin (1) (laciteduvin.com). Designed by Paris-based architectural firm XTU, the swirling gold, aluminium and glass building on the banks of the Garonne River north of the city's historic heart aspires to be the world's largest cultural centre devoted to wine.
The epicurean French city is also in the midst of a restaurant boom, and the Bordeaux Wine Festival (23-26 June; bordeaux-wine-festival.com), which sees 80 wine pavilions opening along the riverfront is a good occasion to discover some of these new tables. The eight appellations of the Bordeaux region are represented, and aside from tippling from stand to stand, other activities include cask-rolling competitions, a street art exhibition from the Institut Culturel Bernard Magrez, and nightly performances of Beethoven's 5th Symphony on the opposite bank at Hall Darwin (2). Each night, the festival closes with a 20-minute sound and light show, followed by fireworks.
The 2016 Uefa Euro 2016 championship (uefa.com) takes place in France from 10 June to 10 July. Bordeaux will welcome up to five matches, including one quarter-final, in its brand new 43,000 seat stadium (3). A giant "fan zone" (4) will also be set up on the Esplanade des Quinconces where all of the matches will be broadcast on a giant screen.
Touch down
Bordeaux is served direct by easyJet (0843 104 5000; easyJet.com) from Gatwick, Luton, Bristol, Glasgow and Liverpool; Flybe (0871 700 2000; flybe.com) from Birmingham, Cardiff (11 June only) and Southampton; Ryanair (0871 246 0000; ryanair.com) from Stansted, Bristol and Edinburgh; and British Airways (0344 493 0787; ba.com) from Gatwick.
Merignac airport (5) (bordeaux.aeroport.fr/en) is located 12km west of Bordeaux. The navette shuttle bus (30direct.com) to Bordeaux St-Jean train station (6) takes 30 minutes and operates from 8am-11pm daily; a one-way ticket costs €7.20, a return ticket €12.30. Depending on traffic and the time of day, taxis average €25 to €30.
Eurostar travels from London St Pancras, Ebbsfleet and Ashford to Bordeaux St-Jean (6) in six hours 47 minutes with a change in Lille or Paris (03432 186 186; eurostar.com). When the new TGV (high-speed) train service between Paris and Bordeaux is inaugurated next year, the journey will be reduced by 90 minutes.
St-Jean train station (6) is located just south of the city centre, which is easily reached by tramway or bus (infotbc.com); it runs daily from 5am to 1am. Unlimited day passes cost €26, two-day passes €33, and three-day passes €40. Individual tickets cost €1.50 and can be purchased on trams and buses; these tickets allow for free transfers between buses and trams.
Get your bearings
Built on a quarter-moon-like bend on the Garonne river in the Aquitaine region of southwestern France, Bordeaux – the country's fifth largest metropolis – is lyrically known as the "Port de la Lune" (port of the moon). The Garonne river runs north-south, and so does Bordeaux, which was founded by Celtic tribes around 300 BC as Burdigala. It was conquered by the Romans, who brought grape vines to the region in 60BC.
The city has many rent-it-here, leave-it-there bicyles for hire at 166 stations. The first 30 minutes of any rental, which is paid for by credit or debit card, are free, and then cost €2 afterwards.
The main tourist office (7) (00 33 5 56 00 66 00; bordeaux-tourism.co.uk) is located at 12 Cours du XXX Juillet and is open from 9am-6.30pm Monday to Saturday, closed Sunday; there are also branches at Gare St-Jean (6) and Merignac airport (5). The tourist office offers a free Bordeaux app, which is very useful and can be downloaded from its website. It also sells one, two and three day City Passes that offer free access to museums and exhibitions and unlimited public transportation (€24, €31 and €33 respectively).
Check in
Located in a handsome, 19th-century townhouse in the heart of the city, the recently opened twelve-room Yndo Hotel (8) (00 33 5 56 23 88 88; yndohotelbordeaux.fr) at 108 rue de l'Abbé de l'Epée is furnished with high-end contemporary furniture from makers such as Edra and features amenities rarely found in hotels of this size in France, including 24-hour room service and air-conditioning. Doubles start at €440, room only.
A cosy, 12-room boutique hotel with a convenient location from which you can walk or ride the tram to the most of the city's attractions, the Hotel de Tourny (9) (00 33 5 56 81 56 73; hoteldetourny.com) at 16 rue Huguerie has comfortable rooms with contemporary décor and a friendly young staff. Doubles start at €160, room only.
With Philippe Starck as its headliner designer, the Mama Shelter (10) chain has acquired a reputation for hip good-value lodgings in Paris, Marseille and Lyon. Its 97-room hotel in Bordeaux (00 33 5 57 30 45 45; mamashelter.com) occupies a renovated office building just on the edge of the historic centre at 19 rue Poquelin Moliere. Rooms are comfortable, well-designed and kitted out with iMacs, and the bar and pizzeria are busy with a young local crowd nightly. Doubles from €69, room only.
Day One
Take a view
The best view of Bordeaux is from the 8th floor Belvedere gallery at La Cité du Vin (1) at 134-150 Quai de Bacalan (00 33 5 56 16 20 20; citeduvin.com; daily 9.30am-7.30pm, admission €20 for adults, and €8 for children), which proffers 360-degree views of the city. Below, some 20 themed audio-visual modules present the history, culture and making of wine according to various themes. The museum also includes three tasting laboratories that include specially designed multi-sensory spaces for a total immersion in wine; a dock from which to embark on visits to the wine chateaux up and down river; a special exhibition centre; and various restaurants. Seen from the viewing terrace Victor Hugo's description of Bordeaux makes senses: "Take Versailles, add Antwerp, and you have Bordeaux."
Take a hike
From the Cité du Vin (1), take tram line 8 to the Place de la Bourse (11) and its handsome 18th-century customs houses on the banks of the Garonne that are the traditional heart of the city. These horse-shoe-shaped buildings also house two interesting museums, the Musée National des Douanes (12) (Costumes Museum) (musee-douanes.fr, Tuesday to Sunday, 10am-6pm, tickets €3) and Bordeaux Patrimoine Mondial (13), which explains how the city's architectural heritage and urban landscape evolved and became a Unesco listed world heritage site (open daily 10am-1pm and 2-7pm, free entry).
Afterwards, follow the riverfront north to the Cours du Chapeau Rouge, which runs west from the river, and continue until you arrive at the Grand Théâtre de Bordeaux (14), one of the finest 18th-century theatres in the world (00 33 5 56 00 85 95). Next, head south on the rue Sainte Catherine, the pedestrianised high street, to the rue du Loup. Turn west here to visit the gothic Cathédrale Saint André (15) where the 15th-century bell tower offers another superb view over the city.
Lunch on the run
Head for Le Flacon (16) at 43 rue de Cheverus (00 33 9 81 86 43 43, dishes €6-18). It serves a good selection of wines by the glass and small dishes such as Réunion-style steamed pork-and-citrus dumplings and mini veal-shank hamburgers. Nearby, the Saint Pierre quarter has morphed into one of Bordeaux's best and busiest restaurant districts. Here, seek out Belle Campagne (17) at 15 rue des Bahutiers to lunch on a chalkboard menu of south-western French dishes made from local, seasonal and usually organic produce. Current dishes include goat's cheese mousse with walnut oil, a charcuterie plate from the celebrated Basque producer Ospital, and sturgeon with green lentils and a chorizo condiment (00 33 5 56 81 16 51; belle-campagne.fr; starters €4-8; main courses €14-25).
Window shopping
Bordeaux's chicest shopping streets are the Cours de l'Intendance (18), where you'll find major French luxury brands like Hermès, and the charming Allée de Tourny with one-of-a-kind shops such as L'Intendant des Grands Vins de Bordeaux (19) (00 33 5 56 48 01-29; intendant.com) – one of the best places to buy fines wines in Bordeaux. Further along, Cadiot-Badie (20) (cadiot-badie.com) is an old-fashioned chocolate shop at No. 26 that was founded in 1826.
An aperitif
Aux Quatre Coins du Vins (21) at 8 Rue de la Devise (00 33 5 57 34 37 29, Open Mon-Sat. 6pm-12am; auxquatrecoinsduvin.com) is a popular new wine bar where every customer receives a magnetic card that allows him or her to serve themselves from a selection of grand cru wines by the glass; you pay up when you leave.
Otherwise, head for the terrace at Le Regent (22), 52 Cours du Chapeau Rouge (00 33 5 56 51 27 30, open daily) a café across from the Grand Theatre (14), for a lillet, an aperitif produced in the village of Podensac south of Bordeaux from wine and citrus liqueurs, and some first-rate people watching.
Dine with the locals
Chef Tanguy Laviale's superb contemporary French restaurant Garopapilles (23), 62 rue de l'Abbé de l'Epée (00 33 9 72 45 55 36; garopapilles.com; prix-fixe dinner menu €69) is easily the most sought-after reservation in Bordeaux, so book well in advance. The menu changes regularly but runs to dishes such as pan-roasted scallops on a bed of shitake mushrooms in parsnip cream and veal filet with poached pears, cockles, and squid's ink gnocci.
If you can't get a table, Miles (24), 33 rue du Cancera (00 33 5 56 81 18; restaurantmiles.com; average à la carte dinner for one without wine €35) is a great example of the young bistros that are making Bordeaux a seriously good food city. The quartet of chefs here hail from four different countries, which explains dishes like veal tartare with a seasame-seed-oil marinated egg yolk and and swordfish with Madras curry leaf gelée and coconut-coriander gremolata.
Day two
Sunday morning: go to church
Inspired by the church of the Gesù in Rome, the baroque exterior of the church of Notre Dame (25) on Place du Chapelet belies its strikingly simple Romanesque interior. The church and adjacent Cour Mably also include the surviving vestiges of 13th-century Dominican monastery. The great organ (1775) is used year-round for concerts of religious music (open Monday 2.30-6pm, Tuesday-Saturday 8.30am-6pm, Sunday 10am-noon, 5-8pm).
Out to brunch
With bare wooden tables, flea-market chairs and a good-value €20 menu that includes scrambled eggs with local asparagus, roasted potatoes and bacon, La Cagette (26), 8 Place du Palais (00 33 9 80 53 84 35 lacagette.com) serves from 11.30am-3.30pm and is very popular.
A walk in the park
The tree-lined lawns of the Esplanade des Quinconces (4) (the word refers to the way the trees are planted in staggered rows) runs from the Garonne River to the Place des Quinconces where the opulent 19th-century Monument aux Girondins is a riot of allegory referring to the Girondin faction during the French Revolution and the values of the French Republic.
For more fresh air, head north along the Cours de Verdun to the beautifully landscaped Jardin Public (27). The park includes a children's playground and puppet theatre (open 7am-9pm, June-August; 7am-8pm, September; 7am-7pm, October; 7am-6pm, November-December; 7am-8pm, January-May; closed 4-11 January).
Take a ride
As is true of many port cities, the best views are to be found from the water, so the 90-minute cruises on the Garonne river offered by Croisières Burdigala are not only fascinating but relaxing. Commentary is offered in French and English and tickets may be booked via the Bordeaux tourist office website (bordeaux-tourism.co.uk; if purchased online, they must be printed to be valid. Tickets cost €15 for adults, €2 for children.
The embarkation point is Quai Richelieu, Ponton d'Honneur (28). Schedule: 3:30 pm: Saturdays in February and March + Sunday, March 20 and 27 and Monday March 28; Wednesdays, Saturdays and Sundays in April; Tuesdays, Wednesdays, Saturdays, Sundays in May and June + Thursday, May 5; Friday, May 6; Monday, May 16. 3.30pm, 5.30pm daily in July and August.
Cultural afternoon
Of the 11 museums in Bordeaux, the two not to miss are the Musée des Beaux-Arts (29), 20 Cours d'Albret (00 33 5 56 10 20 56; musba-bordeaux.fr; open 11am-6pm, closed Tuesday, €4, free admission the first Sunday of every month), the city's fine arts museum with a rich collection that includes works by Perugino, Van Dyck, Van Goyen, Rubens, Chardin, Corot, Delacroix, and Matisse, and the Bordeaux-born artists Odilon Redon and Andre Lhote; and the Musée d'Aquitaine (30), 20 cours Pasteur (00 33 5 56 01 51 00; musee-aquitaine-bordeaux.fr, open 11am-6pm, closed Monday, €4, free admission the first Sunday of every month), which recounts the history of Bordeaux and the surrounding Aquitaine region.
Icing on the cake
A variety of half-day excursions to the wine towns, including Saint Emilion, and estates surrounding Bordeaux are detailed on the tourist office's website (bordeaux-tourism.co.uk). Among the best is the English speaking half-day tour to the Margaux wine region with a personal guide-driver offered by Ophorus tours (orphorus.com); it includes a visit and a wine tasting at one of the "cru bourgeois" châteaux of the Margaux appellation (€75 per person, available from April to October, 8.30am-1pm on Tuesdays and Fridays, 2-6.30pm on Saturdays).
Click here to view our latest travel offers with Independent Holidays
Join our new commenting forum
Join thought-provoking conversations, follow other Independent readers and see their replies