The Independent's journalism is supported by our readers. When you purchase through links on our site, we may earn commission.
48 Hours In: Lyon
France's culinary capital also has strong links with the movies. William Cook enjoys the best of both worlds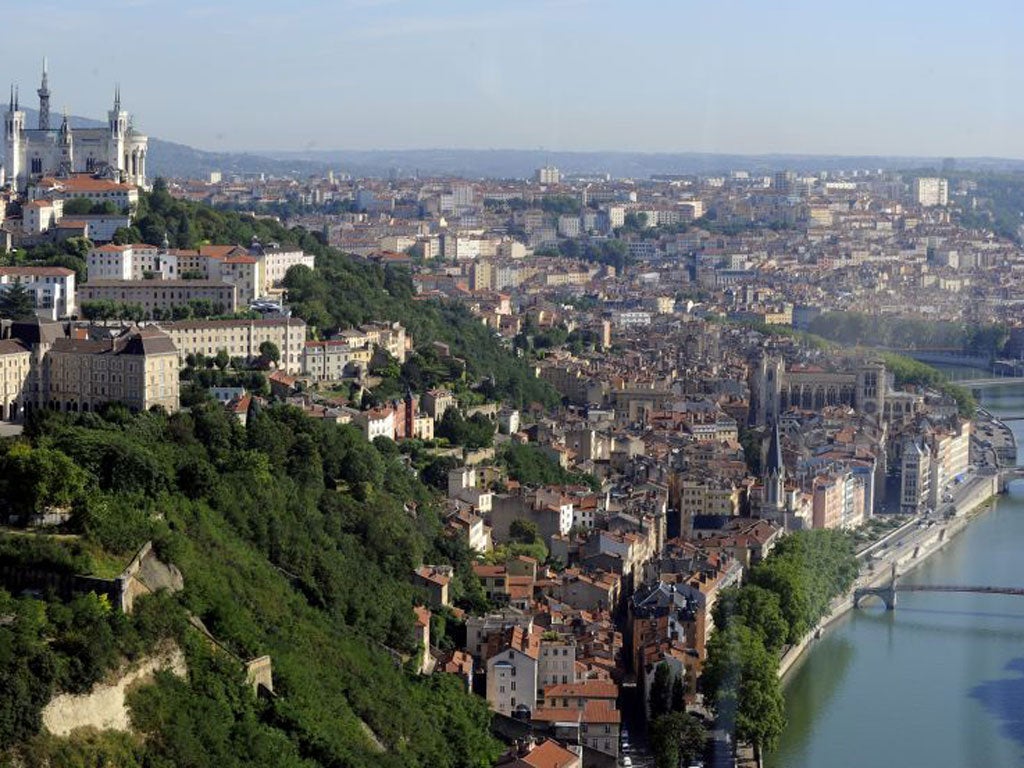 Click here for 48 Hours In... Lyon map
Travel essentials
Why go now?
Lyon's annual film festival (00 33 4 7876 7778; festival-lumiere.org) runs from 15 to 21 October, at the Institut Lumière (1), 25 Rue du Premier Film (00 33 4 78 78 18 95; institut-lumiere.org). This year's programme includes a new print of the silent classic Lulu (screened 17 October, accompanied by a full orchestra) and the presentation of a lifetime achievement award to British director Ken Loach on 20 October.
The Institut Lumière (1) is built around the hangar where the Lumière brothers made one of the world's first films. The Art Nouveau villa where the brothers lived, next door, is now a fascinating museum. It opens 10am-6.30pm daily except Monday, entry €6.
Touch down
Saint-Exupéry airport is 15 miles east of Lyon and is served by British Airways (0844 493 0787; ba.com) from Heathrow; and easyJet (0843 104 5000; easyJet.com) from Stansted, Edinburgh and Gatwick.
The smart new Rhône express tram leaves the airport every 15 minutes at peak hours (every 30 minutes off peak), terminating at Part-Dieu station (2). The journey takes 30 minutes and costs €14 single or €25 return.
Alternatively, you can travel by train with Eurostar (08432 186 186; eurostar.com) from London St Pancras, Ashford or Ebbsfleet via Paris or Lille Europe. From London, either route takes just under five hours and costs from £109 return. Changing at Lille is simplest.
From Lyon's Part-Dieu station (2) take the metro (00 33 4 26 10 12 12; tcl.fr) to the city's central square, Place Bellecour (3) (or any station). A single ticket is €1.60 and journey takes 20 minutes. A taxi costs about €20. Day tickets for public transport (metro, trams and buses) are €4.80.
Get your bearings
Lyon's 19th-century centre is a network of busy boulevards, lined with stylish shops and cafés squeezed on to the Presqu'île peninsula between the Rhône and Saône rivers. To the north is Croix-Rousse, a working class district during the 1800s, but now a pleasant place to wander. To the south is the Confluence, formerly a post-industrial wasteland now re-emerging as Lyon's answer to London's Docklands.
The medieval Old Town, on the west bank of the Saône, is a cluster of cobbled alleys, full of quirky boutiques and restaurants. The east bank of the Rhône is more modern, with fewer sights. The Tourist Office (00 33 4 72 77 69 69; lyon-france.com; open 9am-6pm daily) at Place Bellecour (3), sells a Lyon City Card (€31 for 48 hours) with unlimited public transport and free entry to museums.
Check in
The Cour des Loges (4), in a row of Renaissance houses in the Old Town at 6 Rue du Boeuf (00 33 4 57 74 74 74; courdesloges.com), is a romantic rendezvous. The bedrooms are supremely comfy, but the main attraction is Anthony Bonnet's Michelin-starred restaurant, which serves creative cuisine in an idyllic courtyard. His subtle gastronomic menu costs €75, without wine. Doubles start at €250, room only.
Hôtel Collège (5) at 5 Place Saint-Paul (00 33 4 72 10 05 05; college-hotel.com) is in an old school on one of Lyon's liveliest squares. The decor is retro-chic, with desks and blackboards in communal areas. The whitewashed bedrooms are sparse and striking. Doubles start at €125, room only.
The Hôtel Saint Paul (6) at 6 Rue Lainerie (00 33 4 78 28 13 29; hotelsaintpaul.eu) is a homely two-star on an attractive street. The building is 14th-century and doubles start at €75, including breakfast.
Day One
Take a view
Take the funicular from Vieux Lyon metro station (7) to Fourvière (8) for the best view of Lyon. From the terrace of the flamboyant Notre-Dame de Fourvière basilica you can see right across the Rhône Valley. A short walk away is the Gallo-Roman (9) museum at 17 Rue Cléberg (00 33 4 72 38 49 30), filled with exquisite remnants of when Lyon was the Roman capital of Gaul (entry €4, open 10am-6pm daily except Monday). The museum overlooks the extensive ruins of two Roman theatres, which once held 13,000 people. Board the funicular at Minimes (10) to return to Vieux Lyon (7).
Cultural morning
The Musée des Beaux-Arts (11) at 20 Place des Terreaux (00 33 4 72 10 17 40; mba-lyon.fr; open 11am-6pm daily except Monday; €6) contains a wealth of European painting from the Middle Ages to the 20th century. Its greatest treasures are works by Degas, Renoir and Cézanne. Two treats for British visitors are Pissarro's picture of Kew and Monet's misty Big Ben.
Lunch on the run
Lyon is renowned as the culinary capital of France. Les Halles de Lyon Paul Bocuse (12) at 102 Cours Lafayette, is a covered market full of specialist stalls – named after Lyon's Michelin-starred chef – where you can pick and mix at the stand up tables. If you fancy a sit-down meal, Merle (00 33 4 78 62 30 29; maison-merle.fr), is a suave seafood bar with anything from oysters to the spectacular plateau dégustation, with every kind of seafood for €69 for two (open 7am-10.30pm, except Monday).
Window shopping
Lyon's main shopping street is Rue de la République (13) but you'll find more unusual shops on Rue du Boeuf in the Old Town. Ma Non Troppo (14) at No 31 (00 33 4 78 38 90 86) is an old-fashioned record store with a superb range of classical LPs. Caveau Crozet Pralus (15) at No 12 (00 33 4 72 40 99 66) sells scrumptious chocolate – a 100g bar from their own Madagascan plantation costs €4.50. Antic Wine (16) at No 18 (00 33 4 78 37 08 96; anticwine.com) is a hole-in-the-wall vintner with good bottles of wine for about €10, or a great one for €15.
An aperitif
Before dinner, head to La Cave des Voyageurs (17) at 7 Place Saint-Paul (00 33 4 78 28 92 28; lacavedes voyageurs.fr). Wedged between Beaujolais and Côtes du Rhône, Lyon is surrounded by great vineyards and the staff at this bar are happy to highlight favourites. Beaujolais is €5.50 a glass.
Dining with the locals
The Old Town is full of nice restaurants, but in the evenings they are often full of tourists. For a more authentic night out, try Docks 40 (18) at 40 Quai Rambaud (00 33 4 78 40 40 40; docks-40.com), a modern riverside eatery with familiar dishes in a cool industrial setting. Salad niçoise, beef tartare and raspberry tart cost €33. A bottle of Côtes du Rhône is €22. On weekdays, the three-course plat du jour is €15.
Day Two
Sunday morning: go to church
The Cathédrale St-Jean (19) took 300 years to build, from 1180 to 1480. Five hundred years later it remains the architectural centrepiece of the city. Its medieval relics were ransacked by Calvinist iconoclasts, but the stark interior they left enhances the intricate splendour of its Gothic masonry. Tour guides like to show off the cathedral's 600-year-old astronomical clock. However, the real highlight is the choral Mass with organ and choir at 10.30am each Sunday (00 33 4 78 42 11 04; cathedrale-lyon.cef.fr).
Out to brunch
At Auberge le Baladin (20), 8 Rue Juiverie (00 33 4 78 28 96 71; auberge-le-baladin.fr), you can sit in the cosy cellar bar if the weather's foul, or out in the quiet alley if it's fine. Brunch at this traditional Lyonnais restaurant costs €15 for coffee, eggs, orange juice, homemade brioche and pancakes, plus €5 for fish, cheese and cold cuts, and €3 for a glass of wine. Sundays, 11am-1pm.
Take a hike
The old towpath that runs along left bank of the Rhône is now a spruced-up promenade. It's especially popular with joggers and cyclists, but there are also children's playgrounds, and even a little nature reserve. The promenade runs for about three miles from Parc des Berges (21) to Parc de la Tête d'Or (22), but the best stretch is between Pont Lafayette (23) and Pont Winston Churchill (24). Leave the river at this bridge and you're right by Lyon's prettiest park.
A walk in the park
Parc de la Tête d'Or (22) is a delightful ornamental park, complete with boules courts, boating lake and a small modern zoo. Adjacent to the park is the Musée d'Art Contemporain (25) at 81 Quai Charles de Gaulle (00 33 4 72 69 17 17; mac-lyon.com; open Tuesday to Sunday 11am-6pm; €6). The striking building, designed by Renzo Piano, is an artwork in its own right.
Icing on the cake
The nicest way to reach the Confluence, Lyon's new docklands development, is aboard Le Vaporetto (00 33 8 20 20 69 20), an elegant little ferry that chugs up and down the Saône. Boats leave Hôtel de Ville St Paul (26) on the hour every day from 10am to 9pm, stopping off at Pont Bonaparte (27) 10 minutes later, and docking at the Confluence (28) at half past. A one-way ticket costs €1.50 onboard, at the Tourist Office (3) or from lyon-france.com
Click here to view French tours and breaks, with Independent Holidays.
Join our commenting forum
Join thought-provoking conversations, follow other Independent readers and see their replies