The Independent's journalism is supported by our readers. When you purchase through links on our site, we may earn commission.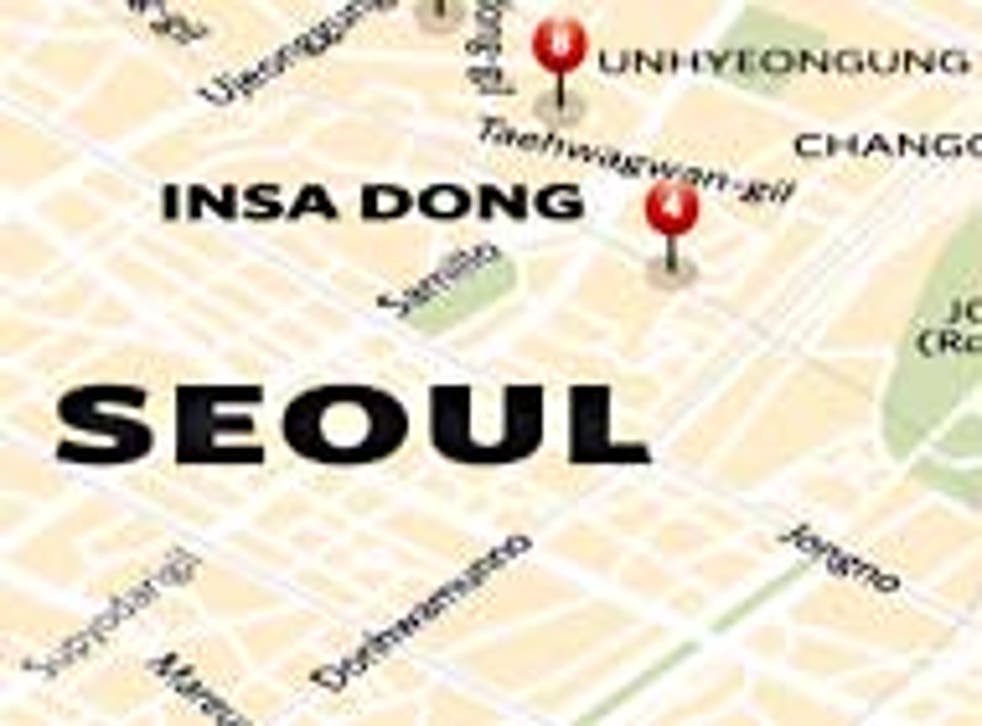 48 Hours In: Seoul, South Korea
Lantern festivals, local hooch and pumpkin porridge - Rob Whyte gives an insider's guide to the South Korean capital
Saturday 22 April 2006 00:00 Comments
WHY GO NOW?
Blossoming cherry trees signal the arrival of spring in Seoul, where shades of the Hermit Kingdom linger amid a full-throttle drive towards modernity. Next weekend is the start of the Lotus Lantern Festival, a week-long Buddha birthday bash with a spectacular evening parade of 100,000 lanterns around Insa Dong - a quaint district of teashops, restaurants and galleries centrally located north of the Han River.
TOUCH DOWN
You can fly non-stop from Heathrow to Seoul on Asiana (020-7514 0201; uk. flyasiana.com) or Korean Air (020-7495 3377; www.koreanair.eu.com). Other airlines include Cathay Pacific (020-8834 8800; www.cathaypacific.com) via Hong Kong and Emirates (0870 243 2222; www.emirates.com), which connects in Dubai from Gatwick, Heathrow, Birmingham, Manchester and Glasgow.
Incheon International is 31 miles west of Seoul. If you are headed downtown, standard and deluxe shuttle buses on the 70-minute, City Hall (1) route cost W8,000 (£4.80) and W13,000 (£7.80). A standard taxi will be quicker and costs around W40,000 (£24).
GET YOUR BEARINGS
The Korean capital has a surprisingly beautiful setting, with tower-blocks jostling for space with mountains. The broad Han River flows through the city. Most visitors spend time on the north bank, particularly in Itaewon and Insa Dong (2). Using the latter as a transport hub helps to simplify what can be a bafflingly complex city, a condition exacerbated by the absence of street addresses. Seoul's metro network is simple to navigate because signs are in English and Korean. Fares start at W900 (55p). Cheaper and more convenient is a pre-paid pass or "T-card". Pay W2,500 (£1.50), then add credit; W10,000 (£6) should suffice for two days.
Taxis are surprisingly cheap. From Insa Dong, cabs to central sights cost less than W5,000 (£3). Language can be a barrier, though drivers frequenting tourist-laden areas usually understand the English pronunciation of popular landmarks.
CHECK IN
A short walk from City Hall, the Westin Chosun (3) in Sogong Dong, Jung-Gu (00 82 2 771 0500; www.echosunhotel.com) has deluxe rooms for W440,000 (£250). Not far from Insa Dong in Nakwon Dong, Jung-Gu, W80,000 (£48) at the Tomgi Motel (4) (00 82 2 742 6660; www.tomgihotel.co.kr), books a "VIP room" equipped with a two-person tub, steam shower and the latest audio-visual technology but excludes breakfast. Take line 1 to Jongno 3-ga station, exit 4.
WINDOW SHOPPING
Food, fashion and Prada come together in the basement of Lotte Department Store (5) near City Hall.
When the low ceiling and maddening crowd start to close in, escape to COEX (6), Asia's largest underground shopping complex at Samseong station on line 2 ( www.coex.co.kr). Meanwhile, a wide selection of labels, boutiques and plastic surgeons is found on Apgujeong's Rodeo Street (7); line 3 Apgujeong station, exit 2.
LUNCH ON THE RUN
Wander around Insa Dong and you'll uncover gastronomical nuggets like pumpkin porridge - hobakjuk - at Jagun Chajib (8) (00 82 2 723 8828), down the lane next to the Temple Cooking shop. This silky smooth dish costs W7,000 (£4.20).
CULTURAL AFTERNOON
A battery of artillery shells, tanks and aircraft are on display at the War Museum (9) in Yongsan Dong (00 82 2 709 3139; www.warmemo.co.kr) along with stark black-and-white footage from the " forgotten war" - the early 1950s conflict that tore Korea in half. It opens daily 9am-6pm except Monday, admission W3,000 (£1.80); line 4 or 6 to Samgakji station, exit 12.
AN APERITIF
Korea's national drink is soju, a deceptively potent hooch that is slammed back, one shot glass at a time. The full effect of this brew should be tested in a pojangmacha, a roadside establishment noted for late-night conviviality. Typically fashioned out of tarpaulin and plastic chairs, pojangmacha are located on busy sidestreets near major hotels and retail districts.
DINING WITH THE LOCALS
South of the Han River in Gangnam, Samwon Garden (10) (00 82 2 548 3030; www.samwongarden.com) just might be the city's best restaurant for barbecued galbi (beef ribs) and bulgogi (marinated beef). With seating for almost 1,000, it's certainly one of the biggest (line 3 Apgujeong station, exit 2).
SUNDAY MORNING: GO TO CHURCH
There's a 9am service in English every Sunday at Myeong Dong Catholic Church (11) (00 82 2 774 3890; www.mdsd.or.kr). This is a building of some architectural interest in Myeong Dong, Jung-Gu, which provided sanctuary to student protestors during the turbulent 1970s and 1980s.
OUT TO BRUNCH
Opposite the church men can, it is claimed, have their virility restored. Pungent dog soup is typically found in back-alley shops like Gae Soonok (00 82 2 318 7117), price W10,000 (£6). More palatable for Western tastes, samgyetang is stuffed chicken in a ginseng-flavored broth. Baekje Samgyetang (12) in Myeong Dong (00 82 2 776 3267) is the place to go: soup costs W11,000 (£6.60) and you will probably want to spend another W4,000 (£2.40) on a carafe of ginseng liquor (insamju), the standard accompaniment noted for its earthy flavour.
A WALK IN THE PARK
Blessed with trees and solitude, it's easy to understand why Changgyeonggung (13) (00 82 2 762 4868) was selected as a royal retreat during the Goryeo Dynasty. It opens 9am-5pm daily except Tuesdays (closing a half-hour earlier in winter, and open to 7pm at weekends); admission W1,000 (£0.60). It's a W2,000 (£1.20) taxi ride from Insa Dong or 10-minute walk from line 4 Hyehwa station, exit 4.
TAKE A BATH
Bathhouses often have a jjimjilbang, a uniquely Korean mixed-gender experience where guests sport loose-fitting clothes and practice the art of doing nothing. Rooms constructed with "therapeutic" materials that supposedly channel radiant heat is thought to promote good health by stimulating blood circulation. Large spas like Hurest (14) on the 17th floor of the Myeong Dong Tower (00 82 02 778 7700; www.hurest.co.kr) have splendid facilities with foreign-friendly staff; from 5am-9pm you pay W6,000 (£3.60), after 9pm W10,000 (£6).
TAKE A VIEW
The night view from the T3 observation deck at the N'Seoul Tower (15) is spectacular (00 82 2 3455 9277; www.nseoultower.co.kr); open 11am-11pm daily, admission W7,000 (£4.20). On T5 you'll find N'Grill (00 82 2 3455 9297), a revolving restaurant where dinner-for-two starts at W100,000 (£60). The most scenic route to N'Seoul begins with a steep cable-car ride to the base of the tower; return trip W6,500 (£3.90).
TAKE A RIDE
Visit Panmunjon in the De-Militarized Zone for a look at North Korea's over-the-top flagpole. The USO trip (00 82 2 795 3028; www.uso.org/korea) is recommended because of price - US$40 (£23) - and quality. It's a popular outing, so planning is required (minimum two weeks' advance booking, Tuesday and Saturday departures, credit-card payment via e-mail). Korean-operated tours offer more departures but can be expensive - W70,000 (£42) for a full-day excursion - and multilingual, which means English speakers do not always receive the depth of information necessary to appreciate fully the strangeness at hand.
ICING ON THE CAKE
Cookin' Nanta (16) (00 82 2 739 00 8288; www.nanta.co.kr) is Korea's noteworthy percussion musical set in a kitchen. Not just theatre, it's a culinary sojourn into the nation's lighthearted attitude with the occasional outbreak of comedic genius. Two shows daily, three on Saturday; W40,000 (£24) for upper-deck seats with floor seating priced at W50,000 (£30) and W60,000 (£36). The Nanta Theatre is a 10-minute walk from City Hall station, exit 1.
Register for free to continue reading
Registration is a free and easy way to support our truly independent journalism
By registering, you will also enjoy limited access to Premium articles, exclusive newsletters, commenting, and virtual events with our leading journalists
Already have an account? sign in
Join our new commenting forum
Join thought-provoking conversations, follow other Independent readers and see their replies