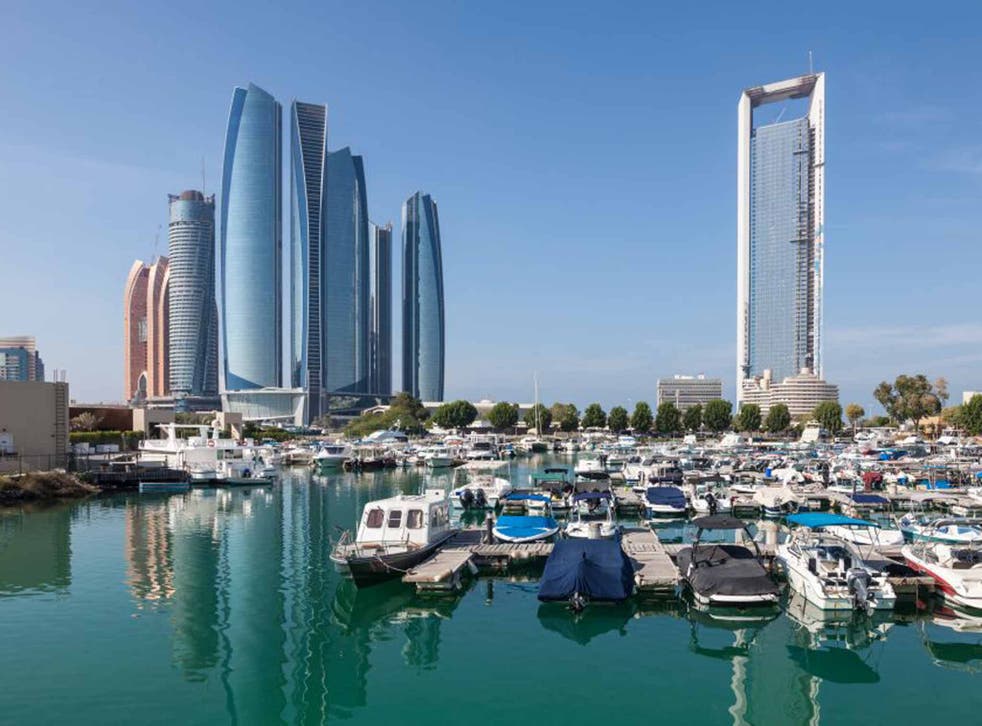 Abu Dhabi holiday tips: Where to go and what to see in 48 hours
The Emirati capital is known for fast cars and opulence, but there's a cultural agenda too, writes Kunal Dutta
Travel essentials
Why go now?
Abu Dhabi has historically lingered in the shadow of Dubai, its glitzier and more ostentatious neighbour. But the balance of power is shifting. Whereas Dubai has become known for its opulence, the capital of the United Arab Emirates is fast building an identity of soulful experiences and world-class cultural opportunities.
Expect to see some of that on display from 18 to 21 November, when the city-state hosts Abu Dhabi Art (abudhabiart.ae), showcasing works from some of the world's leading galleries at the Manarat Al Saadiyat (1) (00 971 2 657 5800), on Saadiyat Island.
Meanwhile, the Abu Dhabi Grand Prix (27-29 November), is not just for petrolheads: it will feature outdoor concerts from international artists including Florence & the Machine, Enrique Iglesias and Blur. November to February is also ideal weather-wise, with temperatures usually comfortable, around 24C during the day and 13C at night.
Touch down
Etihad Airways (0845 608 1225; etihadairways.com) is the national carrier, with three daily flights from Heathrow. It also offers twice-daily departures from Manchester and five flights a week from Edinburgh. British Airways (0844 493 0787; ba.com) offers a single daily departure from Heathrow.
Abu Dhabi airport, almost 20 miles east of the Corniche, is connected by the A1 bus that leaves from outside Terminals 1, 2 and 3 every 40 minutes; the fare is AED4 (70p). From the airport to the Corniche takes up to 50 minutes, depending on traffic. A taxi costs around AED80 (£14) and is likely to shave at least 10 minutes off the journey time.
Get your bearings
Formed of more than 200 islands, Abu Dhabi is the largest and most populated of the seven emirates. Running along the seafront is the Corniche, the main coastal drag, with its combination of golden sands, skyscrapers and separate cycle and pedestrian pathways.
East of that is Saadiyat Island, Abu Dhabi's forthcoming cultural district. South is Yas Island, home of the Formula One circuit (yasmarinacircuit.com) and the fastest roller-coaster on earth at Ferrari World Abu Dhabi (00 971 2 496 8000; ferrariworldabudhabi.com; 11am-8pm daily; to 10pm Thursday to Saturday).
Tourist information centres can be found at the airport (open 7am to 1am daily); at Ferrari World (open daily except Mondays, 11am to 8pm); and at the World Trade Center Souk (2) (open daily 10am to 8pm).
Check in
You'll find five gleaming glass towers on the seafront, one of which is Jumeirah at Etihad Towers (3) at West Corniche (00 971 2811 5555; jumeirah.com). All 74 floors offer spectacular views, and the Observation Deck at 300, on the top floor, is still Abu Dhabi's highest public viewing point –300 metres or 984 feet above the Gulf. Double rooms with breakfast start at AED1,150 (£205).
Somewhat more affordable is the Park Inn Abu Dhabi (4) at Yas Plaza (00 971 2656 2222; parkinn.com), which has 204 rooms with facilities that include a pool, a tennis court and gymnasium. Doubles start at AED840 (£150), with breakfast.
Budget hotels are few and far between. Nonetheless the Aloft Hotel (5), inside the Abu Dhabi National Exhibition Centre (00 971 2 654 5000; aloftabudhabi.com), offers snug doubles with marina views from AED300 (£66), room only.
Day one
Take a view
If the views from the Observation Deck at the Jumeirah are not high-octane enough, head to Yas Marina, where Seawings Yas Island (6) offers the ultimate aerial view, at 1,500ft (00 971 4 807 0708; seawings.ae; AED895/£159; booking advised). The check-in for the 11.30am seaplane flight is an hour earlier, and the trip is worth it for the take-off and landing on water alone.
While hovering in the skies, the 25-minute journey offers views over the domes of the Sheikh Zayed Mosque (7) and the Emirates Palace (8).
Take a hike
After landing, take the opportunity to explore Yas Marina. The pedestrianised promenade is akin to London's St Katherine Dock, complete with super yachts and well-heeled locals.
Start at Captain Tony's (9) (00 971 2 650 7175; captaintonys.ae), which offers cruises around Abu Dhabi's islands. Stroll north, along the eastern edge of the marina, and pause at one of the cluster of cafés and restaurants. Try French-inspired Café D'Alsace (10) (00 971 50 811 5414; cafedalsace.ae), or the terrace of Cipriani (00 971 2 657 5400; cipriyaniyasisland.com), sister restaurant to Harry's Bar in Venice. The prancing horse emblem can be seen on the giant red roof of Ferrari World, straight ahead, while all around are the spectator stands of Yas Marina Circuit.
Lunch on the run
The Yas Viceroy (11) is the world's only hotel built on a race track. The international buffet at Origins (00 971 2 656 0600; bit.ly/YasOrigins; from AED172/£31) is exquisite, served daily between 12.30pm and 3pm.
Window shopping
Yas Mall (12) (00 971 800 927 6255; yasmall.ae), which opened last November, is the UAE's second largest shopping centre, after the Dubai Mall. There are more than 400 stores from international and regional brands plus a 20-screen cinema. Open daily, 9.30am-10.30pm (until midnight Wednesday and Thursday).
For more authentic shopping, head to Souk Qaryat Al Beri (13) on the Grand Canal, a contemporary adaptation of a traditional souk. Expect wood carvings, local art, jewellery and handmade carpets. Best of all are the water taxis that take you around the souk via meandering canals.
An aperitif
Alcohol only tends to be served in licensed hotel bars and restaurants. There is a handful of independent restaurants that are also licensed, but not very many. Ray's Bar on the 62nd floor of the Jumeirah at Etihad Towers (3) (00 971 2 811 5666; bit.ly/RaysBar) is a nightspot offering dramatic views and an extensive cocktail menu. Alternatively, head to nearby Asia de Cuba (14) beach club (00 971 2 699 3333; asiadecuba.com/abu_dhabi), which offers casual beach seating and a welcome breeze.
Dining with the locals
If you are already at the Etihad Towers (3), visit the new restaurant from Michael Caines, the British chef who earned Gidleigh Park in Dartmoor its Michelin star. The palate cleanser of foamed mushroom soup at Pearls (00 971 2 811 5666; jumeirah.com) makes this meal worth it alone. Three courses with wine cost around AED450 (£80).
Alternatively, Mezlai (15) on West Corniche Road (00 971 2 690 7999; bit.ly/MezlaiAD) is a dedicated Emirati restaurant. The prawn biryani comes highly recommended. Dinner costs around AED280 (£50) for three courses.
Day two
Go to a mosque
The Sheikh Zayed Mosque (7) on Airport Road is a marble miracle of 82 domes, four towering minarets and more than a thousand columns, and the cultural highlight of Abu Dhabi.
The eighth-largest mosque in the world, it opened in 2007 after a decade of construction. It has one of the world's biggest crystal chandeliers and the largest hand-knitted carpet. Unusually for the UAE, it is open to non-Muslims, but security guards zealously enforce a strict dress code, so be respectful. Heads must be covered at all times; women are encouraged to wear an abaya, which are available to borrow. Free guided tours from 10am daily, except Friday.
Out to brunch
Sho Cho (16) at Qaryat Al Beri (00 971 2 558 1117; sho-cho.com) is one of Abu Dhabi's best-known nightspots, but by day it is a Japanese restaurant. Seared tuna salad and sashimi à la carte work out at around AED320 (£56). It is open from midday.
A walk in the park
Nearby Khalifa Park (17) reopened last year after extensive refurbishment to its charming gardens and fountains. The sparkling fountains and charming gardens make it worth the visit. 8am-10pm daily.
Cultural afternoon
Abu Dhabi's art scene is still a work in progress, but there are some galleries worth exploring. The Salwa Zeidan Gallery (18) at the St Regis, Saadiyat Island (00 971 2 666 9656; salwazeidangallery.com), specialises in Emirati artists. Open 9am to 7:30pm, Sunday to Thursday.
Abu Dhabi will have the first Louvre outside Paris (scheduled to open next year) and by 2020, a Guggenheim and the Zayed National Museum – Abu Dhabi's equivalent of the British Museum. For a preview visit the Manarat al Saadiyat exhibition centre (1) (saadiyatculturaldistrict.ae).
Icing on the cake
Falcons are a status symbol in the UAE, and in Abu Dhabi these birds of prey have transitioned from hunting companions to sports stars. At the Abu Dhabi Falcon Hospital (19) (00 971 2 575 5155; falconhospital.com) on Sweihan Road, visitors can experience these exquisite birds up close. Tours take place at 10am and 2pm, Sunday to Thursday (AED170/29 for adults) and at 10am on Saturdays (until 31 May). Advance booking is essential.
Click here to view the latest travel offers, with Independent Holidays.
Join our new commenting forum
Join thought-provoking conversations, follow other Independent readers and see their replies