The Independent's journalism is supported by our readers. When you purchase through links on our site, we may earn commission.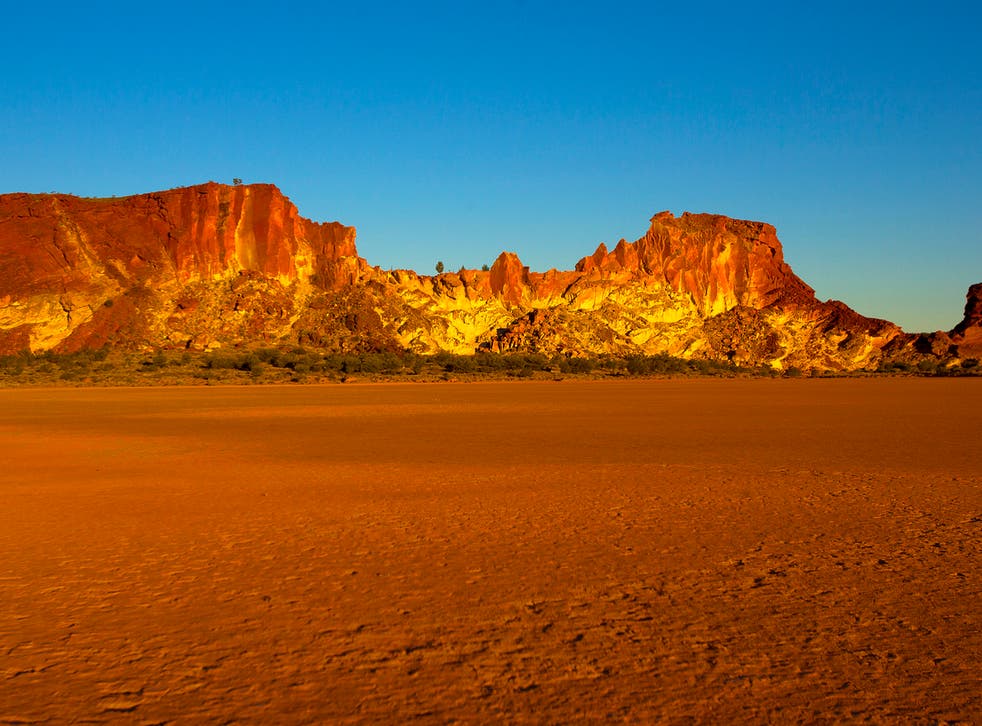 Alice Springs: Why there's more to Australia's Red Centre than Uluru
How to spend two days in Australia's Red Centre – without setting foot on the country's most famous red rock
Why go now?
Amid the buzz surrounding British artist Bruce Munro's epic light installation at Uluru, which was recently extended until next March, Australia's original outback town has fallen off the tourist radar. But skipping Alice Springs on a Red Centre holiday would be a mistake.
Befitting its status as the artistic capital of central Australia, "The Alice" boasts more art galleries (per capita) than anywhere else in the country, and is perennially in festival mode. The big one for July is the annual Camel Cup (camelcup.com.au) on the 15th, followed by the Desert Festival (desfest.com), Central Australia's premier arts bash, from 18 August until 7 September. Yet between its fascinating heritage sites, unique attractions and many outdoor activities, there's plenty to do in The Alice at any time of the year.
Get your bearings
Roughly marking Australia's geographic centre, Alice Springs might be the Northern Territory's third largest town, but residents number less than 30,000. Hugging the left bank of the Todd River (which is bone dry for most of the year), the sleepy centre is laid out in a grid and is easy to navigate on foot. Sights outside the core, including historic Telegraph Station (1), the Araluen Arts Centre (2), and Alice Springs Desert Park (3), are an easy cycle – bikes can be borrowed from most hotels.
Day one
Take a view
Topped by a memorial dedicated to those who have served in defence of their country, Anzac Hill (4) is the perfect spot to survey The Alice. Take the stairs from Wills Terrace or drive up Anzac Hill Rd for panoramic views of the town and the spectacular MacDonnell Ranges that frame it. Sacred to the local Arrernte people, the "Macs" form part of the caterpillar jukurrpa (creation story). Indeed, it's not difficult to picture the undulating ranges as giant caterpillars marching across the scorched earth in ancient times.
Take a hike
Start at the Visitor Information Centre off Todd Mall (5) (00 61 8 8952 5800; discovercentralaustralia.com), the town's main artery. The centre is open 8.30am-5pm Monday to Friday, and from 9.30am-4pm on weekends. Heading northwest along Parsons Street, you'll pass heritage buildings including the Old Stuart Town Gaol (6) built in 1908 and The Residency (7) (00 61 8 8951 1122; araluenartscentre.nt.gov.au/residency), where Queen Elizabeth II and the Duke of Edinburgh lodged for two nights in 1963 as part of their Royal Visit to Australia. Built in 1928, the former home of the government resident during Alice Springs' brief tenure as the capital of Central Australia can be visited from 10am-3pm weekdays.
Continue along Parsons Street until you reach the junction of Railway Terrace. Making a left, you can't miss the enormous mural (8) depicting Territory life and history that covers the entire side of the Coles supermarket building. Painted by community volunteers in 1981, it's the town's most famous piece of public art.
From here it's a 10-minute walk to the Royal Flying Doctor Service (9) (00 61 8 8952 1129; flyingdoctor.org.au), which now houses a state-of-the-art tourist facility. Running every half hour from 9am-4pm Monday to Saturday, tours (£9) include a short introduction by staff, a holographic show, and access to a small museum. Around the corner on Stuart Terrace, the former women's prison now houses the delightfully oddball Pioneer Women's Hall of Fame (10) (00 61 8 8952 9006; pioneerwomen.com.au). It's open daily from 9am-5pm; entry is £6.
Lunch on the run
Pick up a fresh sandwich or traditional Aussie meat pie at The Bakery (11) (00 428 595 429; alicebakery.com.au) – it's open 8am-1pm Saturday and Sunday and until 2pm Wednesday to Friday – or head to Piccolo's (12) (00 61 8 8953 1936) for a decadent toastie or sit-down cafe meal such as a steak sandwich or homemade lasagne. It's open 7am-2pm Saturday, 8am-noon Sunday, and 7am-3pm Tuesday to Friday.
Window shopping
Shopping in Alice Springs centres around Aboriginal art. Dedicated to providing high-quality contemporary art while ensuring artists who work with them (who you can often watch in the on-site studio) are treated well and paid fairly, Yubu Napa (13) (00 61 8 8952 2007; yubunapa.com) should be your first stop. It's open 10am-4pm Saturday, and until 6pm weekdays. Papunya Tula Artists (14) (00 61 8 8952 4731; papunyatula.com.au) is also renowned for showcasing particularly exquisite works. It's open 10am-2pm Saturday, and 9am-5pm Monday to Friday.
An aperitif
Packed to the rafters with outback memorabilia, Bojangles Saloon (15) (00 61 475 228 733), open 11.30am-2am daily, is a fun spot for a schooner of NT Draught. For a more classic Aussie pub vibe, head to the Todd Tavern (16) (00 61 8 8952 1255; toddtavern.com.au) at the north end of the mall; open noon-midnight daily. Note that Alice is a "dry" town, which means drinking is banned in public spaces.
Dine with the locals
Part gastro pub, part outback circus, Monte's (17) (00 61 8 8952 4336; montes.net.au) is a quintessential Alice Springs dining experience – it's open Wednesday to Sunday. The pub grub is decent, but those looking for more than pizzas and burgers (from £6) may prefer the mod-Oz offerings at Epilogue Lounge (18) (00 61 429 003 874), which also has a decent wine list. The best table in town, however, is at Hanuman (19) (00 61 8 8953 7188; hanuman.com.au), the DoubleTree by Hilton Hotel's Thai and Indian fusion restaurant. It's all about sharing here; make one of your small plates the Punjabi lamb cutlets, served with a delicious yoghurt sauce (£12).
Day two
Take a ride
Who knew Alice Springs had over 200km of well-tended mountain biking trails? Beat the heat and sign up for an early-morning tour (£87/three hours) with Outback Cycling (00 61 8 8952 1541; outbackcycling.com) or rent a bike and explore yourself. It's a lovely 4km-cycle north of town to Telegraph Station (1) (00 61 8 8952 3993; alicespringstelegraphstation.com.au), established in 1871 to relay messages between Darwin and Adelaide. There are four guided tours of this must-see historical reserve daily between 9am-5pm, all included in the £8 ticket price.
Out to brunch
Refuel with eggs any way and a perfectly brewed espresso coffee at Page 27 (20) (00 61 8 8952 0191), arguably the hippest cafe in Alice Springs. The central location – tucked just off Todd Mall – is a bonus, though you'll need to get there early on weekends to snag a table. It's open 8am-2pm Saturday and Sunday, and 7.30am-2.30pm Tuesday to Friday.
Cultural afternoon
The pinnacle of the Alice Springs arts circuit, the Araleun Arts Centre (2) (00 61 8 8951 1122; araluenartscentre.nt.gov.au) focuses on contemporary Aboriginal art, with a dedicated gallery showcasing the works of renowned watercolourist Albert Namatjira. There's also a professional theatre; check the website for upcoming events. Your ticket (£9) includes entry to the adjoining Museum of Central Australia, the Central Aviation Museum, the Strehlow Research Centre, and a host of public works including the impressive Yeperenye Sculpture. It's open 10am-4pm daily.
A walk in the park
If you didn't spot any rock wallabies around Telegraph Station, head to the Alice Springs Desert Park (3) (00 61 8 8951 8788; alicespringsdesertpark.com.au) where you can see the creatures of Central Australia on display in a series of recreated habitats, 2.5km west of town (open 7.30am-6pm daily). If you prefer a walk closer to centre, take a spin around the Olive Pink Botanic Garden (21) (00 61 8 8952 2154; opbg.com.au), which showcases over 600 central Australian plants. It's open 8am-6pm daily with entry by donation.
The icing on the cake
Stay on to take a day trip of the mesmerising gorges, waterholes and sacred sites of the West MacDonnell ranges (22). Hire a car or join an organised tour with the likes of Alice Wanderer (00 61 8 8952 2111; alicewanderer.com.au) or Emu Run (00 61 8 8953 7057; emurun.com.au) which take in key stops such as Ellery Creek Big Hole, Ormiston Gorge, Simpson's Gap, the Ochre Pits, and more. For Aboriginal rock art, head to the lesser-visited East Macs.
Travel essentials
Getting there
Located 15km south of town, Alice Springs Airport (23) is serviced by Qantas (00 61 07 3815 8000; qantas.com) from eight domestic hubs, several of which connect to London. A shuttle operates for all scheduled incoming and outgoing flights (£9; about 20 minutes travel time). A taxi (00 61 8 8952 1877) to the centre costs roughly £11.
Staying there
It could do with an update, but the DoubleTree by Hilton Hotel Alice Springs (19) (00 61 8 8950 8000; doubletree3.hilton.com) is arguably still the nicest hotel in town. Doubles from £75, room only. It's worth stumping an additional £11 for a mountain-view room.
If you're driving, consider Squeaky Windmill (24) (00 0414 885 034; squeakywindmill.com). Nestled at the base of the West Macs, just 15km from town, this boutique B&B has two luxury tented rooms (one queen, one twin), with barbecue hampers available if you'd rather dine in for dinner. Both rooms cost £110, B&B.
You might remember Lasseters (25) (00 61 08 8950 7777; crowneplazaalicesprings.com.au) from 1994's Priscilla: Queen of the Desert, in which the cast played a cabaret gig at the adjoining casino. Rebranded as Crowne Plaza Alice Springs Lasseters last December, the resort's comfortable – if tired – rooms should give the DoubleTree's a run for their money following an upgrade that is currently in progress. Doubles start at £58, room only.
Register for free to continue reading
Registration is a free and easy way to support our truly independent journalism
By registering, you will also enjoy limited access to Premium articles, exclusive newsletters, commenting, and virtual events with our leading journalists
Already have an account? sign in
Register for free to continue reading
Registration is a free and easy way to support our truly independent journalism
By registering, you will also enjoy limited access to Premium articles, exclusive newsletters, commenting, and virtual events with our leading journalists
Already have an account? sign in
Join our new commenting forum
Join thought-provoking conversations, follow other Independent readers and see their replies