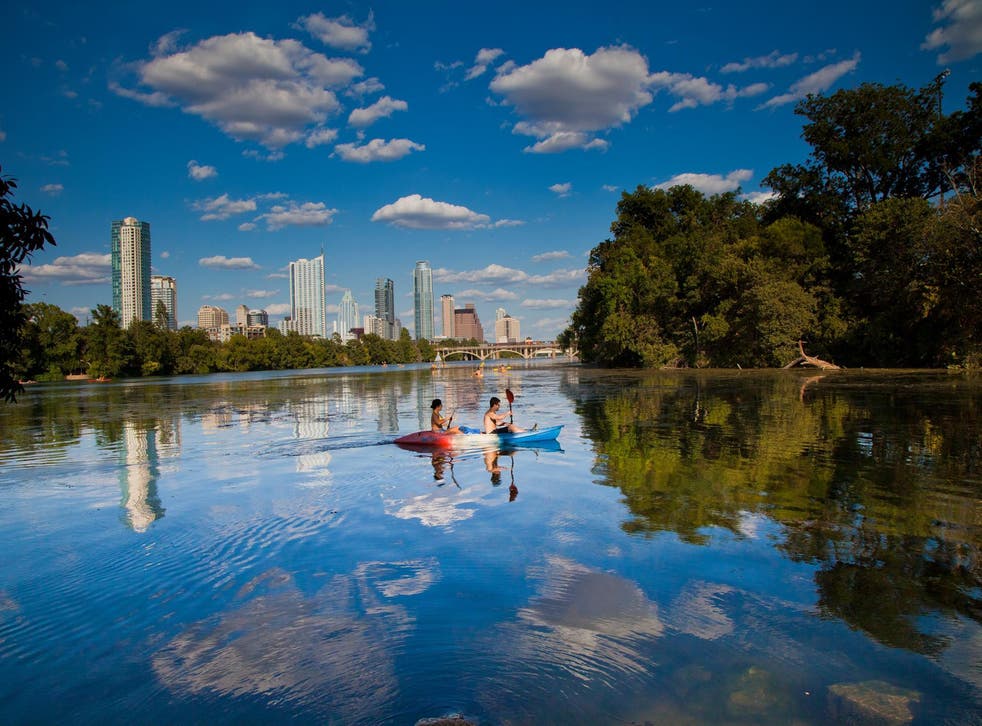 Austin city guide: What to do on a weekend break to the Texas capital
Cram in barbecue, brews and bats on a 48 hour jaunt to the Texan capital
Why go now?
Austin has long been a gleefully liberal anomaly in famously conservative Texas, made stranger still by the fact that it's the state capital.
This ideological mismatch can conjure strange situations, like how Austin recently joined a lawsuit to stop Texas from outlawing sanctuary city policies – hardline legislation inked at the seat of state government, which is of course in Austin.
But "keep Austin weird" is a slogan for a reason – the city's non-conformist rep is precisely its appeal.
And while food trucks, laid-back patio bars and the self-proclaimed 'live music capital of the world' label have drawn trend-hopping hipsters aplenty, those are just a few charms of this captivatingly creative community, which also boasts a legitimate world-class food and drink scene, and pioneering tech industry (Dell has been based here for decades).
Add in year-round sunshine, a dash of outdoorsy ruggedness and the sort of unselfconscious cool that plumps for flip-flops over heels, and it's little wonder the US News & World Report named Austin the best place to live in 2017. It might just be the best place for a whirlwind 48 hours, too.
Get your bearings
There are two distinct vibes on each side of Lady Bird Lake, separating north and south Austin. Technically, it's a reservoir on the Colorado River, but it's actually rather river-y in appearance.
To the north, Downtown Austin (1) is where you'll find high-rises, museums, the financial district, upscale bars and restaurants – though let's not forget 'Dirty Sixth' (2) - stretching east from Congress Avenue to the I-35 along Sixth Street, this is the spot for lairy dive bars and sticky gigs.
South of the lake is South Congress Avenue (3), or 'SoCo' to Austinites, where there's a more mellow, bohemian feel. South 1st Street (4) is growing into its own version of SoCo, but is less walkable.
Be warned that public transport isn't great for visitors; routes are geared more towards residents. Traffic is the city's number one bugbear. Downtown and SoCo are perfectly doable on foot, however.
Day one
Window shopping
For an instant dose of the Austin scene, take a stroll along SoCo (3). This sunny stretch is all artsy boutiques, hip brunch spots and complicated coffee orders – think horchata-espresso slushies at local institution Jo's (5) (joscoffee.com). This rock 'n' roll coffee kiosk regularly hosts live bands, and offers the perfect outdoor perch for people-watching.
For Texan gear, Triple Z Threadz (6) (triplezthreadz.com) offers "fine embroidered crap" (translation: snazzy shirts), while Allens Boots (7) (allensboots.com) is a pungent, leathery shrine to cowboy and girl apparel.
And Uncommon Objects (8) (uncommonobjects.com) needs to be seen to be believed – ostensibly the biggest junk shop you've ever seen, with the antiques and random tat meticulously colour-coded.
Lunch on the run
Scooch over a couple of blocks to South 1st (4), where you'll find Torchy's Tacos (9) (torchystacos.com) parked up at the South Austin Trailer Park & Eatery.
Austin is obsessed with tacos – particularly breakfast tacos, which offer a lighter take on Cali-Mex fave the breakfast burrito – and Torchy's is considered to serve some of the best. Order up a Wrangler (scrambled eggs, potatoes, smoked beef brisket) and a Migas (with avocado and green chili) and prepare to get messy.
Anyone keen for a cardiac arrest should finish with the Lil' Nookies: deep-fried chocolate chip cookies, topped with powdered sugar and cherries.
Take a ride
Lady Bird Lake (10) might be the cool-blue barrier between sceney SoCo and Downtown skyscrapers, but it's also a destination in itself. Offering outdoors respite in the urban midst, it's dotted with tanned types out kayaking, water-biking, canoeing and stand-up paddleboarding.
For a workout with a difference – not to mention an excellent photo op – try Austin Water Bikes (11) (austinwaterbikes.com), which has rentals from $17 per hour.
An aperitif
All that exercise will make you thirsty. Time to dip into Downtown, where the 19th-century bungalows lining Rainey Street (12) have been converted into one long strip of brilliant bars.
Start at Craft Pride (13) (craftprideaustin.com), specialising in Texan brews, and wend your way north via The Blackheart (14) (blackheartbar.com) and Half Step (15) (halfstepbar.com) for cocktails on twinkle-light-strung patios. It's Ground Zero for those laid-back Austin vibes.
Dine with the locals
You've ticked off tacos, so time for the other Texas staple: barbecue. A short walk from Rainey, find Cooper's Old Time Pit Bar-B-Que (16) (coopersbbq.com), a no-frills local favourite dishing up enormous, out-of-this-world-delicious beef ribs.
The meat is sliding off the bone before you get your mouth to it. Pay by the weight of your portion, then load up on free pinto beans, pickles, bread and barbecue sauce. Seating is at long benches proffering giant jars of jalapenos and plenty of kitchen roll, or try nabbing a seat on the patio at the back.
Further up Congress and turning onto Colorado, you have to be in the know to go to Garage (17) (garagetx.com) for after-dinner drinks. That's because it's niftily hidden inside a multi-storey car park – there's no sign, but look out for the My Name Is Joe coffee trailer parked out front. Both cocktails and crowd are upscale.
Day two
Out to brunch
Return to the scene of last night's shenanigans and score some healthy points with brunch at My Name Is Joe (18) (mynameisjoe.com).
The recently launched project, housed in – what else? – an Airstream, is the work of local chef Philip Speer, lately lauded for his new diner-meets-bistro Bonhomie (19) (bonhomieaustin.com). Speer's trailer doesn't just serve great coffee and better-for-you bites – it also provides recovering addicts with jobs and donates a percentage of profits to other F&B businesses that employ people undergoing treatment. (Speer has his own past with addiction.)
Show your support and order up a bowl of kimchi and bulgogi-tofu-spiked brown rice porridge, paired with a pretty matcha or turmeric latte.
Cultural afternoon
From here, it's an easy walk up Congress to the Texas State Capitol (20) (tspb.texas.gov), almost as grand as Washington DC's Capitol Building, only rendered in reddish granite.
The seat of state government, the interior is just as impressive – look skywards in the rotunda to spot Texas's lone star tucked inside the dome. There are free tours every 30-45 minutes, or grab a gratis self-guided tour brochure.
Stroll on another 10 minutes to the Bullock Texas State History Museum (21) (thestoryoftexas.com), admission $13, which offers a fascinating three floors of exhibits. There's the wreck of La Belle, part of the expedition that began Texas's ill-fated 17th-century French colony: historic tit-bits that give some context to Texans' love affair with guns and independent temperament, and the state's cultural influence in the 20th century, covering everything from the space race to cowboys, Willie Nelson and Beyonce.
Take a hike
Stride out on the Ann & Roy Butler Hike & Bike Trail along the shore of Lady Bird Lake and see outdoorsy Austin at play.
The full circuit is 10 miles, but setting out from Congress Avenue Bridge (22) and hiking the dirt track to Barton Springs Pool (23) (austintexas.gov), a popular natural swimming hole, is enough to get away from it all and should only take 40 minutes. Skyscrapers soon disappear behind trees; you even can spot tortoises sunbathing on branches.
Take a view
Find out why Austin is nicknamed 'Bat City' and snag a viewing spot by Congress Avenue Bridge (22) at dusk. Between mid-March and early November, an estimated 1.5 million migrating Mexican bats nest under the bridge, creating the largest urban bat colony in North America.
As sun sets, the bats swoop out across the horizon in search of food – incidentally, putting on one hell of a show.
The icing on the cake
Don't leave the self-styled Live Music Capital of the World without catching a gig. There are loads of venues to choose from – pick up a free Austin Chronicle (austinchronicle.com), lying around most cafes, for listings.
Old favourite Antone's (24) (antonesnightclub.com) has live bands most nights – a dingy but friendly blues club. Legends like Stevie Ray Vaughan and BB King have played here, and it attracts a mixed bunch, with old and young 'uns alike two-stepping away. Cover charge generally varies between $5-16.
Travel essentials
Getting there
British Airways (ba.com) flies non-stop to Austin-Bergstrom International Airport (25) from Heathrow.
The airport is about eight miles from Downtown; by far the cheapest way to travel is to catch the 100 bus (capmetro.org) right outside the terminal – it costs $1.25 and takes about 25 minutes.
Standard taxis, hailed at the airport, should cost around $15.
Staying there
For an ideal location between SoCo and Downtown, the Embassy Suites by Hilton Austin Downtown Lake (26) (embassysuites3.hilton.com) is hard to beat. Right by Congress Avenue Bridge (22), the sprawling suites come with separate living and bedrooms, breakfast and happy hour drinks and snacks (5pm-7pm) are included; and the buzzy atrium bar serves up sliders and ceviche.
Sure, the decor might lean a little heavy on brown, but it's big bang for your buck and they don't skimp on stuff like free in-room coffee and water. Rates from around $189 per night.
Need to sleep in a destination bed? South Congress Hotel (27) (southcongresshotel.com) is a home-grown style icon straight out of a 'how to be hip' catalogue: lots of leather and wood, a Japanese restaurant with secret bar – hell, there's even a vegan nail salon.
Bonus: the in-room entertainment system has a direct hook-up to much-loved Dirty Sixth dine-in cinema, Alamo Drafthouse (28) (drafthouse.com/austin). Rates from around $220 per night.
More information
Join our new commenting forum
Join thought-provoking conversations, follow other Independent readers and see their replies