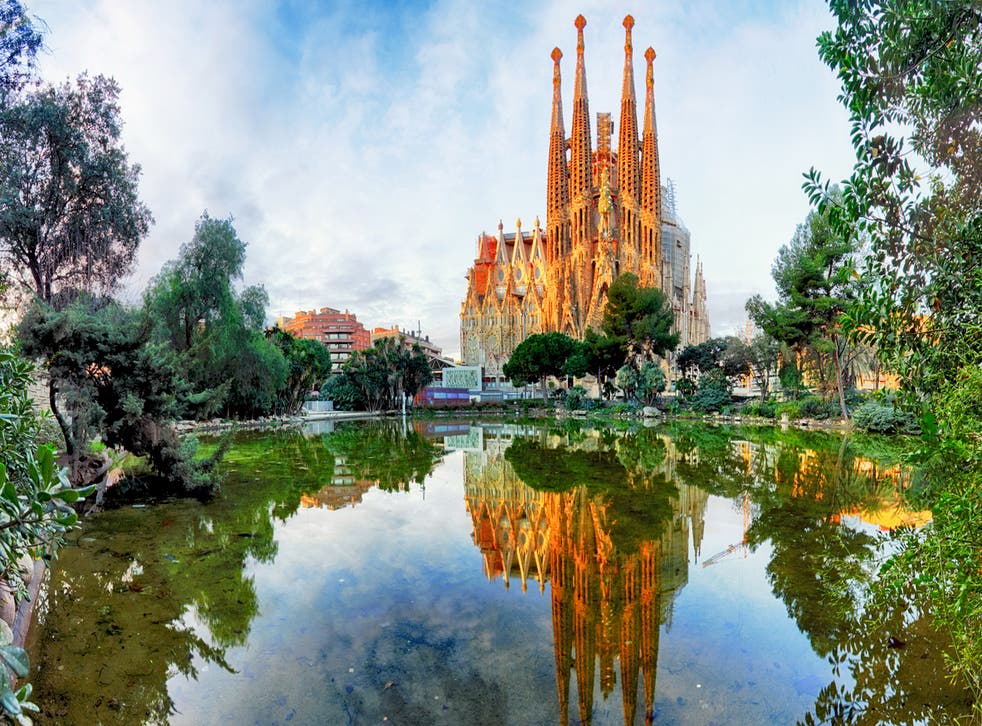 Barcelona city guide: What to do on a weekend break in Spain's second city
With iconic architecture, a flourishing Michelin star-worthy food scene and a vermouth revival under way, there's never been a better time to check out the Catalan capital
Why go now?
Barcelona is working hard to shed its image as ideal stag and hen party territory and show its smart and sophisticated side, which existed long before hordes of tourists arrived. What's more, the city's energising art and food and drink scenes have matured rapidly. Earlier this year, for example, Martín Berasategui's restaurant Lasarte was the city's first to receive three Michelin stars. Visit this spring to enjoy recent hip hotel openings, grown-up tapas from Michelin-starred chefs such as Albert Adrià and Carles Abellán, and explore the revival of Barcelona's vermouth culture.
Day one
Get your bearings
Barcelona is surrounded by worthy vantage points but the best is Parc Guell (1) (parkguell.cat), one of Catalan dreamer-cum-architect Antoni Gaudi's most famous creations. From here gaze across the city towards the Med, gawping at Gaudi's other colossal undertaking, the Sagrada Familia cathedral (2). The park was conceived as a residential site for Gaudi's eponymous patron at the beginning of the 1900s. It sits on a breezy hillside which you can roam for free, but the €7 entrance fee for the park also permits entry to a museum of Gaudi's signature work, and the much-snapped dragon stairway and terrace area. From May to August opening hours are 8am-9.30pm, but buy a ticket online if you don't want to be disappointed at the gate.
Lunch on the run
Grab lunch before you drop into the touristy areas of Passeig de Gràcia (3) and La Rambla (4). Charming Can Codina (5) (0034 935 161 584) was opened 85 years ago by current owner Tony Codina's grandparents and pleases all-comers from tourists to weathered locals and the ever-growing ex-pat community. Follow a local vermouth (from €1.80) with plates of clams, mussels, artichokes and baby squid to share.
Take a hike
Descend quickly through the neighbourhood of Gràcia (6) and past Gaudi's other popular buildings – La Pedrera (7) and Casa Batllo (8). Walk through bustling Placa Catalunya (9) at the top of infamous promenade La Rambla (4) before wandering left into Barcelona's bewitching Barri Gotic (Gothic Quarter) (10), a medieval maze of squares, shops and secret alleyways. Here you'll find the behemoth gothic cathedral (11), home to a cloister planted with palm trees and populated by geese and Harry Potter-worthy gargoyles.
Window shopping
Despite a weaker pound, Barcelona remains a good place to stock up on delicious food products. On Carrer Comtal (12), cheese lovers will delight in Formatgeria Simó (13) (formatgeriasimo.com) and wonder at the fishmongers, La Casa del Bacalao (14) (0034 933 016 539). Head to Carrer de Petritxol (15), a narrow run of chocolate and nougat shops and granjas, the tiny tiled nooks selling crispy churros and hot chocolate. Be aware that many local shops close for a few hours over lunch.
An aperitif
Pep yourself up with a carajillo – a short coffee with a shot of alcohol – at Quillo (16) (quillo-bar.com), a 15-minute walk north-east of Carrer de Petritxol. This new bar sits at the junction of four streets at the head of the Born district (17), an ideal spot to watch the city prepare for a Saturday night.
Dine with the locals
You'll spot the queue waiting to descend upon Tapas 24 (18) (carlesabellan.com) before you see the restaurant. It's a typical elbow-jostling tapas affair with fresh takes on classics. Start with the bikini – here the ham and cheese toastie is pimped with truffle and iberico ham. Or book in advance for Tickets (19) (ticketsbar.es), Albert Adrià's eccentric tapas playground.
Day two
Out to brunch
Barcelona likes to sleep in on a Sunday and brunch is a recent import found mainly in hotels. For a real blowout head to Cecconi's (20) (cecconisbarcelona.com) on the ground floor of the new Soho House Barcelona (sohohousebarcelona.com) where €40 buys you five hours (12-5pm) to feast upon classics such as eggs Benedict alongside Italian meats, cheese and antipasti, pasta and pizza, local seafood including oysters and prawns, and puddings like crema catalana and tiramisu.
Cultural afternoon
A stroll north-east along Passeig de Colom brings you into the elegant Born district (17). Here you'll find the least showy of Barcelona's cathedrals, Santa Maria del Mar (21); the Picasso Museum (22) (museupicasso.bcn.cat), open Tuesday to Sunday 9am-7pm (€11); and the Museum of Modern European Art (23) (meam.es), open Tuesday to Sunday 10am-8pm (€9).
A walk in the park
A 10-minute walk from the Picasso Museum brings you to Parc Ciutadella (24), the largest green space in the city centre and a lovely spot to watch dusk fall across Barcelona.
Take a ride
You'll miss the best of Barcelona if you don't walk it. But you can take the metro, which opens at 5am every day and closes at midnight Monday to Thursday, 2am on Fridays and runs non-stop over the weekend. A 10-journey T10 ticket (€9.95) is much better value than a single (€2.15) and you can share it. To get round as many tourist attractions as efficiently as possible, take taxis or hop on and off those big red tourist buses (barcelona.city-tour.com), €29 for one and €39 for two days.
The icing on the cake
If you have a few days to relax after a demanding city break, head to Sitges, a beautiful and chic beach town – think Cannes but much less brash – 40km south of the city. This weekend escape has avoided the over-development of the towns directly north of Barcelona, and the shops, hotels and restaurants meet metropolitan standards.
Travel essentials
Getting there
A plethora of airlines fly to Barcelona from regional and London-based airports around the UK. Barcelona El-Prat Airport (25) (barcelona-airport.com) lies 12km south of the city and the journey is easy by public transport. Either take the 35-minute Aerobus (single €5.90/return €10.20) to Plaça Catalunya (9) and walk to your lodgings in the city centre, or board the half-hourly train to Passeig de Gràcia (3) and travel onwards on the Metro system. Taxis cost upwards of €30.
Staying there
For contemporary luxury at the city's hottest new hotel, head to the 57-bedroom Soho House Barcelona. It boasts a 36-seater cinema, speakeasy bar, spa, gym and rooftop pool. From €260, room only.
Casa Bonay (27) (casabonay.com) is a more lighthearted alternative. First opened in 2016, it boasts stunning bar and restaurant spaces, a rooftop terrace and the best coffee in town courtesy of Satan's Corner. From €130, room only.
Seasoned visitors are now escaping the city centre for the Poblenou district, which has its own bustling Rambla (28), free of rowdy tourists, and is adjacent to Balearic-esque beach life at Mar Bella (29) and Bogatell (30). Stay at recently renovated 'The Level' at Meliá Barcelona Sky (31), a soaring tower with an open-air pool terrace and breakfast room on the 24th floor with 360 views of the city. From €200, B&B.
Join our new commenting forum
Join thought-provoking conversations, follow other Independent readers and see their replies