The Independent's journalism is supported by our readers. When you purchase through links on our site, we may earn commission.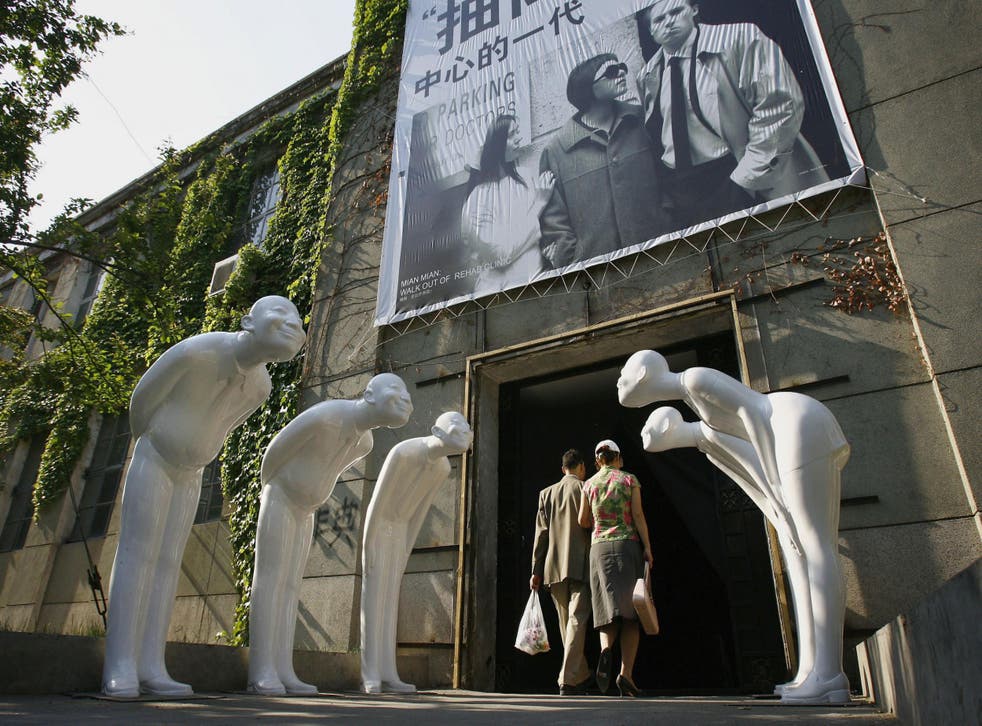 How Beijing is becoming one of the most exciting cities for modern art and design in the world
It may be 3000 years old, but the Chinese capital is a thoroughly modern megalopolis. Beijing's art and design scene is going from strength to strength – Cathy Adams shows you the way
Why go now?
Beijing might snatch all the column inches for its smog, but what the haze (literally) hides is a flourishing art and design scene.
Since being designated a UNESCO City of Design five years ago, a rash of new galleries, design initiatives and outlandish skyscrapers – like Zaha Hadid's twisty, still-in-construction Leeza Soho, designed before her death last year – have popped up. For a city where history stretches back three millennia, Beijing's zingy art and design scene lends it a modern flavour.
What's more, spring is when the smog eases off, blue skies return and temperatures nudge up from winter lows of -15 degrees.
Get your bearings
Beijing is an epic city. In this sprawling megalopolis of 25 million people, everything is huge: from the monumental government buildings and the four-lane highways to the ancient imperial palaces and the fact it takes you an hour to get anywhere in a (cheap as chips) taxi.
It's easy to navigate, however: the city fans out symmetrically from Tiananmen Square and the Forbidden City in six concentric ring roads.
The metro system is largely efficient, but the walk between stations can be long. Taxis are abundant, with the starting fare just ¥13 (£1.50) – but always ensure it's on the meter.
Warning: English is rarely spoken, and taxi drivers often don't understand written Chinese addresses. Ensure you have a map (either digital or analogue) with a map pin to show your destination. You'll need to rely on smartphone app Pleco (pleco.com), a comprehensive dictionary that works offline, and translation app Waygo (waygoapp.com), as Google doesn't work in China.
Day one
Take a view
Make straight for Jingshan Park, just north of the Forbidden City to the park, where, once you've paid the ¥2 entrance fee, you'll find older Chinese doing tai chi and singing badly tuned opera. It's an easy climb to the hilltop pagoda, which gives a 180-degree view over the imperial buildings and russet roofs of the Forbidden City – a good option if you don't have time to visit the entire complex.
Take a hike
Just south of Tiananmen Square is Qianmen Gate. Go through it to find the Dashilanr district of narrow alleyways – known as hutongs – that's the hub of September's annual Beijing Design Week.
Everything here is chic and on-trend – explore boutique galleries such as Twelve Moons at 27 Yangmeizhu Xiejie (0086 10 8319 7245; twelvemoons.com.cn) and Beijing Postcards at number 97 (no phone; bjpostcards.com), which sells a range of cool local maps.
There are Japanese fashion stores like Suzuki Shop at number 10-14 (0086 10 6313 5409; thesuzukishop.com), stocking linen dresses, chunky wool jumpers and cute homeware; and Ubi Gallery at number 62 (0086 10 6301 2382; ubigallery.com), which does a neat line of Japanese and Chinese jewellery and ceramics.
A couple of streets over in Zhujia Hutong at number 9 is a former brothel, now reimagined as an elegant coffee shop Berry Beans (0086 10 8319 7503; no web), with fashion label Bifu (0086 10 6313 5944; no web) across the courtyard.
Lunch on the run
Southern Fish at 166 Yangmeizhu Xiejie (0086 10 8315 2539; no web) serves homestyle Hunanese food (translation – lots of wok-fried vegetables tossed with chilli) in a simple-chic setting. The brave should try the hot and sour fish head, or stick to classics like chilli-laced cauliflower and lotus root, served classily in black lacquered bowls. Mains between ¥25-50.
Cultural afternoon
For a condensed shot of Beijing's art clout, grab a taxi to the 798 Art Zone (no phone; 798district.com) in the Dashanzi area northeast of the city. The complex is a vast spread of low-slung decommissioned military buildings that house changing exhibitions from some of China's most famous artists and photographers. Notable galleries to visit include UCCA at 4 Jiuxianqiao Road (0086 10 5780 0200; ucca.org.cn/en), Pace at 2 Jiuxianqiao Road (0086 10 5978 9781; pacegallery.com) and Tang Contemporary at Gate No 2, Jiuxianqiao Road (0086 10 5978 9610; tangcontemporary.com). All are closed on Mondays; Pace is also shut on Sundays. For a tour of the area, try Bespoke Beijing (bespoketravelcompany.com), which sends you out with a Chinese expert and curator to meet artists in their studios for ¥4,000.
An aperitif
You won't find a better spot for a pre-dinner drink than cocktail bar Miles at 33 Sanlitun Xijie (0086 10 6416 4560; no web) in Beijing's trendiest district Sanlitun. The speakeasy is full of vintage paraphernalia – a telephone box in the middle of the bar illustrates this nicely – and serves up concoctions including chocolate martinis and decent Old Fashioneds.
Dinner with locals
The hottest spot for Beijing's art crowd is Sanlitun's Opposite House hotel at 11 Sanlitun Xijie (0086 10 6417 6688; theoppositehouse.com). Its modern Chinese restaurant Jing Yaa Tang does the best Peking duck in town amid the slick gold-and-black décor, designed by restaurateur Alan Yau to look like a traditional Chinese theatre. Mains average around ¥120.
Day two
A walk in the park
The 1,000-year-old imperial gardens of Beihai, next to Jingshan Park, are positioned in the middle of a lake: meaning calm Sunday morning walks around it, if you avoid local Beijingers getting their weekend exercise. The focal point is the cake-topper-style white pagoda that gazes over the park's preened Chinese gardens. Entry costs ¥10.
Out to brunch
The modernised slate grey courtyard houses of Dong Bu Ya Qiao hutong along the banks of the Jade River hide the Scandi-inspired The Georg at number 45 (0086 10 8408 5300; georgjensen.com), a restaurant, bar and gallery concept from Danish silversmith Georg Jensen. Eat in the light-filled glass atrium – dishes include open-faced smorrebrot sandwiches and light salads – then check out the second-floor gallery of Georg Jensen pieces.
Window shopping
A brisk 30-minute stroll west is the district of Gulou, home to a clutch of beautiful design and furniture shops, and anchored by the Drum and Bell Towers, two imposing 13th-century brick-and-wood structures.
You'll find Chinese-meets-Danish furniture boutique Lost & Found at 57 Guozijian Jie (no phone/web), and FNJI at number 41 (0086 10 5367 2899; fnji.com), a gorgeous mash-up of cherry-wood furniture, hidden courtyard coffee shop and gallery.
Turn left down Jianchang Hutong for the arty Arrow Factory at number 38 (no phone; arrowfactory.org.cn), which houses mini installations that you can only see from the outside.
Take a ride
With deep pockets, a taste of the strange and untamed urban growth, Beijing has spawned some increasingly weird architecture. See the most outlandish examples from the sidecar of a renovated Chang Jiang 750 motorbike with Beijing Sideways (0086 139 1133 4947; beijingsideways.com). Zip past Rem Koolhas' trouser-leg-like CCTV Building, Zaha Hadid's rockstar-looking Galaxy Soho mall, the Bird's Nest (AKA the 2008 Olympic stadium) and the space-age "egg" that is the National Centre for the Performing Arts. A four-hour tour in a two-person sidecar costs ¥1500 for the first passenger and ¥900 for the second.
The icing on the cake
If you've come all this way, you're going to want to climb the 21,000-kilometre Great Wall. Ignore packed Badaling and head to Jinshanling, the furthest section from Beijing (it's 130km out of town) but also the emptiest, where you'll find original Ming dynasty sections dating back to the 1500s.
Getting there
British Airways (0844 493 0787, ba.com) and Air China (00800 86 100 999, airchina.co.uk) fly direct to Beijing from London Heathrow. Return fares start from £387 with Air China and £409 with BA.
A light rail service runs between Beijing Capital Airport and downtown, with tickets priced at ¥25. Given Beijing's scale, the easiest way is to grab a licensed taxi from the rank outside arrivals, and show the driver the address in Chinese. It typically costs no more than around ¥100 into town. Again, ensure it's on the meter.
Staying there
The Opposite House (0086 10 6417 6688; theoppositehouse.com) is the five-star art lover's hotel of choice, with regular art parties attended by local creatives and curated rotating lobby installations. The two in-house restaurants are destinations in their own right. Doubles from ¥2300 (£270), B&B.
Beijing's homegrown luxury hotel brand NUO has opened its second property in the city on Chang'an Jie (0086 10 6526 3388; nuohotel.com), right in the heart of town. Interiors are inspired by the Ming dynasty.
Doubles from ¥1,120, room only.
If you want to stay among the hutongs, boutique Orchid (0086 10 8565 9295; theorchidbeijing.com) has a roof deck and traditional courtyard-style rooms. It has just opened nearby residences for long-term guests if you want to extend your stay.
Doubles from ¥700, B&B.
More information
Register for free to continue reading
Registration is a free and easy way to support our truly independent journalism
By registering, you will also enjoy limited access to Premium articles, exclusive newsletters, commenting, and virtual events with our leading journalists
Already have an account? sign in
Register for free to continue reading
Registration is a free and easy way to support our truly independent journalism
By registering, you will also enjoy limited access to Premium articles, exclusive newsletters, commenting, and virtual events with our leading journalists
Already have an account? sign in
Join our new commenting forum
Join thought-provoking conversations, follow other Independent readers and see their replies