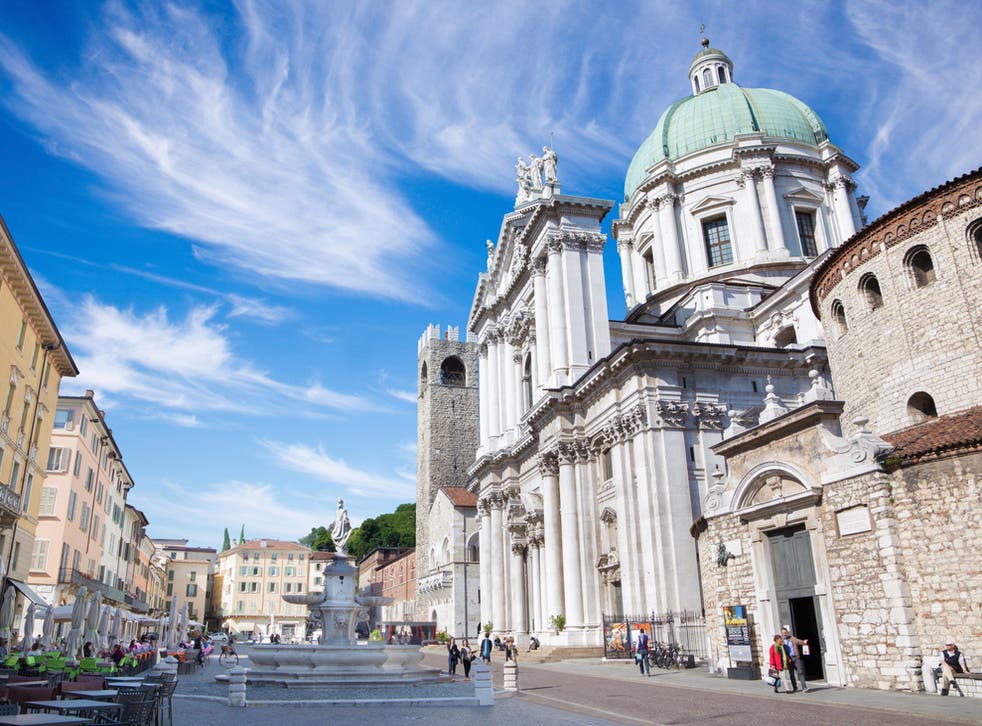 Brescia city guide: Where to eat, drink, shop and stay in this northern Italian gem
Spend the weekend in this beautiful Lombardy city at the foot of the Alps
Brescia is a hidden gem of a city, tucked at the foot of the Alps in northern Italy. There's a lot going on here, with a miniature La Scala-type theatre, lots of culture, art and shopping. Most famously, Brescia has four sensational historic squares within a few minutes walk of each other: a Roman Square, Medieval Square, Renaissance Square and Modern Square. The city is also easy to reach – fly into Milan and the 45-minute onward train journey costs from €7.30 (£6.47).
What to do
Check out the squares
The magnificent Roman Square (Piazza del Foro), with its 1st century BC temple and Roman theatre, is a good place to start when exploring the city. This Unesco World Heritage Site was buried under a landslide and only rediscovered in 1823 when a splendid bronze statue, Winged Victory, was also found. Nowadays you can hire cool 3D glasses to get a real sensation of how this busy square looked in its heyday.
Next up is the Medieval Square (Piazza Paolo VI), dominated by two cathedrals that sit side-by-side. Construction on the majestic Duomo Nuovo started in 1604, while the neighbouring circular building of the Duomo Vecchio is a massive 12th-century cathedral with carved wooden choir stalls and stairways leading down to the crypt.
Arguably one of Italy's most picturesque squares, the Renaissance Square (Piazza della Loggia) hints at Brescia's Venetian past, with its 15th-century colonnades and graceful Loggia (town hall). There's also an astronomical 24-hour clock, built in 1546, which shows both phases of the moon and the signs of the zodiac. At the top of the clock tower sit two statues (Tone and Batista) that strike the hour.
Brescia city guide

Show all 8
Finally, turn your attention to the Modern Square (Piazza della Vittoria). Built in 1932, this grand square is flanked by buildings from the the fascist era (1920-1940s). In one corner is a red stone frieze depicting Brescia's history, from the Roman era to the middle of the 20th century. The square is also home to the main entrances of the city's new metro system.
Drive one thousand miles
Every year the glamorous Mille Miglia (literally a thousand miles) is a slightly demented classical car race which starts and ends in Brescia. Thousands of onlookers cheer along the route, which encompasses cities and tiny Italian villages with cobbled streets.
Art attack
In the summer of 2018, after nine years' work, a new gallery reopened inside a large 15th-century castle. Museum Pinacoteca Tosio Martinengo beautifully displays paintings by mainly local artists dating from the 13th to the 18th century. Open 9am-5pm Tuesday to Friday, 10am-9pm Saturdays, 10am-6pm Sundays; closed Mondays. Entry €8.
Where to stay
Albergo Orologio is an independent hotel with lots of character situated right in the centre of the city. The breakfast includes excellent croissants (albergoorologio.it). Doubles from €94, B&B.
A family run hotel whose owner is extremely generous when it comes to offering information on the city, Hotel Ambasciatori is situated two metro stations from the centre. All the rooms are spacious, and drinks are available from the in-house bar throughout the day and evening. Doubles from €80, B&B (ambasciatori.net/en/),
Le Muse is a friendly B&B in the centre of town (lemusebrescia.it). Doubles from €50, B&B.
A 15-minute walk from the Unesco sites and monuments of Brescia sits Corso Matteotti 62, a friendly and stylish family run B&B. Doubles from €65, B&B (corsomatteotti62.com/).
Where to eat
The whole area around Brescia was recently named European Region of Gastronomy, so standards are high and the eating is almost uniformly great.
Osteria del Savio is quite difficult to find, despite being in the centre of town, but definitely worth the hunt. Serving quality, no-nonsense Italian food in an atmospheric setting, it's known for signature dishes including an excellent risotto. Open for dinner every night bar Mondays; open for lunch at weekends.
Trattoria Mangiafuoco is a traditional northern Italian family owned restaurant using local produce and specialising in locally made cheese and meat from the owner's own cattle farm. Typical dishes include chianina silroin with balsamic vinegar and honey sauce. Open daily bar Mondays and Sunday nights.
Most of the world's best gelato is found in Italy, and Brescia's Gelateria del Biondo is a good place to sample it. Both traditional and unusual flavours are offered, plus there's a vegan variation available. Open daily.
Where to drink
Every evening in Brescia begins with an aperitif called the pirlo, the city's version of the spritz. Consisting of sparkling wine, Campari and fizzy water, and garnished with orange slices, it's an intriguing blend of light and bitter. You will find plenty of places to try the drink in the following locations: Piazza Duomo, Via Cesare Beccaria, Piazza Loggia, Piazza Vittoria and Via X Giornate.
Areadocks is an atmospheric buzzy place for cocktails and food. Bedussi is a great place for drinks, superb gelato and pizza, and where locals love to congregate.
Where to shop
Upmarket clothes are easy to come by in this stylish city. A good start is Fabrique, an outlet that specialises in handmade clothes.
Brescia also has a branch of the smart department store Coin, specialising in clothing, homeware, accessories and beauty. Open from 9.30am-8pm daily; 10am-8pm on Sundays.
Pick up local cheese at Zona Alpi, run by a young couple, Marzia and Bruno.
Pasticceria Veneto belongs to Mr Massari, a famous Italian TV chef specialising in pastry. The choices at his pastry shop are so tempting it's almost impossible to choose, with options including cornetti, panettoni, bussola, biscotti and torte traditional. The place is so popular that sometimes on a Sunday the counter is packed seven deep.
Architectural highlight
The monastic complex of San Salvatore-Santa Giulia is also part of the Unesco World Heritage Site and is now a huge museum containing objects from the Longobard period (form the sixth century until 774AD), as well as the statue Winged Victory, which dates from the 1st century AD. The whole complex was once a Benedictine monastery and incorporates a church built in 753AD, as well as a 12th-century church. Entry €8.
Nuts and bolts
What currency do I need?
Euros.
What language do they speak?
Italian.
Should I tip?
Generally no, unless service is outstanding.
What's the time difference?
One hour ahead.
What's the flight time from the UK?
Two hours.
Public transport
Most of the centre can be seen on foot but there is also a good bus service and an efficient new metro system. It's possible to buy a 24- or 48-hour travel card that also gives access to some of the city's museums.
Best view
From the castle on Cidneo hill, Brescia's first settlement, which can be reached in less than 10 minutes from the central squares.
Insider tip
A visit to Brescia can be easily combined with a trip to the Italian lakes; Lake Garda is only 30 miles away.
More information
Join our new commenting forum
Join thought-provoking conversations, follow other Independent readers and see their replies