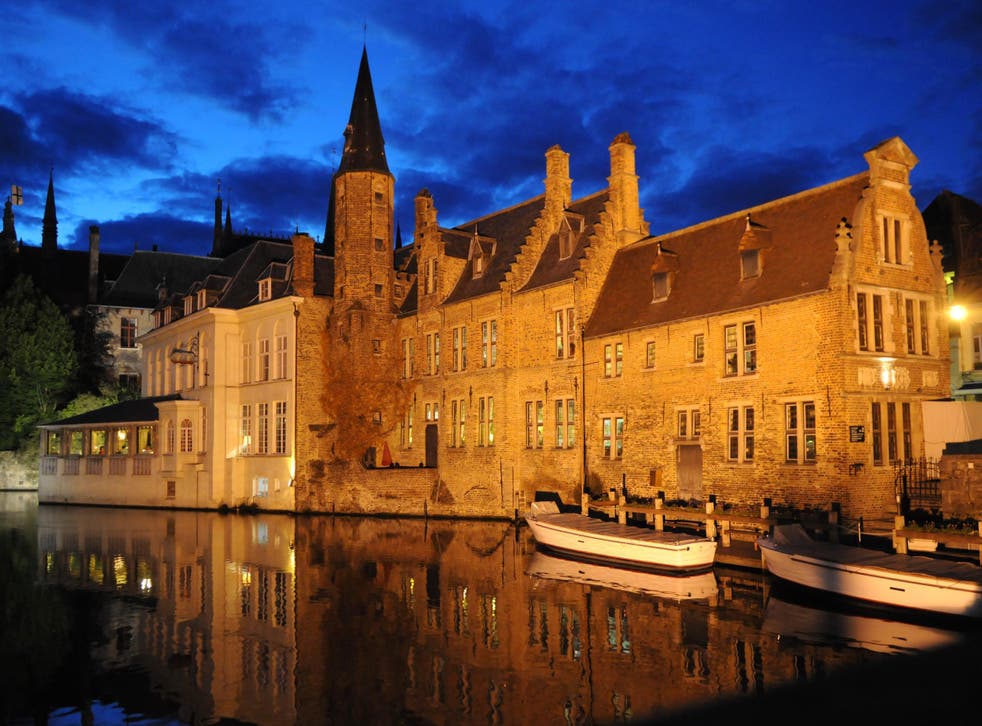 How to spend a beer-themed two days in fairytale Bruges
Why go now?
Beer literally flows through the fairytale streets of Bruges, the capital of West Flanders, albeit in a pipeline running beneath the Belgian city's cobbled pavements. Its annual beer festival this weekend (4-5 February) is one of the best in the world, with more than 400 different beers on offer. Based beneath the famous Belfry (1), and with no entrance fee, the festival can quickly overwhelm the market square (2); luckily, Bruges is so steeped in brewing culture that there's plenty more beer to explore once you've drunk the tents dry.
Get your beer bearings
Belgian beer can be a minefield for the uninitiated, so it's worth learning how to tell your Tripel from your Kwak before you order a pint of something 14% ABV.
Pale, farmhouse and blonde ales are closest to British and US-styles, while Dubbels, Tripels and Quadrupels – as the names suggest – multiply in strength.
Flanders is famous for sour ales, whose styles include Lambics, Guezes, and Flanders Red and Brown ales. They're fruity, often tasting of sour cherry, but are an acquired taste. Kwak is a strong amber ale that comes in a glass test-tube-like flask propped up on its own wooden stand, and if you drink too many of them you might need a prop of your own.
Day one
Take a view
For an overview of Belgium's beer culture study the "beer wall" at 2be (3) (00 32 50 61 12 22; 2-be.biz/en/2BeBar.php), a bar close to the market square (2). Dominating one side of the pub's pretty, canal-side garden, the beer wall's shelves are a colourful spectrum of styles, bottle-types and glasses. Temptingly, the wall ends at the bar – but best to get there early on: it's open daily from 10am but closes by 7.30pm.
Lunch on the run
With its mismatched ornaments, exposed brickwork, roaring fires and chequered tablecloths, De Vlaamsche Pot (4) (00 32 3 250 34 00; devlaamschepot.be), on Helmstraat, feels like a medieval hunting lodge upholstered with leftover material from a 1950s tearoom. It turns out some of the best Flemish food in Bruges, including the famous Carbonades Flamandes, an unctuous stew made with beef slow-cooked in dark beer, for €22.50. With no fixed closing time, it's open Wednesday-Friday from 5.30pm and from midday at weekends.
Window shopping
From bottles to tankards to gleaming glassware, The Bottle Shop (5) (00 32 50 34 99 80; thebottleshop.be), just off the market square, is the best place to stock up on boozy paraphernalia. It's a riot of colour, stocking more than 600 different beers on its densely packed shelves. Beers are displayed alongside their intended glassware to help you avoid the ultimate Belgian beer faux pas. Open daily from 10am-6.30pm.
An aperitif
Some of Belgium's best beer is brewed by the cloistered monks of the Trappist order. Trekking around all six of the country's secretive abbey-breweries is the ultimate spiritual pub crawl; but if you don't have time to do that, make a pilgrimage to Bruge's Le Trappiste (6) (00 32 475 45 50 66; belgianbeer.wixsite.com/letrappiste), a gloriously spooky bar based in a vaulted medieval cellar beneath the Kuipersstraat. Open daily from 5pm-1am, it stocks a wide range of rare Trappist, Abbey and other Belgian beers and its expert bartenders are a dab hand at guiding you through the extensive beer menu.
Dine with the locals
Book well in advance to secure a table at Ribs 'n Beer (7), just across the canal at 50 Ezelstraat (00 32 50 70 76 77; ribsnbeer.com). Busy, friendly and cacophonous, it's a meat lover's paradise. Best known, obviously, for the ribs – served traditional or slow-cooked – it also serves up enormous steak and frites. Given how close it is to the tourist hotspots like the market and Belfry, it's also excellent value with all-you-can-eat ribs for €18.
Day two
Sunday morning: out to brunch
If you're in need of a hearty plate of grease following a night on the cobbles, make for the only museum in the world that's dedicated to the humble chip.
On the corner of Vlamingstraat and Academiestraat, the Frietmuseum (8) (00 32 50 34 01 50; frietmuseum.be), with its endearing, cartoonish presentation, somehow renders the potato surprisingly fascinating. It's open daily from 10am-5pm but if your craving for carbs is overwhelming, you can always skip the museum's €8 entry fee and head straight to the café for a cone of frites, cooked to the traditional recipe in beef fat. Genuinely cheap as chips, a large portion is €2.20.
Take a hike
Bruges's famous underground beer pipeline flows from the Half Man Brewery (9) to its bottling plant just outside the city, solving a logistical tangle by cutting across town without damaging any medieval architecture. Walk some of its route above ground: from the market square (2), follow the cobbled Oude Burg west as far as the imposing Sint Salvatorskathedraal (10), the city's main church, then follow Heilige-Geeststraat until it becomes Katelijnestraat. The road passes between the Church of Our Lady of Bruges (11) and Oud Sint-Jan (12), an old hospital-turned-exhibition centre that's currently hosting a major Picasso exhibition (00 32 50 47 61 00; picasso-bruges.be). Entry costs €10; it closed on 9 January but from Friday, 3 February will reopen daily from 10am-6pm.
Cultural afternoon
If you've worked up a thirst after all that walking, join a tour at the Half Man Brewery (9) (00 32 50 44 42 22; halvemaan.be), just over the canal from the Oud Sint-Jan, which turns out some of Belgium's best-known beers under the Brugse Zot and Straffe Hendrick labels. Tours cost €9 per person and last 45 minutes; for an extra €10 you can try out a professional beer tasting in the cellars. It's open 10am-6pm during the week, with an 11pm finish on Friday and at the weekend.
Take a ride
Soothe your head after all that beer by hiring a city bike at the train station (13) (Station Brugge, 8000 Brugge) and going for a ride along the wide, still canals that stretch between Bruges and the Netherlands. The border town of Damme (14) has an oddly Cotswolds feel to it: sleepy outside the summer season, its streets are lined with art galleries and cafes. The Blue Bike scheme (blue-bike.be/en) costs €10 for an annual membership – which also entitles you to use bikes in other Belgian cities – then €1 for a 24-hour bike rental.
The icing on the cake
The festival promises a rare opportunity to try the Trappist beer Westvleteren 12, widely acclaimed as the best beer in the world. Short of visiting the monks' secluded, West Flanders abbey and brewery, it's usually impossible to get hold of, so it's likely to sell out very quickly. If you miss out, it's occasionally been seen at Le Trappiste (6).
Travel essentials
Getting there
The Eurostar (01233 617575; eurostar.com) connects London's St Pancras International to Bruges via Brussels Midi/Zuid for £34.40 each way. From the train station (13) – a magnificently spiky Gothic building straight out of Harry Potter – take the Number 12 bus to the market square (2). The journey takes seven minutes and buses leave every 10 minutes. A ticket, valid for 60 minutes, is €3.
Staying there
The Dukes' Palace (14) (00 32 50 44 78 88; hoteldukespalace.com/en) is a grand old hotel occupying a 15th-century palace, with its own Rapunzel-esque pointy tower and sumptuous rooms. Doubles from €308, not including breakfast.
Near the canal, St Christopher's (15) (00 32 50 34 10 93; st-christophers.co.uk), an upmarket hostel, offers decent mid-range accommodation for €16 for a dorm bed, including breakfast.
Register for free to continue reading
Registration is a free and easy way to support our truly independent journalism
By registering, you will also enjoy limited access to Premium articles, exclusive newsletters, commenting, and virtual events with our leading journalists
Already have an account? sign in
Join our new commenting forum
Join thought-provoking conversations, follow other Independent readers and see their replies