The Independent's journalism is supported by our readers. When you purchase through links on our site, we may earn commission.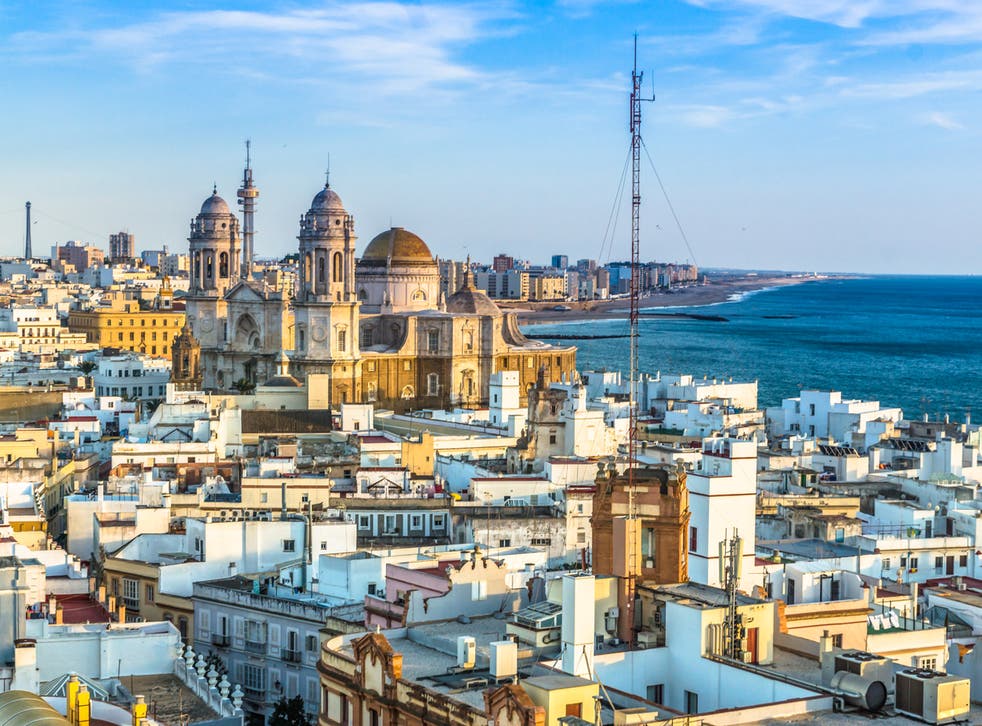 Cadiz city guide: Where to eat, drink, shop and stay in Spain's oldest port
This city's unspoiled beauty and rich history make it the ideal under-the-radar getaway
Zoe Galloway
Thursday 09 May 2019 14:35 Comments
Located in the Andalusia region of southwestern Spain, Cadiz has so far escaped the grips of mass tourism. Stroll down the cobbled streets and, refreshingly, you'll hear only the sound of Spanish locals. But its sandy beaches, wide variety of architecture and ancient history make it an appealing choice for a city break.
At over 3,000 years old, it's also thought to be the oldest city in western Europe, becoming a vital trading hub as well as one of Spain's wealthiest cities during the 18th century. Now, it's best known for its watchtowers – there are roughly 100 scattered around the city – and James Bond, where it stood in for Cuba during the filming of Die Another Day.
What to do
Go to the beach
Cadiz city guide

Show all 8
Playa de la Victoria and Playa de la Caleta are the two main beaches to visit. James Bond fans should head to Playa de la Caleta in the old town, as this is where Halle Berry famously emerged from the sea in Die Another Day.
Playa de la Victoria runs along the arm of Cadiz, below the historical peninsula. It's popular with locals and consistently awarded Blue Flag status. There are plenty of restaurants, hotels and bars along the promenade too.
Museo de Cadiz
Learn about the port's colourful history through a selection of paintings, statues and artefacts in the city's museum. Although fairly small, it will tell you everything you need to know, from Cadiz being discovered by the Phoenicians thousands of years ago, to its evolution into its modern day incarnation.
The museum is open during the summer from 9am-9pm Tuesday to Saturday and 10am-3pm on Sundays. Free entry for EU citizens; otherwise admission €1.50 (0034 856 10 50 23).
Take a walk
This historic port has a distinct Latin American vibe, which you can only fully appreciate by getting lost within the jumble of narrow streets. For roughly an hour's walk, start at the main tourist information centre opposite the train station and head for Santa Domingo convent church, which was completed in 1666. Then, head to Plaza de la Catedral to see Cadiz Cathedral and the ruins of Arco de la Rosa. Next, head to Torre Tavira, the port's main watchtower, and finally stroll north into the city centre and the main shopping district.
See a flamenco show
Flamenco dancing originated in Andalusia and it's still hugely popular in Cadiz today. Watch the high energy performances and intricate guitar playing for yourself by going to one of the many shows on offer in the old town. Taberna Flamenca La Cava puts on a truly authentic experience, with tickets available for €22.
Where to stay
Hotel Convento Cadiz is a 17th-century convent in the centre of the old town that has been transformed into a boutique hotel. Retaining many of its original features, including vaulted ceilings and a beautiful interior courtyard, it's a charming place to rest your head. Doubles from €58, room only.
For something ultra-modern, Parador de Cadiz, which is located next to Genoves Park, has beautiful ocean views, an outdoor swimming pool and spa. Rooms are bright and spacious and it's only a five-minute walk to the beach. Doubles from €125, room only.
Barcelo Montecastillo, located in the neighbouring town of Jerez, is a great choice for families. You can venture into central Cadiz during the day but escape to the peaceful Andalusian countryside in the evening. This five-star hotel has a relaxed vibe with plenty of activities to keep kids entertained. Doubles from €88, room only.
Where to eat
You can't go to Cadiz without trying some fried fish from one of the many freidurias. Join the queue at Freiduria Las Flores in Plaza Topete and order the mixed selection. It's always busy but the food doesn't disappoint.
Another essential stop is Cafe Royalty, which at the turn of the 20th century welcomed renowned writers, politicians and artists. After closing in the 1930s, its lavish decor was lovingly restored in 2008. Stop for breakfast or brunch and admire the intricate paintings while trying its speciality dish, Picatostes Gaditanos (deep fried bread).
Where to drink
Quilla Beach Bar sits above Playa de la Caleta and next to a 17th-century fortress, making it a great spot to sip on a sangria at sunset and enjoy the view. There's a tapas menu if you're hungry, too.
For something a little livelier, head to Casa Manteca, where the walls are covered in flamenco and bullfighting memorabilia, and every possible type of cured pork hangs above the bar.
Taberna La Manzanilla is the place to try a sherry or two. It's a family-run tavern dating back to the 1930s and the walls are lined with different bottles of all sizes and ages. Ask for a manzanilla, a type of fino sherry, and pull up a pew.
Where to shop
Calle Columela is the main shopping street in Cadiz and has everything from high street brands such as Zara and Mango to small boutiques and gift shops. The streets of Novena, Ancha and Compania are also worth a look, the latter having a more boho feel.
For traditional Spanish cuisine, try Mercado Central, a colourful indoor food market, where you can buy everything from fresh fruit and vegetables to cured meat, wine and cheese. Sample the dishes as you work your way around or sit and enjoy a tapas meal in the (limited) seating area. It shuts at around 3pm daily but the surrounding restaurants are a great alternative if you arrive too late.
Architectural highlight
Dominating the port's skyline with its striking 19th century structure is Cadiz Cathedral, its golden dome sparkling in the sunlight. Visit the crypt where local composer Manuel de Falla is buried or climb the east tower for an impressive view of the city. During the summer, it's open from 10am-9pm Monday to Saturday or 1.30-9pm on Sundays; entry €5.
Nuts and bolts
What currency do I need?
Euros
What language do they speak?
Spanish.
Should I tip?
Around 10 per cent.
What's the time difference?
Cadiz is one hour ahead of the UK.
What's the average flight time from the UK?
The closest airport is in Jerez, a 30-minute drive away – the flight time from London is just under three hours. Alternatively, you can fly into Seville, which has a 2 hour 45 minute flight time from London and is an hour and 20 minutes from Cadiz by car.
Public transport
Get around by foot – everything you'll want to see is within walking distance.
Best view
Take a trip to the top of the official watchtower of Cadiz, Torre Tavira. The building is surprisingly easy to miss from street level but climb the spiral stairs to the roof and you're met with a panoramic view of the port and Atlantic Ocean beyond. It's open daily from 10am-8pm May to September (10am-6pm otherwise); entry €6.
Insider tip
Escape the beach and head to the tranquillity of Genoves Park, a botanical garden between the old town and the Atlantic Ocean on the most western tip of Cadiz. The beautiful surroundings are a favourite with locals, who you'll find taking a siesta under the shade of a tree or meeting for lunch in the small outdoor cafe. Open daily 8am-9pm.
Register for free to continue reading
Registration is a free and easy way to support our truly independent journalism
By registering, you will also enjoy limited access to Premium articles, exclusive newsletters, commenting, and virtual events with our leading journalists
Already have an account? sign in
Join our new commenting forum
Join thought-provoking conversations, follow other Independent readers and see their replies