The Independent's journalism is supported by our readers. When you purchase through links on our site, we may earn commission.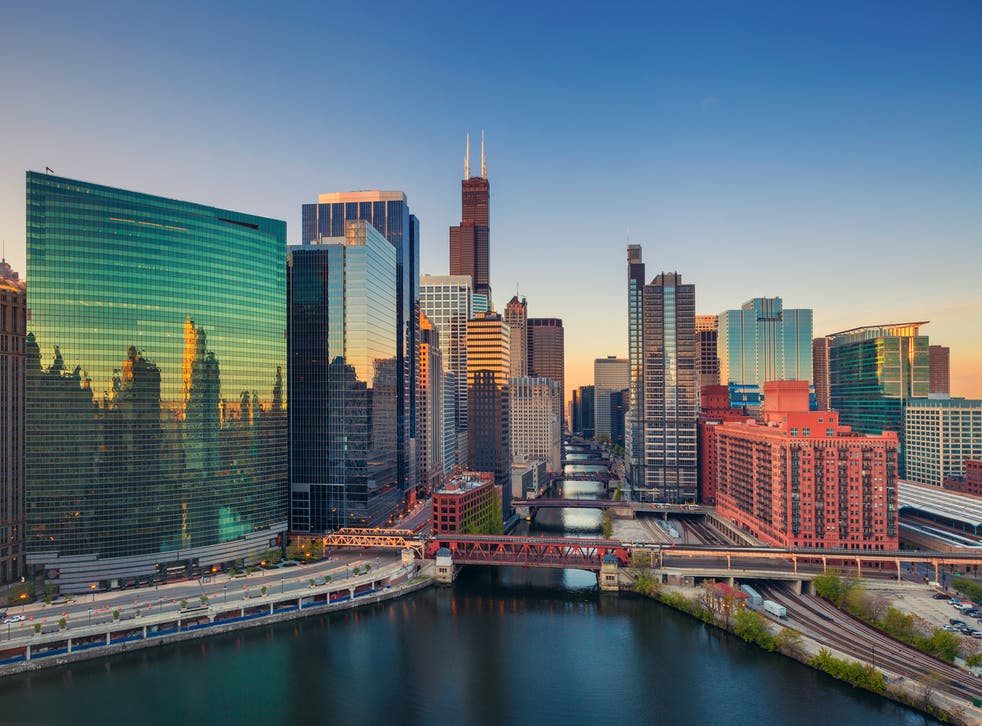 Chicago guide: Where to eat, drink, shop and stay in the Windy City
How to make the most of a break to the third biggest US city
David Whitley
Thursday 21 June 2018 16:06 Comments
People tend to fall in love with Chicago very quickly. Visually stunning, with some of the most impressive architecture on earth, the Windy City also does a nice sideline in hidden heritage, cultural heavyweights and laid-back but creative neighbourhoods. Imagine New York's energy and wow factor, but with room to breathe. It's become more affordable to visit, too; low-cost airline Norwegian launched direct flights from Gatwick last month.
What to do
Walk the river
Chicago has steadily expanded its Riverwalk over the last decade, and it now takes in many of the city's prime cuts. The corncob-esque Marina City, lavishly Gothic Tribune Towers and cathedral-like Wrigley Building line up with a horizon of gleaming skyscrapers, while kayak outfitters and several small bars offer tempting distractions.
Investigate the Bean
Since Millennium Park opened in 2004 it has become a firm favourite. That's partly because of the skyline views, but mainly due to two A grade pieces of public art. Anish Kapoor's silver, ultra-reflective Cloud Gate (known to all as "the Bean") makes for great photos, while Jaume Plensa's Crown Fountain – two glass brick walls showing videos of faces that occasionally spit out jets of water – provides the laughs.
Check out the architecture
It's perfectly possible to enjoy Chicago's tremendous buildings by mooching around staring at them, but the Chicago Architecture Foundation runs tours that dig out the best examples and give insights into the styles on show. The $20 Evolution of the Skyscraper tour is the best intro option.
Go back to 1893
The 1893 World's Fair shaped Chicago, as well as giving the world moving walkways, zips and the Ferris Wheel. Chicago Detours runs an illuminating $40, three-hour tour that checks out the buildings, brewers, hotels and theatres that emerged, while adding a dash of fun with scavenger hunts and old photos loaded onto iPads.
Fall in love with the word
Opened in 2017, the American Writers Museum presents the history of American literature in a hugely engaging way, covering everything from accounts by early Spanish explorers to Steinbeck and Twain. Fun sections include typewriters where visitors can add a line or two to a collectively-written novel and interactive walls where you pick specific words to make a sentence read better. Entry $12.
Get the blues
When African-Americans migrated north, they brought music with them, and in Chicago this morphed into the electric blues. The city still has several top drawer blues clubs, often featuring octogenarian legends from the genre's heyday. Rosa's Lounge is a marvellously friendly, inviting place to dip a toe in. Tickets from $7.
Where to stay
Straddling the hostel-hotel boundaries with deliberately high quality furnishings and a sceney network of bars and social areas downstairs, the Freehand successfully carves itself a niche at the affordable end of the accommodation scale. Dorms beds from $31 (£23), doubles from $163 (£121), room only.
Formerly a bog standard Days Inn, the Versey has been given a seriously sassy makeover with massive street art murals, light fittings made of bicycle frames and Chicago street scene photography. Doubles from $140, room only.
At the Acme, the second floor hang-out comes with free jelly beans, nuts and coffee, and rooms are kitted out with Amazon Alexas. Robes look more boxer than luxe hotel, and massive handprint splodge art above the bed ties in with the street-smart vibe. Doubles from $167 (£124), room only.
Bristling with old school glamour, the Palmer House Hilton takes up an entire city block. The lobby is extraordinary – all painted stucco, statues covered in candles and a palatial ceiling of 21 murals that were restored by the same people who restored the Sistine Chapel. There's a beautifully bright pool area too. Doubles from $187, room only.
Where to eat
The posh food court on the seventh floor of the Macy's department store plays host to celeb chef Rick Bayless's affordable Frontera Fresco. The tortas – Mexican sandwiches – are fantastically flavoursome, as are the cochinita pibil tacos.
Italians, look away now… In Chicago, pizza is done deep dish, and there are several contenders for the best thick crusted, gooey, calorie-monster pie in town. Gino's East wins purely on the gimmick factor – its walls, furniture and frankly everything are covered in graffiti.
Newly-opened Marisol inside the Museum of Contemporary Art is a hit, with sharing plates and a good veggie range including the risotto verde with pistachio and pomegranate.
The flamboyant Beatnik – full of giant plants, showpiece chandeliers and Moorish-style artwork – globe-trots around the Mediterranean in its menu. Confit chicken comes with chorizo iberico, and roasted Lebanese lamb with pistachio tzatziki.
Where to drink
La Colombe Coffee Roasters in the foodie-friendly West Loop 'hood sells muffins, croissants and cakes, but the star is the ultra-potent drip coffee. The "workshop" version, using Colombian beans with red honey, champagne, mango and maple syrup flavour notes, is the most distinctive.
The Clark Street Ale House feels like the sort of semi-dive joint that would very quickly become a local. There's a beer garden out the back, but perched at the bar, ploughing through the 25 craft beer taps and occasionally topping up the rock-heavy jukebox is the place to be.
West Loop's cavernous City Winery pours wine straight from the barrel, has massive light fittings in the shape of wine bottles and puts on gigs ranging from soul to singer-songwriter acoustic in the back room.
Decked out with Frank Lloyd Wright pastiche lighting and furniture, the Prairie School uses midwestern and Great Lakes ingredients in its cocktails where possible, while taking inspirations – as Lloyd Wright did – from Japan. So expect Japanese whisky in the highball, and locally-made arugula amaro elsewhere.
Where to shop
Flagships and major department stores congregate along North Michigan Avenue (aka The Magnificent Mile), north of the river. Nieman Marcus, Nordstrom and Bloomingdale's are among the top dogs.
The Macys department store on State Street offers affordable fashion, but is most notable for its gigantic Tiffany glass mosaic vault.
The Chicago Architecture Foundation Shop is full of interesting goodies – whether a book of transit maps from around the world, aprons with the Chicago skyline on, massive 3D jigsaws or indisputably gorgeous Tiffany lamps.
Inside the phenomenally graceful Rookery Building, the Frank Lloyd Wright Trust Shop sells all manner of homeware based on Lloyd Wright designs, ranging from candle holders and chess sets to table mats and scarves.
Architectural highlight
Take your pick – but the soaring neo-Gothic Tribune Tower is astonishing.
Nuts and bolts
What currency do I need?
US dollars.
What language do they speak?
English.
Should I tip?
Tipping is regarded as more or less essential in the US, with the rule of thumb being 15 to 20 per cent for anyone in the service industry.
What's the time difference?
Chicago is on GMT-5 from March to October, and GMT-6 the rest of the year.
When's best to go?
The weather's best between May and October.
Public transport
Much is walkable – otherwise use the L elevated trains.
What's the flight time from the UK?
Direct flights take around eight hours and 40 minutes.
Best view
Stand in Millennium Park and look around you.
Insider tip
Chicago's most enjoyable neighbourhoods to spend an evening in are gradually moving up the blue L line from the central Loop. Wicker Park, Bucktown and now Logan Square are full of buzzy places to eat, drink and catch a gig.
Register for free to continue reading
Registration is a free and easy way to support our truly independent journalism
By registering, you will also enjoy limited access to Premium articles, exclusive newsletters, commenting, and virtual events with our leading journalists
Already have an account? sign in
Join our new commenting forum
Join thought-provoking conversations, follow other Independent readers and see their replies