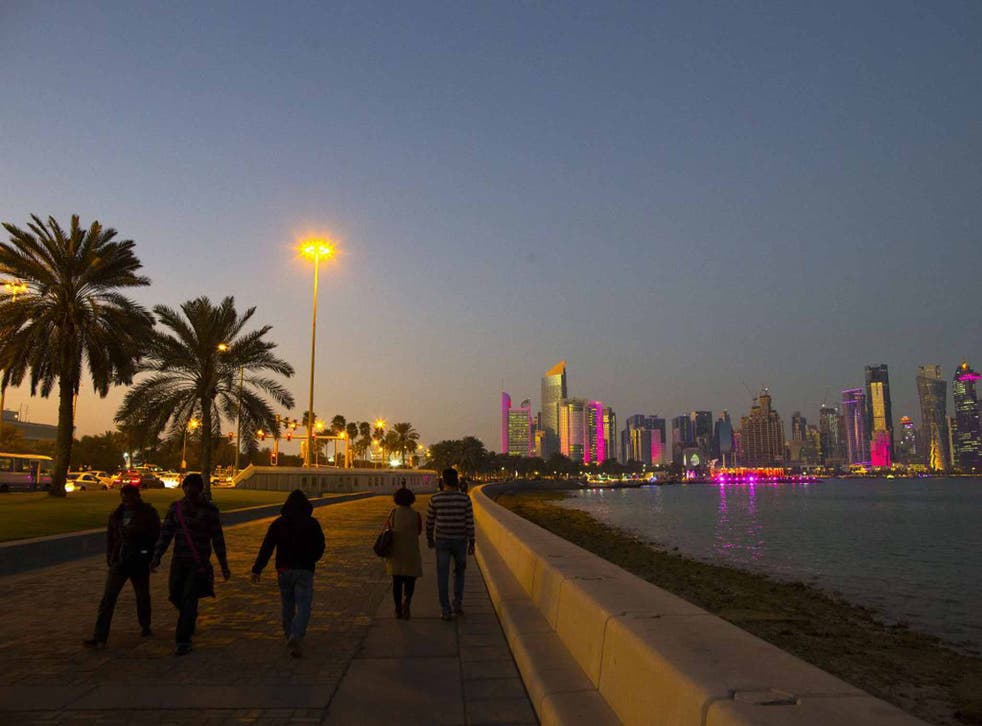 Doha travel tips: Where to go and what to see in 48 hours
Cooler temperatures make this the perfect time to enjoy the Qatari capital, says William Cook
Travel essentials
Why go now?
February is the ideal time to visit Doha, when the average temperature is a balmy 20C (compared with 45C or more in midsummer) which means you can actually wander around in the sun.
Qatar is one of the world's richest countries, but there's more to its capital city than bling. It's also a thriving artistic centre, with a wide range of arts events. Until 30 March, there's a striking show called Huna Hunak (Here & There) at Doha's leading modern art gallery, Al Riwaq (1) on Al Corniche Street (00 974 4452 5555; qm.org.qa) featuring bold contemporary art (open 9am-8pm daily, closed Tuesday, and at 2pm Friday, entry free.
Three stadiums for the controversial 2022 World Cup are being built in Doha. The slew of construction projects also includes the new National Museum on Al Corniche Street (2) (qm.org.qa) by French architect Jean Nouvel. It's not due to open until 2016, but the building site is a sight in itself.
Touch down
Hamad airport (00 974 4010 6666; dohahamadairport.com) is 13km south east of the city centre. Qatar Airways (0333 320 2454; qatarairways.com) flies from Heathrow, Edinburgh and Manchester. British Airways (0844 493 0787; ba.com) flies from Heathrow via Bahrain. British tourists need a visa which you can buy on arrival for 100 Qatari Riyals (£18). The easiest way into town is in a turquoise Karwa taxi (00 974 4458 8888; mowasalat.com). The minimum fare from the airport is QR25 (£4.55); expect to pay about QR40 (£7.25) to most city hotels.
Doha also has a cheap and efficient bus network. The 747X leaves the airport every hour from 5am to 1am. Drivers sell a QR10 (£1.80) ticket, valid for two trips within 24 hours, or a QR20 (£3.60) smartcard, giving unlimited travel for 24 hours. The trip to Al Ghanim bus station (3) in the city centre takes 20 minutes.
Many visitors simply hire a driver. Qatar International Adventures (00 974 4455 3954; qia-qatar.com) offers tailor-made tours from QR320 (£58) per person for two people for half a day.
Get your bearings
Most tourist sites are along the waterfront, overlooking the Gulf. To the south is Souq Waqif (4) (00 974 4459 8641; souqwaqif.qa), the historic heart of Doha. Here, you'll find the most authentic Arab shops and cafés.
To the north is West Bay, Doha's futuristic city centre. Further north still is Katara Cultural Village (5) (00 974 4408 0000; katara.net), a sleek open-air arts complex.
Across the bay is The Pearl (6) (00 974 4446 3444; thepearlqatar.com), a city-within-a-city, packed with designer stores and deluxe apartments built on an artificial island in the Gulf. Love or hate it, it's an amazing sight.
Doha's main Tourist Office (7) is at 24624 Al Istiqlal Street (00 974 4400 7499).
Check in
Souq Waqif Boutique Hotels (00 974 4433 6666; swbh.com) consists of half a dozen hotels dotted around the Souq Waqif (4) covered market. All are built in traditional Arab style, but with a bespoke feel. Al Jasra, on Al Jasra Street, has a pretty Turkish spa and a fine Moroccan restaurant, with doubles from QR799 (£144). Al Najada, on Ali Bin Abdullah Street (from QR599/£109) is built around a secluded courtyard. Al Mirqab, near the Gold Market, (from QR699/£145) has a rooftop pool
The Four Seasons (8) on the Corniche (00 974 4494 8888; fourseasons.com) has all the usual mod cons plus a private beach. Doubles from QR1,600 (£288), room only.
Day one
Take a ride
The hop-on-hop-off Yellow Doha Buses (00 974 4442 2444; dohabus.com) are a great way to see the city's main sites, such as Souq Waqif (4) and Katara Cultural Village (5).
The route runs from Sharq Village (9) to The Pearl (6), with buses every half hour from 9am to 9pm daily. At QR162 (£29) for 24 hours or QR202 (£37) for 48 hours (children half price), it's not cheap, but it's a good way to pack a lot in if you're short of time. Katara (5), in particular, offers great views across the lagoon.
Lunch on the run
In the bustling centre of Souq Waqif (4), Syrian restaurant Damasca One on the junction of Musherib Street and Al Kharis Street (00 974 4475 9088; damasca restaurant.com) is a lively rendezvous point at any time of day – or night. With shisha pipes and Premier League football on big screens, it's a buzzy mix of Occident and Orient. A lamb or chicken shawarma costs QR58 (£11); spinach or cheese fatayer costs QR17 (£3.10).
Window shopping
Souq Waqif (4) is the best place in Doha for shopping. You can haggle for jewellery in the Gold Market, admire the birds of prey in the Falcon Market, or graze on cheap homemade cakes and sweet pancakes. The Spice Market and Fabric Market are a feast for the eyes and other senses. Look out for locals playing Aldama, an ancient Arabic board game.
An aperitif
You can drink alcohol in Doha, but only in international hotels, where a beer or a glass of wine will cost at least QR30 (£5) and may well cost QR50 (£9) or more. You may also need to show your passport.
It's far more fun to sip a soft drink in places where locals gather, such as Anima Lounge at Porto Arabia (00 974 4002 7554; animagallerylounge.com, open 7am to midnight daily) in The Pearl (6). The adjoining Anima Gallery showcases some of the best Western and Qatari art. The light and airy lounge is similarly arty, with lots of trendy art books and magazines and a Tracey Emin neon sculpture on the wall. Mocktails from QR24 (£4.35); try the Virgin Mojito.
Dining with the locals
In a spectacular setting on the Corniche, Doha's 7km landscaped promenade, Al Mourjan (10) (00 974 4483 4423; almourjan.com) is a local landmark. It's in the Balhambar building, a flamboyant pavilion that's lit up a lurid pink at night.
The food is classic Lebanese – full of flavour, hearty portions – but it's the location that makes it magical, especially after dark. Sit on the terrace, dine al fresco, and watch the dhows on the bay backed by sparkling skyscrapers.
I ate lentil soup (QR30, £5.45), mashawi moshaka (barbecued chicken, beef and lamb, QR120/£22) and a delicious sahlab (milk pudding with pistachio, QR45/£8.20), washed down with a Mourjan Splash (iced mint tea and lemon, QR45/£8.20).
Day two
Go to a Mosque
Combining mosque, school and library, the Fanar Islamic Cultural Centre (11) on Abdullah Bin Jassim Street (00 974 4425 0250; fanar.gov.qa) is a state-run institution designed to educate non-Arabs about Qatari and Islamic culture.
A walk in the park
Incredibly, Doha boasts several lush, green public parks. Rumeilah Park (12) and Sheraton Park (13) are especially pleasant. In Sheraton Park, don't miss the Msheireb Enrichment Centre (14) (00 974 4404 0222; mec.msheireb.com) which features photos of Doha in the 1950s – a sleepy fishing port.
Out to brunch
Friday and Saturday is the Muslim weekend and brunch is an institution. The waterside Sheraton (15) on Al Corniche Street (00 974 4485 4444; sheratondoha.com) hosts a seafood buffet every Friday and Saturday, from 11am to 4pm (QR190/£34.55).
Cultural afternoon
The Museum of Islamic Art (16) (00 974 4422 4444; mia.org.qa) is Qatar's most iconic building. Designed by IM Pei, MIA is an artwork in its own right (open Sunday, Monday and Wednesday 10.30am-5.30pm; Thursday and Saturday, noon-8pm; Friday 2pm-8pm; closed Tuesday).
A free, pink shuttle bus runs from MIA to the Arab Museum of Modern Art (17), on Al Huqoul Street (00 974 4402 8855; mathaf.org.qa). Open Saturday to Thursday 11am-6pm (Friday 3pm-8pm; closed Monday); entry is free, special exhibitions QR25 (£4.55).
Icing on the cake
One of the most interesting out-of-town trips is to the Sheikh Faisal Museum (18) (00 974 4486 1444; fbqmuseum.org). A massive fort, it houses a huge, eclectic collection: everything from fossils to vintage cars (open 9am-6pm daily except Friday). About 10km west of the city, Aspire is Doha's vast and lavish sports city. Its iconic centrepiece is the Torch (19) on Al Waab Street (00 974 4446 5600; thetorchdoha.com) – Doha's tallest hotel.
Join our new commenting forum
Join thought-provoking conversations, follow other Independent readers and see their replies