The Independent's journalism is supported by our readers. When you purchase through links on our site, we may earn commission.
48 hours in Dublin: hotels, restaurants and places to visit
With a new craft beer festival, National Heritage Week and the Tiger Fringe Festival all happening over the next month, there's never been a better time to visit Dublin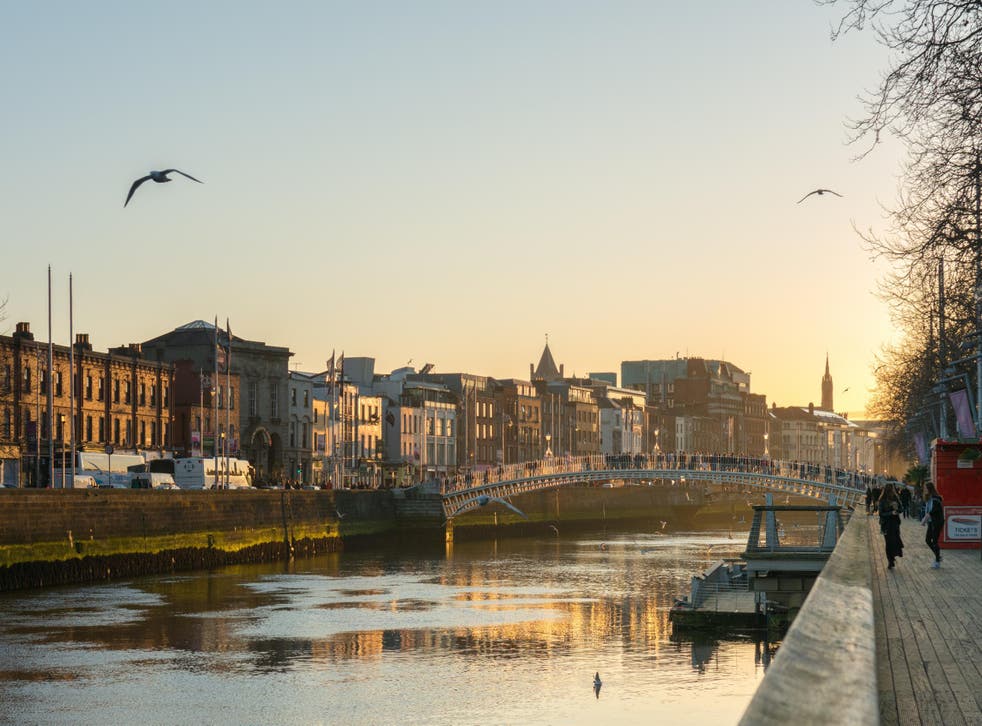 Travel essentials
Why go now?
This time of year sees a number of festivals and events taking place in the capital. Many of the country's historic properties fling open their doors with special events for National Heritage Week (heritageweek.ie), from 20 to 28 August. Microbreweries have been riding a wave of popularity all over the country, so much so, there's now a festival dedicated to it. The Irish Craft Beer Festival (irishcraftbeerfestival.ie) takes place from 8 to 10 September at The Royal Dublin Society (1) and is a chance to sample a vast array and meet the makers. Tickets cost €10. And finally, Ireland's theatrical credentials are well known the world over. The Tiger Dublin Fringe Festival (fringefest.com) takes place from 10 to 25 September with more than 300 performances over its run.
Touch down
There are numerous flights from the UK to Dublin with airlines including Ryanair (0871 246 0000; ryanair.com), Aer Lingus (0871 718 5000; aerlingus.com), CityJet (0871 666 5050; cityjet.com), Flybe (0871 700 2000; flybe.com) and British Airways (0344 493 0787; ba.com). There are also ferries to Dublin with Stena Line (0871 244 1545; stenaline.co.uk) and Irish Ferries (08717 300 400; irishferries.com) from around €190 return.
Dublin Airport (2) is 12km north of the centre. There is no rail link but the 24-hour Aircoach shuttle (00 353 1 844 7118; aircoach.ie) provides a handy alternative, which runs every 10 minutes at peak times and stops throughout the city; €7 one-way, €6 if booked in advance online.
Dublin Bus (00 353 1 873 4222; dublinbus.ie) also operates the 747 Airlink to the Central Bus Station (3) priced at €6 one-way, and has just introduced a new 757 route - useful if you are staying on the south side of the Liffey with stops at Grand Canal Dock (4), Merrion Square (5) and St Stephen's Green (6). A taxi will cost about €25 one-way.
Get your bearings
Dublin's natural dividing line is the River Liffey, which flows languorously out towards Dublin Bay. O'Connell Street is the city's spiritual heart and its monumental General Post Office (7) was where the main events of the Easter Rising took place 100 years ago, changing the course of Irish history forever.
South of the river is the cobblestoned streets of Temple Bar (8), Trinity College (9) and a mostly intact Georgian streetscape around St Stephen's Green (6), Merrion (5) and Fitzwilliam Squares (10). Further east is the city's regenerated Docklands area (11).
The Discover Ireland Centre (12) is set in the former Church of St Andrew on Suffolk Street (00 353 1 605 7700; visitdublin.com). It opens 9am-5.30pm Monday to Saturday, Sundays 10.30am-3pm.
Check in
The Merrion (13) on Upper Merrion Street (00 353 1 603 0600; merrionhotel.com) offers a glimpse into the grandeur of Georgian era Dublin - albeit with more modern luxuries - and spans four stately mansions opposite Ireland's seat of parliament, known as The Dail (14). Doubles cost from €295 per night, B&B.
With rooms like Mod Pod and Punk Bunk, there's a hip, youthful vibe at The Dean (15), 33 Harcourt Street (00 353 1 607 8110; deandublin.ie), a design-conscious spot carved from a terrace of Georgian townhouses. There's a great cityscape from the rooftop Sophie's Bar and Restaurant. Doubles from €155, room-only.
The Generator (16) on Smithfield Square (00 353 1 901 0222; generatorhostels.com) is one of the best budget options - with private rooms costing from €65 per night, B&B.
Day one
Take a hike
Start on the northside of the River Liffey and cross via its main point, O'Connell Bridge (17), for fine views in both directions. Continue along Westmoreland Street and soon you will arrive at College Green (18); to your right is the imposing Bank of Ireland Building (19), the erstwhile seat of power under British rule.
Bear left and pass under the landmark arch of one of Ireland's most influential seats of learning, Trinity College (9). Cross the quad and pass the college's leafy lawns and playing fields, exiting at Lincoln Place. Continue along Clare Street and bear right onto Merrion Square (5), bordered on all sides by elegant Georgian townhouses. To your left is the National Gallery of Ireland (20) and on Upper Merrion Street, The Dail (14). Bear right down Merrion Row and you will emerge onto St Stephen's Green (6), Europe's largest city square.
Lunch on the run
Named after a Bob Dylan lyric, the recently opened Meet Me in the Morning (21) (50 Pleasants Street, find them on Facebook), has swiftly risen to the top of foodies' lists, garnering wild praise for its winning formula of interesting food and specialty coffee served up in friendly surroundings. The 'egg and greens' has already become a staple, while gazpacho with black kale on toast is another to try if it's on the menu. From €10.
Window shopping
Grafton Street is the city's main upmarket retail row. Browse designer department stores Brown Thomas (22) at 88-96 Grafton Street (00 353 1 605 6666; brownthomas.ie) and Avoca (23), on neighbouring Suffolk Street (00 353 1 677 2451; avoca.ie). There's also a burgeoning scene of independent small boutiques on Drury Street (24).
An aperitif
Dublin has its fair share of urbane cocktail and wine bars, but for most people a highlight of any visit is the opportunity to sip a pint of Guinness in one of the many traditional pubs dotting the city. Try Grogans Castle Lounge (25) at 15 William Street (00 353 1 677 9320; groganspub.ie), a one-time haunt of literary giants like Patrick Kavanagh, J.P Donleavy and Flann O'Brien, who immortalised it in 1939 novel At Swim-Two-Birds.
Dine with the locals
The just opened Charlotte Quay (26) at swish Millennium Tower (00 353 85 757 9198; charlottequay.ie) is Dublin's latest must-dine. Slightly off the beaten path with a pleasant waterside location, it's the latest venture from the team behind the city centre's hopping Coppinger Row. A buzzy, casual atmosphere prevails and the menu looks towards the Middle Eastern for inspiration. Main meals here can nudge up to €30.
Or join the queue for a place at tiny Forest & Marcy (27), 126 Leeson Street Upper (00 353 1 660 2480; forestandmarcy.ie), an offshoot of Forest Avenue around the corner. It serves innovative sharing plates, like fermented potato bread with bacon and cabbage, and an impressive list of small-producer wines. Small plates cost anything between €4 and €20.
Day Two
Sunday morning: a quick history lesson
This year Ireland celebrated the 100th anniversary of the Easter Rising - the armed insurgence of Irish republicans determined to end British rule in April 1916. While the uprising failed, it won more public support for republicanism and reset the course of Irish history. Richmond Barracks (28), off Bulfin Road in Inchicore (00 353 222 8400; richmondbarracks.ie), was where many of the insurgents were held before being moved to Kilmainham Gaol, and in June it opened an exhibition dedicated to their stories. It opens on weekdays from 10am to 4pm and on Saturdays and Sundays at 11am (access is only by pre-booked guided tours at the weekend). Admission and tour costs €8 total per adult.
Ireland's globetrotting diaspora is the subject of one of the city's latest attractions, EPIC (29), at The chq Building, Custom House Quay (00 353 1 531 3688; epicirelandchq.com). The museum tells the story of the Irish abroad, revealing surpising insights into some well-known figures' Irish ancestry - like Charles de Gaulle and Billy the Kid. It opens daily from 9am to 6pm and admission costs €16, advance booking recommended.
Out to brunch
Breakfast is a relaxed affair at The Fumbally (30) (00 353 1 529 8732; thefumbally.ie), which occupies a bright space on the busy Clanbrassil Street. Try Fumbally Eggs, €6, lightly scrambled with Gubbeen cheese on brioche. They also make a mean latte.
A walk in the park
The National Botanic Gardens (31) in Glasnevin (00 353 1 857 0909; botanicgardens.ie), just 3km from the city centre, are well worth a wander. Established in 1795, there are over 17,000 different plants cultivated here from all over the world, including six that are already extinct in the wild. Admission is free and guided tours are free on Sundays. From March to October it opens weekdays from 9am to 5pm, and at 10am to 6pm on Saturdays and Sundays.
On your bike
Hire one of the bicycles from sharing scheme "dublinbikes" (dublinbikes.ie) and cycle along the sturdy granite flagstones of the Great South Wall (32). Extending for 4km into Dublin Bay, it's one of the longest sea walls in Europe. At the end is the distinctive Poolbeg Lighthouse, painted red to indicate portside for ships entering Dublin port, and there are sweeping views of Dublin Bay and its suburbs.
The icing on the cake
One of Dublin's most alluring traits is the ease with which you can leave behind the urban streets and escape to the seaside. Pack your swimming costume and take the DART (Dublin Area Rapid Transit) from Pearse Street Station (33) to Sandycove (a single to Sandycove is €3.25 for an adult). From there, it's a short stroll to The Forty Foot, one of Dublin's enduring bathing spots, mentioned in the opening chapters of James Joyce's Ulysses. Once the preserve of male bathers, now everyone takes the plunge together come rain or shine.
Click here to view our tour of Waterford, Wexford and the Garden of Ireland, with Independent Holidays
Register for free to continue reading
Registration is a free and easy way to support our truly independent journalism
By registering, you will also enjoy limited access to Premium articles, exclusive newsletters, commenting, and virtual events with our leading journalists
Already have an account? sign in
Register for free to continue reading
Registration is a free and easy way to support our truly independent journalism
By registering, you will also enjoy limited access to Premium articles, exclusive newsletters, commenting, and virtual events with our leading journalists
Already have an account? sign in
Join our new commenting forum
Join thought-provoking conversations, follow other Independent readers and see their replies