The Independent's journalism is supported by our readers. When you purchase through links on our site, we may earn commission.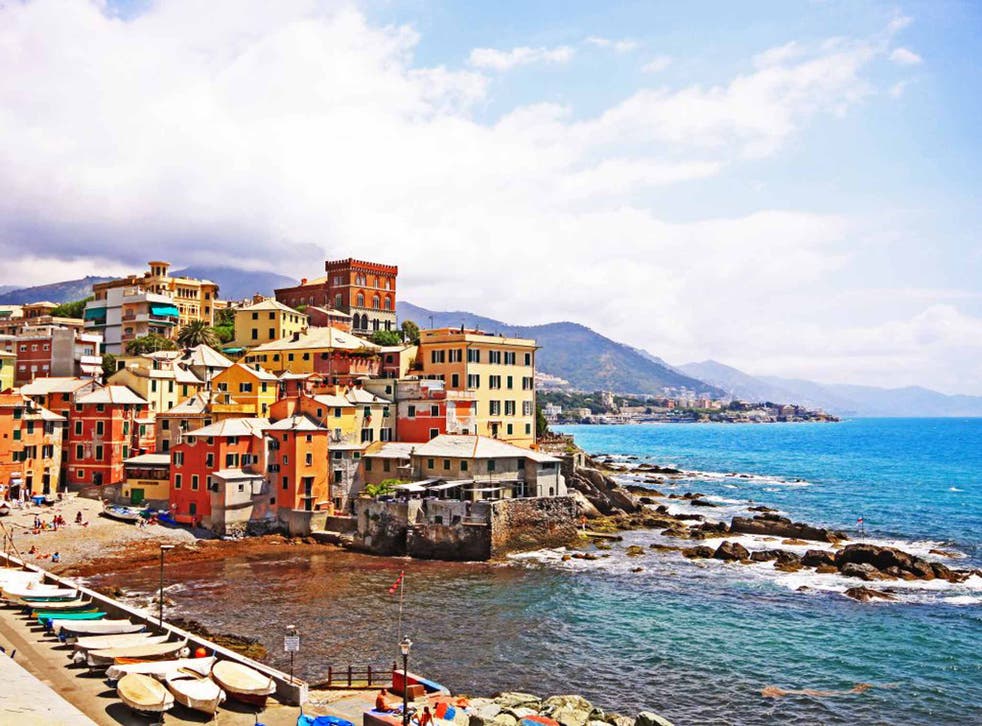 Genoa travel tips: Where to go and what to see in 48 hours
At the heart of the Italian Riviera, this seafront city packs in culture and history
Chris Leadbeater
Friday 07 August 2015 10:09 Comments
Travel essentials
Why go now?
Genoa is one of Italy's most intriguing, yet lesser-known, cities. It shines in summer when, as kingpin of the Italian Riviera, it offers access to some of Europe's loveliest coastline. It also revels in art. The Palazzo Ducale (1), its key cultural hub (Piazza Matteotti 9; 00 39 010 817 1663; palazzoducale.genova.it; daily 9am to 6pm except Monday, 2pm to 6pm), will salute the last of the hot weather with the 25 September opening of "The Impressionists to Picasso" (to 10 April; entry €15), with works by the likes of Monet, Degas and Van Gogh.
Touch down
Cristoforo Colombo Airport (00 39 010 60 151; airport.genova.it) perches six miles west of the centre – served by British Airways (0844 493 0787; ba.com) from Gatwick and Ryanair from Stansted (0871 246 0000; ryanair.com). The Volabus shuttle – part of the municipal transport network (00 39 848 000 030; amt.genova.it) – runs into town daily, 6am to 11.30pm. This 30-minute trip costs €6 and takes in both Genoa's main railway stations, Piazza Principe (2) and Brignole (3). Taxis take about 20 minutes for a €20 fee.
Get your bearings
Genoa, the capital of the Liguria region, is Italy's most westerly seafront city, 110 miles north-east of the French border. Geography has lent it a distinctive shape – the first flushes of the Appenine mountains to the north, and the Mediterranean to the south, have long forced the city to expand along the shore, to the extent that it flows 20 miles from east to west but only six from south to north. This pincer movement makes for a cramped centre which comprises both the Porto Antico, the city's original harbour (revitalised in the Nineties as a cluster of bars, restaurants and other attractions), and the Centro Storico, its old town. These are the districts of most interest to visitors, with narrow alleys and historic echoes.
Though the city core is constricted, Genoa is steeply slanted in parts so public transport is useful. The system (single journeys €1.60, one-day passes €4.50) includes buses and a single metro line.
You can find a tourist information office (4) at Via Garibaldi 12R (00 39 010 557 2903; visitgenoa.it; daily 9am to 6.20pm; see also turismoin liguria.it and italia.it).
Check in
Slotted into the Porto Antico at Molo Ponte Calvi 5, the NH Collection Genova Marina (5) (00 39 848 25 391; nh-collection.com) is a modern option which appeared in 1992 as part of the area's rebirth when the city hosted the Expo. Doubles start at €125, with breakfast.
The Grand Hotel Savoia (6) (00 39 010 27 721; grandhotelsavoiagenova.it), an 1897 dame at Via Arsenale di Terra 5 in the Centro Storico, has doubles for €129, room only, and a spa that offers massages from €40.
The Melia Genova (7), a five-star at Via Corsica 4, peers out from an elegant marble lobby, and has double rooms from €133, with breakfast (00 39 010 5315111; melia.com).
Click here to see a bigger image of the map
Day one
Take a hike
You can gain a snapshot of Genoa, old and new, near the waterfront. Begin in the Porto Antico, on Calata Cataneo, with Il Bigo (8) (00 39 010 23 451; acquariodigenova.it) – a crane lift which hoists passengers 40 metres up for widescreen glimpses of the cityscape. It is open daily 10am to noon and 5pm to 10pm in August, daily 10am to 6pm in September and October (except Mondays, 2pm to 6pm); €4.
Leave the harbour by turning right into Piazza Caricamento – and gaze at the Palazzo San Giorgio (9). This crucial shard of the city's soul was founded in 1260, and has acted as a bank and a prison (Marco Polo was held here in 1298). It is still in use as the HQ of the port authority (00 39 010 241 2625; porto.genova.it), but opens to visitors who can wander its medieval courtyard and lovely carved-wood debating chambers (weekdays 10am to 6pm, Saturday 10am to 1pm; free).
Take Vico San Raffaele east out of the piazza, and turn left on to Via San Luca – one of the Centro Storico's busiest passageways. At its north end, the Pasticceria Liquoreria Marescotti (10) (Via di Fossatello 35R; 00 39 010 209 1226) is a mirror-filled salon that wears its 1780 birthdate with pride. It's renowned for its coffee (from €1.50).
Window shopping
Almost opposite the Pasticceria at Via San Luca 94R, the Filatelia San Luca (11) (00 39 010 246 1415) is one of Genoa's many alluring stores and deals in rare stamps. Laura Sciunnach (12) (00 39 010 255 566; laurasciunnach.com), is a boutique jeweller selling delicate necklaces and bracelets at Vico della Casana 5R, while Pasticceria Profumo (13) is a cake and biscuit specialist which has dispensed artfully boxed treats since 1827 (Via del Portello 2R; 00 39 010 277 0002; villa1827.it).
Elsewhere, Via Roma is awash with luxury brands, but has space at 38R for local sophisticate Finollo (14) (00 39 010 562 073; finollo.it) and its fine silk ties.
Lunch on the run
Halt at Fratelli Klainguti (15), at Piazza di Soziglia 98R (00 39 010 557 4096), a Centro Storico café once patronised by Giuseppe Verdi – where the spaghetti carbonara is €7.95.
Take a view
Seek out Piazza della Meridiana (16) – then climb out of it via Salita di San Francesco and Salita alla Spianata di Castelletto. This mix of stairs and slopes forges a path to the Belvedere Luigi Montaldo (17), a "balcony" which overlooks the city to grand effect. It will take 10 minutes of hard effort to reach a bluff that, until its demolition in 1849, supported the Castelletto fortress – but the fine vista is worth the sweat.
An aperitif
Toast the panorama at Calice (18), an aperitivo hotspot at Spianata Castelletto 9R which serves glasses of wine from €3 (00 39 010 246 6820; facebook.com/calicegenova).
Dining with the locals
Hidden at Via Galata 35R, Il Genovese (19) (00 39 010 869 2937; ilgenovese.com) pays its respects to the sauce that Genoa gave to the world via dishes such as gnocchi al pesto (for €9.50). Il Baluardo (20), at Via del Molo 4 (00 39 010 246 6509; ristoranteilbaluardo.it), is one of several Porto Antico restaurants – a pizza connoisseur offering doughy joys from €8. Metres away at Calata Cattaneo 17, its neighbour I Tre Merli (21) (00 39 010 2464416; itremerli.it) is a seafood specialist where ciupin – a thick fish soup – costs €20.
Day two
Sunday morning: go to church
Towering over Piazza di San Lorenzo, the Cattedrale di San Lorenzo (22) is a splendidly striped cocktail of white marble and black granite which was consecrated in 1110. Its broad doors open on a cool interior of tranquil side chapels, worshipers at prayer – and a British artillery shell, fired on 9 February 1941, which pierced the roof but failed to explode. Open daily 8am to noon, 3pm to 7pm (00 39 010 265 786; chiesadigenova.it).
In the maw of the Centro Storico at Via San Siro 3, the Basilica San Siro (23) (00 39 010 246 1674; chiesadigenova.it) was Genoa's first cathedral, founded perhaps as early as the sixth century (though vastly rebuilt in the 17th after a fire in 1478). Open 8am to noon and 4pm to 7pm.
Take a ride
Cut a dash to the shoreline pocket of Boccadasse (24) – a popular portion of town some three miles east of the Porto Antico where a compact, wave-lapped crescent is strewn with pebbles rather than sand, but still proves decidedly popular on warm days. To reach it, catch the No 42 bus in Piazza Dante (25).
Out to brunch
Of Boccadasse's string of beachside restaurants, Taverna Dindi, at Piazetta Nettuno 11 (00 39 010 307 6686; dindiboccadasse.it) offers sea-focused dishes such as a plate of grilled crayfish and prawns for €15.
Cultural afternoon
Retreat to the Centro Storico, and one of the Renaissance palace galleries. If the queues are long at the Palazzo Ducale (1), the Galleria Nazionale di Palazzo Spinola (26) (00 39 010 270 5300; palazzospinola.beniculturali.it; €4), at Piazza Pellicceria 1, is a good bet (open Tuesday to Saturday 8.30am to 7.30pm, Sunday 1.30 to 7.30pm, closed Monday), this former home of the Grimaldi clan is as much of note for its décor as its paintings.
Similarly sumptuous at Via Garibaldi 18, Palazzo Rosso (27) (00 39 010 557 4972; palazzorosso.museidigenova .it; €9) shelters works by Veronese, Durer, Bernardo Strozzi and Van Dyck. Open daily 9am to 7pm, Sunday 9.30am to 7.30pm, closed Monday).
Icing on the cake
At Via Cairoli 13A, Profumo di Rosa (28) (00 39 010 123 4567) doles out exotic flavoured gelati, such as olive oil, baclava, date and sangria, from €1 per scoop.
Click here to view Italian tours and Holidays, with Independent Holidays.
Register for free to continue reading
Registration is a free and easy way to support our truly independent journalism
By registering, you will also enjoy limited access to Premium articles, exclusive newsletters, commenting, and virtual events with our leading journalists
Already have an account? sign in
Join our new commenting forum
Join thought-provoking conversations, follow other Independent readers and see their replies