The Independent's journalism is supported by our readers. When you purchase through links on our site, we may earn commission.
Guernsey travel tips: Where to go and what to see in 48 hours
This enchanting Channel Island is celebrating 70 years since its liberation, says Chris Leadbeater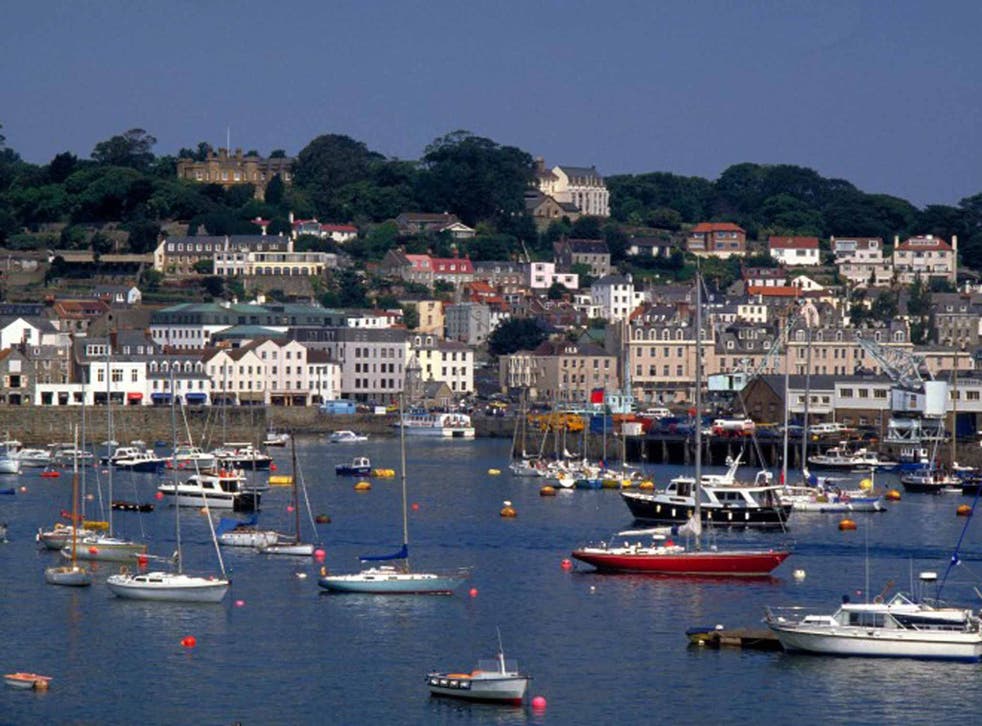 Travel essentials
Why go now?
Next month (9 May) marks the 70th anniversary of the liberation of the only areas of the British Isles to fall under German rule in the Second World War.
The Channel Islands Heritage Festival (bit.ly/CIHfest) – a grand celebration of the event which will include concerts, guided walks and tours of enemy fortifications – starts this weekend and runs until 11 May. It encompasses Jersey, Alderney, Herm, Sark – and Guernsey which, as the outer chunk of the archipelago, was the most strategic.
Touch down
You can arrive by boat into the harbour (1) of the island's capital, St Peter Port, from Poole or Portsmouth with Condor Ferries (0845 609 1024; condorferries.co.uk).
Guernsey airport (01481 237 766; guernsey-airport.gov.gg) is in La Villiaze (2), three miles from St Peter Port.
Guernsey is linked to the mainland by Flybe (0371 700 2000; flybe.com), from Birmingham, Exeter, Southampton and Norwich; by Aurigny (01481 822 886; aurigny.com), from Bristol, East Midlands, Gatwick, Stansted, London City and Manchester; and by Blue Islands (08456 202 122; blueislands.com) from Bristol, Southampton and London City. Get your bearings
Although the Channel Islands are part of the British Isles, they are not part of the UK. Guernsey is the second largest of them and stretches for 11 miles between its north-east and south-west corners.
It lies 27 miles north-west of Jersey and 25 miles west of Normandy's Cherbourg peninsula. The island is divided into 10 parishes, with much of what constitutes urban life squished into St Peter Port, on the east coast. By contrast, you can find quiet beaches away from the capital – such as Vazon Bay (3) on the west coast and Petit Bot Bay (4) in the south.
The Guernsey bus system (01481 700 456; buses.gg) extends to 16 routes and has a simple and inexpensive fare structure: one ride £1, one-day pass £4.50, two-day pass £7.50. That said, to make the most of a weekend, you need a car. Europcar Guernsey (01481 239 511; europcarguernsey.com) has an office at the airport. Two days' vehicle hire in April starts at £50.
The Guernsey Information Centre (5) is on North Esplanade in St Peter Port (01481 723 552; visitguernsey.com) – open weekdays 9am to 5pm and weekends 9am to 1pm (Saturdays until 5pm from 18 May).
Check in
Cobo Bay Hotel (6) Cobo Coast Road (01481 257 102; cobobayhotel.com), at Cobo on the west coast, is an elegant beachside three-star which offers double rooms from £84, including breakfast.
The Duke of Richmond (7) at Cambridge Park in St Peter Port (01481 726 221; dukeofrichmond.com) is a sharp-décored four-star with a courtyard pool. Doubles from £145, room only.
Guernsey's only five-star hotel, the Old Government House Hotel (8), St Ann's Place, St Peter Port (01481 724 921; theoghhotel.com), served as the German General Staff Headquarters during the occupation. It offers double rooms from £188, including breakfast.
Click here to see a bigger image of the map
Day one
Take a hike
Explore the seafront in St Peter Port, beginning at St Julian's Pier and the Liberation Monument (9), a granite obelisk installed for the 50th anniversary of the war's end. The words of Winston Churchill at Germany's surrender – "And our dear Channel Islands are also to be freed today ..." – are engraved into a bench in gold. Head south on the waterside avenue of Esplanade. Pause at The Ship & Crown (10), Port Seafront (01481 728 994; liberationgroup.com), which, as The Crown Hotel, was the harbour office for the Germans. A series of photos on a rear wall recalls this era.
Continue south and turn left on to Castle Pier, where Castle Cornet (11), Castle Emplacement (01481 721 657; museums.gov.gg), has guarded the island since 1206. Its ramparts – open daily 10am to 5pm, March to October, from 9.30am in July and August; £10) – still brandish German graffiti and gun emplacements.
Window shopping
The Press Shop (12), at 8 Smith Street, St Peter Port is a bookshop with a solid range on the occupation years (01481 724 829; pressbooksguernsey.co.uk). Tapenade (13) is an inviting delicatessen at 4 North Quay (01481 715 397; tapenadedeli.co.uk) with everything from olive oils and island-made cheeses to Guernsey gin.
Lunch on the run
For a quick bite, Tapenade makes baguette sandwiches from £3.95. For something more leisurely, Le Nautique (14) at Quay Steps (01481 721 714; lenautiquerestaurant.co.uk), serves a two-course lunch which includes Guernsey cod (£15.50).
Cultural afternoon
St Peter Port has the Guernsey Tapestry Gallery (15), College Street (01481 727 106; guernseytapestry.org.gg) – where 10 bright panels, stitched by islanders for the Millennium, depict 1,000 years of Guernsey life (daily except Sunday, 10am to 4.30pm; £5).
Fort Hommet (16) on the west coast at Albecq (01481 238 205; museums.gov.gg) is a tower built to protect Guernsey from Napoleon in 1804, but significantly strengthened by the Germans; open 2pm to 5pm Tuesdays and Saturdays, April to October (£2.50).
In the west coast parish of St Peter (not to be confused with the capital), is the Fort Grey Shipwreck Museum (17), Rocquaine Road (01481 265 036; museums.gov.gg; £4) chronicles the many boats to fall foul of the island's razor-sharp coastline. Open daily 10.30am to 4.30pm.
An aperitif
The Boathouse (18) is in a prime spot on St Peter Port's harbour, on Victoria Pier. It has an outdoor deck, and glasses of wine from £4 (01481 700 061; theboathouse.gg).
Dining with the locals
Also by the harbour, Red (19), at 61 The Pollet (01481 700 299; red.gg) revels in seafood such as chargrilled tuna steak for £16.95. The Old Government House Hotel (8) Brasserie serves roast lamb loin for £19.50. At La Reunion (20) on Cobo Coast Road, in Cobo (01481 255 600; lareunion.gg) chef Simon McKenzie offers three courses for £35 – enjoy seabass fillet with crab, and great sea views.
Day two
Sunday morning: go to church
The Town Church (21) on Cornet Street, St Peter Port (01481 720 036; facebook.com/TownChurchGsy) is the cathedral in all but name. With its tall steeple, it has been part of the capital's skyline since 1048. Sunday services are at 8am, 10.30am and 6.30pm.
Take a ride
Drive out in search of the sinister fortifications that act as stark reminders of the half-decade of occupation. The potency of Fort Saumarez (22) – which rears up from private land in the far west at L'Eree – is hugely apparent, even though you cannot go in.
Pleinmont Tower (23), another stern rottweiler at the isle's south-west corner, is open on Sundays, April to October, 2-5pm; £3. However, the darkest invasion remnant is the German Military Underground Hospital (24) at La Vassalerie (01481 239 100; £3.50) – a subterranean maze carved using slave labour. With its dark, dank tunnels, all but untouched since 1945, it is wholly unnerving. Open daily, 2-4pm in April, and 10am to 12pm and 2-4pm, May to October.
At Les Houards, the German Occupation Museum (25) (01481 238 205; german occupationmuseum .co.uk; daily 10am to 5pm, April to October; £5) is a fine hoard of war relics: from weapons to posters.
Out to brunch
Break your journey at Vistas Beach Café (01481 252 513) on Vazon Bay (3) – a pleasing pitstop which dispenses hearty burgers, plus a roasted pavé of salmon for £15.
A walk in the park
Candie Gardens (26), pinned to the hillside at St Peter Port, is a green space where statues of Queen Victoria and Victor Hugo (resident from 1856 to 1870) stand proud. The park also hosts the Guernsey Museum and Art Gallery (01481 726 518; museums.gov.gg; daily, 10am to 5pm; £6). But if you want to test your legs, Guernsey's coast path runs for 42 miles. The two-mile south-coast leg around Icart Point – between Saints Bay Hotel (27), Icart Road (01481 238 888; saintsbayhotel.com) and Petit Bot Bay (4) – is especially dramatic.
Icing on the cake
Guernsey's tiny sibling, Herm, is a 20-minute, three-mile voyage east. Ferries depart from Liberation Monument (9) in St Peter Port (Travel Trident; 1481 721 379; traveltrident.com) with six return crossings daily in May, June and September (eight in July and August; £12.50). Herm's Shell Beach and Belvoir Bay could be Caribbean coves. The Mermaid Tavern (01481 750 050; herm.com/mermaid) has champagne at £4.50 a glass.
Register for free to continue reading
Registration is a free and easy way to support our truly independent journalism
By registering, you will also enjoy limited access to Premium articles, exclusive newsletters, commenting, and virtual events with our leading journalists
Already have an account? sign in
Register for free to continue reading
Registration is a free and easy way to support our truly independent journalism
By registering, you will also enjoy limited access to Premium articles, exclusive newsletters, commenting, and virtual events with our leading journalists
Already have an account? sign in
Join our new commenting forum
Join thought-provoking conversations, follow other Independent readers and see their replies