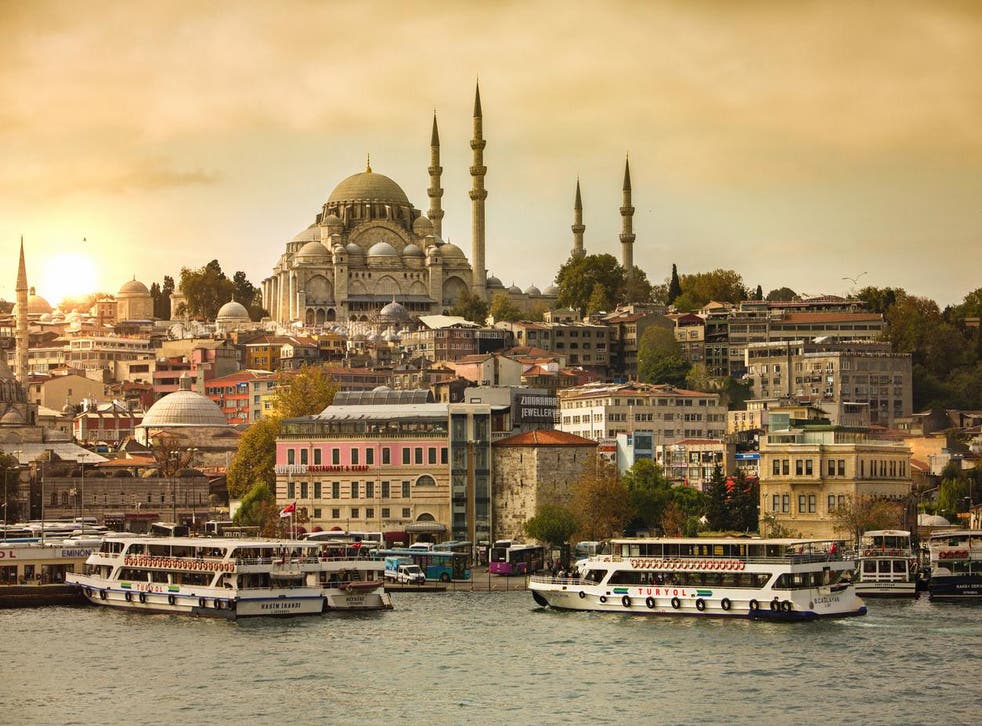 Istanbul city guide: where to eat, drink, shop and stay in this extraordinary Turkish city
How to plan the ultimate trip
The former seat of not one but three empires, Istanbul represents colour and history like no other; the only place in the world to straddle two continents (Europe and Asia), it's become a powerful showcase of inclusivity and religious tolerance.
With Greeks, Romans and Venetians having initially shaped its structure, Istanbul was later to be punctuated with bursts of Ottoman influence, resulting in a design aesthetic that continues to be mimicked across the globe.
Today, it's as much of a commercial leader as it was during the days of the Silk Road; albeit one with avant-garde concept stores, craft breweries, steamy hamams and endless types of coffee.
But make no mistake, it's the warm, generous people that make this city extraordinary – and they'll keep you coming back, time and time again.
The Independent's hotel recommendations are unbiased, independent advice you can trust. On some occasions, we earn revenue if you click the links and book, but we never allow this to affect our coverage.
Lonely Planet's UK Travelist

Show all 20
What to do
Take a tour of an Ottoman palace
More was clearly more for Sultan Abdül Mecit I, who upped sticks from his traditional Ottoman court at the Topkapi Palace in favour of the dizzyingly opulent, European-inspired Dolmabahçe, which has managed to turn its back on the Bosphorus.
In Istanbul, most properties tend to charge a premium for the view between Europe and Asia, but here, the river runs directly behind it.
It'll cost 60TL (£7.53) just to see the museum, but if you pay an extra 30TL, you can have a nose around the harem as well. Just keep in mind that you won't be allowed to look around inside without joining a group guided tour, which lasts around 40 minutes.
Visit a mosque
Istanbul isn't short of ornate mosques, but local prayer times will dictate when you can visit them.
The Blue Mosque, one of the most famous mosques in Turkey, is – as you might expect – so-called for the shimmering Iznik tiles that line its interior.
It's slap-bang in the middle of town; you can also tick off the Hagia Sophia and Topkapi Palace in the same afternoon.
The Suleymaniye Mosque, as the grandest imperial mosque in the city, is another must-see. Located in the historic old peninsula, its sprawling complex – the Ottoman court prior to the Topkapi Palace – is comprised of a library, tombs, soup kitchen and religious school as well as the mosque itself, and is easy walking distance from the bustling Grand Bazaar.
Have a hamam
A rich legacy from the Romans and Byzantines, bath houses are now an integral part of Turkey's heritage. Over the last 2,000 years, bathing in Istanbul has been perfected into an art form, and there are plenty of hamams to choose from – for every budget.
Try the Ayasofya Hurrem Sultan Hamam, just across the road from the Hagia Sophia for an expertly run, elegant experience; the basic 45-minute treatment costs €80 (£70.10) and includes a scrub, soap massage, olive-oil soap and cloth loofah. Unwind afterwards on the outdoor terrace of the on-site restaurant
Where to stay
The rooms are unquestionably small at Yaşmak Sultan, but if you're planning to be out and about exploring the area – the Hagia Sophia, Topkapi Palace and Golden Horn waterfront are all in stumbling distance – that won't matter. The Olive restaurant and rooftop is excellent value for money – think sweeping views of the old city, with mains coming in at around £6; hotel guests get 10 per cent off meals. Doubles from £51, room only.
Raffles Istanbul stands alone from the cluster of luxury hotels in Istanbul; unlike the others, it's eschewed all Byzantine and Ottoman influences to create an impressive showcase of modern-day Turkey. There's no better place to splash out in Istanbul if you're an art lover; the hotel offers free tours of its 223-piece Turkish art collection, which rivals the city's galleries – and is also home to one of the best Japanese restaurants in the city, Isokyo. Doubles from £314, B&B.
Location doesn't get much better than with TomTom Suites; found just off the main throng of Istanbul's busiest street, Istiklal Caddesi, it's also well placed for the bars and restaurants of Beyoglu and Galata. With espresso machines in every room, white marble bathrooms with baths designed by Philippe Starck and a buzzy rooftop bar, you wouldn't stop to think it used to be a nunnery. Doubles from £93, B&B.
The Ritz Carlton Istanbul is right next to the Besiktas stadium, so should you wish to beat the crowds on match day, this is the closest you'll get. If pampering is high on the agenda for spa junkies in Istanbul, it doesn't get much better. Home to the city's only open-air spa – with three jaw-dropping hamams – you can put your feet up to unbeatable views of the Bosphorus. Doubles from £215, B&B.
Where to eat
Pandeli, a former Turkish bathhouse turned low-key, bustling café, is almost as iconic for the turquoise Iznik tiles lining the walls as it is a hotspot for every generation of Istanbul's ladies who lunch. Expect views of the Golden Horn and the Galata Tower over truly excellent home-style cooking. Go for lunch – it isn't open for dinner – and let the waiters order for you. But don't leave without trying the patlıcan boregi (flaky aubergine pie, topped with doner kebab).
Realistically, you're spoiled for choice in this city for good baklava, but purists remain loyal to old-favourite, Karakoy Gulloglu, as their baklavaci of choice. Make like a regular and order the mixed portion (pistachio and walnut), with a side of clotted cream and a glass of tea. If you don't have a sweet tooth, the borek (filled pastry) will set you up nicely. Alternatively, should you find yourself on the tourist trail near the Topkapi Palace, do your taste buds a favour and stop at Efezade; their chocolate and pistachio baklava is a must.
Regarded by many as the best mangal kebab in Istanbul, Yirmibir Kebap in Beyoglu is split into two sections: Yirmibir and Kevok Ocakbası. While both serve the same menu, meat lovers would do well to grab a table next to the spit, where you can watch your food being cooked. The jewellery store next door is also well worth a browse.
Jash, a small, family-run restaurant in upscale Cihangir puts an Armenian twist on Turkish classics in what feels like someone's living room. This, if you don't know any Istanbulites prepared to invite you over and stuff you silly at dinner, is a boon. The atmosphere is convivial and the service, warm and welcoming. Skip the spleen soup but try not to leave without trying the hunkar begendi (puréed aubergine and meat).
Istanbul's equivalent of The Ivy is nearly always packed with locals and trendy tourists, who, after a trip to the nearby Istanbul Modern museum, settle in at Karakoy lokantasi to mainline raki, snap pictures of themselves (where the sympathetic lighting goes, the influencers tend to follow) and peer at the revolving art installations. Make no mistake, this place isn't style over substance; it has a brilliant, all-Turkish wine list and excellent meze platters.
Where to drink
Mandabatmaz means "a buffalo wouldn't sink" in Turkish, which appears to pertain to the milky foam atop the coffee at this iconic Beyoglu spot. Beloved by locals who are serious about their daily cup, barista Cemil Usta has been brewing the perfect one since 1967. Just tell him how you like yours – if traditional Turkish coffee is too much of a smack in the face, ask for it az sekerli (slightly sweet).
Book before you turn up at Bosphorus Brewing Company ("the BBC"); this micro-brewery is so popular among locals and expats that it's nearly impossible to get a table as a walk-in. Craft beer and pork (yes, really) are the orders of the day – the Istanbul Pale Ale or Haliç Gold are solid options, otherwise you can get beer matched to your choice of food.
Efendi, a narrow cocktail bar in Nisantası, is a bit of a dandy. The cocktails are plentiful and well executed, using fresh herbs, and they often have jazz concerts when the sun goes down. Order from the sour signatures – cocktails are around 40TL.
Where to shop
Souq Dukkan was originally launched as a weekly bazaar for artisans in the Karaköy area, but has since set up shop permanently in Levent – albeit in a soulless shopping centre. There's everything from silk shawls by local brand Rumisu to colourful headphones by Istanbul-based Happy-nes but, for the latest on the city's creative scene, keep an eye on the store's weekly events.
A clever edit of Turkey's brightest independent design talents, OpenHaus has become a runaway hit with stylish locals ever since it took over a three-storey building in Nisantasi in early 2019. Go for anything from quirky sunglasses to bedazzled evening gowns, but don't dither on a potential purchase; the brands in store change completely from month to month.
A short walk from the famed Grand Bazaar, the Misir Carsisi (Egyptian Spice Bazaar) is another firm favourite on the Istanbul tourist trail – and for good reason. The vibrant domes of every spice imaginable – look out for piles of sumac, black cumin and saffron – are a camera-wielding foodie's dream, particularly given that you can sample most of what's on offer. Once you're done, make a beeline for Mehmet Efendi coffee – the oldest and best coffee shop in Istanbul – which is directly outside the market, but not before you stock up on Turkish delight inside (look out for the stores selling loukoum, its traditional name).
Need a break from the tourist trail? Get walking around trendy Nisantasi (meaning "marker stone" – used, quite literally, to measure the range of Istanbul's archers and sultans in Ottoman times – you can still see the little obelisks on the pavements) – this is the city's equivalent to New York's Upper West Side. Expect stylish boutiques, hipster coffee roasteries – this part of town is more cold-brew than Turkish coffee – and utterly riveting people-watching. Park yourself outside at Ministry of Coffee (MOC) for a decent Americano and the down-low on local gossip.
Architectural highlight
There's no ignoring the might of the Hagia Sofya, which has been reincarnated by many of the rulers of Turkey over the years, and today showcases sacred elements of Christianity and Islam side by side; to many, a mark of Istanbul's religious tolerance. Built originally by the Byzantines as a church, it was to become a mosque under Ottoman rule and later – as it remains – a museum, during Ataturk's reign. Do your research on the golden mosaics before you go in (some date back to 9th century AD) and head upstairs to the gallery for the best views of the central dome.
Nuts and bolts
What currency do they use?
Turkish Lira.
What language do they speak?
Turkish. Some people speak English, but a lot of people won't – particularly cabbies. If you're planning to get around by taxi and haven't brushed up on your Turkish, keep Google Maps at the ready.
How much should I tip?
A standard 10 per cent in restaurants, but just round up on any cab fares. Hotel staff will expect any tips to be given in cash.
What's the time difference?
Istanbul is two hours ahead of London.
What's the average flight time from the UK?
Pegasus flies from London Stansted to Istanbul Sabiha Gokcen in around 3h 30, from £57 one way.
Public transport
Hop on the metro! It's well connected and easy to follow: you can buy an Istanbulkart (equivalent to London's Oyster Card) for about 10TL (£1.25), then top-up as you go.
What's the best view?
Climb to the top of the Galata Tower for 360-degree views of the city.
Insider tip?
Get haggling. To maximise your chances of getting the best deals at the Grand Bazaar, time your visit to either when the stores open or close; traders are superstitious about their first and last sales, so are more likely to capitulate to your price ceiling. You'd also do well to get a Museum Card, for fast-track and cheaper museum entry.
Join our new commenting forum
Join thought-provoking conversations, follow other Independent readers and see their replies