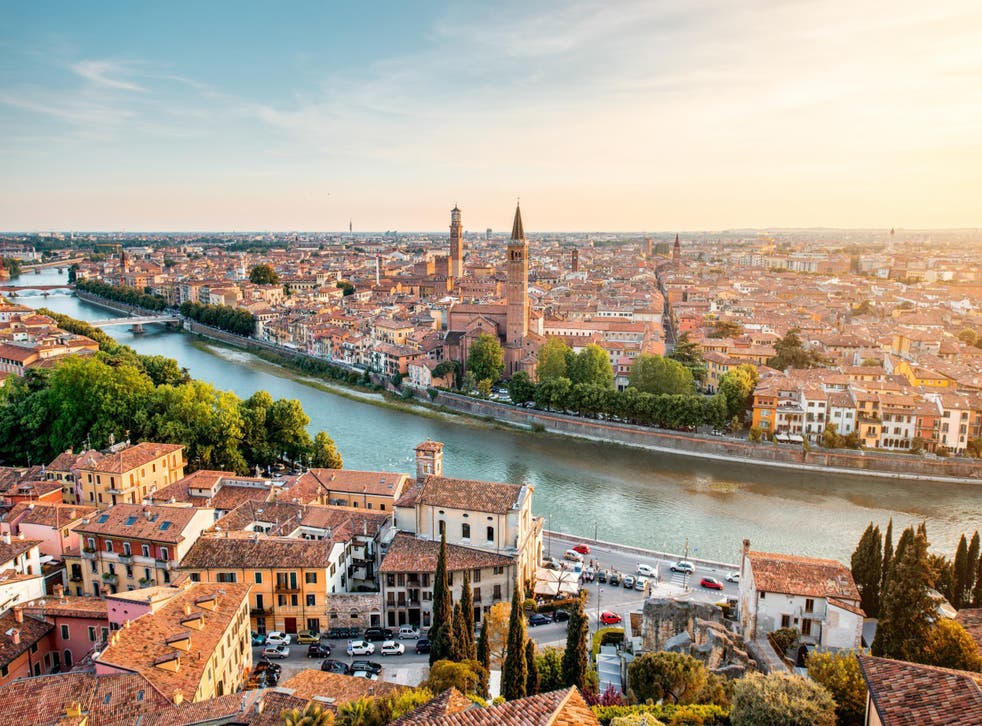 48 hours in Verona: hotels, restaurants and places to visit
As this year marks the 400th anniversary of Shakespeare's death, what better time to visit the city at the heart of one of the bard's best-known plays - fair Verona
Why go now?
Shakespeare's heartbreaking tale of forbidden love, set in Verona, brings thousands to this ancient city's narrow streets to retrace the tragic paths of Romeo and Juliet.
To mark 400 years since the Bard's death, performances of the play, in English and Italian, are being held in the cobbled courtyard of Juliet's House (9) and run until the end of September (teatrostabileveneto.it/en).
Get your bearings
Verona is now the fourth most visited city in Italy, with a compact historic centre studded by bell towers, as well as a dynamic restaurant scene and a growing number of designers opening boutiques between the frescoed churches. If you arrive at the main Porta Nuova train station (1), head straight down Corso Porta Nuova to arrive at Piazza Bra, where the main tourist office (2) is located (00 39 045 806 8680; tourism.verona.it; open 10am-6pm, Monday-Saturday; 10am-3pm Sunday). Here you will also find the Roman Amphitheatre, known as the Arena (3), a good central point from which to plan your sightseeing.
If you come in by taxi, make your way to Piazza delle Erbe (4), the original centre of Verona, the city's beating heart. The small town centre is neatly enclosed by a loop of the River Adige.
The excellent Verona Card is available from tourist offices, many attractions, churches and news kiosks, and entitles you to free city bus travel as well as free or reduced entry to most tourist sites. Two versions are available: €18 for 24 hours and €22 for 48 hours.
Day one
Take a hike
Start at the Porta Borsari (5), a Roman contruction that was once the main gate to the city, and walk down Corso Porta Borsari, pausing for an aromatic coffee at 15d, Caffè Borsari (6) (00 39 045 803 1313). Pass the Gardello Tower (7), a former prison and watch tower, and stop for one of the delicious ice creams at Pretto (8) at Piazza dell'Erbe 40 (open 11am to midnight).
Savour it as you explore Piazza delle Erbe (4). Once the Roman Forum, its name comes from its time as a vegetable market in the 15th century. Head out of the square to Juliet's House (9) at Via Cappello 23 (open Tuesday-Sunday, 8.30am-7.30pm; Monday from 1.30pm; entrance fee €6 or free with Verona Card). Thought to have once belonged to the Capuleti family (the real-life equivalent of Shakespeare's Capulets), the house dates back to the 12th century. In the courtyard you'll find a bronze statue of Juliet (rubbing her breast will make you lucky in love, apparently), while the interiors have been decorated 14th-century style. A balcony was added on in the 20th century, seemingly in an attempt to strengthen the connection to Romeo and Juliet.
Return to Via Mazzini with its designer shops, which brings you to the Arena (3), built 50 years before Rome's Coliseum (00 39 045 800 5151; arena.it; €10 or free with Verona card). Open Tuesday-Sunday, 8.30am-7.30pm; Monday from 1.30pm. If it's opera season, you're better off catching a performance, as seats are installed in the interior, preventing a full view of its Roman glory.
Lunch on the run
With its fast-paced service and typical Veronese fare, informal Osteria del Bugiardo (10) at Corso Porta Borsari 17A (00 39 045 591869) is an ideal lunch spot. Try pasta with aubergine, tomato and fresh ricotta (€8), accompanied by wine from the neighbouring Valpolicella region (from €7.50 a glass). Open 11am to 11pm.
Window shopping
The Italian eye for design permeates all of Verona's shopping streets, but particularly attractive is Corso Porta Borsari. Shops normally open from 10am to 7.30pm, with a siesta from 1pm to 3pm. Dip into Fabriano Boutique (11) at number 47 (00 39 045 801 1785; fabrianoboutique.com), with its bright leather notebooks, and then browse through the equally colourful baubles at Canestrari (12) at number 37A (00 39 045 594763; canestrari.it). Fabulous fragrances, especially melograno (pomegranate) can be found in Santa Maria Novella (13) at number 9 (00 39 045 590028; smnovella.com).
As you head north-east, the street changes name to Corso Sant'Anastasia. At number 4 is the century-old Fazzini (14) (00 39 045 8000193; fazzinicoltelleria.it) – a shop famed for its knives, though those travelling with hand luggage might want to opt for the pasta cutters instead. And at number 41 is Salumeria G Albertini (15), a delicatessen full of delectable oils, cheeses and salamis (00 39 045 803 1074).
An aperitif
Indulge in the local favourite, Aperol spritz, or a glass of chilled, regional Soave wine at Caffé Rialto (16) at Via Diaz 2 (00 39 045 8012845; grupporialto.it). Here, you can sit under the arches of the Porta Borsari (5) and enjoy aperitivi of olives and little squares of bruschetta alongside your drink.
Dine with the locals
A relatively new addition to Verona's dining scene is Locanda 4 Cuochi (17) at Via Alberto Mario 12 (00 39 045 80 30 311; locanda4cuochi.it), where you can sit at the bar and watch the cooks whirl around the open kitchen. Ravioli from €11.
More traditional is Bottega del Vino (18) at Via Scudo di Francia 3 (00 39 045 8004535; bottegavini.it), a pre-opera haunt for locals that dates back a century. There is a lengthy wine list, and don't miss the risotto con vino Amarone (risotto with dry red wine; €16) or the tortellini with butter and sage (€15) – both worth the journey alone.
Day two
Go to church
The Basilica di San Zeno Maggiore (19), on Piazza San Zeno, is named after Verona's patron saint, who is buried here, and has foundations that date back to the 9th century. Look for Andrea Mantegna's triptych before the main altar, representing the Virgin and Christ-child among saints.
Sunday mass is held at 10am and 11am, and the church opens for visitors from 12.30pm until 5pm or 6pm according to the season (00 39 045 800 6120; basilicasanzeno.it).
Take a view
Head towards the River Adige, using the spire of 13th-century Santa Anastasia (20) or the bell tower of the Duomo (21) to guide you close to the river. Cross Ponte Pietra (22), a stone bridge that dates from the 1st century BC, and climb up the 100 or so steps facing you on the other side. Pass the Roman Theatre (23) on your right and keep walking up until the whole of the terracotta-roofed city lies beneath you across the river. It's worth it.
Out to brunch
Il Cenacolo (24) at Via del Teatro Filarmonico 10 (00 39 045 5922 88; ristoranteilcenacolo.it) was one of Luciano Pavarotti's favourite restaurants, and its hearty menu makes it a perfect option for brunch, as it will last you the whole day. Start with an assortment of antipasti before indulging in tagliolini pasta with truffle (€14) and beef with amarone sauce (€22). Open from 12.30pm daily.
A walk in the park
Giardino Giusti (25) at Via Giardini Giusti 2 (00 39 045 803 4029; palazzogiardinogiusti.it), was planted in the 16th century by the Giusti family, just behind their palace. The lower part is a typical Italian garden, decorated with statues and fountains and hedge mazes, while the upper terraces are wilder and dominated by gargoyles, grottoes and a belvedere. Open 9am-8pm; entrance €7 or €5 with a Verona Card.
Cultural afternoon
Castelvecchio (26) at Corso Castelvecchio 2 (00 39 045 806 2611; museodicastelvecchio.it) has been demolished, rebuilt and altered a number of times. The 12th-century castle walls house a museum of military artefacts, sculptures and paintings. Unfortunately 17 of the best paintings, including Mantegna's Holy Family, Pisanello's Madonna of the Quail and further works by Rubens and Tintoretto have not been on display since they were stolen (and recovered) last year. Open Tuesday to Sunday, 8.30am-7.30 pm; Monday from 1.30pm. Entrance €6 or free with a Verona Card.
Travel essentials
Getting there
Easily reached by rail from Venice or Milan, the small airport also has a number of flights from the UK. British Airways (ba.com) and easyJet (easyJet.com) fly from Gatwick; Ryanair (ryanair.com) flies from Stansted and Birmingham; Monarch (monarch.co.uk) flies from Gatwick and Manchester; Flybe (flybe.co.uk) flies from Cardiff and Southampton; and Jet2 (jet2.com) flies from Edinburgh and Nottingham.
From the airport, it's a 15-minute taxi ride into the city centre (€15-€25). There are also shuttle buses which run every 20 minutes, and take 15 minutes, from 6.10am to 11.10pm between the airport and Porta Nuova station (1) (€6 one way).
Staying there
The welcoming Palazzo Victoria (27) at Via Adua 8 (00 39 045 596 508; palazzovictoria.com) lies in the shadow of the Porta Borsari (5), within the historic city centre, putting everything within easy walking distance. Doubles from €284, B&B.
Right by Verona's most exclusive shopping streets, the 95-room Hotel Accademia (28) at Via Scala 12 (00 39 045 596 222; hotelaccademiaverona.it) is a popular choice, and offers free bicycles for guests to explore the city. Doubles from €190, B&B.
Down one of the narrow streets that radiate away from the Arena, overlooking the Piazza Bra, the simple Hotel Bologna (29) at Piazzetta Scalette Rubiana 3 (00 39 045 800 68 30; hotelbologna.vr.it) provides an excellent base at an affordable price. Doubles from €155, B&B.
Mary Lussiana travelled with Abercrombie & Kent (01242 547 760; abercrombieandkent.co.uk), which offers a three-night package from £475pp including B&B accommodation at Palazzo Victoria (27), BA flights, transfers and a private walking tour.
More information
Join our new commenting forum
Join thought-provoking conversations, follow other Independent readers and see their replies