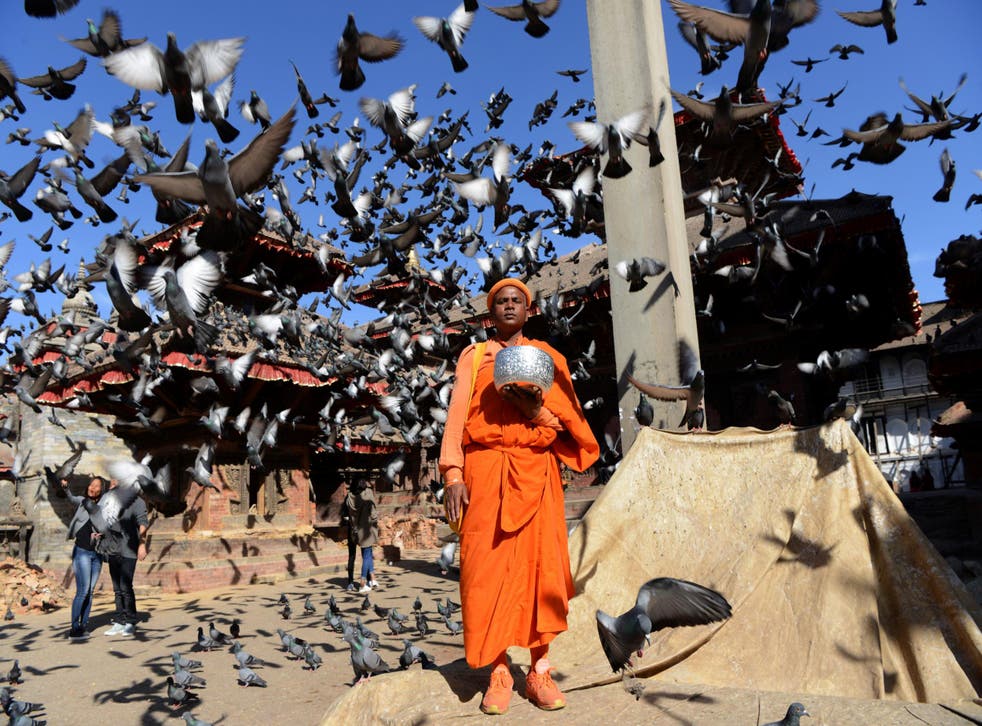 Why 2017 is the year to visit Kathmandu
With the two year anniversary of the Nepal earthquake approaching, the capital is back on its feet. Now's the time to go, says Martin Symington
Martin Symington
Thursday 09 March 2017 14:10 Comments
Why go now?
There's a compelling reason for visiting in 2017. Every rupee spent in hotels and restaurants, shops, taxis or temples is helping Kathmandu get back on its feet. Nearly two years after the earthquake that devastated swathes of Nepal and severely damaged the capital, Kathmandu is bouncing back to its alluring self with astonishing verve. Rebuilding and restoration is proceeding apace while tourists are returning to bathe in the Himalayan city's sensory overload: temples and squares, prayer flags and sputtering scooters, merchants yelling behind marigold-garlanded stalls amid wafts of incense, spices and holy cow dung.
Get your bearings
The old city, known as Durbar Square, lies at the centre of Kathmandu. To its north, frenetic Thamel is a maze of hotels, restaurants, trekking agencies and shops. To the south, the Bagmati River borders peaceful Patan district with its own Durbar Square and expatriate communities. Beyond the former Royal Palace to the east are the smarter shopping centres and embassies.
Local tempos (minibuses) and buses are best avoided – they're crowded, slow and not the safest. However, taxis are cheap and plentiful and rickshaws can be a useful way of travelling short distances.
Day one
Take a view
Puff your way up the 400-step stone staircase to the Buddhist stupa of Swayambhunath (1), known as "Monkey Temple" on account of the hundreds of "holy" monkeys who will be your chattering, food-begging companions. If the day is clear, the whole of Kathmandu valley unfurls at your feet. You will see from here how localised the earthquake damage was; isolated pockets have collapsed like cards while large areas remained more or less unscathed.
Take a hike
Nowhere is the localised nature of the earthquake damage more apparent that in the area known as Durbar Square, a riot of ancient palaces, temples and royal monuments which comprise the UNESCO-listed historic heart of Kathmandu.
Start at the northern Thamel end check post (2) where tourists pay an entrance fee of 1000Rs (about £7.70) for free run of the whole area. Join throngs of pilgrims at Shiva-dedicated Mahendreshwar Mandir (3) with its chiming bells and flickering candles. Follow the flow down to Jagannath Mandir (4), a Hindu temple which attracts gawping fascination on account of its athletic and imaginative erotic carvings which seem to suggest that the earth has always moved in these parts.
If it's between 10am and noon, keep an eye out – the Kumari Devi, or living 'child-goddess' might put in an appearance at her window above the courtyard of her magnificently carved sacred home, the Kumari Dar (5). However, now that you are down at the south end of the historic region, the heartrending extent of the earthquake damage becomes unavoidable. Cordoned off for safety is the red brick old Royal Palace, (6) whose walls are now cracked, while the adjacent Basantapur Tower (7) somehow remains precariously erect. Exit via "Freak Street" (official name Jochne) (8), the legendary 1960s hippy hangout (though its glory days are now over).
Lunch on the run
Climb six flights of stairs to the rooftop Kasthamandap Café (9) at 23 Maru (00 977 1 6219177, no website) for an open-air coffee, a snack under a sun umbrella and commanding views over Durbar Square.
Window shopping
The Thamel district, north of Durbar Square, survived the earthquake more or less intact and remains the backpacker hub (a successor to Freak Street). It's a carnival of noisy alleys and tiny squares, packed with hundreds of trekking agencies and shops hawking everything from tourist tat to genuine Tibetan antiques. One good bet for quality thanka paintings and woven rugs, is Amrita Craft (10) on Chhetrapait.
An aperitif
Owner Prakash will probably be around to welcome you in person to Zibro (11) on Chaksibari Marg (00 977 984 1059449, no website), his laid-back rooftop bar where young Nepalis shoot the breeze with holidaying Indians and European travellers. The music is one multi-cultural message too, with songs from little known local bands playing Nepali folk-rock fusion in the background. It's a great place to make new friends over a glass of local craft beer Khumbu Kolsch.
Dine with the locals
At Bhojan Griha (12), on Dilli Bazaar in the eastern district of Kathmandu, traditional "Newari" dishes are served to guests in a 19th-century mansion, restored with painstaking attention to detail. Dishes include buffalo meat or vegetable-filled momo dumplings, and duck with peanuts and spiced lentils. The restaurant says that all produce is organic and no plastic is used. Mains around £6-8.
Day two
Take a ride
For the ride of your life, board a small propeller plane for a dawn "Mountain Flight" along the crest of the Himalayas. You'll pass up close and personal many of the world's highest peaks, including Mount Everest. Flights are in the early mornings when conditions are generally clearest, but good views are weather-dependent and weather-related cancellations are frequent. An hour-long flight with Buddha Air costs US$192 (£158).
Sunday morning: out to brunch
La Dolce Vita (13), at Chaksibhari Marg (00 977 1 4700612, no website), doesn't have the best coffee in Kathmandu, but what it lacks in a caffeine fix it makes up for with delicious Italian pastries, pasta and gnocchi, sprinkled with grated yak's cheese. Sit on the sunny terrace watching the street dramas of chaotic Thamel below. Open from 11am, meals around £8-10.
A walk in the park
It says a lot that Swapna Bagaicha (14) on Kaiser Mahal, Tridevi Marg, is also known as the Garden of Dreams. A botanical park and serene retreat from the frenetic city, it's just a few minutes' walk from central Thamel. Sadly, the park took a hard hit in the earthquake, damaging some of the neo-classical pavilions, statues, ponds and fountains. Nevertheless, the plants are still lovingly tended and the 200R (£1.50) entrance fee is being put to good restorative use.
Cultural afternoon
The historic Buddhist city of Patan – effectively a suburb of Kathmandu – is a 20-minute taxi ride across the tea-coloured Bagmati River. Patan is a repository of temples, palaces and stupas strewn around its own Durbar Square. Sadly, several of these took hits in the earthquake. The façade of the Kwa Bahal (15), also known as the Golden Temple, is one almost untouched highlight; the four giant, prayer flag-festooned Ashoka Stupas (16) are another. And then there's the fact it's guarded by scores of "holy tortoises".
The icing on the cake
Treat yourself to a massage by a Seeing Hands blind masseur whose fingers are attuned to muscle and tissue in ways that the sighted will never match. At the same time, support this commendable organisation which provides employment and independence for Nepal's blind men and women. A range of therapies are offered in a clinical setting, in its premises off Jyatha Road, Thamel (17).
Travel essentials
Getting there
Qatar Airways flies to Kathmandu via Doha from Heathrow, Manchester, Birmingham and Edinburgh, from £685 return. Other options include Etihad via Abu Dhabi and Jet Airways via Delhi or Mumbai.
Staying there
Hotel Shangri-La (18) is, as the name suggests, as swanky as Kathmandu gets. It's an inviting, low-rise modern hotel with traditional flourishes in a lush garden with cool pool. Doubles from £105, B&B.
Something of a Thamel institution – everyone from Jeremy Irons to Ricky Martin have stayed here – the Kathmandu Guest House (19) is a bit rough round the edges these days, but still a good mid-range choice – it's located in a former palace. Doubles from £65, B&B.
On a budget? Hotel Horizon (20) is a gem tucked away in an alley near the north end of Durbar Square. Breakfast on sequinned cushions in the courtyard is a treat. Doubles from £24, B&B.
Register for free to continue reading
Registration is a free and easy way to support our truly independent journalism
By registering, you will also enjoy limited access to Premium articles, exclusive newsletters, commenting, and virtual events with our leading journalists
Already have an account? sign in
Join our new commenting forum
Join thought-provoking conversations, follow other Independent readers and see their replies