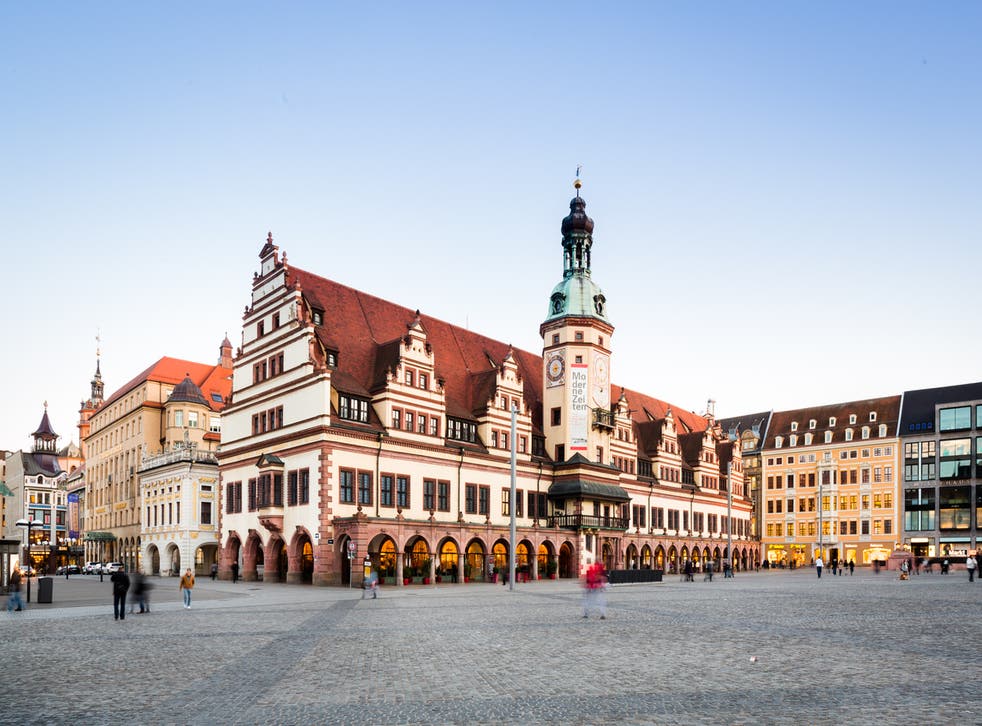 Leipzig guide: Where to eat, drink, shop and stay in east Germany's hippest city
How to take the ultimate trip
Once a hub for international trade fairs and later for book publishing, Leipzig's streets are lined with early 20th-century trade halls, while green spaces cover a third of the city. It's rich in classical music history: Romantic and Baroque stars Mendelssohn, Wagner and Bach are all venerated in the old town. More recently, modern-day creatives have revitalised the city's industrial corners, giving it a bohemian feel. It's an interesting time to visit in 2019, as it marks 30 years since Leipzig's Peaceful Revolution led to the fall of the Berlin Wall.
The Independent's hotel recommendations are unbiased, independent advice you can trust. On some occasions, we earn revenue if you click the links and book, but we never allow this to affect our coverage.
What to do
Get behind the revolution
The Peaceful Revolution of 1989 began at St Nicholas Church, where gatherings for Monday prayers later turned into peaceful demonstrations for freedom and democracy, with numbers swelling to 320,000 just a couple of weeks before the fall of the wall in Berlin. The candlelit demonstrations passed the city's Stasi headquarters, which is now the Museum in the Round Corner, featuring Stasi-agent disguises, boxes of files on residents and cassettes of secret recordings. Leipzig's Forum of Contemporary History has more on daily life in the GDR in a new permanent exhibition.
Conduct a virtual orchestra
Mendelssohn House, where Felix Mendelssohn Bartholdy lived, contains period furniture, letters, paintings and a music salon hosting Sunday concerts. Visitors can pick up the baton themselves and, through motion sensors, conduct a range of music.
St Thomas Church is home to one of the world's oldest boys' choirs and is where you will find the bones of one-time cantor Johann Sebastian Bach. Motets and cantatas are performed weekly. The Bach Museum is opposite, while the young Wilhelm Richard Wagner is remembered in an exhibition at the Old St. Nicholas School.
Art and artefacts
It is easy to while away the hours in the striking red Grassi Museum, which contains the Museum of Musical Instruments, with its beautifully engraved clavichords and violas, and the Museum of Ethnology, with its intriguing collection of central African minkisi figures and the civilisation-spanning Museum of Applied Arts.
The Museum of Fine Arts – housed in an impressive glass cube – has a range of ever-changing contemporary exhibitions, such as Underbelly, an immersive art installation where visitors enter an oversized "stomach" complete with internal organs.
In the industrial district of Plagwitz, Kunstkraftwerk is a former heating plant showcasing immersive digital art, while the Baumwollspinnerei a cotton-factory-turned-art-centre, is unmissable.
Where to stay
Hotel Fregehaus is a boutique hotel and courtyard with lovely interiors in a restored residential building behind Market Square. Doubles from €80 (£70), B&B.
Hip apartment living is available at Meisterzimmer in the Spinnerei – a converted cotton factory home to dozens of art studios. Doubles from €90 (£80), room only.
Located close to the fabulous Leipzig Opera, with a rooftop bar overlooking the city's largest square, Hotel Motel One Leipzig-Augustusplatz is comfortable and affordably stylish. Doubles from €113 (£100), B&B.
Where to eat
Plagwitz is the sort of place where warehouses covered in street art sit alongside apartment blocks with fancy facades. For a vegan breakfast, Cafe Kater is simply furnished, with an amazing vanilla chai-latte. You can get all sorts of soup at Wullewupp or try Beard Brothers: decked out like a miniature dance hall, it offers hot dogs and beers.
There is a surprising amount of choice in Leipzig for vegetarians and vegans, especially on or around "The Karli" (Karl-Liebknecht-Strasse). Try Symbiose for an organic brunch and vegan burgers or Zest for prettily plated, inventive dishes further south in the alternative district of Connewitz.
In the old town, Panorama Tower offers fine views and good-value lunch menus. For heavier Saxon specialities, descend below Mädlerpassage to the cellars of Auerbachs Keller, which are decorated in murals that depict scenes from the legend of Faust. Goethe drank here as a student and referred to the cellars in his namesake play. Ratskeller has a similar vibe but with more seasonal, international dishes.
Where to drink
One of the city's most historic cafes, Kaffeehaus Riquet, sells Leipzig's speciality marzipan cake (alongside coffee, of course) in its wood-panelled interior.
Bayerischer Bahnhof transformed a handsome train station dating from 1842 into a brewery for local Gose beer (dry, with a sour flavour). The gravel beer-garden, under eucalyptus trees, has its own pretzel stand.
Glashaus im Clarapark has another good beer garden, in a laidback park that gets busy at weekends.
A quirky spot for an alfresco beer on "Karli" is at the site of the fleamarket Feinkost, under a vintage, neon advert for an old spoon factory.
La Boum, opposite, is a kitsch cocktail bar, covered in brightly-coloured murals. Further down, Cafe Puschkin is a relaxed, local favourite with a range of cocktails, beers, street seating and shisha pipes.
Leipzig's clubs go on well into the morning. Distillery is one of the oldest and most-loved, with a taste for wide-ranging, experimental dance music. Institut für Zukunft is known for techno, house and occasional big name DJs. Werk 2, meanwhile, is a cultural hub in industrial halls in Connewitz, hosting everything from rock bands to disco and electro nights.
Where to shop
Leipzig enjoys its fleamarkets – see the monthly Feinkost. The city's Christmas market takes over a square in front of the old town hall from November. For modern shops, try the Höfe am Brühl mall or browse arty boutiques in Plagwitz (like gift shop Hafen) and along Karli.
Architectural highlight
The Modernist arches and courtyards of the Grassi Museum contain Art-Deco features and a reconstruction of blown glass windows originally created by Josef Albers, a prominent figure in the Bauhaus movement. Albers designed the 18 windows in "thermometer style" in 1926 but they were destroyed in the Second World War, before being remade in 2011.
Nuts and bolts
What currency do I need?
Euros.
What language do they speak?
German, but English is widely spoken.
Should I tip?
Adding five to 10 per cent is recommended.
What's the time difference?
Leipzig is one hour ahead.
What's the average flight time from the UK?
Flights from London to Berlin Schoenefeld take two hours. A train from Berlin Central Station to Leipzig takes just over an hour.
Public transport
It's best to cycle (see below) or take a tram. The tram system is large and will get you everywhere you might want to go. A day pass, which covers buses and trains too, is €7.60.
Best view
A viewing platform atop Panorama Tower shows the spread of the – rather flat – city, reaching beyond the bulky landmark Monument to the Battle of the Nations, which also has a viewing platform.
Insider tip
Leipzig's outlying districts and its sweeping belt of forest can easily be reached by bicycle via established cycle paths. Nextbike is a local cycle-hire app that has gone international and offers many pick-up and drop-off points. A fun route starts at sociable Clara-Zetkin-Park then follows the woods south for 35 minutes to pretty Lake Cospuden – a flooded mine – where there is a beach cafe and a sauna.
Join our new commenting forum
Join thought-provoking conversations, follow other Independent readers and see their replies