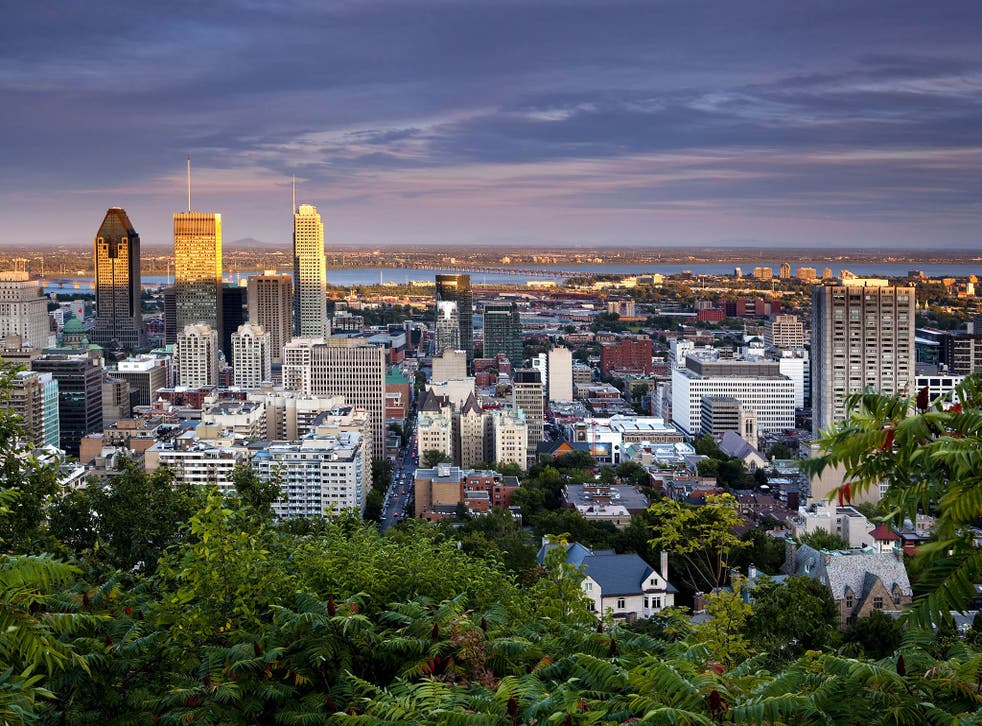 48 Hours in Montreal: hotels, restaurants and places to visit
New flights and a festival-packed calendar make Quebec's largest city a tempting prospect
Travel essentials
Why go now?
The "city of 100 steeples" blends European old-world charm with North American modernity like nowhere else; a multicultural community and distinct French accent stands shoulder-to-shoulder with a burgeoning hipster foodie scene and plenty of high culture.
The summer sunshine brings with it an enviable events calendar, including what claims to be the world's largest jazz festival (29 June-9 July; montrealjazzfest.com), and a globally renowned comedy festival (13-31 July; hahaha.com).
And now there are even more ways to access this charming Canadian city. This month, Icelandic airline Wow Air (01183218384; wowair.co.uk) launched a route from Reykjavik to to Montreal, with connections from UK airports.
Touch down
I flew with Wow Air, which takes off for Montreal's Pierre-Elliot-Trudeau International Airport (1) from Gatwick, Bristol, and – from 13 July – Edinburgh. Returns from Gatwick start at £322.
British Airways (0344 493 0787; ba.com) and Air Canada (0871 220 1111; aircanada.com) fly from Heathrow, and Air Transat (0207 616 9187; airtransat.com) flies from Glasgow and Gatwick.
A taxi from the airport to the centre of Downtown is a fixed rate of C$40 (£21) and takes around 35 minutes.
The 747 express bus runs 24/7 and takes between 45 and 60 minutes. Departing every 15 minutes, the bus drops off at the central bus terminal, Gare d'autocars de Montréal (2) and the Berri-UQAM metro station (3). Tickets are C$10 (£5.40) for a single and can be purchased in the airport arrivals or on board and are valid for 24 hours.
Currently, £1 = C$1.85 and US$1 = C$1.29.
Get your bearings
Sitting in the south-eastern tip of the province of Quebec, on the banks of the St Lawrence River, Montreal was founded by the French in 1642, and remains the largest French speaking city in North America.
Downtown is the beating heart of the metropolis, along with the historic cobbled streets of Old Montreal to the east.
From here, the majority of the sights are within walking distance, but there is a reliable metro system with just four lines, along with city buses for outlying areas. Tickets are available to buy at the stations and cost C$3.25 (£1.70) for a single journey, which is valid for 120 minutes from activation.
Montreal's bike hire system, Bixi (montrealbixi.com), has 460 bike stations, and is free on Sundays. Choose a 24-hour pass (C$5), or pay C$2.95 for a single trip. You can also download the free app to find the stations.
The tourist information centre (4) is at 1255 Rue Peel (001 514 844 5400; quebecoriginal.com). Open 9am-6pm, 9 May to 9 October, until 5pm the rest of the year.
Check in
Downtown, in the old Banque du Canada building at 901 Square Victoria, is the super-sleek W hotel (5) (001 514 395 3199; wmontrealhotel.com). It has chic and spacious tech-friendly rooms with iPod docks and USB sockets, along with monsoon showers. Doubles from start from C$316, B&B.
Auberge Bonsecours (6) at 353 Rue St-Paul Est (001 514 396 2661; aubergebonsecours.com) in the Old Town has doubles from C$190 with breakfast. The renovated stable is a 10-minute walk from the Basilica; rooms have exposed brick and are set around a courtyard.
For budget travellers, the Hotel St-Dennis (7) at 1254 Rue Satin-Dennis (001 514 849 4526; hotel-st-denis.com), in the Latin Quarter, offers comfortable and spacious doubles from C$139, room only.
Day one
Take a view
Opening in June is a new first stop for tourists. The Au Sommet Place Ville Marie observation gallery (8) on the 46th floor of the cross-shaped Place Ville Marie building (001 514 812 5279; ausommetpvm.com), offers 360-degree views over the city through floor-to-ceiling windows. Visit the floor below for an interactive exhibition on the city, which will be open until 8pm during the summer.
Window shopping
Head south-west to Rue Ste-Catherine for 11km of Montreal's best shopping. Even more lies underground in the network of shops known as the Underground City, made up of adjoining plazas spread across 32km of Downtown. You'll find larger outlets, including the department store La Maison Simons (9) at 977 Rue Sainte-Catherine (simons.ca) while the former Mount Royal Hotel at 1455 Rue Peel has been converted into Les Cours Mont-Royal (10) shopping centre (lcmr.ca), full of luxury boutiques. Both close at 5-6pm most days, with late-night shopping (to 9pm) Thursday-Friday.
Lunch on the run
The family-run Schwartz's Deli (11) at 3895 Boul St-Laurent (001 514 842 4813; schwartzdeli.com) uses its own secret recipe to smoke beef brisket. Since its humble beginnings 80 years ago, the deli has become a Montreal classic – and a hearty one at that, with multiple slices of beef wedged between bread, topped with a garnish of mustard. Tradition states it's eaten with a pickle and a can of Cherry Coke. Open 8.30am-12.30am, later on Friday and Saturday.
A walk in the park
The city's highest point is Mont Royal (12) (themountroyal.qc.ca), which locals call "the mountain". At 233m, it's really more of a hill, but atop it stands a giant cross which is illuminated at night.
The surrounding park was designed by Frederick Law Olmsted, the brains behind New York's Central Park. Enter from Avenue des Pins and walk up the winding paths that snake between the dense trees towards the Kondiaronk Belvedere viewing point. The semi-circular plaza is adorned with tulips in the spring and has the best views of Downtown, where the skyscrapers rise above old churches, with the Lawrence River encasing the city on the horizon.
Take a ride
Exit close to the Université de Montréal metro station (13) - you'll need to walk a little way through the university campus to get there - and pick up a Bixi bike (14) from the junction of Avenue Darlington and Chemin de la Côte-Ste-Catherine. Pedal for about 20 minutes over to Avenue Casagrain, where you'll find Marché Jean-Talon (15) (marchespublics-mtl.com) – one of just three farmers' markets in the city. Alternatively, you can take the orange metro line all the way to Jean-Talon station (16).
An aperitif
Neatly arranged stalls of artisan food and produce make up the market (15); find stall 176 for a cooling bottle of Bec Cola for around C$2.75. The locally-made drink is made from the nation's favourite, maple syrup, which replaces sugar – although it's unlikely to be any better for you. Or pick up a bottle of ice cider - a thick, sweet tipple make from frozen apples. Take a seat outside and listen to the buskers playing jazz. Marché Jean Talon is open 7am-6pm Monday-Wednesday, until 8pm Thursday-Friday and until 5pm Sunday.
Dine with the locals
One of the newest restaurants in town is Hvor (17), at 1414 Rue Notre-Dame Ouest (001 514 937 2001; hvor.ca; Wednesday-Sunday 5pm-11pm). Expect creative and modern gastro cuisine, where the roof of the restaurant is home to a beehive and a terrace garden is the source of many of its vegetables. The weekly changing menu has vegetarians and vegans in mind.
If you're in town on the fist Friday of the month, get the metro out to the Olympic Park (18) for First Fridays Food Truck Festival (parcolympique.qc.ca; 4pm-11pm). Now in its 5th year, the initiative shows off the best of the city's culinary side; try the fermented raspberry and mint ice tea from the Lab truck.
Day two
Sunday morning: go to church
Notre-Dame Basilica (19), with its imposing twin towers is a masterpiece of gothic revival architecture, located at 110 Rue Notre-Dame in Old Montreal. The opulent interior is infused with hues of blue and yellow from the stunning stained-glass windows. Visit for Sunday Mass (8am, 9am, 11am and 5pm) or take a tour, 9am-4.30pm Monday-Friday, to 3.30 Saturday, 1pm-3.30pm Sunday; C$5. And anyone can get married in the basilica – as long as you don't mind a two-year waiting list.
Out to brunch
Nowhere in Montreal does brunch quite like Mile End and this hip suburb is where the locals get their fill. Fabergé (20) at 25 Avenue Fairmount Ouest (001 514 903 6649; faberge514.com; Monday-Friday 8am-3pm, Saturday and Sunday 8am-4pm) is a sure-fire hit with breakfast favourites from eggs benedict, smoked salmon and cream cheese bagels to waffles and omelettes starting from C$9 (£4.80). But be sure to book a table.
Take a hike
Mile End's pretty streets are dotted with one-off shops. Drawn & Quarterly (21) at 211 Rue Bernard Ouest (drawnandquarterly.com) is a comic book publisher and bookshop, while just down the road at No 159 is Dragon Flowers (22) (001 514 278 8818; facebook.com/pages/Dragon-Flowers), a florist with birdcages and vibrant flowers cascade down the exterior.
From here head north to and turn right on to the wide Boul St-Laurent. Known as the "Main"; this vibrant boulevard has long been the landing place for immigrants in the city and is still very diverse. Turn left on to Duluth Avenue, entering La Fontaine Park (23) on the corner of Avenue du Parc and Rue Rachel.
Near the entrance are two joining lakes with a central fountain; here you can rent paddleboats, or relax on the grass with the city's sun-worshipers.
Leave the park via the south-east exit and walk along Rue Cherrier admiring the classic architecture, turning left on to Place St-Louis (24). Here you'll find beautiful stone homes in a 19th-century neo-Gothic style, with wrought iron exterior staircases and brightly coloured roofs and doors, synonymous with this bohemian area, Le-Plateau-Mont-Royal. From here walk south on Rue St-Denis until you get to the Quartier des Spectacles.
Cultural afternoon
Quartier des Spectacles (25) (quartierdesspectacles.com), is the city's booming arts and entertainment district in eastern Downtown, hemmed in by Rue Saint-Hubert, Rue City Councillors, Rue Sherbrooke, and Boulevard René-Lévesque. The areas hosts outdoor films in summer and the roads are often pedestrianised, making way for continually changing art and music installations, including the 21 balancoires – swings which each play a different musical note.
Icing on the cake
As the birthplace of the world's most famous circus, the big top at the Old Port (26) showcases the latest dizzying acrobatic performances from Cirque de Soleil (cirquedusoleil.com; tickets from C$44). The most recent show, Luzia, is an incredible Mexican-inspired affair.
Join our new commenting forum
Join thought-provoking conversations, follow other Independent readers and see their replies