The Independent's journalism is supported by our readers. When you purchase through links on our site, we may earn commission.
Munich city guide: Where to eat, drink, shop and stay in Germany's Oktoberfest capital
How to take the ultimate trip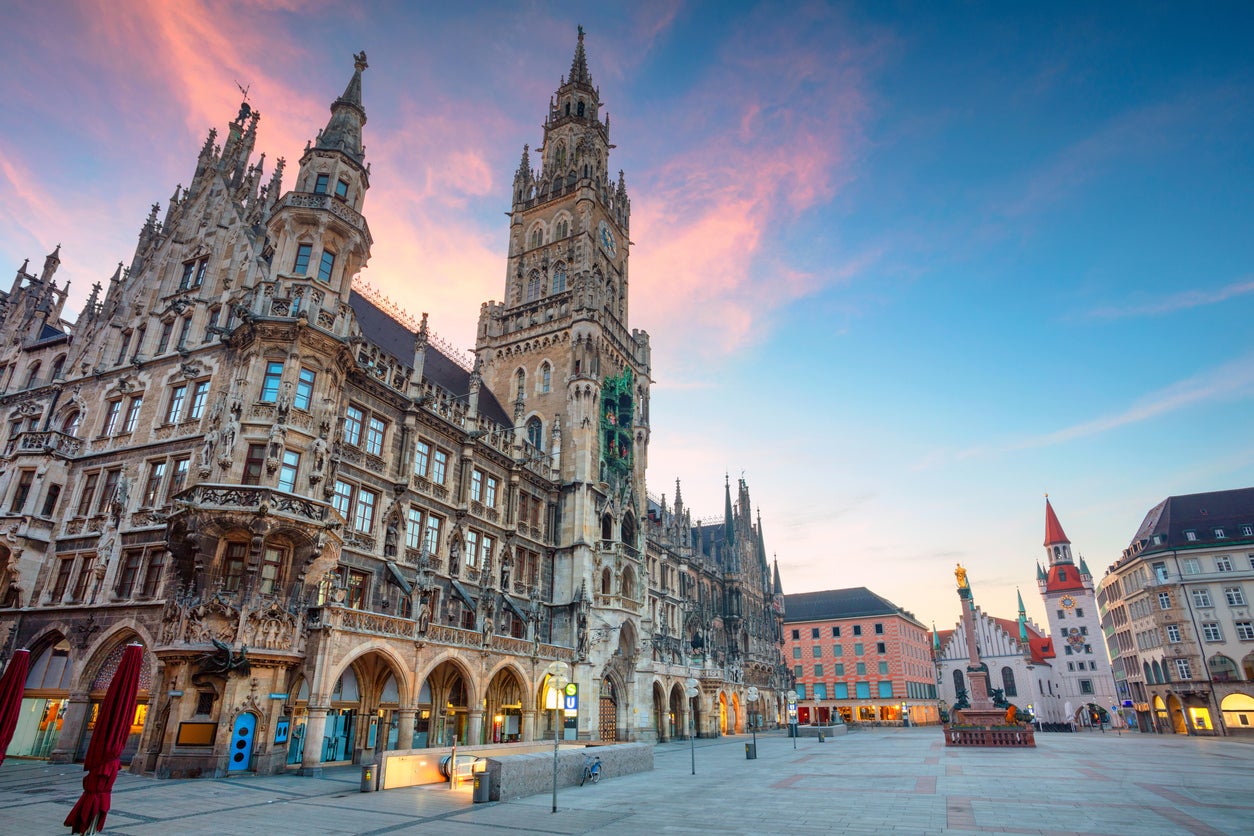 Munich might be best known for Oktoberfest, but this accessible destination holds its own as a contemporary city break throughout the year.
Smaller and friendlier than Berlin, Munich has a wealth of galleries and museums as well as plenty of high-end shops for those with deep pockets.
Tour the fascinating buildings that survived the Second World War before tucking into your choice of culinary cultures – in part due to its close links to Italy. There is of course plenty of Bavarian kitsch culture available too – beerhalls, pretzels and so on – but there's more to appeal to a cooler crowd, from vintage clothes shops to cocktail bars and clubs.
The Independent's hotel reviews are unbiased, independent advice you can trust. On some occasions, we earn revenue if you click the links and book, but we never allow this to affect our coverage.
What to do
Dive in
Munich city guide
Show all 7
Munich is a great city for swimmers – it has the Olympic pool where Mark Spitz cleaned up in 1972 – but perhaps the best spot for water babies is Müllersche Volksbad. A gorgeous Art Nouveau building dating back to 1901, it's mostly used by locals and has an old-fashioned charm. There are two pools to choose from – a smaller, warmer one (previously women-only) and a cooler, 31-metre option for getting some lengths in. There's also a sauna and steam room available if you're happy to go nude and native. Entry from €3.70.
Be inspired
The Pinakothek der Moderne is packed with significant modern artworks from around the world, including pieces by artists like Bacon, Picasso, Warhol, Klee and Magritte. What sets it apart – as well as its impressive collection of German artists – is the way many works are given the space to breathe, including Joseph Bueys' The End of the Twentieth Century, an assembly of enormous basalt stones which has its own room for full impact.
Be sure to visit the free installation by Walter de Maria – Large Red Sphere – which is housed in its own building. A huge polished granite work, it is strangely absorbing thanks to the reflections of the windows around it. Look upon it and imagine the swirling cosmos. (This space is only open April to November, 11-5pm, and November to March, 12-3pm). Entry €10, under-18s go free.
Catch some waves
As unlikely as it sounds, landlocked Munich is developing a name for itself in the world of surfing. There are gnarly waves to be caught at Eisbachwelle, by the entrance to the Englischer Garten, and folk have been trying to tame them for 40 years. It's only suitable for surfers with experience as it's very choppy, but it's fun to watch the pros try their luck.
Where to stay
If you're feeling flush the celebrity-favoured Hotel Bayerischer Hof has got to be top choice – everyone from Brigitte Bardot to Ben Whishaw has stayed, and there's a shrine outside for Michael Jackson who wanted to move in.
Commissioned by King Ludwig I, it's been in the same family for four generations, and has recently had a luxurious update to several interiors by Axel Vervoordt. It has a spa, theatre, nightclub, cinema and five restaurants ranging from traditional Bavarian to three Michelin-starred, so in bad weather you don't even need to venture out. Doubles from €310, room only.
For a break with bags of quirk, try the NYX Hotel, which is decorated by local artists. There's an open-plan restaurant, bar and dining area as well as its own burger grill. There's an in-house nightclub too with resident DJs. Doubles from €82, room only.
Where to eat
Preysinggarten – despite being one of the city's oldest inns – has a modern feel (including plenty for veggies to enjoy) and looks to the Mediterranean for inspiration, with hearty staples including pasta and pizza. It's renowned for its friendly service and there's also a play area outside for families. Mains €15-20.
As for local delicacies, pop into any decent bakery for a slice of the decadent apricot-chocolate, seven-layered Prinzregententorte (one layer for each state of Bavaria). It was created by Prince Regent Luitpold who took the throne in 1866 but was suspected of involvement with his nephew, King Ludwig II's, death. He decided to create a cake to boost his popularity; and while people liked the dessert just fine, it turns out a bad reputation is harder to fix...
Where to drink
For cocktails or a pre-dinner tipple, Falk's Bar (within the Hotel Bayerischer Hof) is beautiful and, despite its delicate mirrored walls, was the only space in the hotel to remain unscathed by the war.
Cocktail aficionados will no doubt be familiar with Charles Schumann – one of the world's most famous bartenders – so you'll want to visit his eponymous watering hole. Schumann's Bar may not be suited to the Cinderellas among us (it transforms from a restaurant to an evening spot at midnight) but its enormous menu and slick service is worth the late night.
In Munich, as in the rest of Germany, each bar only serves one variety of beer, so you'll need to factor in a crawl (or come for Oktoberfest!) if you want to try all seven of the local brews. The unanimous favourite seems to be Augustiner, so look for signs advertising it outside.
Where to shop
While the shops in the Fünf Höfe centre tend to be pricey, it's worth popping in to see any resident artworks in the central space, or enjoy a coffee outside in view of its imposing metal sphere sculpture.
For bargain books and vintage clothing, do as the local students do and explore the Englischer Garten area.
Architectural highlight
For a city that suffered so much wartime destruction there's a surprising amount to choose from, but one of the most eye-catching is the yellow Theatine Church of St Cajetan on the main square. Rococo and ornate, it's the final resting place for numerous Bavarian royals.
Nuts and bolts
What currency do I need?
Euros.
What language do they speak?
German.
Should I tip?
10 per cent in restaurants and for taxis. In bars, round up to the nearest euro.
What's the time difference?
One hour ahead.
What's the average flight time from the UK?
Two hours.
Public transport
It's small enough to get around on foot but there's also a handy tram service.
Best view
For a quirky experience, climb up inside the Bavaria Statue – the Germanic equivalent of the Statue of Liberty. The Amazonian woman was built in 1844 and climbing the 66 steps into her crown will earn you views across the Theresienwiese, the open space where Oktoberfest is held, as well as downtown Munich.
Insider tip
Take tea at the Glockenspiel Café at 11am, 12pm or 5pm for a prime view of the famous Neues Rathaus cuckoo clock sparking into life outside.
Join our commenting forum
Join thought-provoking conversations, follow other Independent readers and see their replies