The Independent's journalism is supported by our readers. When you purchase through links on our site, we may earn commission.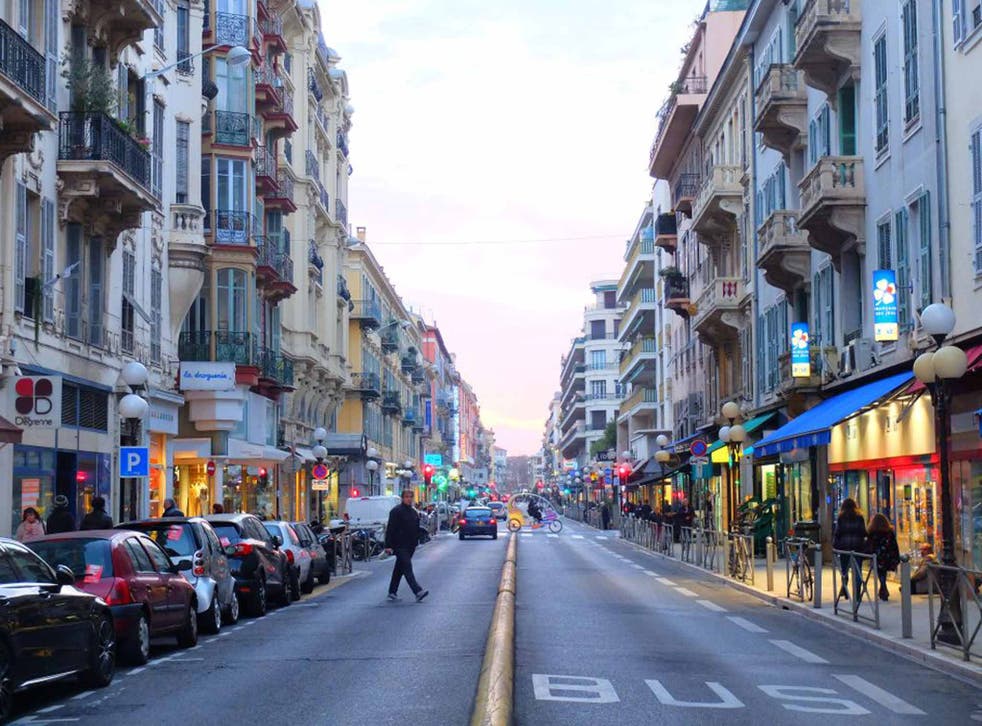 Nice travel tips: Where to go and what to see in 48 hours
Follow in the footsteps of the Victorians and let winter melt away on the Côte d'Azur
Laura Holt
Friday 06 February 2015 11:59 Comments
Travel essentials
Why go now?
You'll feel the weight of winter depart as you touch down in Nice. From the 18th century onwards, the English aristocracy started visiting this stretch of the Côte d'Azur for its benign winter climate, followed later by Queen Victoria. Its main thoroughfare, the Promenade des Anglais, is named in their honour.
Following the Second World War, Nice attracted a different kind of visitor – artists such as Henri Matisse and Marc Chagall – who the city also pays tribute to in its top museums: the Musée Chagall (1) and the Musée Matisse (2).
Adding yet more warmth is the Nice Carnival, Europe's answer to Rio de Janeiro, taking place from 13 February to 1 March (nicecarnaval.com) on the Promenade des Anglais and Place Masséna (3), with flower parades, floats, costumed dancers, and the city's first gay carnival, the Lou Queernaval on 27 February.
Touch down
Nice-Côte d'Azur airport (00 33 820 42 33 33; en.nice. aeroport.fr) is four miles west of the city centre. EasyJet has most flights from the UK (0843 104 5000; easyjet.com). It flies from Gatwick, Luton, Stansted, Bristol and Liverpool. I travelled with British Airways (0844 493 0787; ba.com), which flies from Heathrow, Gatwick and London City; BA offers two nights' B&B with Gatwick flights during the carnival for £165pp.
Bus 98 takes you from the airport to various city-centre stops in 30 minutes (€6 one-way). Bus 99 stops only at the railway station (4) for the same fare. You can connect to any other bus within the city to complete your journey. A taxi costs €25.
Get your bearings
Although it is France's fifth-largest city, Nice is small enough for you to feel at home within a few days. Much of the action is along Promenade des Anglais, where pastel-painted buildings overlook the Mediterranean. Many tourists spend most of their time in the narrow streets of Le Vieux Nice (the Old Town), plunging into its atmospheric restaurants and boutiques. However, to do so would be to ignore some of Nice's more up-and-coming neighbourhoods.
In the east, for example, the port (5) is currently the focus of big investment, with new restaurants emerging in the streets overlooking the super-yachts. To the north, elevated Cimiez shows off fanciful-yet-faded buildings and an ornate 16th-century Franciscan monastery (6) that makes the walk up the hill worthwhile. Bringing it all together in the centre is the new Promenade du Paillon parkland (7), which was inaugurated in 2013 after a €40m development that replaced an old bus station with playgrounds, water features and trees.
The main tourist office (8) is at 5 Promenade des Anglais (00 33 892 70 74 07; en.nicetourisme.com).
Check in
The Hôtel Negresco (9) at 37 Promenade des Anglais (00 33 4 93 16 64 00; hotel- negresco-nice.com) is regarded as the city's finest five-star, with views over the Mediterranean. Doubles start at €195, room only.
North of Paillon park (7), the Hôtel Ellington (10) at 25 Boulevard Dubouchage (00 33 4 92 47 79 79; ellington-nice.com) is a well-placed four-star with a delightful sun terrace. Doubles from €100, room only.
Art fans on a budget should check into the Hôtel Windsor (11) at 11 Rue Dalpozzo (00 33 4 93 88 59 35; hotelwindsornice.com), where rooms are designed by different artists. Doubles from €90, room only.
Click here to see a bigger image of the map
Day one
Take a view
Start at Colline du Chateau or Castle Hill (12). This grassy mound at the east end of the Promenade des Anglais delivers panoramic views of the Mediterranean. From this vantage point – accessed via a free lift on Quai des Etats-Unis (13) – you'll see why they call this corner of France "the Côte d'Azur".
Take a hike
Stroll along the Quai des Etats-Unis (13), taking in the edge of the Old Town to your right. Enter through one of the tiny arches to arrive at the Cours Saleya (14) flower market (6am-5.30pm daily; closed Monday). Take in the rows of stalls lined with vibrant displays of geraniums, fuchsias and dahlias, before ascending the steps at the back of the square. From here, you can see a tall ochre townhouse to your right at 1 Place Charles Felix (15), which Henri Matisse rented during the 1920s and 1930s. Admire the patchwork of striped market stalls from above, then head back down the steps and out towards the sea. You can walk the length of the Promenade des Anglais from here, pausing at one of the sea-level restaurants, such as Galion (16) (00 33 4 93 88 17 23) if you need a break – espresso from €3; wine from €6.
Lunch on the run
At 20 Avenue St-Jean-Baptiste, Lou Balico (17) (00 33 4 93 85 93 71; loubalico.com) is a Nice institution whose food joins 24 other restaurants in bearing the official "Cuisine Nissarde" label (bit.ly/24Nissard), signifying authentic Niçoise cuisine. Try the fried courgette flowers for €12.
Window shopping
New among the Old Town's tangle on Rue Jules Gilly (18) is the Italian-style deli, café and gourmet shop, L'Epicerie, at No 1 (00 33 4 93 85 88 92), which is run by a Frenchman, an Italian and a Croat. A couple of doors down at No 4, another new addition is the library and concept store La Briqueterie (00 33 4 93 85 77 79), which sells art prints from €130. On Rue de la Préfecture (19), pick up handmade jewellery from Les Delices de Candice at No 16 (00 33 4 93 53 05 21; lesdelicesdecandice.com), then drop in to Mère et Filles next door at No 15 (00 33 4 93 85 17 91) for chic women's clothing.
An aperitif
Start your evening on Rue Bonaparte (20). This formerly humdrum street now bristles with stylish bistros and bars after the owners of Gossip (00 33 4 83 45 72 15) moved in with the intention of creating "Le Petite Marais" five years ago – a district named after Paris's bohemian quarter. Soak up the atmosphere at Chez Fabien on the Place du Pin, where a glass of wine costs €4 (00 33 4 93 79 06 56).
Dining with the locals
The newly opened Restaurant Jan (21) is run by a South African chef who worked as Elle magazine's food editor for 15 years before moving to Nice. His sensational four-course set menu touches on both his real and his adopted homelands, starting with grilled sardines and aoili and ending with malva pudding, the traditional sponge-style South African dessert (€65 without wine; 00 33 4 97 19 32 23 12; restaurantjan.com).
Day two
Sunday morning: go to church
Start the day in the hilltop Cimiez neighbourhood, home of the stunning Monastère de Cimiez (6). The elaborate façade of this 16th-century monastery appears to have been delicately quilled, its honeycomb-coloured exterior adorned in an array of elegant swirls (open 9am-6pm every day apart from Wednesday; Sunday service 10.30am).
A walk in the park
Walk around the monastery gardens, which deliver elevated views over the coast (5), then aim for the adjoining cemetery, where Matisse and fellow painter Raoul Dufy are buried. Then roam around the olive groves of the Parc des Arènes de Cimiez, home to the Musée Matisse (2).
Cultural morning
Housed in a russet-red Genoese mansion, the Musée Matisse (2) (00 33 4 93 53 40 53; musee-matisse-nice.org; 10am-6pm daily except Tuesday; entry €10) was funded by the artist himself. Afterwards, make your way down Boulevard Cimiez to reach the Musée Chagall (1) at 36 Avenue Docteur Ménard (00 33 4 93 53 87 21; bit.ly/MuseeChagall; 10am-6pm daily, closed Tuesday; €8).
Out to brunch
Sample socca – the Niçoise chickpea pancake – at Chez Thérésa (22) in the Cours Saleya (€3). On the first Sunday of the month, try Maizon (22), at 14 Avenue St-Jean-Baptiste (00 33 9 81 33 74 98; maizon.fr), for entertainment and a three-course lunch for €25 (open first Sunday of each month 11am-3pm; other days 9am-6pm, closed Monday).
Take a ride
Aim for Paillon park (7), where a giant Ferris wheel is in situ until the end of the carnival (1 March). Rides cost €7.
Icing on the cake
In the Old Town, aim for artisan chocolatier Lac (00 33 4 93 53 60 69; patisserie-lac.com; open Sundays 9.30am-1pm and 3-7pm) on Rue de la Préfecture (19), which sells boxes of macarons or marshmallows for €6/€9.75.
Register for free to continue reading
Registration is a free and easy way to support our truly independent journalism
By registering, you will also enjoy limited access to Premium articles, exclusive newsletters, commenting, and virtual events with our leading journalists
Already have an account? sign in
Join our new commenting forum
Join thought-provoking conversations, follow other Independent readers and see their replies