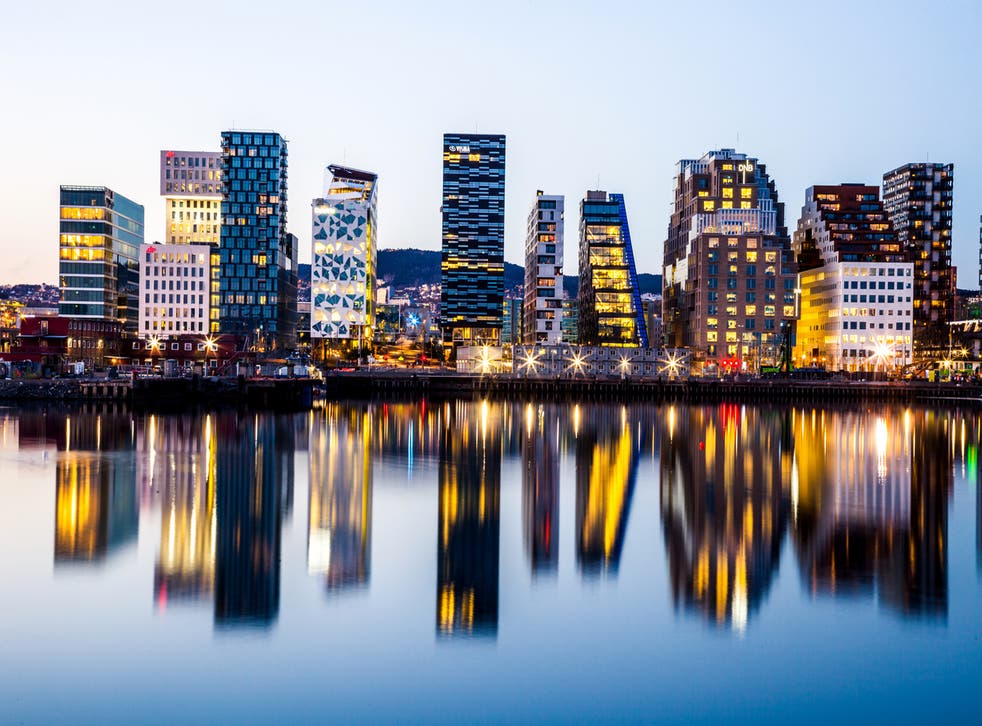 Oslo guide: The top things to do, see, eat and drink in Norway's capital
Here's how to get the most out of an Oslo city break
Ronan J. O'Shea
Wednesday 20 June 2018 10:07 Comments
With dense forest less than 30 minutes from the city centre, world-class museums, the hip Grünerløkka district and restaurants serving Nordic and international cuisine, there's something for everyone in Oslo, from sports lovers to shopaholics.
What to do in Oslo
Museums
Oslo has a number of fantastic museums, most of which can be accessed using an Oslo Pass (visitoslo.com/en/activities-and-attractions/oslo-pass), which also gives users access to all forms of public transport; 390NOK (£36) for 24 hours. The Nobel Peace Centre (nobelpeacecenter.org), open Tuesday to Sunday, 10am-6pm, is home to ever-changing exhibits ranging from a photo gallery examining anorexia to the growth of the alt-right, but the room of laureates is the real draw, with interactive tablets telling the stories of each person or organisation to win the illustrious Peace Prize.
For art lovers, Munch Museet (munchmuseet.no), open 10am-4pm, celebrates the work of the country's most famous artist; 100NOK (£9.20) entry. The National Gallery (nasjonalmuseet.no) also has a Munch room of its own, which includes one version of his most famous work, The Scream. Open daily except Mondays, 10am-6pm weekdays, 11am-5pm weekends; 100NOK (£9.20) entry.
Winter sports
Holmenkollen (skiforeningen.no), a huge ski jump within easy access of the city by Metro, has fantastic panoramic views of the city; open 8.30am-4pm in winter and 8.30am-3pm in summer. Skiers and snowboarders can head to Oslo Vinterpark (oslovinterpark.no), a ski resort also accessible by Metro, open weekdays from 10am-10pm and weekends from 10am-5pm in winter.
Oslo has a number of large parks, including Frogner Park, home to Vigeland Sculpture Park (visitoslo.com/en/product/?TLp=181601&Vigeland-Sculpture-Park), and Slottsparken, home to the Royal Palace (kongehuset.no), which has guided tours from 13 May to 17 September.
Where to stay in Oslo
Oslo isn't a cheap city, but with many hotels offering rooms at the same price for two people as for one, grabbing a travel companion can save you money when it comes to finding a place to stay.
Rooms at the new Saga Hotel Oslo Central are comfortable, understated and include a good breakfast buffet, while the hotel is located just a few minutes' walk from the harbour. Doubles from 1,200NOK (£110), B&B.
Thon Hotel Munch is affordable and located just a short walk from the city centre and within easy reach of the city's hip Grünerløkka district, home to some of its best bars, cafes and restaurants. Doubles from 732NOK (£65), B&B
For more boutique digs, Cochs Pensionat sits on the northern fringes of The Palace Park. Bogstadveien, the city's longest shopping street, is on the hotel's doorstep and the early 20th-century building is a charming base from which to explore the city. Standard doubles from 880NOK (£79).
Where to eat in Oslo
Oslo boasts a number of fantastic eateries. Sentralen (sentralen.no) in the city centre specialises in Nordic cuisine with modern twists and excellent natural wines, particularly from Austria. Open Monday to Sunday, 11am-12am; kitchen closes at 10pm.
For lunch, Brugata Landhanderi (facebook.com/pg/Brugatalandhandleri) is a fuss-free cafe by day and late-night coffee haunt by night. The Bifana – grilled pork neck, mustard and caramelised onions – is excellent. Open 7.30am-1am most days.
Brutus (barbrutus.no), perched innocuously on a street corner in the multicultural Tøyen district, has a superb taster menu for 595NOK (£55), including dishes such as mackerel with kohlrabi, flatkökur (Icelandic flatbread) with crab, free-range Norwegian sweet and sour pork and potato cake with milk ice cream. Open daily from 5pm-1am.
Head to the southern fringes of Oslo docks, an area now thriving with bars and activities, and you'll find Vippa (vippa.no), a new food hall that opened in April 2017. A project aimed in part at integrating Oslo immigrants previously unable to work due to the country's asylum system, it includes a Syrian food stand plus Eritrean cuisine at Injera Palace. Open Wednesday to Sunday, 11am-10pm; 8pm on Sundays.
Where to drink in Oslo
Fuglen (fuglen.no) is worth a visit for the elegant Scandi decor alone, but also does a great cup of coffee before turning into a cocktail bar by night. Open Tuesday to Sunday, 7.30am-1am; 7.30am-7pm on Mondays.
Tim Wendleboe (timwendelboe.no) is an award-winning barista who spends half the year visiting farms in Africa and Latin America finding the best beans for his cool coffee shop; open 8.30am-6pm on weekdays and 11am-5pm at weekends.
Kulturhuset (kulturhusetioslo.no) is an excellent place to sit down and do some work with a hot drink, or catch up with friends in the evening over a beer. It also hosts various shows, exhibits and talks. Open weekdays 8am-3.30am, weekends 11am-3.30am.
For avant-garde cocktails, head to Himkok (himkok.no), a "hidden" joint in the centre with unusual concoctions including the Beta Cocktail, a mix of Himkok vodka, carrot juice, ginseng, grapefruit and a dash of horseradish. Open 5pm-3am daily; from 3pm Friday and Saturday.
Where to shop in Oslo
Many of the best shops in Oslo are in Grünerløkka, including boutique stationery store Lush Dive (lushdive.no) which specialises in both domestic and international stationery. Open 11am-5pm most days.
Knitwear store Grünerløkka Garn (grunerlokkagarn.no) is a good spot to pick up fashionable knitwear for the winter weather; open Tuesday to Thursday, 11am-6pm, and Friday to Saturday, 11am-5pm. Meanwhile nearby NY York Vintage & 2nd hand (nyyork.no) sells vintage and second-hand clothing; open 12-6pm daily, closed Sundays.
Big Dipper (bigdipper.no), a record store in the city centre, and Tiger (tigernet.no), an independent record store and label which also sells a small selection of clothes, are both open Monday to Friday 10am-6pm and Saturday 10am-5pm.
The Mathallen Food Hall is a large, busy market, perfect for picking up local Norwegian products; open Tuesday, Wednesday and Saturday from 10am-7pm, Thursday and Friday from 10am-8pm, Sundays 11am-6pm.
Get a literature fix at Tanum (tanum.no), a historic bookshop chain dating back to 1879. Open Monday to Friday, 9am-8pm; Saturday 10am-6pm.
Oslo nuts and bolts
Cheapest time to fly
What currency do I need in Oslo?
The currency in Oslo is Norwegian krone, roughly 10 to the pound.
What language do they speak in Oslo?
The language in Oslo is Norwegian.
Should I tip?
Tipping in Oslo is generally reserved for good service and is voluntary; it's around 5 to 15 per cent.
What's the time difference?
Norway is one hour ahead of the UK and flight times average around two hours and 20 minutes.
Public transport
Oslo is small enough that you can get around on foot, though trams and trains are frequent and worthwhile if you combine them with an Oslo Pass to get into many of the city's museums.
Best view
For the best view of Oslo, head either to Holmenkollen Ski Museum or, in summer, Hovedøya, the closest island to the city centre.
Architectural highlight
The modern National Opera House, built in 2008, is the city's architectural gem, although this may change in 2020 when a raft of new buildings are set to open, including the new Munch Museum.
Insider tip
If you want to save money but still enjoy a nightcap, alcohol is much cheaper at duty free or in one of the city's supermarkets or smaller shops; but be warned, beer can only be sold before 8pm on weekdays and 6pm on Saturdays, while wine, spirits and strong beer must be bought at a Vinmonopolet outlet.
Register for free to continue reading
Registration is a free and easy way to support our truly independent journalism
By registering, you will also enjoy limited access to Premium articles, exclusive newsletters, commenting, and virtual events with our leading journalists
Already have an account? sign in
Join our new commenting forum
Join thought-provoking conversations, follow other Independent readers and see their replies