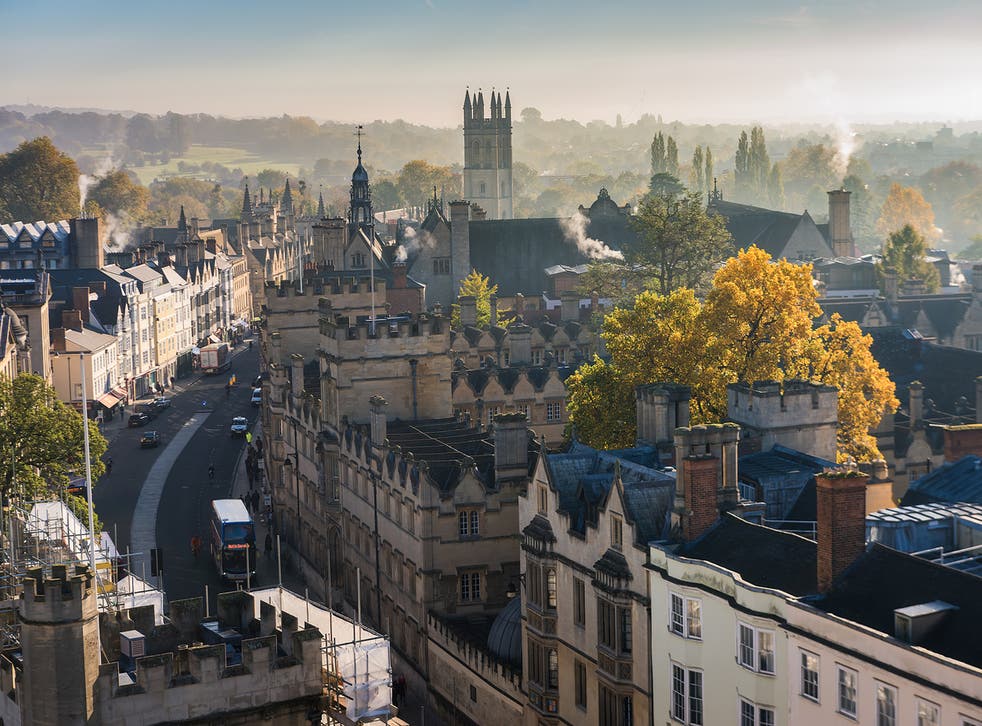 Oxford guide: Where to eat, drink, shop and stay in England's city of dreaming spires
How to spend the ultimate weekend
Emma O'Reilly
Thursday 24 October 2019 14:05 Comments
The Independent's hotel recommendations are unbiased, independent advice you can trust. On some occasions, we earn revenue if you click the links and book, but we never allow this to affect our coverage.
A beautiful mind may be required to be a student at its prestigious university, but the beguiling city of Oxford still provides the most thought-provoking of backdrops for us normal folks to indulge in for a weekend.
It's compact and easily walkable, and even the most architecturally illiterate will get a buzz from buildings bursting with history. Oxford has a youthful vibe, too, thanks to all the students whizzing around on bikes and propping up the bars.
Add in the opportunity to mess around on the river, delve into exciting museums, gen up on favourite literary figures and eat your way around the world via a thriving restaurant scene, and this is a near-perfect option for a short break.
Oxford city guide

Show all 7
What to do
Go to college
There isn't just one campus, but 38 dreamy looking colleges, many with manicured quadrangles and their own chapels, sprinkled throughout Oxford. Each has a unique character and long list of impressive alumni. You can visit most of the colleges – either wander at will or, better still, plan via the university website. A good way to get your bearings is to take a free two-hour walking tour with a student, who will regale you with stories while leading you past the city's landmarks.
If you can only do one college, make it the mighty Christ Church, where past students include 13 British prime ministers and Albert Einstein. Harry Potter fans can see some filming sites there, plus the dining room that provided the inspiration for Hogwarts' Great Hall (look out, too, for the stained-glass window featuring Alice Liddell – the inspiration for Alice in Wonderland). The chapel at Christ Church serves as the cathedral for the diocese of Oxford, and visitors can attend evensong for free.
Admire the architecture
This is one well preserved city. Tempting Instagram opps include the iconic Radcliffe Camera, the first circular library in the country, the Sheldonian Theatre (where university graduation ceremonies take place and visitors can catch a concert) and The Bridge of Sighs – named after its similarity to the famous bridge in Venice – which links two parts of Hertford College.
Take a punt
Sure, you can hire out a rowing boat or a pedalo on Oxford's River Cherwell, but we can guarantee they're not nearly as much fun as punting. There's a knack to it, using a huge, heavy pole to push off the river bed, propel and steer the boat by dragging it through the water. Whoever is not in charge can lie back, sip on a glass of bubbly and soak up the city views… while trying not to laugh. Punt hire at the central Magdalen Bridge Boathouse costs from £22-24 an hour, plus extra if you employ a "punter".
Pack a picnic
Seek out the 18th-century Covered Market for hunks of cheese, crusty bread and a bag full of warm-from-the-oven Ben's Cookies (now nationwide but they started right here). Then wander into Oxford Botanic Garden (Philip Pullman fans can spot the bench where His Dark Materials characters Lyra and Will say goodbye for the last time), or Christ Church Meadow, or bag a spot by the river in University Parks.
Make for a museum
Oxford is blessed with many rainy – or even not-so-rainy – day options. There are museums for every interest, and many are free to visit (donations welcomed), including the wonderful Ashmolean for its art and antiquities – from drawings by Michelangelo to the lantern that Guy Fawkes carried, and a death mask of Oliver Cromwell.
The Oxford University Museum of Natural History appeals to families, with its dinosaur, dodo and whale skeletons and regularly changing exhibitions. Visitors here should not miss the adjoining Pitt Rivers Museum, the personal collection of a Victorian explorer. It's gloriously quirky and full of just the kind of things kids love to ogle – think shrunken heads from South America and reindeer knickers from Siberia (made from reindeer skin, not worn by reindeer, in case you're wondering).
Modern Art Oxford offers a culturally diverse and exciting mix of contemporary art, films, music and performances.
Where to stay
Guests don't mind doing time at Malmaison Oxford. Set in a former prison, original features such as the thick cell doors and window bars have been retained, but there are also soft carpets, mood lighting and all the accoutrements you'd expect from a four-star hotel. Doubles from £139, room only.
The Head of the River is an atmospheric pub with a huge outdoor terrace and bar and fabulous rooms. It's on the banks of the River Thames but only a few minutes' walk into Oxford city centre. Doubles from £144, B&B.
Stay in the university colleges and buildings and feel several (hundred) IQ points higher by association. Prices start from around £40 per night for a single room, B&B, but increase according to the location and popularity of the college and facilities available.
Where to eat
A great lunch or afternoon tea spot with glorious views is the light and airy Rooftop Restaurant at the Ashmolean Museum.
You can buy food and drink at Thirsty Meeples Café, but the real focus in on board games. There are more than 2,500 to choose from, and if you get stuck with the rules, the Game Guru will come to your rescue.
For dinner, The Parsonage Grill at The Old Parsonage Hotel is an institution. It has an intimate, boho feel, with moody colours and oil paintings of Oxford luminaries gracing the walls. Food is simple and classic.
After a night out on the town, Gee's is a good place to sip on a Bloody Mary in a plant-filled Victorian conservatory and enjoy something from the all-day brunch menu.
Many of Oxford's most interesting restaurants are just outside the city centre. In Summertown, Pompette dishes up French delights and The Oxford Kitchen has the city's only Michelin star, with tasting menus that positively sparkle. Kazbar, on the Cowley Road, offers interesting Moroccan/Spanish fusion tapas. Oli's Thai, a little further out and off the same road, serves up the best food this side of Bangkok at bargain prices.
Where to drink
If the walls could tell stories, the Eagle & Child pub would be the chattiest in the land. It was here that JRR Tolkien and CS Lewis used to meet up for a beer and a chinwag in hobbit-sized snugs.
Thomas Hardy preferred the Lamb & Flag in St Giles Street and wrote Jude the Obscure here. Incidentally, by drinking in this pub, you are helping fund needy students at St John's College.
Cocktails more your scene? Raoul's Bar and Liquor Store in the trendy Jericho area of the city offers more varieties than you could shake a swizzle stick at, with many good enough to eat – such as the delicious-sounding White Chocolate Martini or Popcorn Cream Soda.
Happy hour is always just that at The House, where you can sit on a Philippe Starck sofa on the outdoor terrace and feel like you've wandered into the pages of a home interiors magazine.
Where to shop
Bookworms will be in literary heaven at Blackwell's. The Norrington Room at the city's original Broad Street branch has more than three miles of bookshelves to browse. There are, unsurprisingly, plenty of other bookshops around Oxford, including two specialist Oxfam stores.
The £440m Westgate Oxford shopping centre opened in 2017, bringing many high-street names to the city.
Oxford is awash with creativity so there is a thriving indie shop scene, too, from custom jeweller FTE Metalworks, to ethical coffee-makers New Ground.
Bicester Village, a few miles outside the city, is home to designer names such as Chloé and Gucci, at slashed prices.
Nuts and Bolts
Public transport
Oxford is a small city so it's easy to walk around. There's a good bus service, and one of the many open-top bus tours is good for getting an idea of what's where. Or make like the students by getting on your bike. Dockless cycles, such as those by Mobike, are a good option, especially when you can pick up and drop off at any point.
Best view
The Carfax Tower (£2.70 entry) is often heralded for the sweeping vistas afforded after climbing to the top. It's the tallest building in the city at 23m high (a law actually decrees that nothing in the centre can be built above it). But for our money, the view from the top of the University Church of St Mary (£4) just pips it, with glimpses into almost every major college, as well as other city beauties. Bonus – if you go to St Mary's Passage, around the back of the church, you can see the beautifully ornate door and lamp post that were thought to have given CS Lewis the idea for The Lion, The Witch and The Wardrobe.
Insider tip
Most visitors admire the Bodleian Library from afar. Book a tour to see the extraordinary medieval Duke Humfrey's Library and Divinity School here (and expect another treat for Potter fans as they starred as the Hogwarts Library and Infirmary respectively). A 30-minute tour costs £6.
Register for free to continue reading
Registration is a free and easy way to support our truly independent journalism
By registering, you will also enjoy limited access to Premium articles, exclusive newsletters, commenting, and virtual events with our leading journalists
Already have an account? sign in
Join our new commenting forum
Join thought-provoking conversations, follow other Independent readers and see their replies