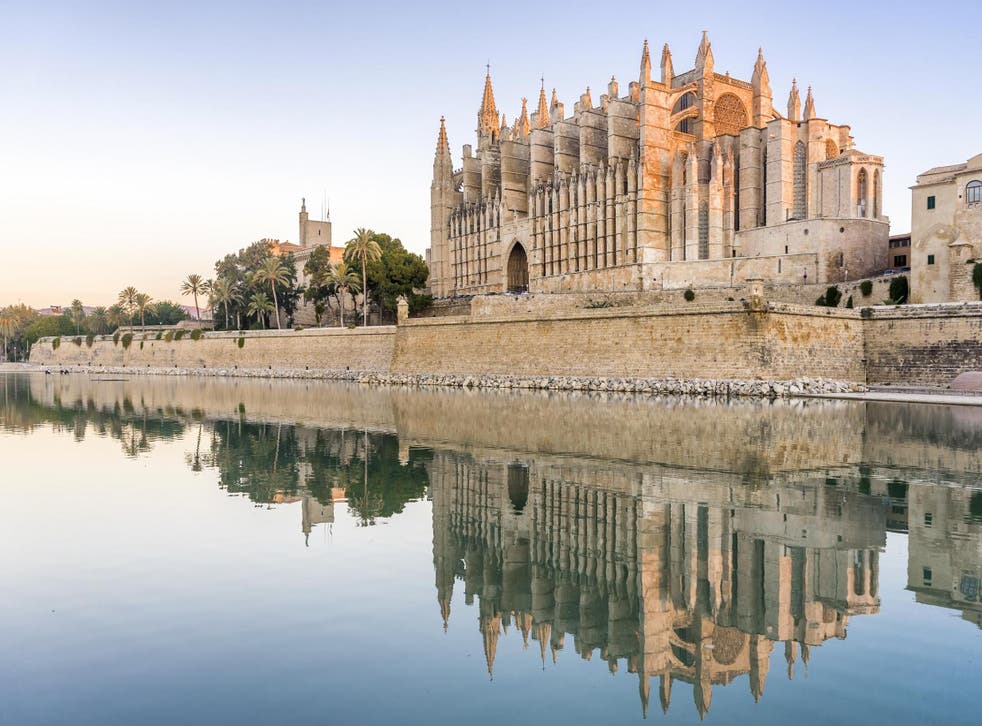 Two days in Palma: Why the Mallorcan capital is perfect for an Easter city break
Fashionable Palma's always been a good weekender, but add to that its week-long Holy Week festivities, and the Mallorcan capital makes for a near-perfect city break this Easter
Why go now?
Visit in April to catch the week-long Easter celebrations. Holy Thursday (13 April) is when the most colourful parades take place, including the spectacular La Sang procession, which sees a representation of Christ being carried through the streets.
Angel Sunday (Domingo del Angel) on Easter Sunday includes a procession and music. There's also traditional food to sample in the form of savoury panades, sweet rubiols and crespells (pastries), which can be found in local bakeries and cake shops.
Get your bearings
Located in the south of Mallorca and just 15 minutes by taxi or bus from the airport, Palma is simply laid out in long, straight avenues. The main square is Placa Major (1), and key areas to explore include the old town, Passeig del Born (2), La Rambla (3) and Paseo Maritimo (4), which is next to La Seu cathedral (5), and has a real buzz at night. The harbour starts at the cathedral and borders the west – the promenade runs to the ferry port approximately 3.5km from the old town. The main tourist office is Informacio Turistica de Mallorca (6), at Plaça de la Reina, 2, 07015 (+34 971 173 990; infomallorca.net). It is open 8.30am-8pm Monday to Friday, 8.30am-3pm on Saturday and closed on Sundays.
Current exchange rate: £1 = €1.17
Day One
Window shopping
Palma has serious shopping potential with a number of trendy boutiques. However, it's wise to check opening hours as some close for siesta (typically around 2-5pm) and/or are closed on Sundays. The area around Born, Via Roma (7) and Plaça Major has a plethora of shops for all budgets.
High up on Mallorcan fashionistas' wishlists are Spanish designer brand Angel Schlesser, at Carrer de Sant Nicolau (8) (+34 971 71 82 73; angelschlesser.com) for women's clothes, accessories and exclusive fragrances; and Purificacion Garcia at Placa del Mercat (9) (+34 971 71 83 97; purificaciongarcia.com), which caters for stylish men and women with bags to die for. For men, La Principal at Career dels Paraires (10) (+34 971 72 17 67) is all about carefully curated urban styling, with designers including Opening Ceremony, Nudie and Hentsch.
Lunch on the run
Seek out a menu del dia lunch deal, or head to Mercat Olivar (11), at Placa de l'Olivar 4 (+ 34 971 720 314 15; mercatolivar.com), where you can pick up a locally produced bite to eat from one of the many food stalls, counters and restaurants serving fish, tapas and even sushi. Try the family-run Bar Paco for homemade tapas or Ostras Cocedero for Manolo's fresh seafood, including oysters, kipper and cod. The market's closed on Sundays.
Cultural afternoon
Take a No 3 or No 46 bus from the main bus and train station Estacio Intermodal (12) – just off the Placa d'Espanya – for the half-hour ride to the Joan Miró Foundation (13) (+34 971 70 14 20; miro.palmademallorca.es), a museum in Cala Mayor dedicated to the work of the surrealist artist Joan Miró.
Wander around the sculpture garden and Miró's studio and workshop – the collection includes paintings, drawings, sculptures and personal objects. It's open from 10am until 6pm (winter) and 7pm (summer) Tuesday to Saturday; 10am-3pm on Sundays and holidays all year round. Entry is €7.50 (or free on Saturdays from 3pm and all day on the first Sunday of each month).
An aperitif
Es Baluard Restaurant and Lounge (14) (+34 871 23 49 54; esbaluard.org) in the Es Baluard modern art museum is the perfect sundowner spot, with its views of the bay of Palma and cathedral. Toast the evening with a glass of Hierbas, a Mallorcan aniseed and herb liqueur best served on the rocks.
Alternatively, take a 7km cab ride to the glamorous OD Port Portals (15) (+34 971 67 59 56; od-hotels.com) in chic Portals Nous – head up to the Sky Bar for killer cocktails and sunset views akin to those found on Ibiza. It may be a hotel bar but the views make up for it.
Dine with the locals
Fusion food with a twist and uber-stylish decor are on the menu at hip dining destination Balagan by ETOH in hip Santa Catalina (16) (+34 971 22 21 00; balaganbyetoh.com). Chef Emil Bergman Podeur fuses Middle Eastern and Balkan flavours in a menu that's made for sharing. Order individual plates or the six course set menu for a most agreeable €27.00.
Day Two
Out to brunch
Ensaimadas – pastries, filled with cream, custard, chocolate or apricot – are a typical Mallorcan breakfast. Find them at their best at Ca'n Joan de S'aigo (17) (+34 971 71 07 59; canjoandesaigo.com), where prices also happen to be extremely reasonable – €3 gets you coffee with an apricot ensaimada. It's open from 8am.
Take a hike
Start at the grand Gothic Cathedral La Seu (5) which is a must-see (+34 902 02 24 45, catedraldemallorca.org). Overlooking the harbour, it was built between the 13th and 17th centuries; Catalan architect Antoni Gaudí redesigned parts of the interior in the early 20th century. It's open 10am-6pm Monday to Friday from June to September; 10am-5.15pm from 1 April to 31 May; and 10am-2pm Saturdays all year round. Entry costs €4.
From there, head next door to the 14th century palace La Almudaina (18) (+34 971 21 41 34; no web). Dating back to Roman times, these days the King of Spain resides here when on the island. It's open 10am-6pm, entry €7.
Turn left for a stroll along the seafront which is the perfect spot for people-watching – while you're there drop into the La Llonja art space (19) which often has a free installation inside. Finish your walk at the historical landmark Monument a Ramon Llull (20) on Passieg de Sagrera.
A walk in the park
The most central park is Parc del Mar (21). Situated at the foot of the cathedral and a few steps from the Monument a Ramon Llull, there's a man-made saltwater pond, fountain, tree lined promenade and lawns, plus a children's playground. If you're lucky you may even catch an open-air concert or cinema.
Take a ride
Jump on the vintage Soller train (+34 971 75 20 51; trendesoller.com) from Plaça de España (22). It's a 7km trip which rises up to 199 metres, crosses several bridges and covers a scenic route from Palma to the beautiful town of Soller (23), via the Mallorcan countryside and the Tramuntana mountains.
Once you reach your destination, you can also take the Soller electric tram to the Port of Soller (24), a village and beach resort on the west coast of the island.
Travel Essentials
Getting there
Most budget airlines fly to Palma. Jet 2 (0333 300 0404; jet2.com) operates a year-round service from London Stansted and Birmingham; Easyjet (0843 104 5000; easyjet.com) operates from Belfast, Bristol, Edinburgh, Glasgow, Liverpool, Manchester, Newcastle and all London airports; Flybe (0371 700 2000; flybe.com) flies from Doncaster, Sheffield, Exeter, Southampton, Belfast, Dublin, Edinburgh and Glasgow; British Airways (0844 493 0787; ba.com) flies from London, Birmingham, Manchester, Bristol and Edinburgh.
The city centre is located 8km from the airport (25); bus route 1 runs approximately every 15 minutes and costs €1.85. Taxis are available outside the arrivals area and are charged per kilometre; prices vary depending on time of day and there is also an airport surcharge.
Staying there
Glamorous Boutique Hotel Can Alomar (26) (+34 871 59 20 02; boutiquehotelcanalomar.com) boasts a prime location in a 15th century listed building. It has 16 rooms and suites, a pool, sun terrace and spa. Doubles from €300, room only.
The boutique 57-room Nakar Hotel (27) (+34 971 72 02 23; nakarhotel.com) has been designed as an authentic Balearic guesthouse and includes a spa, roof sundeck and pool with views of the old town. Doubles from €229, B&B.
Located off the harbour promenade, Hotel Feliz (28) (+34 971 28 88 47; hotelfeliz.com) has 44 rooms, a roof terrace, sun terrace and plunge pool. Doubles from €129, B&B.
Join our new commenting forum
Join thought-provoking conversations, follow other Independent readers and see their replies